A P0796 diagnostic trouble code is triggered when the pressure control solenoid either gets stuck in the 'off' position, or is not performing according to the manufacturer's specifications.
Need a replacement transmission? Get an estimate for replacement transmissions and local installation. Look up your transmission model by vehicle make and model.
What Transmission Do I Have?
How Serious is the Code?
A P0796 DTC means the ECU can't control the hydraulic pressure inside the transmission, which can lead to severe internal damage and safety issues (the engine can stall unexpectedly).
Symptoms
Symptoms of a P0796 include:
Check engine light
Harsh, delayed or erratic shifts
Slipping in-and-out of gear
Getting stuck in gear
Vehicle won't move when in gear
Engine stalls
Reduced fuel economy
Transmission overheats
Limp mode
Causes
Low transmission fluid
Dirty transmission fluid / filter
Frayed wiring / damaged connectors
Failed pressure control solenoid
Failed transmission pump
Pressure blockage
Valve body issue
TCM or ECU failure
How to Diagnose the Code?
Because an OBD2 trouble code referring to pressure control solenoids, relates to pressure issues. The level and quality of transmission fluid needs to be considered when starting to diagnose a solenoid DTC. Dirty ATF is often a sign of internal problems, which may require a replacement transmission. Performing a transmission flush can sometimes provide a temporary fix. But if major damage to the transmission pump, valve body or torque convertor has already happened, it might not make any difference.
If there are no issues with the condition of the transmission fluid, then the wiring and connectors will need to be inspected before testing the pressure control solenoid directly. If testing finds no fault with the solenoid, then the valve body and transmission pump should be considered.
Common Mistakes When Diagnosing
It's not uncommon for many mechanics to blame the transmission pump for this DTC, when it could actually be a wiring problem, or a faulty pressure control solenoid.
What Repairs Will Fix P0796?
Changing the fluid and filter
Replace faulty pressure control solenoid
Repair or replace a faulty transmission pump
Repair defective transmission valve body
Install a remanufactured valve body
Transmission flush to clean passages
Cleaning corrosion from connectors
Repairing or replacing wiring
Flashing or replacing PCM
Related Codes
P0795 – Pressure Control Solenoid 'C'
P0797 – Pressure Control Solenoid 'C' Stuck On
P0798 – Pressure Control Solenoid 'C' Electrical
P0799 – Pressure Control Solenoid 'C' Intermittent
Fair Replacement Transmission Cost by Vehicle
Find your transmission model in the table below for fair prices from reputable suppliers. Also fair labor cost for local installation at a local auto repair shop.


Fair Remanufactured Transmission Price Ranges by Transmission Model Updated for 2019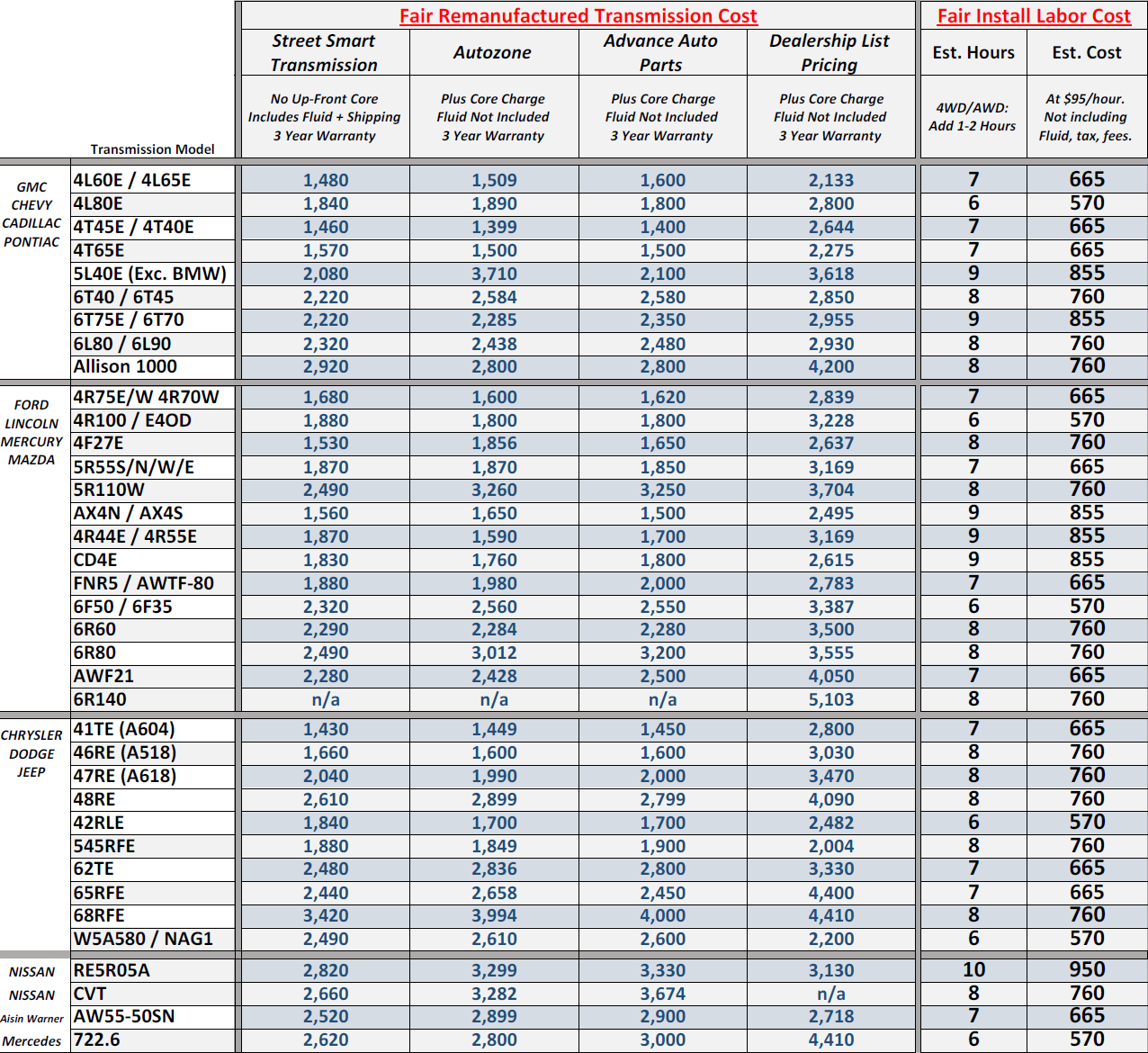 Download Replacement Transmission Cost Guide PDF
Full Transmission DTC Codes Table

| Trouble Code | Description |
| --- | --- |
| P0218 | Transmission Over Temperature Condition |
| P0700 | Transmission Control System (MIL Request) |
| P0701 | Transmission Control System Range/Performance |
| P0702 | Transmission Control System Electrical |
| P0703 | Torque Converter/Brake Switch B Circuit |
| P0704 | Clutch Switch In put Circuit Malfunction |
| P0705 | Transmission Range Sensor Circuit Malfunction (PRNDL Input) |
| P0706 | Transmission Range Sensor Circuit Range/Performance |
| P0707 | Transmission Range Sensor Circuit Low Input |
| P0708 | Transmission Range Sensor Circuit High Input |
| P0709 | Transmission Range Sensor Circuit intermittent |
| P0710 | Transmission Fluid Temperature Sensor Circuit |
| P0711 | Transmission Fluid Temperature Sensor Circuit Range/Performance |
| P0712 | Transmission Fluid Temperature Sensor Circuit Low Input |
| P0713 | Transmission Fluid Temperature Sensor Circuit High Input |
| P0714 | Transmission Fluid Temperature Sensor Circuit Intermittent P0715 |
| P0715 | Input/Turbine Speed Sensor Circuit |
| P0716 | Input/Turbine Speed Sensor Circuit Range/Performance  |
| P0717 | Input/Turbine Speed Sensor Circuit No Signal |
| P0718 | Input/Turbine Speed Sensor Circuit Intermittent |
| P0719 | Torque Converter/Brake Switch B Circuit Low |
| P0720 | Output Speed Sensor Circuit |
| P0721 | Output Speed Sensor Circuit Range/Performance |
| P0722 | Output Speed Sensor Circuit No Signal |
| P0723 | Output Speed Sensor Circuit Intermittent |
| P0724 | Torque Converter/Brake Switch B Circuit High |
| P0725 | Engine Speed Input Circuit |
| P0726 | Engine Speed Input Circuit Range/Performance |
| P0727 | Engine Speed Input Circuit No Signal |
| P0728 | Engine Speed Input Circuit Intermittent |
| P0729 | Gear 6 Incorrect Ratio |
| P0730 | Incorrect Gear Ratio |
| P0731 | Gear 1 Incorrect Ratio |
| P0732 | Gear 2 Incorrect Ratio |
| P0733 | Gear 3 Incorrect Ratio |
| P0734 | Gear 4 Incorrect Ratio |
| P0735 | Gear 5 Incorrect Ratio |
| P0736 | Reverse Incorrect Ratio |
| P0738 | TCM Engine Speed Output Circuit |
| P0739 | TCM Engine Speed Output Circuit Low |
| P0740 | Torque Converter Clutch Circuit Malfunction |
| P0741 | Torque Converter Clutch Circuit |
| P0742 | Torque Converter Clutch Circuit Stuck On |
| P0743 | Torque Converter Clutch Circuit Electrical |
| P0744 | Torque Converter Clutch Circuit Intermittent |
| P0745 | Pressure Control Solenoid 'A' |
| P0746 | Pressure Control Solenoid 'A' Performance or Stuck Off |
| P0747 | Pressure Control Solenoid 'A' Stuck On |
| P0748 | Pressure Control Solenoid 'A' Electrical |
| P0749 | Pressure Control Solenoid 'A' Intermittent |
| P0750 | Shift Solenoid 'A' |
| P0751 | Shift Solenoid 'A' Performance or Stuck Off |
| P0752 | Shift Solenoid 'A' Stuck On |
| P0753 | Shift Solenoid 'A' Electrical |
| P0754 | Shift Solenoid 'A' Intermittent |
| P0755 | Shift Solenoid 'B' |
| P0756 | Shift Solenoid 'B' Performance or Stuck Off |
| P0757 | Shift Solenoid 'B' Stuck On |
| P0758 | Shift Solenoid 'B' Electrical |
| P0759 | Shift Solenoid 'B' Intermittent |
| P0760 | Shift Solenoid 'C' |
| P0761 | Shift Solenoid 'C' Performance or Stuck Off |
| P0762 | Shift Solenoid 'C' Stuck On |
| P0763 | Shift Solenoid 'C' Electrical |
| P0764 | Shift Solenoid 'C' Intermittent |
| P0765 | Shift Solenoid 'D' |
| P0766 | Shift Solenoid 'D' Performance or Stuck Off |
| P0767 | Shift Solenoid 'D' Stuck On |
| P0768 | Shift Solenoid 'D' Electrical |
| P0769 | Shift Solenoid 'D' Intermittent |
| P0770 | Shift Solenoid 'E' |
| P0771 | Shift Solenoid 'E' Performance or Stuck Off |
| P0772 | Shift Solenoid 'E' Stuck On |
| P0773 | Shift Solenoid 'E' Electrical |
| P0774 | Shift Solenoid 'E' Intermittent |
| P0775 | Pressure Control Solenoid 'B' |
| P0776 | Pressure Control Solenoid 'B' Performance or Stuck Off |
| P0777 | Pressure Control Solenoid 'B' Stuck On |
| P0778 | Pressure Control Solenoid 'B' Electrical |
| P0779 | Pressure Control Solenoid 'B' Intermittent |
| P0780 | Shift Malfunction |
| P0781 | 1-2 Shift |
| P0782 | 2-3 Shift |
| P0783 | 3-4 Shift |
| P0784 | 4-5 Shift |
| P0785 | Shift/Timing Solenoid |
| P0786 | Shift/Timing Solenoid Range/Performance |
| P0787 | Shift/Timing Solenoid Low |
| P0788 | Shift/Timing Solenoid High |
| P0789 | Shift/Timing Solenoid Intermittent |
| P0790 | Normal/Performance Switch Circuit |
| P0791 | Intermediate Shaft Speed Sensor Circuit |
| P0792 | Intermediate Shaft Speed Sensor Circuit Range/Performance |
| P0793 | Intermediate Shaft Speed Sensor Circuit No Signal |
| P0794 | Intermediate Shaft Speed Sensor Circuit Intermittent |
| P0795 | Pressure Control Solenoid 'C' |
| P0796 | Pressure Control Solenoid 'C' Performance or Stuck off |
| P0797 | Pressure Control Solenoid 'C' Stuck On |
| P0798 | Pressure Control Solenoid 'C' Electrical |
| P0799 | Pressure Control Solenoid 'C' Intermittent |
| P0810 | Transmission Fluid Pressure Manual Valve Position Switch |
| P0811 | Maximum Adaptive and Long-Term Shift Times |
| P0812 | Transmission Fluid Overtemperature |
| P0813 | Torque Control Solenoid Malfunction |
| P0814 | Torque Converter Overstressed |
| P0816 | Transmission Fluid Pressure Manual Valve Position Switch Park/Neutral with Drive Ratio |
| P0817 | Transmission Fluid Pressure Manual Valve Position Switch Reverse with Drive Ratio |
| P0818 | Transmission Fluid Pressure Manual Valve Position Switch Drive without Drive Ratio |
| P0819 | Internal Mode Switch No Start/Wrong Range |
| P0820 | Internal Mode Switch Circuit 'A' Low |
| P0876 | Transmission Fluid Pressure Sensor/Switch D Circuit Range/Performance |
| P1821 | Internal Mode Switch Circuit 'B' Low |
| P1822 | Internal Mode Switch Circuit 'B' High |
| P1822 | Internal Mode Switch Circuit 'B' High |
| P1823 | Internal Mode Switch Circuit 'P' Low |
| P1824 | Internal Mode Switch Circuit 'P' High |
| P1825 | Internal Mode Switch Invalid Range |
| P1826 | Internal Mode Switch Circuit 'C' High |
| P1831 | Pressure Control Solenoid Power Circuit Low |
| P1832 | Pressure Control Solenoid Power Circuit High |
| P1833 | GM – TCC Solenoid Power Control Circuit Low Voltage |
| P1834 | GM – TCC Solenoid Power Control Circuit High Voltage |
| P1835 | Kick-Down Switch Circuit |
| P1836 | Kick-Down Switch Failed Open |
| P1837 | Kick-Down Switch Failed Short |
| P1842 | 1-2 Shift Solenoid Low Voltage |
| P1843 | 1-2 Shift Solenoid High Voltage |
| P1844 | Subaru – Transmission Fluid Pressure Sensor 'A' Circuit Intermittent |
| P1845 | 2-3 Shift Solenoid Low Voltage |
| P1847 | 2-3 Shift Solenoid High Voltage |
| P1850 | Brake Band Apply Solenoid Circuit |
| P1851 | Brake Band Apply Solenoid Performance |
| P1852 | Brake Band Apply Solenoid Low Voltage |
| P1853 | Brake Band Apply Solenoid High Voltage |
| P1860 | TCC PWM Solenoid Circuit Electrical |
| P1864 | Torque Converter Enable Solenoid Electrical Fault |
| P1866 | TCC PWM Solenoid Circuit Low Voltage |
| P1870 | Transmission Component Slipping: GM Transmission |
| P1871 | Undefined Gear Ratio |
| P1873 | Torque Converter Clutch Stator Temperature Switch Circuit Low Voltage |
| P1874 | Torque Converter Clutch Stator Temperature Switch Circuit High Voltage |
| P1886 | Transaxle Shift Timing Solenoid Performance |
| P1887 | Torque Converter Clutch Release Switch |
| P1890 | CVT Speed Control System |
| P1891 | Problem in Start Clutch Control System |
| P2700 | Transmission Friction Element A Apply Time Range/Performance |
| P2701 | Transmission Friction Element B Apply Time Range/Performance |
| P2702 | Transmission Friction Element C Apply Time Range/Performance |
| P2703 | Transmission Friction Element D Apply Time Range/Performance |
| P2704 | Transmission Friction Element E Apply Time Range/Performance |
| P2705 | Transmission Friction Element F Apply Time Range/Performance |
| P2706 | Transmission Friction Element F Malfunction |
| P2707 | Shift Solenoid F Performance / Stuck Off |
| P2708 | Shift Solenoid F Stuck On |
| P2709 | Shift Solenoid F Electrical |
| P2710 | Shift Solenoid F Intermittent |
| P2711 | Unexpected Mechanical Gear Disengagement |
| P2712 | Hydraulic Power Unit Leakage Intermittent |
| P2713 | Pressure Control Solenoid 'D' |
| P2714 | Pressure Control Solenoid 'D' Performance or Stuck Off |
| P2715 | Pressure Control Solenoid 'D' Stuck On |
| P2716 | Pressure Control Solenoid 'D' Electrical |
| P2717 | Pressure Control Solenoid 'D' Intermittent |
| P2718 | Pressure Control Solenoid 'D' Circuit Open |
| P2719 | Pressure Control Solenoid 'D' Circuit Range/Performance |
| P2720 | Pressure Control Solenoid 'D' Control Circuit Low Voltage |
| P2721 | Pressure Control Solenoid 'D' Control Circuit High Voltage |
| P2722 | Pressure Control Solenoid 'E' Malfunction |
| P2723 | Pressure Control Solenoid 'E' Stuck Off |
| P2724 | Pressure Control Solenoid 'E' Stuck On |
| P2725 | Pressure Control Solenoid 'E' Electrical |
| P2726 | Pressure Control Solenoid 'E' Intermittent |
| P2727 | Pressure Control Solenoid E Ctrl Circ / Open |
| P2728 | Pressure Control Solenoid E Ctrl Circ Range/Perf |
| P2729 | Pressure Control Solenoid E Ctrl Circ Low Voltage |
| P2730 | Pressure Control Solenoid E Ctrl Circ High Voltage |
| P2731 | Pressure Control Solenoid F |
| P2732 | Pressure Control Solenoid F Performance or Stuck Off |
| P2733 | Pressure Control Solenoid F Stuck On |
| P2734 | Pressure Control Solenoid F Electrical |
| P2735 | Pressure Control Solenoid F Intermittent |
| P2736 | Pressure Control Solenoid F Ctrl Circ/Open |