Select your vehicle to get transmission pricing and labor cost estimates:
In This Guide:
Looking to buy a High Performance Transmission for a Modified Vehicle?
7 Tips on Buying High Performance Transmissions
Need a replacement transmission? Get an estimate for replacement transmissions and local installation. Look up your transmission model by vehicle make and model.
What Transmission Do I Have?

Fair Remanufactured Transmission Pricing Table – 2021
What is a "New" Transmission?
Truly "new" transmissions can only be found in brand new cars rolling off the assembly line. From the metal case and gears, to the springs and seals, every component is freshly stamped, extruded, or otherwise created.
Car manufacturers do not sell or distribute these "new" transmissions to anyone, for any reason. One per car, that's it.
All other transmissions out there are either rebuilt, used or remanufactured. Even if you have a transmission replaced under warranty by a dealership, it will be a remanufactured transmission, not a new one.
What is a Remanufactured Transmission?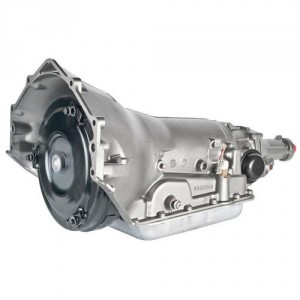 A remanufactured transmission refers to a gearbox that has been completely disassembled and then re-engineered on an assembly line. Each component is inspected, cleaned, and reconditioned by a technician that specializes in that particular stage of the process.
All of the critical elements including the case, gears, valve body, shafts, pumps, and the torque converter are tested to ensure that they meet original equipment (OE) tolerances and standards. Any part that doesn't meet the original specifications is either machined until it does or replaced with a brand new part.
Once all of the components meet specification, they're sent down an assembly line and the transmission is reassembled. The reman transmission is then put on a dyno machine which simulates real-world driving through a software program called C.A.R.S. This allows any leaks and imperfections to be discovered and dealt with before the transmission leaves the factory.
Another benefit of a remanufactured transmission are the updates and upgrades it receives. Once a certain vehicle model has been in production for a few years, small issues with the design are discovered and solutions are implemented. It may be more robust friction materials, stronger seals, stiffer springs, or number of other things.
These changes are immediately applied to the new models still in production, and Technical Service Bulletins (TSB's) are sent to dealers so they know how to deal with problems that may arise. Transmission remanufacturing companies also get these TSB's, and implement the changes on their assembly line as well
Remanufacturing Process – What is Involved?
Disassembly
When a "core" (i.e. used) transmission first arrives at the remanufacturing facility, it's catalogued and completely disassembled. Any transmission fluid that's still inside is collected and recycled. The torque converter is also taken apart, and all of the parts are accounted for.
Cleaning
Once all of the internal parts are catalogued, the old bits of gasket are thrown away, and parts like the gears, case and shafts are washed in a high-pressure parts washer. While more sensitive components like the valve body and torque converter turbines are washed by hand.
Inspection
Once all of the gunk has been knocked off, the parts are thoroughly inspected for cracks, imperfections, and adherence to OE tolerances. Parts that don't make the grade are either machined back to factory specs, or replaced.
Valve Body Testing
Since the valve body is responsible for shift timing, it's hooked to a special machine that uses hydraulic pressure to simulate driving. It's put through different test cycles to mimic a variety of road/driving conditions. The results help the reman technician to identify shifting problems, cracks, and leaks. Once all of the problems have been dealt with, it's then resurfaced to ensure that it seals properly with the transmission case.
Replacing Parts & Re-Assembly
All components that don't meet specification, like gear sets, shafts, clutches etc. get replaced on the assembly line, along with all seals, gaskets and o-rings. Electrical components such as solenoids and control units get inspected and replaced.The torque converter is also remanufactured with any necessary washers, springs, spacers, and clutch friction material. Upgrades and updated components are installed, then the transmission is re-assembled using the proper OEM torque specs and fasteners.
Dyno Testing
After assembly, each and every remanufactured transmission is placed on a dynamometer, and put through a series of hot and cold driving simulations to test the operation, and quality of the transmission. If any leaks or faulty parts are discovered, the transmission is sent back through the remanufacturing process.
What Components Are Replaced?
Gaskets
Seals
O-Rings
Filters
Washers
Bearings
Bushings
Friction Material
Solenoids
Sensors
Any damaged "hard parts", such as gears, shafts etc.
Torque Converters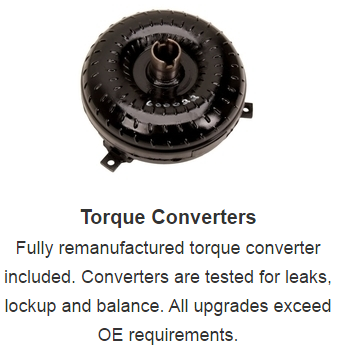 Remanufactured torque converters are opened, thoroughly cleaned and inspected. Technicians will then replace the spacers, springs, washers, rollers, hubs, clutch friction material, and the lockup clutch piston when applicable. All of the turbine fins are closely examined, then tightened or welded when necessary. Once the reman torque converter is reassembled, it is pressure tested and balanced to ensure smooth, vibration-free operation.
Benefits
Done in a Factory Setting
Remanufactured transmissions are built in a factory, on an assembly line. Technicians specialize in specific areas, and each transmission undergoes numerous quality checks throughout the remanufacturing process. This ensures a higher quality product, and longer service life.
Replaces More Parts
A remanufactured transmission is thoroughly disassembled, cleaned, surfaces are machined to factory specification, updated parts are installed, and an entire list of components are replaced. By comparison, the typical rebuilt transmission only receives new components if the original is worn out.
Testing
When a mechanic or transmission shop rebuilds a gearbox, it's usually tested after it's reinstalled in the vehicle. By contrast, remanufactured transmissions are subjected to a rigorous battery of tests before they ever leave the factory. Dyno machines and valve body testers are designed to expose problems before you get on the road, that way you won't have to take your vehicle back to the mechanic because "something doesn't feel right".
How Much Does a Remanufactured Transmission Cost?
On average, a remanufactured transmission will cost between $1,300 and $3,400, depending on the make and model of your vehicle. The cost of labor to install it is in addition to the price of the unit and will typically run between $500 and $1200.
Before 2009, it was more economical to have your transmission rebuilt at a local transmission rebuild shop vs. replace it with a remanufactured transmission.
In 2018, the price to replace your transmission with a remanufactured can be less than having it rebuilt locally, with a longer warranty (3 years vs. 1 year).
Here are other differences between rebuilt vs. remanufactured transmissions.
Warranty – What is Covered?
One of the biggest advantages to buying a remanufactured transmission is the warranty. A good quality reman transmission will come with a 3-year/Unlimited Mile Nationwide Warranty. Commercial and heavy duty applications are typically covered for 18-months/100,000 miles. Anything less should make you question the quality. Ideally, the warranty should be transferable too. That way if you sell the car during the warranty period, the coverage can be transferred to the new owner.
Another feature that you should look for is the coverage area. In order to receive reimbursement, many transmission warranties will limit you to specific shops, and that can often tie you to a particular geographic area. So if you have problems outside of the coverage area, you'll be paying for the repairs yourself.
A good nationwide warranty will honor repair costs from a licensed shop, no matter where it's located. And you want one that will cover both parts and labor. $50/hour is the average cost on transmission repairs, so make sure your warranty will pay at least that amount.
How Long Does it Take?
Depending on the availability, your reman transmission can usually be shipped to the repair shop within a few days of your order. Shipping and core return should be free. Expect the installation to take 1 to 2 days.
How Long Will it Last?
There is no set time or mileage. We've heard of cases where they only last 6,000 miles (rare) and others that have lasted over 300,000 miles. Your driving habits and how closely you follow recommended maintenance procedures are the deciding factors. That is why it's so important to get a good warranty. If I had to give a number, the average would be 150,000 to 200,000 miles.
How to Buy a Remanufactured Transmission
1) Buying Locally
When you go to your local repair shop, they'll order a remanufactured transmission, then mark up the price. So at the end of the day, you'll be paying 15% to 30% more than the actual cost of the unit.
2) Buying Online
Buying a reman transmission through a company like Street Smart Transmission will save you a considerable amount of money because you pay the wholesale price (avoiding a repair shop's 15% to 30% markup), they'll ship the unit to the shop of your choice free of charge, and returning your old transmission is free as well. Then all you have to pay for is the labor to install the unit (usually $400 to $800), and you're on your way.
Click the green button and we'll send you a quote for a replacement remanufactured transmission to your email.
How Does it Work?
To order a remanufactured transmission all you need to do is provide your vehicle's VIN number, the mileage, and the address of the repair shop that you want it shipped to.
Financing
Replacing a transmission can be expensive, so Street Smart Transmission offers financing through PayPal. Depending on your credit, you'll be able to order a new transmission, get back on the road, then pay for it over time. You may have to pay labor charges for the installation up front, but you won't have to shell out for the transmission all at once.
Shipping Charge/Location
When it comes to shipping, a transmission is quite heavy. So you're going to pay quite a bit of money, unless the reman transmission company offers free shipping. Street Smart offers free shipping to a business address, which is usually the repair shop that you've chosen to install the unit.
What is a Core Charge (Core Deposit)?
Every remanufactured transmission originally came from somebody else's car. Therefore, they need your broken transmission in order to refurbish it for another customer.
Your old/damaged transmission is called a "core", and many companies will collect a core charge (usually $500 to $1500), which will be refunded once they receive your old transmission. However, if the transmission case, or other key components are damaged beyond repair, you may not get all of your core charge back. Make sure to ask for the core return policy, so you'll know what to expect.

Our Recommendation
We recommend Street Smart Transmission. We have found Street Smart to be of the highest quality. Their transmissions carry a 3 year / unlimited miles warranty that covers both parts and labor. Their warranty is nationwide and attached to the VIN so it is transferable with ownership if you decide to sell the vehicle. It also covers both parts and labor for the installation of the replacement transmission.
Watch the Remanufacturing Process
How it Works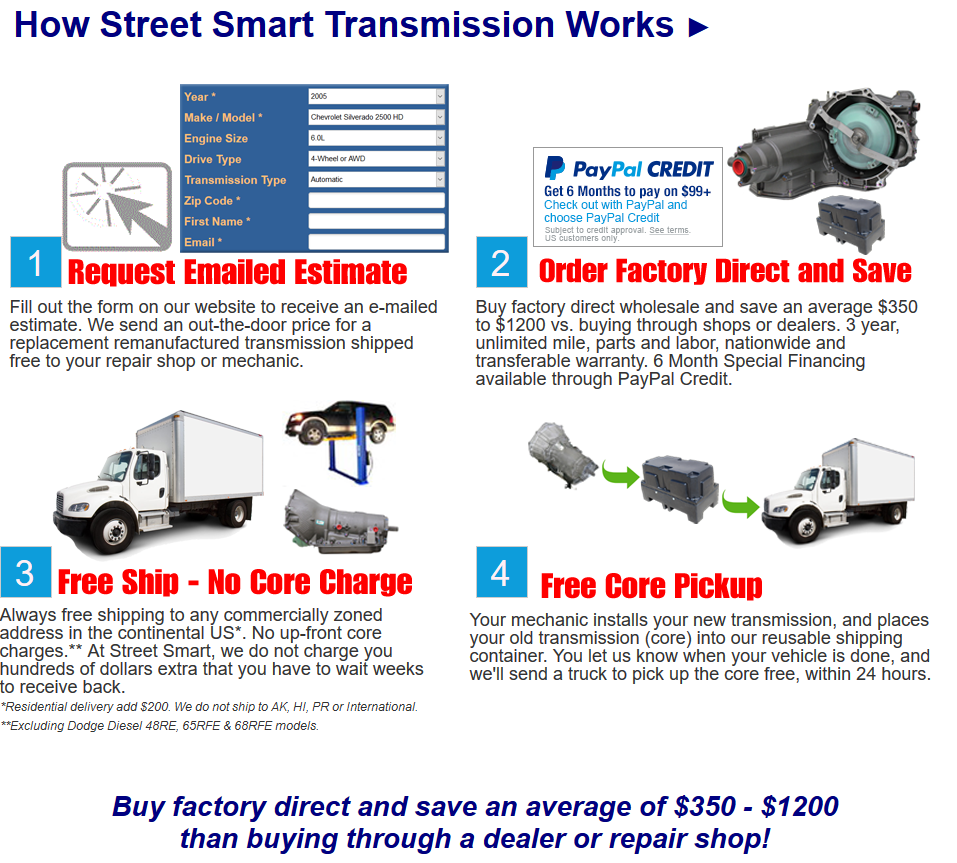 Finding a Shop to Install the Remanufactured Transmission
If your transmission has failed, you're going to need a skilled repair shop to replace it. You can find a shop using our shop locator map.
For warranty purposes, you need to find a reliable repair shop. That way, if the replacement transmission doesn't work properly, the warranty will cover it.
Need a replacement transmission? Get an estimate for replacement transmissions and local installation. Look up your transmission model by vehicle make and model.
What Transmission Do I Have?

More Information by Transmission Type
More Information by Make & Model