If you are in the market for a remanufactured 42RLE transmission direct from the factory at some of the best wholesale prices around, we have them for you! We offer the best warranties in the auto industry on all transmissions to include a 3-year, nationwide, transferrable, parts and labor, unlimited mile, no hassle warranty. Click Get a Free Estimate below for an price on a replacement remanufactured transmission.
Need a replacement transmission? Quality transmission suppliers can be hard to find. Have your 17-digit vehicle VIN# ready. Free estimates sent via text and email.
Vehicle Compatibility – Makes & Models
2005–2010 Chrysler 300
2006–2010 Dodge Charger
2004–2011 Dodge Dakota
2004-2009 Dodge Durango
2005-2008 Dodge Magnum
2007–2011 Dodge Nitro
2003–2013 Jeep Liberty
2003–2011 Jeep Wrangler
2009 Dodge Challenger V6
2003-2012 Dodge Ram
Gear Ratios for the 42RLE:
1st: 2.80
2nd: 1.55.
3rd: 1.00
4th: 0.69
42RLE Transmission Overview
The 42RLE is an automatic, 4-speed transmission that is manufactured by the Chrysler Corporation. The 42RLE is a modified version of the 42LE, which was changed in 2003. The modification came when the Jeep Liberty, then new, was released.
The RLE is a 42LE transaxle, which was modified for use in vehicles that are rear-wheel drive. The change included removing the transfer chain and integral differential. The 42RLC is from a family of transmissions including the 41TE, 41AE, 40TE, and the 42LE, in that order.
The 42RLE transmission features a redesign which includes the power flow exiting via the rear of the transmission and the transfer case has been modified to ensure better overall performance. The transmission comes designed with a complete full electronic shift control that features adaptive memory controlled by the Transmission Control Module, so the transmission can learn the driving habits of the operator. In addition, the transmission features an Electronically Modulated Converter Clutch or EMCC, which deters the jolt you may feel when harsh shifting your vehicle.
History of the Ultradrive
One of the most fascinating advancements in transmission operation was the introduction of Ultradrive, which was one of the first electronically controlled automatics. This feature lead to the introduction of adaptive shifting, which works with the electronic control unit to learn the driving habits and moves of the operator.
While it sounds like a good idea, the Ultradrive feature quickly failed due to its unreliability. Fortunately, many of the problems that arose with Ultradrive were not due to the feature itself, but the labeling issues caused by the rush to place the feature on the market.
The owner's manual and fluid dipsticks recommended that the use of Dexron transmission fluid was the best option should the required fluid not be readily available. However, the 42RLE transmission was not designed to use that fluid, and owners quickly started to report issues with their transmission after Dexron was added and the many of the issues would disappear shortly after it was removed.
In addition, owners experienced what they thought was transmission failure when it was actually the limp home feature. The vehicle's computer would force the transmission to operate in second gear only when it found an incorrect reading from one of the sensors. This function enabled the owner of the vehicle to "limp" to a repair shop while minimizing further damage to the transmission.
This issue often led to a false perception that the transmission failed, and premature replacement of the transmission may have been recommended. If second gear was the issue on the vehicle, the limp mode feature would disable the transmission and not allow the vehicle to move at all.
Since this transmission replaced a 3-speed, it was updated to perform better with a new torque converter that measured approximately 9.5 inches in diameter. It was mounted to the transmission's flywheel using a flexible drive plate. The transaxle was then cooled through a heat exchanger. The transmission had no mechanical holding devices or bands and the ratios of oil to water and oil to air were converted using five clutch packs.
Common Problems
Chrysler automatic transmissions start suffering from issues when the automatic transmission fluid is topped off or replaced the fluid with common options such as Mercon or Dexron. Chrysler transmissions need to have their own special transmission fluid, which is designated as ATF+4 Synthetic Type 9602.
This fluid is available at any Chrysler dealership. NO other fluids or additives should be added to the transmission fluid and if any other fluid is added, a complete transmission fluid drain, flush, and replacement with ATF+4 is required. When the transmission is properly managed and serviced, it will work correctly without any issues.
Chrysler Ultradrive transmissions experience some common problems such as blocking problems, stuck shifts, and limp mode. Fortunately, newer and remanufactured versions of the transmission include 9 design changes to combat these problems.
Poor Shifting Quality
If you experience poor shifting quality with your 42RLE transmission, you may need to check the fluid levels. If low levels are not the problem, you may have a solenoid or valve stuck in the valve body, a computer malfunction, or a pump that is starting to fail.
The Transmission is Stuck in Second Gear
Typically, if you have noticed the transmission is stuck in second gear, it is likely that the transmission has gone into limp home mode. This mode is a safety measure that Chrysler built into the transmission that allows you to continue to drive your vehicle to a service station without completely destroying the transmission. If you experience this problem, it is likely that it can be traced back to a defective sensor.
The Transmission Randomly Downshifts without Engaging Properly
This is a common problem that can be traced back to a defective lower or upper speed sensor.
The Transmission Starts to Experience Harsh 1-2 Shifts
Many times, a filter and fluid change will correct this issue. You should always use the correct fluid in your 42RLE transmission to prevent further damage to it. It is recommended that you have a power flush performed to ensure all old debris and fluid is removed from the transmission.
The Transmission is Overheating
This is a common problem in most automatic transmissions, but the 42RLE does seem to experience it more often. It is recommended that you install an aftermarket transmission cooler to combat the problem.
Remanufactured 42RLE Transmission Updates and Upgrades
Completely remanufactured pump with new line bore bushings to eliminate all leaks and to provide durability and superior flow
New bushings installed in key locations to improve the internal fluid flow control and fluid pressure
Remanufactured valve body that comes with complete system correction and a recalibration lot to improve shift quality and pressure control
Remanufactured and completely improved torque converter, which has been tested for leaks, balance, and concentricity. Upgrades exceed the OE requirements and eliminate front seal leaks, vibration, and premature bushing wear
Complete road simulation using the C.A.R.S. (Computer Aided Road Simulation) program to ensure durability and function. All transmissions are tested hot and cold before shipment
Complete system correction and recalibration kit installed to overcome OE flaws. Some of the modifications made include updates to the servos, PR system, and valve body accumulators
Heavy-duty recalibration kit installed to increase durability and reduce slipping
What's Included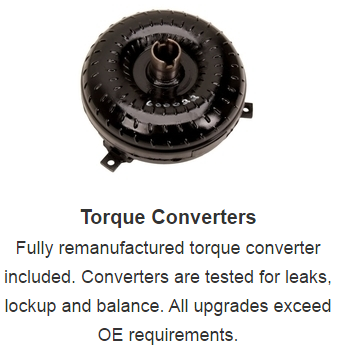 How to Buy a Remanufactured 42RLE Transmission
1) Buying Locally
When you go to your local repair shop, they'll order a remanufactured transmission, then mark up the price. So at the end of the day, you'll be paying 15% to 30% more than the actual cost of the unit.
2) Buying Online
Buying a reman transmission through a distributor like Street Smart Transmission will save you a considerable amount of money because you pay the wholesale price (avoiding a repair shop's 15% to 30% markup), they'll ship the unit to the shop of your choice free of charge, and returning your old transmission is free as well. Then all you have to pay for is the labor to install the unit (usually $400 to $800), and you're on your way.
Click the green button and we'll send you a quote for a replacement remanufactured transmission to your email.
How Does it Work?
To order a remanufactured transmission from a company like Street Smart Transmission, all you need to do is provide your vehicle's VIN number, the mileage, and the address of the repair shop that you want it shipped to.
Financing
Replacing a transmission can be expensive, so Street Smart Transmission offers financing through PayPal. Depending on your credit, you'll be able to order a new transmission, get back on the road, then pay for it over time. You may have to pay labor charges for the installation up front, but you won't have to shell out for the transmission all at once.
Shipping Charge/Location
When it comes to shipping, a transmission is quite heavy. So you're going to pay quite a bit of money, unless the reman transmission company offers free shipping. Street Smart offers free shipping to a business address, which is usually the repair shop that you've chosen to install the unit.
What is a Core Charge (Core Deposit)?
Every remanufactured transmission originally came from somebody else's car. Therefore, they need your broken transmission in order to refurbish it for another customer.
Your old/damaged transmission is called a "core", and many companies will collect a core charge (usually $500 to $1500), which will be refunded once they receive your old transmission. However, if the transmission case, or other key components are damaged beyond repair, you may not get all of your core charge back. Make sure to ask for the core return policy, so you'll know what to expect.

Our Recommendation
We recommend Street Smart Transmission. We have found Street Smart to be of the highest quality. Their transmissions carry a 3 year / unlimited miles warranty that covers both parts and labor. Their warranty is nationwide and attached to the VIN so it is transferable with ownership if you decide to sell the vehicle. It also covers both parts and labor for the installation of the replacement transmission.
Watch the Remanufacturing Process
How it Works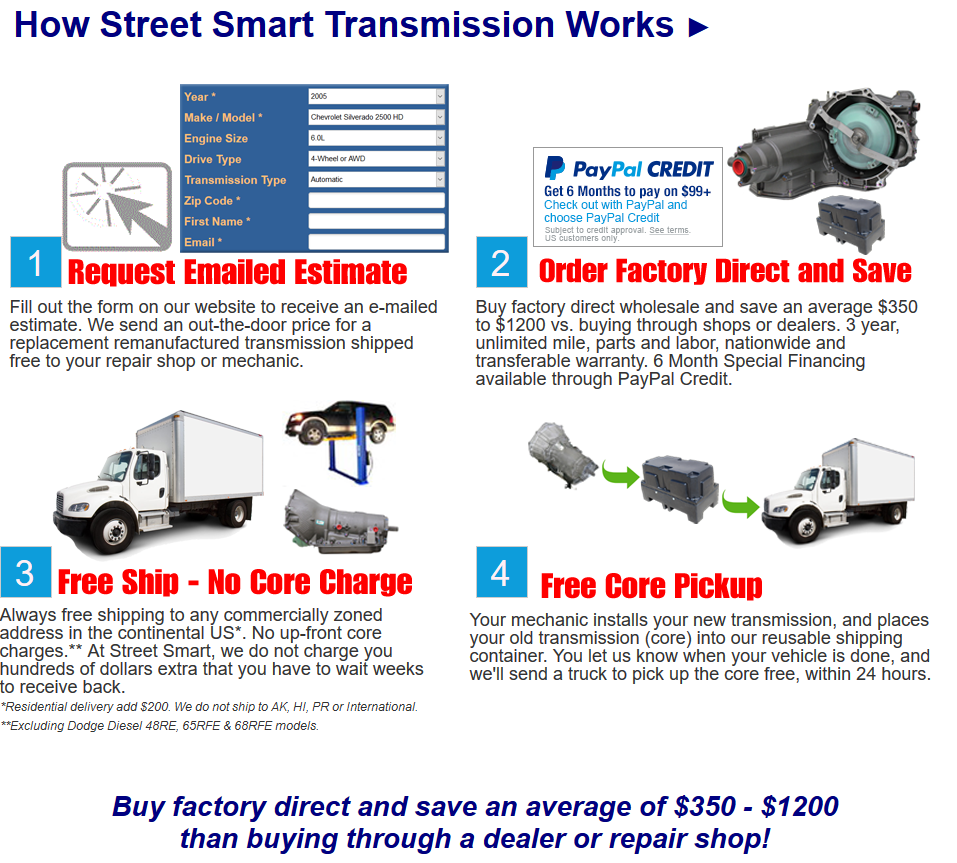 Finding a Shop to Install the Remanufactured Transmission
If your transmission has failed, you're going to need a skilled mechanic to replace it. You can find a shop using our shop locator map.
For warranty purposes, you need to find a reliable repair shop. That way, if the replacement transmission doesn't work properly, the warranty will cover it.
Fair Replacement Transmission Cost by Vehicle
Use the Year / Make / Model lookup tool to determine what transmission your vehicle has.



Find your transmission model in the table below for fair prices from reputable suppliers. Also fair labor cost for local installation at a local auto repair shop.


Get a free estimate on a remanufactured transmission by email.
Fair Remanufactured Transmission Price Ranges by Transmission Model Updated May 1, 2018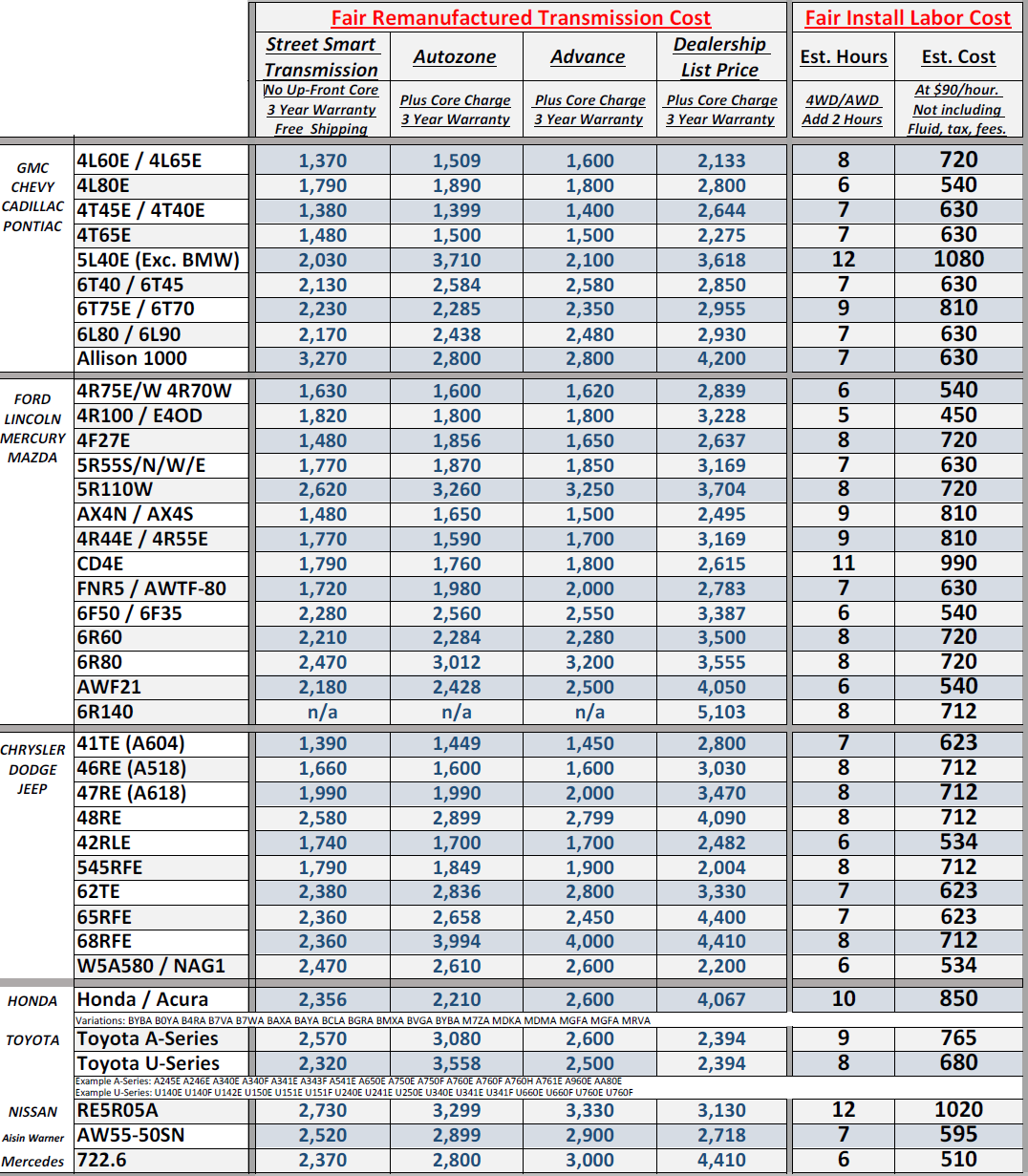 Download Replacement Transmission Cost Guide PDF