In This Guide
Need a replacement transmission? Get an estimate for replacement transmissions and local installation. Look up your transmission model by vehicle make and model.
What Transmission Do I Have?

To get an estimate on a E4OD, click Get a Free Estimate.
Replacement E4OD Transmission Prices:
| Transmission | Street Smart Transmission |
| --- | --- |
| 4R100 / E4OD | 2226 |
E4OD Transmission Vehicle Compatibility – Makes & Models
1990–1996 Ford Bronco
1989–1998 Ford E-Series
1997–1998 Ford Expedition
1989–1998 Ford F-Series
1993–1995 SVT Lightning
About the E40D & Common Problems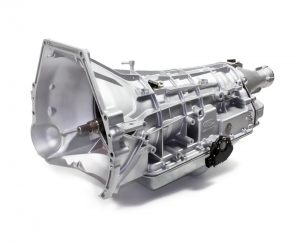 Based on the 3-speed Ford C6, the Ford E4OD is a heavy duty 4-speed automatic transmission that was designed for light and medium duty trucks. It was Ford's first electronically controlled transmission, and it gave their trucks a significant increase in fuel economy.
First introduced in 1989, the E4OD remained in production until 1998. It was renamed the 4R100 following the 1998 model year, in order to adhere to Ford's new transmission naming system.
The newly christened 4R100 transmission also received a number of upgraded internal components, which were designed to make this version of the E4OD able to withstand the increased torque of the new Powerstroke diesel engine.
One major improvement included a PTO for auxiliary equipment, which was introduced in 1999. In all, there were over 10 different variations of the E4OD and 4R100.
Some had different bellhousings to match up with different engines, there were 2WD and 4WD versions, along with different solenoids and electronic controls, depending on the model year.
Common Problems
Only reverse gear works
A common E4OD transmission problem occurs when it will only go into reverse. The complete lack of forward gears could be due to several issues. Including worn clutches, a damaged forward clutch assembly, or stripped/broken splines on the forward planetary. These problems are very serious, and could require a complete transmission overhaul or replacement.
No reverse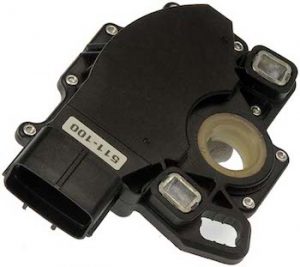 Another one of the common E4OD transmission problems is a complete lack of reverse gear. This could be caused by either the Transmission Range Sensor (TRS), or the Manual Lever Position Sensor (MLPS). Both of these electronic components can be removed and cleaned with an electronic specific cleaner. If that is not solve the problem, then you will have to replace these E4OD transmission parts.
Engine stalls in reverse
This E4OD transmission problem likely stems from the Idle Air Control sensor (IAC). It can be removed and cleaned with an electronic specific cleaner. However, if this does not solve the problem, you will have to replace it.
Fluid leak coming from the front (engine side) of the transmission
If you notice a leak between the transmission and the engine, then it could be one of two likely problems. On vehicles that have sat idle for a while, the front seal may have lost elasticity and failed when pressure was applied to it.
The second possible cause could be the hub on the torque converter, which is a common problem on vehicles with high mileage. In this scenario, the torque converter hub may have worn and made contact with the front seal. In either case, the transmission will need to be removed in order to diagnose and fix the problem.
High revs in forward gears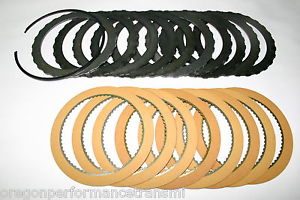 If you notice erratic shifting behavior, then the likely culprit is the torque converter clutch not properly engaging. This problem can be caused by a number of issues, including a faulty TCC solenoid (Torque Converter Clutch), a stuck valve, or a worn torque converter clutch.
Hard shift into second gear
If you notice the engine running at unusually high rpm's, followed by a very hard shift into second gear, then the E4OD intermediate clutch pack is most likely starting to fail. To solve this problem, you will have to remove the transmission and replace the clutch pack.
E4OD Technical Service Bulletins | TSBs
TSB 02–21–1 – E4OD Transmission – Torque converter access plug may become dislodged
1989 – 1997 Ford Super Duty – 1989 – 1998 Ford F250 – 1989 – 1998 Ford F53 Motorhome – 1989 – 2003 Ford E-Series – 1989 – 2003 Ford F150 – 1999 – 2003 Ford Super Duty – 2000 – 2003 Ford Excursion – 1998 – 2003 Lincoln Navigator – 2002 – 2003 Lincoln Blackwood
Problem – Due to extreme load and material shrinkage, the torque converter external access dust plug may fall out during severe duty use.
Solution – Install new plug (part number E9TZ-7N171-A) with a 1/4 inch bead of silicone sealant around the plug.
Reman E4OD vs Used E4OD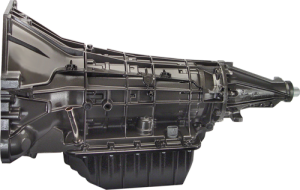 On the surface, it may appear that buying a used E4OD might save you a bit of money. But in all likelihood, it could cost you a lot more money in the long run. You see, most used units only come with a replacement warranty.
That means if the first one breaks within 30–90 days of purchase, the salvage yard will replace it. However, you'll be on the hook for the labor charges to install the new one. And there's no telling what kind of shape the internal components are in. This means that it could fail at any time, leaving you to pay for yet another used E4OD.
A remanufactured E4OD on the other hand, is built in the factory, and all of its hard parts (gears, clutch drums, valve body etc.) are thoroughly examined for cracks, damage, and warping prior to the build.
Anything that doesn't meet specification is tossed out and replaced. Upgraded components are then installed, ensuring that your remanufactured transmission will be able to withstand years of use.
Plus, you'll get a warranty that will cover future repair costs, just like an original factory warranty. So if you plan to keep your Ford truck for a long time, then a remanufactured unit is definitely the way to go.
Remanufactured E40D Transmission Updates and Upgrades
Six-plate direct clutch and four-plate intermediate clutch packs are used to increase the durability and performance.
Updated EPC solenoid and stronger solenoid clips are used to increase transmission service life
An upgraded boost valve kit, PR valve (pressure regulator), bypass converter clutch sleeve & plunger are installed to prevent delayed shifts, weak/soft shifts and transmission shudder
Upgraded intermediate clutch spiral lock snap ring and staked retainer are used to correct an OE design flaw that can lead to premature failure
Updated 1-2 and 2-3 accumulator pistons are used to address premature clutch failure and prevent harsh shifting
New overdrive (OD) servo pin sleeve and custom-spec bushings increase durability
Remanufactured pump with stronger line bore bushings are used to prevent leaks and improve fluid flow
Remanufactured torque convertor gets tested for leaks, lockup function and balance
On 2001 model year and newer E4OD transmissions, a new 3-4 capacity valve sleeve, with an extra-thick zinc-coated Super Tough Plate is used to prevent plate cracking and cross leaks, which can be caused by repeated stress to the 2-3 accumulator piston spring retainer
Available police, towing, and performance packages come with an eight-plate direct clutch pack, additional valve body modifications, elevated pressure regulator valve, and other upgrades that are specifically designed to increase durability and load capacity
Remanufactured valve body gets a system correction and recalibration kit to improve both pressure control and shift quality
Finished transmission is hot and cold dyno tested to ensure proper functionality and tuning prior to shipment
What's Included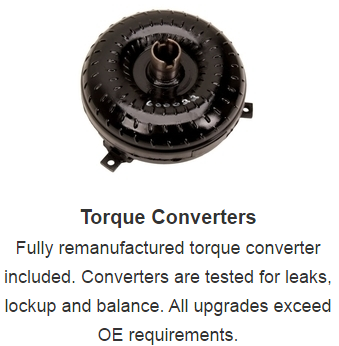 How to Buy a Remanufactured E4OD Transmission
1) Buying Locally
When you go to your local repair shop, they'll order a remanufactured transmission, then mark up the price. So at the end of the day, you'll be paying 15% to 30% more than the actual cost of the unit.
2) Buying Online
Buying a reman transmission through a company like Street Smart Transmission will save you a considerable amount of money because you pay the wholesale price (avoiding a repair shop's 15% to 30% markup), they'll ship the unit to the shop of your choice free of charge, and returning your old transmission is free as well. Then all you have to pay for is the labor to install the unit (usually $400 to $800), and you're on your way.
How Does it Work?
To order a remanufactured transmission from a company like Street Smart Transmission, all you need to do is provide your vehicle's VIN number, the mileage, and the address of the repair shop that you want it shipped to.
Financing
Replacing a transmission can be expensive, so Street Smart Transmission offers financing through PayPal. Depending on your credit, you'll be able to order a new transmission, get back on the road, then pay for it over time. You may have to pay labor charges for the installation up front, but you won't have to shell out for the transmission all at once.
Shipping Charge/Location
When it comes to shipping, a transmission is quite heavy. So you're going to pay quite a bit of money, unless the reman transmission company offers free shipping. Street Smart offers free shipping to a business address, which is usually the repair shop that you've chosen to install the unit.
What is a Core Charge (Core Deposit)?
Every remanufactured transmission originally came from somebody else's car. Therefore, they need your broken transmission in order to refurbish it for another customer.
Your old/damaged transmission is called a "core", and many companies will collect a core charge (usually $500 to $1500), which will be refunded once they receive your old transmission. However, if the transmission case, or other key components are damaged beyond repair, you may not get all of your core charge back. Make sure to ask for the core return policy, so you'll know what to expect.

Our Recommendation
We recommend Street Smart Transmission. We have found Street Smart to be of the highest quality. Their transmissions carry a 3 year / unlimited miles warranty that covers both parts and labor. Their warranty is nationwide and attached to the VIN so it is transferable with ownership if you decide to sell the vehicle. It also covers both parts and labor for the installation of the replacement transmission.
Watch the Remanufacturing Process
How it Works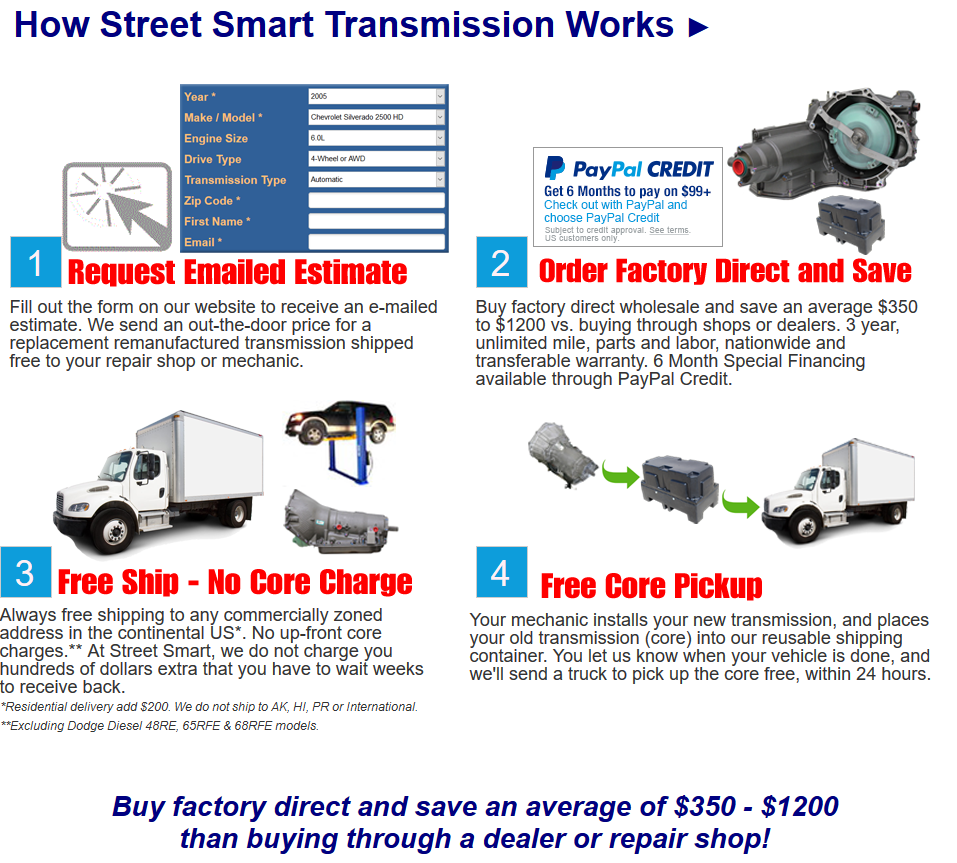 Finding a Shop to Install the Remanufactured E4OD Transmission
If your transmission has failed, you're going to need a skilled mechanic to replace it. You can find a shop using our shop locator map.
For warranty purposes, you need to find a reliable repair shop. That way, if the replacement transmission doesn't work properly, the warranty will cover it.
Ready to Replace Your E4OD Transmission?
Click Get a Free Estimate for an unbeatable price on a replacement remanufactured transmission.