To get an estimate on a rebuilt 5L40E, click Get a Free Estimate.
Need a replacement transmission? Quality transmission suppliers can be hard to find. Have your 17-digit vehicle VIN# ready. Free estimates sent via text and email.
Replacement 5L40E Transmission Prices:
| Transmission | Street Smart Transmission | Autozone | Advance Auto Parts |
| --- | --- | --- | --- |
| 5L40E (Exc. BMW) | 2080 | 2100 | 2100 |
5L40E Vehicle Compatibility – Makes & Models
2004–2006 Cadillac CTS (RWD)
2005–2006 Cadillac STS (RWD)
2004–2006 Cadillac SRX (RWD)
2008–2009 Pontiac G8 (RWD)
2004–2006 Cadillac CTS (AWD)
2004–2006 Cadillac STS (AWD)
2004–2006 Cadillac SRX (AWD)
2006 Pontiac Solstice
2007 Saturn Sky
BMW 3 Series
BMW 5 Series
BMW Z3
BMW X5
5L50 Vehicle Compatibility – Makes & Models
2004–2006 Cadillac XLR
2005–2006 Cadillac STS
2004–2006 Cadillac SRX
The GM 5L40E transmission first saw production in 2004 Cadillac and BMW models. The transmission fits both two-and all-wheel-drive vehicles. Designed for longitudinal engine configurations, the series includes 5 forward gears and is used in the GM Sigma platform vehicles from Cadillac and the Pontiac Solstice and certain BMW models.
The electronically controlled transmission is designed around a fully articulated Ravigneaux gearset that is controlled by electronically timed application of several range-specific hydraulic clutches, in combination with mechanical one-way sprag clutches. The 5L40E unit's centerpiece is an automatic overdrive which supersedes the French-made 4L30E four-speed automatic light-duty gearboxes, and like them features a torque converter clutch to eliminate slipping losses in select forward ranges. It is assembled in Strasbourg, France. The 5L40/50 series was replaced in 2007 with the 6L50 six-speed.
The 5L40E was designated in either "M82" (rear-wheel drive) or "MX5" (all-wheel drive) versions for service in BMW vehicles from 2000 model year until the design was superseded by (for BMW) the 6L45E and (for all others) the 6L50E series electronic automatic transmissions in 2007 . It is designed for service in vehicles up to 4000 lb (1814 kg) GVWR and in service was mated to a selection of final drive ratios 3.42:1, 3.73:1, or 3.91:1 depending on the carline. The 5L40-E had been designed for 1.8–3.6 L engines with a maximum of 250 ft·lbf (340 N·m) of torque. It was underrated when used in combination of M57D30 engines. As the M57D30 rated torque output of 390/410Nm.
Common Problems with the 5L40E
Slipping, Erratic Shifting, Harsh Forward or Reverse Gear Engagement: Some of the most common 5L40E transmission problems are slipping between gears, erratic up or down shifts, or a hard slam when the 5L40E transmission engages Drive or Reverse. There are a number of design flaws in this transmission, and any one of them could be causing these symptoms.
Another common problem is overheating. This happens when the moving parts inside the transmission are creating more friction heat than the ATF can remove. The most common cause of this condition is towing heavy loads, driving in stop/go traffic, or on mountain roads where the transmission has to shift a lot.
Updates to Remanufactured 5L40E Transmissions
Remanufactured pump, with new line bore bushings to eliminate leaks and provide superior flow and durability.
Remanufactured valve body, with complete system correction and recalibration kit, improves pressure control and shift quality.
Remanufactured and improved torque converter tested for leaks, concentricity, and balance. Upgrades exceed OE requirements and eliminate the possibilities of front seal leaks, premature bushing wear, and vibration.
All new, bushings installed in key locations to improve internal fluid flow control and fluid pressures.
Complete system correction and recalibration kit installed to address several OE flaws. Modifications include updates to servos, the PR system, and valve body accumulators.
Heavy-duty recalibration kit installed to reduce slippage and increase durability.
Complete road simulation using a dynamometer testing program called C.A.R.S. (Computer Aided Road Simulation). Every transmission is cold and hot tested before shipment.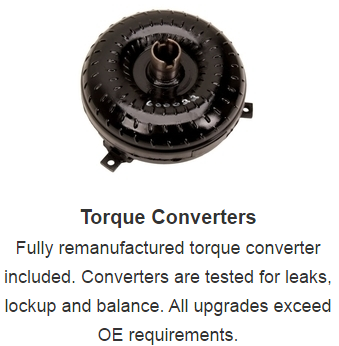 How to Buy a Remanufactured 5L40E Transmission
1) Buying Locally
When you go to your local repair shop, they'll order a remanufactured 5L40E transmission, then mark up the price. So at the end of the day, you'll be paying 15% to 30% more than the actual cost of the unit.
2) Buying Online
Buying a reman transmission through a company like Street Smart Transmission will save you a considerable amount of money because you pay the wholesale price (avoiding a repair shop's 15% to 30% markup), they'll ship the unit to the shop of your choice free of charge, and returning your old transmission is free as well. Then all you have to pay for is the labor to install the unit (usually $400 to $800), and you're on your way.
How Does it Work?
To order a remanufactured 5L40E transmission from a company like Street Smart Transmission, all you need to do is provide your vehicle's VIN number, the mileage, and the address of the repair shop that you want it shipped to.
Financing
Replacing a transmission can be expensive, so Street Smart Transmission offers financing through PayPal Credit. Depending on your credit, you'll be able to order a new transmission, get back on the road, then pay for it over time. You may have to pay labor charges for the installation up front, but you won't have to shell out for the transmission all at once.
Shipping Charge/Location
When it comes to shipping, a transmission is quite heavy. So you're going to pay quite a bit of money, unless the reman transmission company offers free shipping. Street Smart offers free shipping to a business address, which is usually the repair shop that you've chosen to install the unit.
What is a Core Charge (Core Deposit)?
Every remanufactured transmission originally came from somebody else's car. Therefore, they need your broken transmission in order to refurbish it for another customer.
Your old/damaged transmission is called a "core", and many companies will collect a core charge (usually $500 to $1500), which will be refunded once they receive your old transmission. (Street Smart does not charge an up-front core charge.) Make sure to ask any company for their core return policy, so you'll know what to expect.

Our Recommendation
We recommend Street Smart Transmission. We have found Street Smart to be of the highest quality. Their transmissions carry a 3 year / unlimited miles warranty that covers both parts and labor. Their warranty is nationwide and attached to the VIN so it is transferable with ownership if you decide to sell the vehicle. It also covers both parts and labor for the installation of the replacement transmission.
Watch the Remanufacturing Process
How it Works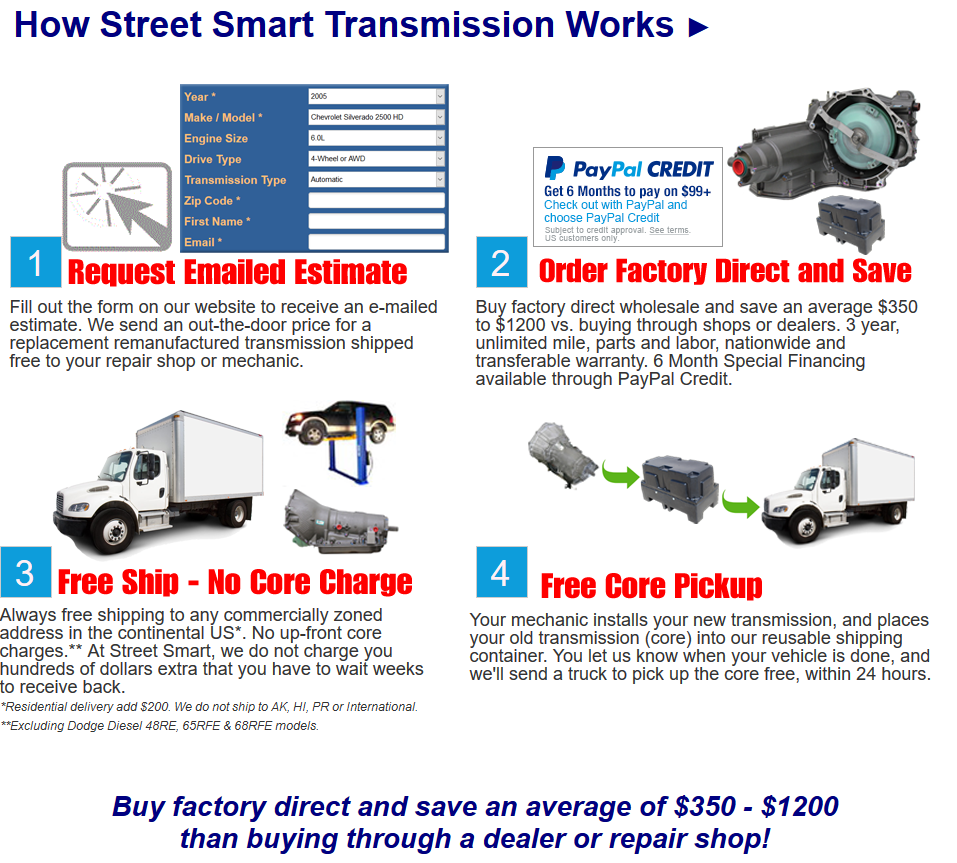 Finding a Shop to Install the Remanufactured Transmission
If your transmission has failed, you're going to need a skilled mechanic to replace it. You can find a shop to install your transmission using our shop locator map.
For warranty purposes, you need to find a reliable repair shop. That way, if the replacement transmission doesn't work properly, the warranty will cover it.
Ready to Replace Your 5L40E Transmission?
Click Get a Free Estimate for an unbeatable price on a replacement remanufactured transmission.
Fair Replacement Transmission Cost by Vehicle
Find your transmission model in the table below for fair prices from reputable suppliers. Also fair labor cost for local installation at a local auto repair shop.


Get a free estimate on a remanufactured transmission by email.
Fair Remanufactured Transmission Price Ranges by Transmission Model Updated July 2018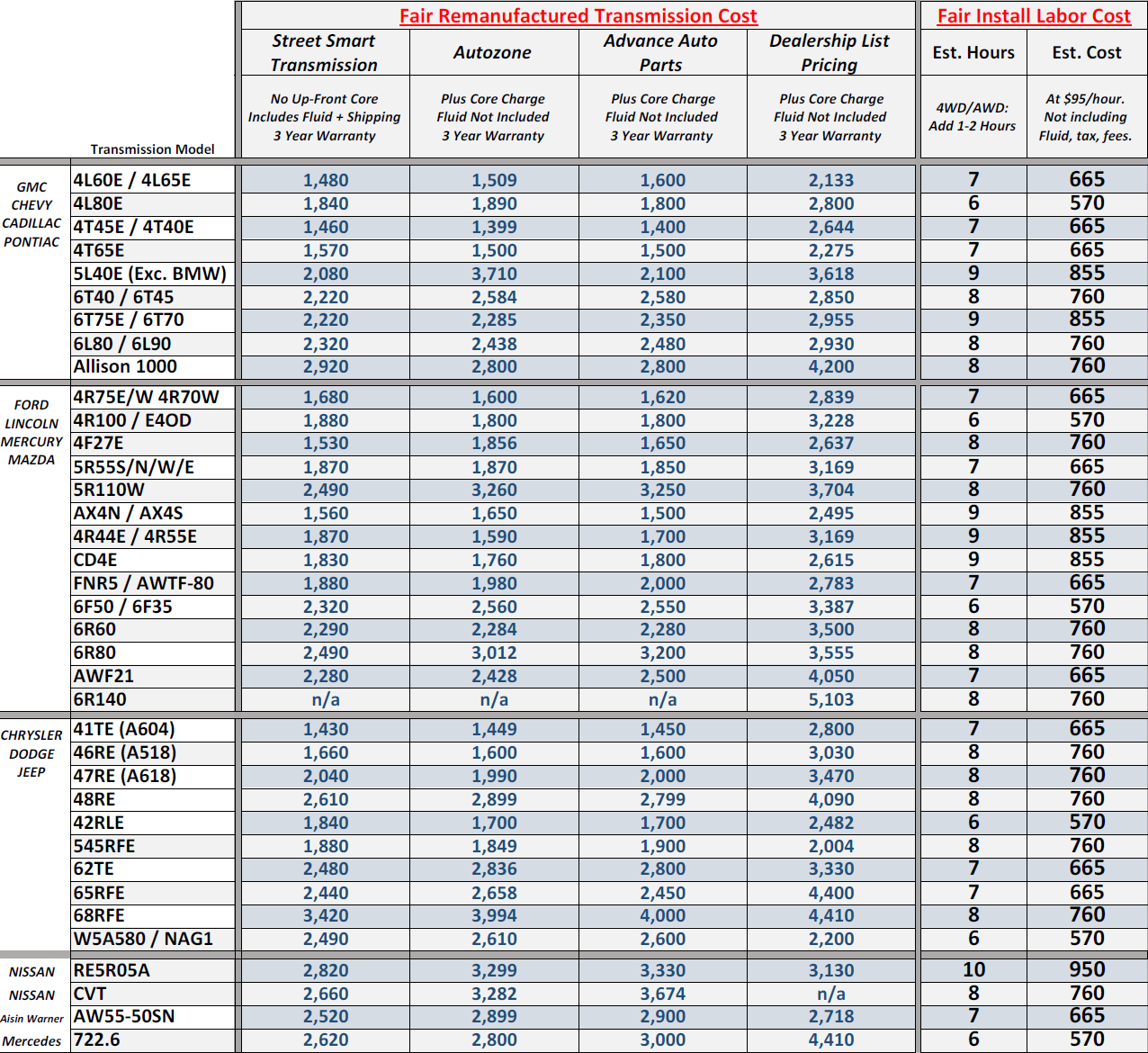 Download Replacement Transmission Cost Guide PDF