If you are looking for a 4R100 transmission, we sell them direct to you from the factory at some of the best wholesale prices. Our transmissions also come with one of the best warranties that money can buy – 3 year, unlimited mile, labor and parts, nationwide, transferable, no-hassle warranty – one of the best warranties that is available to consumers. To get an estimate on a 4R100, click Get a Free Estimate.
Need a replacement transmission? Quality transmission suppliers can be hard to find. Have your 17-digit vehicle VIN# ready. Free estimates sent via text and email.
Vehicle Compatibility – Makes & Models
1999–2004 Ford Lightning (F-150 SVT)
2002–2003 Ford F-150 Harley-Davidson Edition
1999–2003 Ford F-1507700 Series (LEV – Low Emissions Vehicles only)
1999–2003 Ford Super Duty
1999–2003 Ford Expedition (with 5.4 V-8)
2000–2003 Ford Excursion
1997–2004 Ford E-Series
4R100 Transmission Overview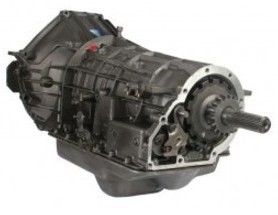 In 1998, the E4OD was updated to the current 4R100 transmission. It was the last rendition of the
C6
and the transmission is almost identical to the E4OD, but some of the internal components were adjusted to address the durability concerns that many truck owners raised. Issues would sometimes arise when the transmission was placed behind the powerful Powerstroke Diesel Engine.
The 4R100 was fitted with a power take off (PTO) in 1999 enabling auxiliary equipment to attach to heavy-duty trucks that had the transmission. Following Ford's naming schemes, the E4OD was renamed to the 4R100.
The 4R100 is a heavy-duty four-speed automatic transmission used in rear-wheel drive trucks that have a 7.3-liter diesel engine. It was introduced in 1999 and quickly phased out after the 2003 model dropped. It was replaced by the 5R110W.
It is rated up to 1,000 foot-pounds of torque, which means it is extremely tough and one of the strongest transmissions on the market. The transmission itself is heavy-duty, but once owners start to add modifications to it, it becomes one of the weak points of the drivetrain.
If you have a truck that needs to carry a heavy load, you can depend on the 4R100, which offers a step 2.71 first gear that is excellent for towing. The overdrive gear ratio inside of the tranny is 0.71, which provides maximum fuel efficiency. The second gear ratio is at a 1.54 and the third is 1:1.
The 4R100 is a computer controlled transmission, which means it provides the ability to use a hand-held controller to customize the transmission, as you see fit. One of the most commonly tuned and customized options is the firmness of the shifts. Many truck owners want each shift to be as smooth as possible.
In addition, you can quickly and easily tune the rpms and line pressure of the transmission. If you want to throw some beefier tires on your truck, you can adjust your transmission settings to account for the larger diameter of the tire.
How to Improve the Transmission
While a hand-held tuner can offer you many of the basic adjustments your truck needs, some truck owners want additional options and the following are some accessories that can help strengthen the 4R100 transmission:
Shift improver kits are designed to provide you with three options to adjust your transmission. You can adjust the tranny for off-road adventures, towing capabilities, and heavy-duty situations
To extend the life of the torque converter, owners should choose lockup valve kits
To help keep the transmission cool, add some extra capacity to it with a deep transmission pan in either aluminum or steel
If you need your transmission to perform under heavy-duty situations, consider kevlar bands or clutch disks to ensure the transmission can work overtime without a problem
Add an inline oil filter to ensure that no debris enters the transmission cooler or lines in the event that you experience total tranny failure
Keep the temperature of the transmission as low as possible with an aftermarket transmission cooler with a built-in electric fan
Transmission temperature gauge, which can help you monitor the overall temperature of the tranny itself and alert you when the temperature may be reaching that maximum 200 degree mark
Customize your overall ride with heavy-duty stall converters, hardened pump drive tubes, and some anti-balloon plates
Remanufactured 4R100 Transmission Updates and Upgrades
New pressure regulator valve, boost valve kit, bypass converter clutch sleeve, along with a plunger eliminate delayed engagement, soft shifting, and shudder
Updated solenoid clips and EPC solenoid
Updated 1-2 and 2-3 accumulator pistons to help prevent harsh shifting and premature clutch failure that may occur
Upgraded spiral local snap ring and staked retainer to eliminate an OE design flaw and premature failure of the clutch
New overdrive servo pin sleeve is installed in our unique servo modification process with custom bushings and tooling
Completely remanufactured pump that includes new bore bushings to ensure that your transmission is durable and receives a better flow overall. The new bushings will eliminate any previous leaks that were experienced
2001 and newer models feature a 3-4 capacity valve sleeve and an extra thick zinc-coated Super Tough Plate that eliminates cross leaks and plate cracking that is caused by repeated stress from the 2-3 accumulator piston spring retainer
Complete road simulation using C.A.R.S. (Computer Aided Road Simulation), which is a dynamometer testing program. All transmission are hot and cold tested prior to shipping
Police, performance, and towing packages include additional valve body modifications, eight-plate direct clutch packs, elevated pressure regulator valve, and other upgrades to increase load capacity and durability
Fully remanufactured torque converter is tested for lockup, leaks, balance, and concentricity. Upgrades all exceed the OE requirements and eliminate any possibility of premature brushing wear, front seal leaks, and vibration
Remanufactured valve body comes with a complete system correction and a recalibration kit to improve the pressure control and quality of shift
What's Included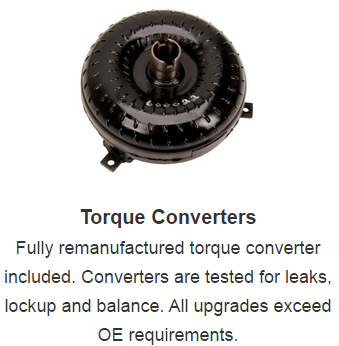 How to Buy a Remanufactured 4R100 Transmission
1) Buying Locally
When you go to your local repair shop, they'll order a remanufactured transmission, then mark up the price. So at the end of the day, you'll be paying 15% to 30% more than the actual cost of the unit.
2) Buying Online
Buying a reman transmission through a distributor like Street Smart Transmission will save you a considerable amount of money because you pay the wholesale price (avoiding a repair shop's 15% to 30% markup), they'll ship the unit to the shop of your choice free of charge, and returning your old transmission is free as well. Then all you have to pay for is the labor to install the unit (usually $400 to $800), and you're on your way.
Click the green button and we'll send you a quote for a replacement remanufactured transmission to your email.
How Does it Work?
To order a remanufactured transmission from a company like Street Smart Transmission, all you need to do is provide your vehicle's VIN number, the mileage, and the address of the repair shop that you want it shipped to.
Financing
Replacing a transmission can be expensive, so Street Smart Transmission offers financing through PayPal. Depending on your credit, you'll be able to order a new transmission, get back on the road, then pay for it over time. You may have to pay labor charges for the installation up front, but you won't have to shell out for the transmission all at once.
Shipping Charge/Location
When it comes to shipping, a transmission is quite heavy. So you're going to pay quite a bit of money, unless the reman transmission company offers free shipping. Street Smart offers free shipping to a business address, which is usually the repair shop that you've chosen to install the unit.
What is a Core Charge (Core Deposit)?
Every remanufactured transmission originally came from somebody else's car. Therefore, they need your broken transmission in order to refurbish it for another customer.
Your old/damaged transmission is called a "core", and many companies will collect a core charge (usually $500 to $1500), which will be refunded once they receive your old transmission. However, if the transmission case, or other key components are damaged beyond repair, you may not get all of your core charge back. Make sure to ask for the core return policy, so you'll know what to expect.

Our Recommendation
We recommend Street Smart Transmission. We have found Street Smart to be of the highest quality. Their transmissions carry a 3 year / unlimited miles warranty that covers both parts and labor. Their warranty is nationwide and attached to the VIN so it is transferable with ownership if you decide to sell the vehicle. It also covers both parts and labor for the installation of the replacement transmission.
Watch the Remanufacturing Process
How it Works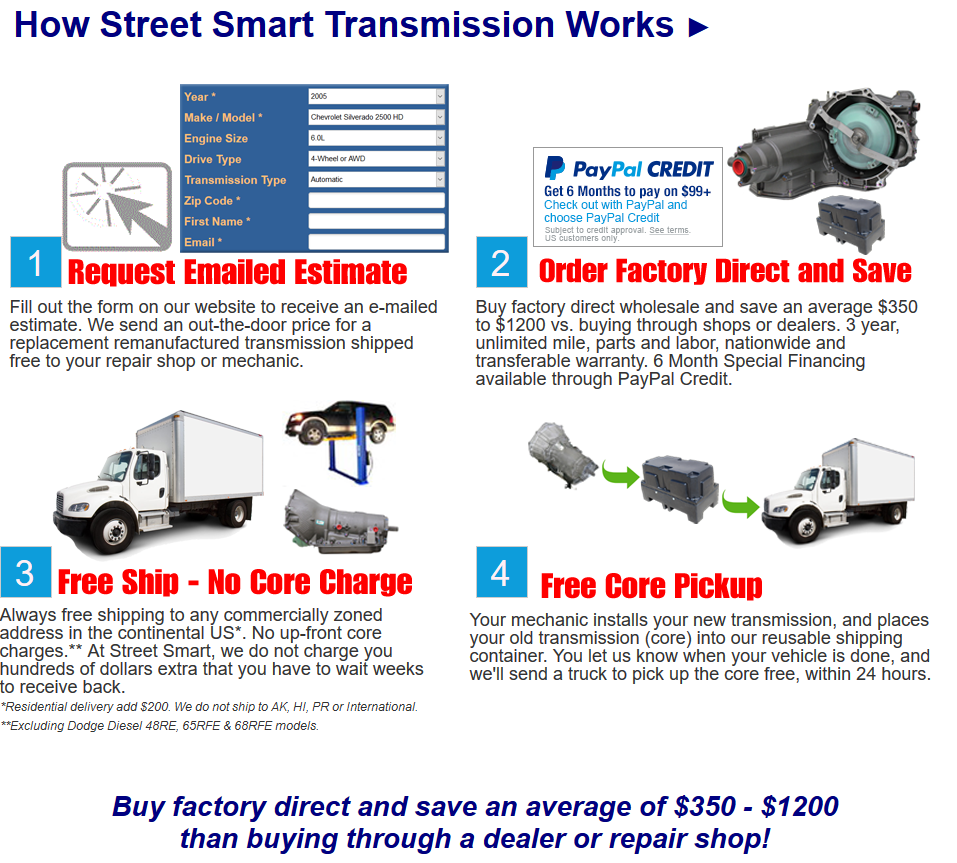 Finding a Shop to Install the Remanufactured Transmission
If your transmission has failed, you're going to need a skilled mechanic to replace it. You can find a shop using our shop locator map.
For warranty purposes, you need to find a reliable repair shop. That way, if the replacement transmission doesn't work properly, the warranty will cover it.
Ready to Replace Your Transmission?
Click Get a Free Estimate for an unbeatable price on a replacement remanufactured transmission.
Fair Replacement Transmission Cost by Vehicle
Use the Year / Make / Model lookup tool to determine what transmission your vehicle has.



Find your transmission model in the table below for fair prices from reputable suppliers. Also fair labor cost for local installation at a local auto repair shop.


Get a free estimate on a remanufactured transmission by email.
Fair Remanufactured Transmission Price Ranges by Transmission Model Updated May 1, 2018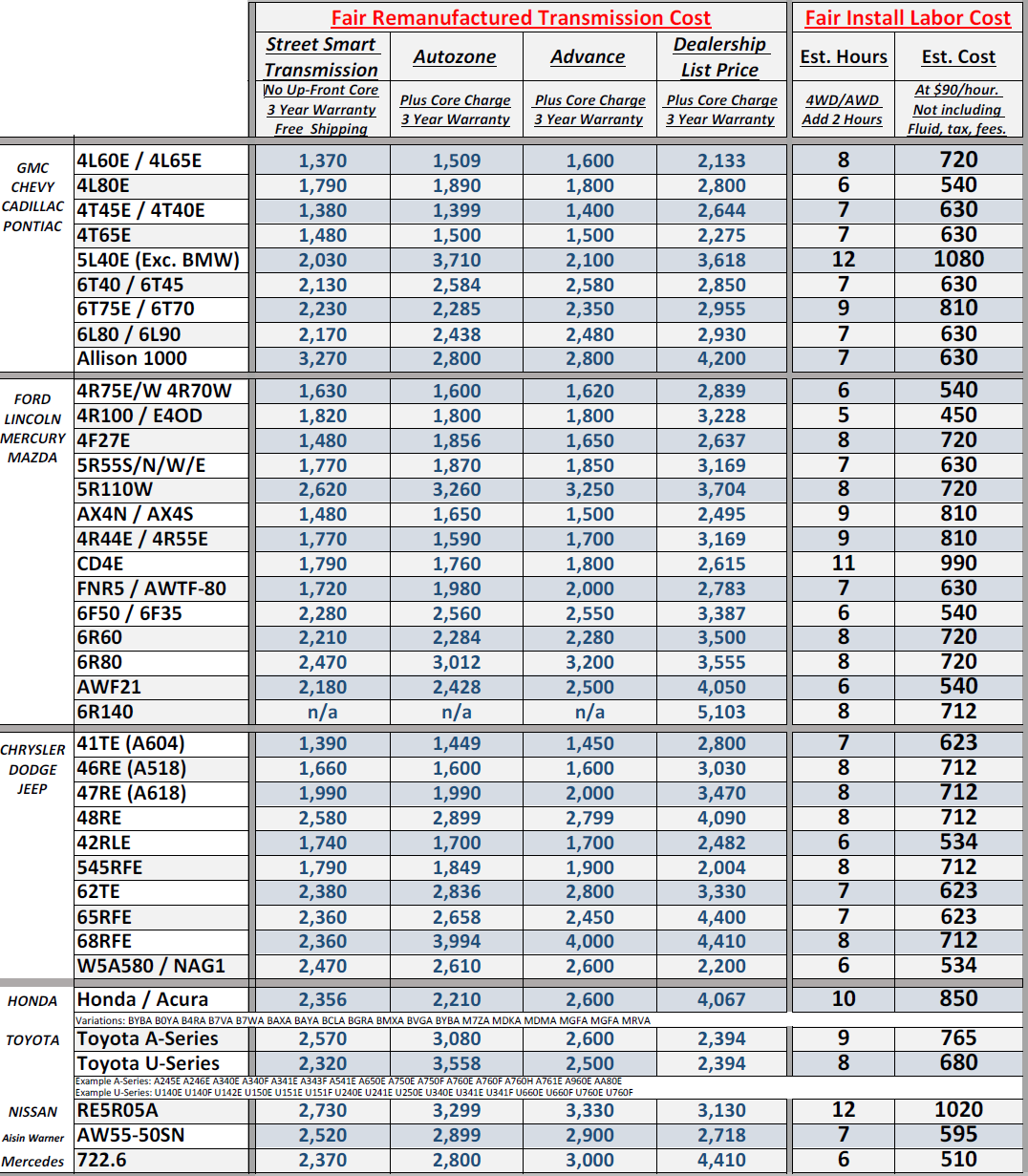 Download Replacement Transmission Cost Guide PDF