Introduced for the 2013 model year, the AS69RC transmission is a heavy duty six speed automatic transmission that was made for Dodge by the Japanese gearbox manufacturer Aisin Seiki. It was a replacement for the Aisin AS68RC transmission, and featured a more robust design that could handle for more input torque than before. The Dodge / Ram AS69RC transmission also has a number of unique PTO / Power Take Off features, including the ability to power accessories to require as much is 60 HP/250 lb-ft (depending on the model year), and an operation RPM speed that can be set via a menu inside the instrument cluster.
Need a replacement transmission? Get an estimate for replacement transmissions and local installation. Look up your transmission model by vehicle make and model.
What Transmission Do I Have?
AS69RC Transmission: The basics
Starting in 2013 model year, the Aisin AS69RC 6 speed automatic transmission was available in the RAM 3500HD equipped with the 6.7L Cummins diesel engine. It was also available in the RAM chassis cab, including the Ram 4500 and 5500. This heavy-duty transmission was capable of handling a lot more input torque than the gearbox that they replace, thanks to a number of upgraded AS69RC transmission parts. These included a much larger AS69RC input shaft, additional clutches, larger clutch hubs, new bearing designs, additional pinion gears in all of the planetary assemblies, a new AS69RC torque converter design, a new AS69RC valve body, and the deletion of the F1 sprag clutch for first and reverse gears.
AS69RC Transmission: What's in a name?
The AS69RC transmission was built in Japan by Aisin Seiki Transmission, and may be also referred to as the AS6 transmission. The AS69RC name stands for the following:
AS – Aisin-Seiki
6 – 6 forward gears
9 – A relative measure of the torque capacity on a scale of 0-9
R – Rear wheel drive
C – Commercial
AS69RC Tow/Haul Mode
Designed as an upgrade over the previous AS68RC transmission, the Aisin AS69RC transmission features a new Tow/Haul mode that offers more aggressive closed throttle transmission downshifts than before. Simply press the AS69RC Tow/Haul button on the center stack, and the transmission will not only lock out overdrive gears. But it will also shed cogs very quickly, in order to maximize the affect of the Cummins Smart Diesel Exhaust Brake system.
AS69RC Transmission Specs
General – 6-speed automatic with Power Take Off (PTO) capabiliy
Application – RWD
Production Began – 2013
Weight – 500 lbs +/- w/ torque converter
Fluid Type – Mopar ASRC ATF / Mobil 3309
Fair Replacement Transmission Cost by Vehicle
Find your transmission model in the table below for fair prices from reputable suppliers. Also fair labor cost for local installation at a local auto repair shop.


Fair Remanufactured Transmission Price Ranges by Transmission Model Updated for 2019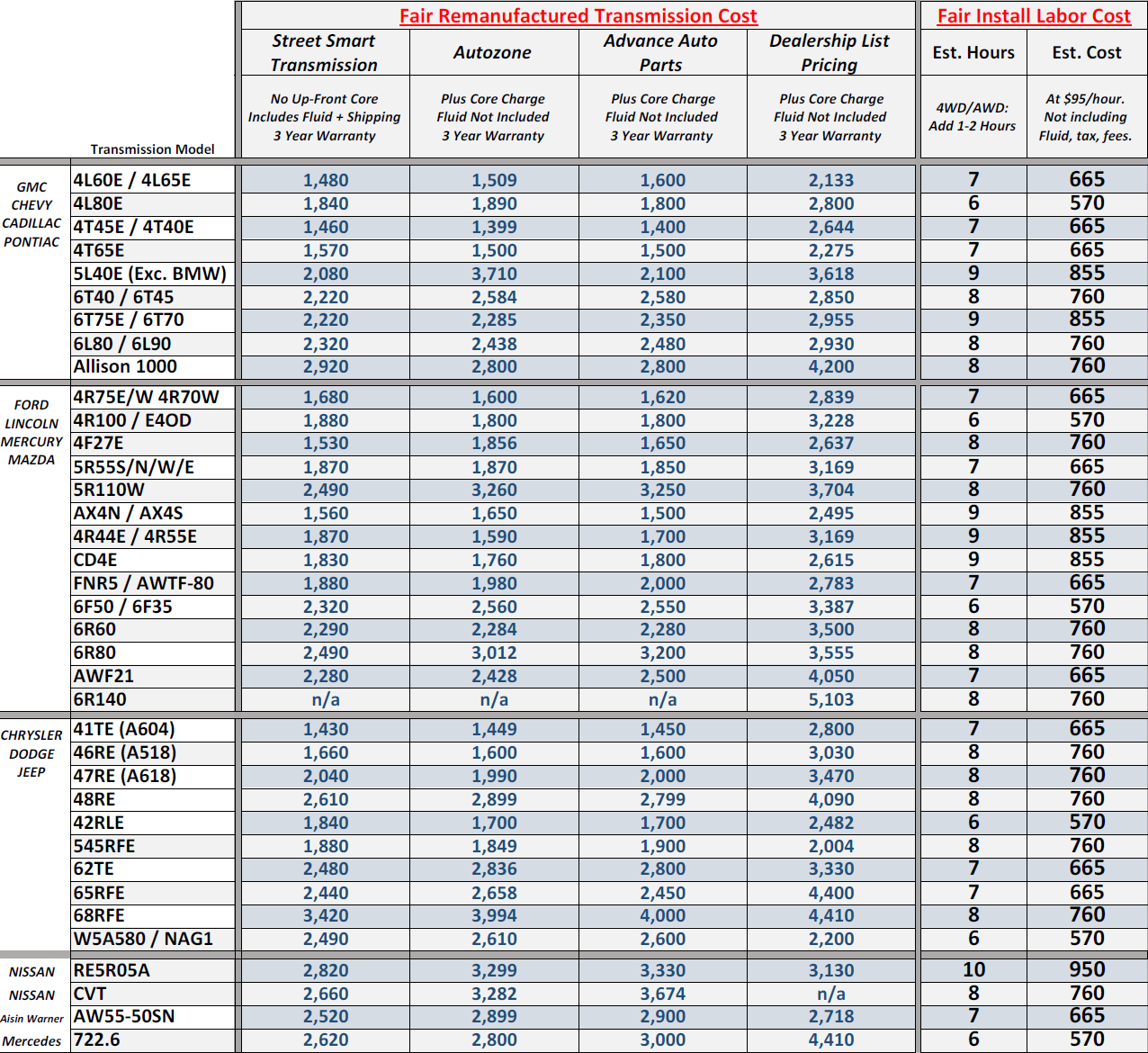 Download Replacement Transmission Cost Guide PDF
AS69RC Transmission Gear Ratios
First – 3.74
Second – 2.00
Third – 1.34
Fourth – 1.00
Fifth – 0.77
Sixth – 0.63
Reverse – 3.54