To get an estimate on a 4L80E, click Get a Free Estimate.
Need a replacement transmission? Get an estimate for replacement transmissions and local installation. Look up your transmission model by vehicle make and model.
What Transmission Do I Have?

Replacement 4L80E Transmission Prices:
| Transmission | Street Smart Transmission | Autozone | Advance Auto Parts | Dealer Retail |
| --- | --- | --- | --- | --- |
| 4L80E | 1875 | 1889 | 1890 | 2800 |
4L80E Applications and Compatibility:
About the 4L80E & Common Problems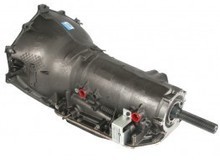 The 4L80E transmission is a 4-speed automatic gearbox that uses similar architecture as the venerable TH400. One of the biggest differences is the lockup torque converter, and an additional forward gear which served as an overdrive to improve fuel economy. It also had a much stronger 32-spline output shaft, and a Transmission Control Module (TCM) that could learn the driver's style, then adapt shift points to match.
The strong internal components made this transmission ideally suited for vehicles up to 16,500 lbs GVWR, with a towing capacity of up to 22,000 lbs. For this reason, the 4L80E (the name stands for 4-speed / Longitudinal / 8,000 lbs / Electronic controls) was installed in heavyweights like the Hummer H1, 1991-1997 Bentley Turbo R, and commercial/heavy duty applications of GM trucks, vans and SUVs.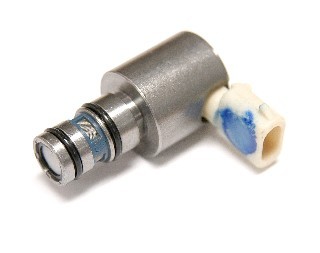 Erratic Shifting
Since this was an early electronically controlled transmission, many shift problems/Check Engine Lights can be attributed to a failed input/output speed sensor, or throttle position sensor.
Slipping Between Gears/Failure to Shift
The 4L80E uses a total of 8 solenoids to actuate gear changes, and activate the lockup torque converter. These little plungers are used to control the ATF fluid pressure, and they're activated by an electric charge that passes through a coil of wire that's wrapped around the plunger mechanism. If excessive vibrations or an electrical surge causes the solenoid to short out, you'll start to experience serious problems.
Overheating
The primary function of automatic transmission fluid is to remove heat from the moving parts inside. If you're towing/hauling a heavy load and the radiator cooler can't properly cool the ATF, the transmission will overheat, causing significant damage to the valve body, seals, clutches, bands, and other parts.
Reman 4L80E vs Used 4L80E
If you buy a used 4L80E, you might save some money right now. But think about this: a used transmission comes from a wrecked or abandoned vehicle, and you have no way of knowing the actual mileage or condition. It could have the same problems that you're trying to fix, or it could have worse problems.
Salvage yards don't have the capability to perform more than a visual inspection, so you're most likely getting the gearbox that had the cleanest fluid. They'll guarantee it for 30-90 days, and if something happens, they'll give you another used unit free of charge. However, you'll be responsible for the additional labor/installation charges. Plus, you've got to live with the fact that your used 4L80E may fail at any time.
Watch the Remanufacturing Process
Remanufactured 4L80E Transmission Updates and Upgrades
If you want to get the longest service life from your vehicle, purchasing a remanufactured 4L80E from Street Smart Transmission would be your best bet. The following is a list of all the upgrades that happen during the remanufacturing process:
Remanufactured valve body with system correction and heavy duty recalibration kit to improve fluid pressure control and shift quality
An upgrade actuator feed limit valve to prevent missed shifts and early failure
An upgrade 34-element intermediate sprag to increase the holding capability
8 Brand new shift solenoids to eliminate future problems
Each EPC solenoid is tested to ensure that it can provide the correct pressure control
In pre-1994 4L80E's, the case connector and vehicle harness pigtail gets updated to address known connection issues
An upgraded force motor is installed to improve fluid pressure control
An upgrade pressure regulator is installed to prevent unnecessarily high fluid pressure
To address a design flaw, the walkout rear case bushing is eliminated to prevent case and output shaft damage
New bushings are installed to better control internal fluid flow and pressure
A remanufactured pump with new line bore bushings is installed to prevent leaks and improve fluid flow and durability
The torque converter is completely remanufactured, then tested for leaks, lock-up function, concentricity, and balance.
To ensure quality and function prior to shipment, every 4L80E undergoes a thorough road simulation on a dynamometer, using a computerized testing program called C.A.R.S. (Computer Aided Road Simulation)
What's Included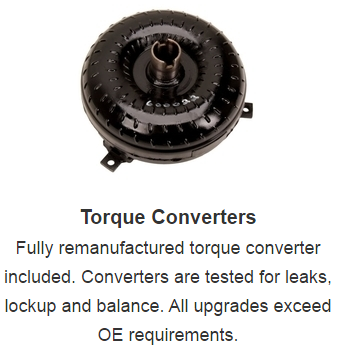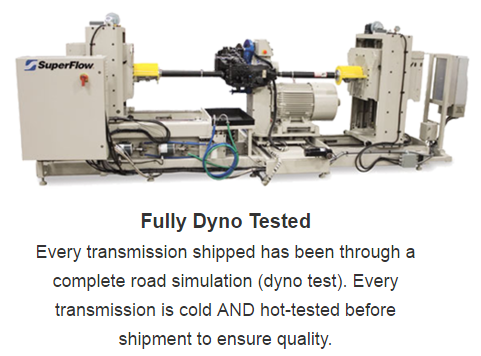 How to Buy a Remanufactured 4L80E Transmission
1) Buying Locally
When you go to your local repair shop, they'll order a remanufactured transmission, then mark up the price. So at the end of the day, you'll be paying 15% to 30% more than the actual cost of the unit.
2) Buying Online
Buying a reman transmission through a distributor like Street Smart Transmission will save you a considerable amount of money because you pay the wholesale price (avoiding a repair shop's 15% to 30% markup), they'll ship the unit to the shop of your choice free of charge, and returning your old transmission is free as well. Then all you have to pay for is the labor to install the unit (usually $400 to $800), and you're on your way.
How Does it Work?
To order a remanufactured transmission from a company like Street Smart Transmission, all you need to do is provide your vehicle's VIN number, the mileage, and the address of the repair shop that you want it shipped to.
Financing
Replacing a transmission can be expensive, so Street Smart Transmission offers financing through PayPal. Depending on your credit, you'll be able to order a new transmission, get back on the road, then pay for it over time. You may have to pay labor charges for the installation up front, but you won't have to shell out for the transmission all at once.
Shipping Charge/Location
When it comes to shipping, a transmission is quite heavy. So you're going to pay quite a bit of money, unless the reman transmission company offers free shipping. Street Smart offers free shipping to a business address, which is usually the repair shop that you've chosen to install the unit.
What is a Core Charge (Core Deposit)?
Every remanufactured transmission originally came from somebody else's car. Therefore, they need your broken transmission in order to refurbish it for another customer.
Your old/damaged transmission is called a "core", and many companies will collect a core charge (usually $500 to $1500), which will be refunded once they receive your old transmission. However, if the transmission case, or other key components are damaged beyond repair, you may not get all of your core charge back. Make sure to ask for the core return policy, so you'll know what to expect.

Our Recommendation
We recommend Street Smart Transmission. We have found Street Smart to be of the highest quality. Their transmissions carry a 3 year / unlimited miles warranty that covers both parts and labor. Their warranty is nationwide and attached to the VIN so it is transferable with ownership if you decide to sell the vehicle. It also covers both parts and labor for the installation of the replacement transmission.
Watch the Remanufacturing Process
How it Works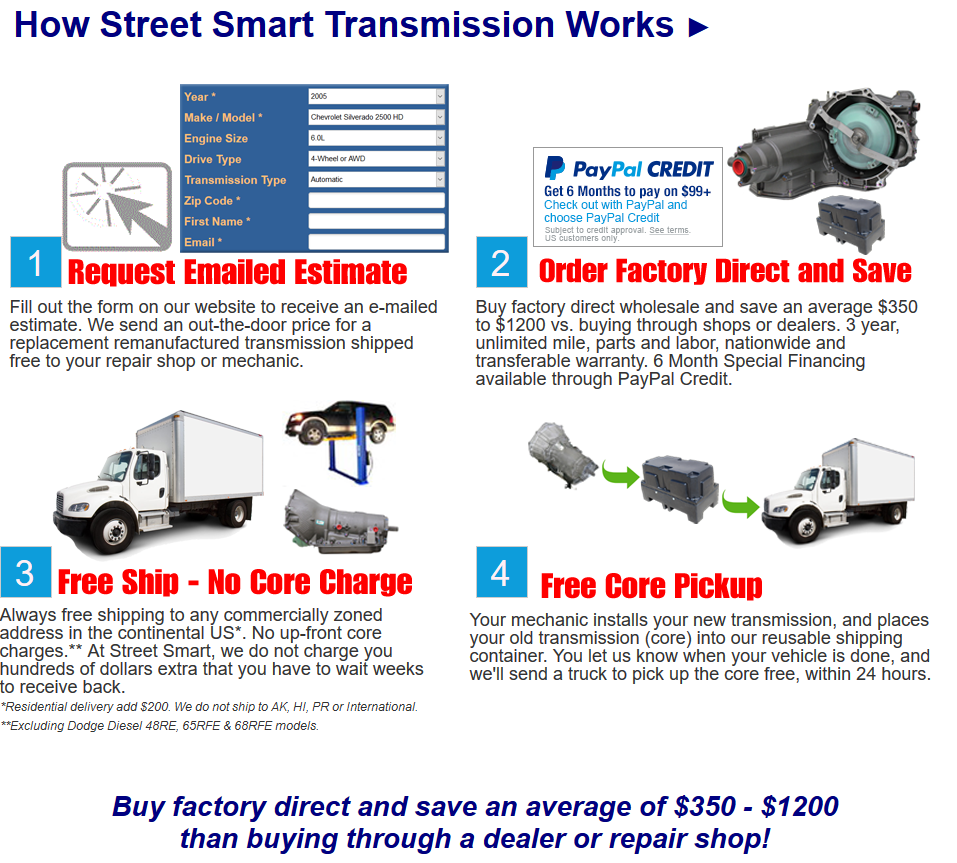 Finding a Shop to Install the Remanufactured Transmission
If your transmission has failed, you're going to need a skilled mechanic to replace it. You can find a shop using our shop locator map.
For warranty purposes, you need to find a reliable repair shop. That way, if the replacement transmission doesn't work properly, the warranty will cover it.
Ready to Replace Your Transmission?
Click Get a Free Estimate for an unbeatable price on a replacement remanufactured transmission.