To get an estimate on a 4L60E, click Get a Free Estimate.
Need a replacement transmission? Get an estimate for replacement transmissions and local installation. Look up your transmission model by vehicle make and model.
What Transmission Do I Have?
In This Guide
Replacement 4L60E Transmission Prices:
| Transmission | Street Smart Transmission | Autozone | Advance Auto Parts |
| --- | --- | --- | --- |
| 4L60E / 4L65E | 1480 | 1507 | 1599 |
4L60E Applications and Compatibility:
4L60E Transmission Overview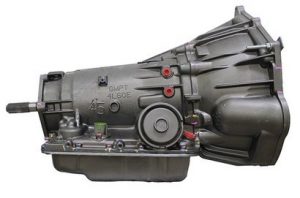 The 4L60E is an electronically controlled 4-speed automatic transmission that was derived from the 700R4.
The name is derived from its specifications:
4-speed – Longitudinal – 6000 lb gross vehicle weight rating (GVWR) – Electronically controlled.
The basic specs are: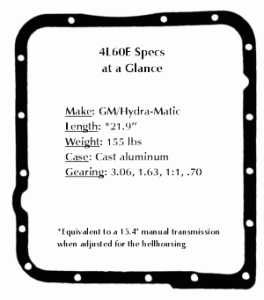 Weight – 146 lbs dry / 162 lbs wet. Fluid capacity – 8.4 quarts (9.64″ torque converter), 11.4 quarts (11.81″ torque converter). Versions with the deep pan or large cooling circuit require as much as 14 quarts.
GM's alternative designations of these transmissions are:
4L60E = M30
4L65E = M32
4L70E = M70
Instead of relying on hydraulic pressure to actuate gear changes, fuel efficiency and performance were improved by using a computer that could interpret data from speed sensors, and decide the most appropriate time to shift gears using a solenoid.
It was introduced by General Motors in 1993, and was used in a number of rear-wheel drive and 4WD V6 and V8 applications. Some of the models that used the 4L60E transmission include the Chevy S-10, the Chevrolet Silverado 1500/2500, the Chevrolet Suburban, the GMC Sierra 1500/2500, and the GMC Yukon.
The first variation was made from 1993–1997 and featured a one-piece case where the bellhousing was cast into the case itself. It had a thin metal or plastic dust cover on 2WD applications, and a more durable aluminum cover was fitted to 4WD units.
Having evolved from the hydraulically controlled 700R4 that was introduced back in 1982, the 4L60E 4-speed automatic transmission evolved quite a bit over its lifetime, including changes to the case size, detachable bellhousings, multiple solenoids, and more capable torque convertors.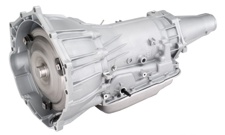 GM also created high-performance versions of the 4L60E transmission, which was used in such tire scorchers as the Chevrolet Corvette, the Chevrolet Impalla SS, the Chevy Camaro, the Pontiac Firebird, and the Australian-built Pontiac GTO. Over its lifespan, there were over 60 different variations of the transmission, broken into 3 generations.
1996–1999 versions of the 4L60 transmission got new bolt-on bell housings, along with a stronger 6-bolt tail-housing. Later versions were lengthened to accommodate a stronger 300mm (11.81in) torque convertor and 300mm input shaft. This allowed it to handle the increased torque of the GM Gen III small-block V8.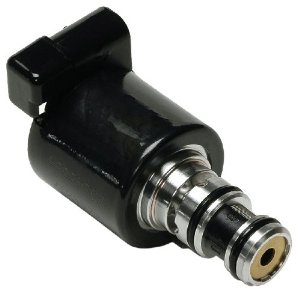 The 4L60E uses 2 shift solenoids, which the ECU uses to actuate gear changes. On early versions, they were called Shift Solenoid A & Shift Solenoid B, and the PCM could achieve 4 distinct gear ratios by turning them on & off in a pre-set pattern. In order to comply with OBDII regulations, they were changed to 1-2 Shift Solenoid & 2-3 Shift solenoid.
4L60E vs 4L65E
A heavy duty version of the 4L60E was introduced in 2001, and paired with the 6.0L Vortec V8. Known as the 4L65-E transmission, it was capable of handling 380 ft·lbf (515 N·m) of torque because of its stronger internal hardware. This included a new planetary gearset that had 5 pinion gears instead of four.
There was also a sturdier 7 plate clutch pack, along with a stronger input shaft assembly. Many of these improvements were incorporated into the transmission for the 2002 model year.
Common 4L60E Transmission Problems
No Reverse
One of the most common 4L60E transmission problems is the complete failure to engage reverse. There are many potential sources of this problem, which is ultimately brought on as the miles increase. The first culprit could be the low reverse clutch pack, where the disks are too worn out to engage reverse gear.
If this is the case, you will likely see metal shavings in the transmission fluid when you remove the transmission pan. Or the problem could be coming from the valve body, which could mean that warping occurred due to excessive heat, or the reverse circuit has failed.
Also, inspect the piston bore for scraping and score marks. This type of wear can lead to future reliability issues. So smooth out the bore with emery cloth, then remove the excess dust/debris with Brake Cleaner.
Harsh or Delayed 1–2 Shift
If your 4L60E transmission is pausing between first and second gear, it could be due to a worn or broken 2–4 transmission band. The steel 4L60E 2-4 transmission band is lined with a friction material that helps it to engage the clutch drum and execute the gear change.
As that material wears away, the band will slip on the drum and delay the shift, or cause it to slip between the two gears. This is a common problem on higher mileage vehicles.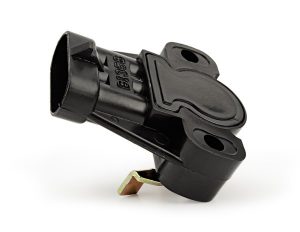 This issue can also be caused by a faulty Throttle Position Sensor/TPS. With the ignition in the 'On' position, you can test the 4L60E TPS using a voltmeter. If it is working, the voltage should increase/decrease in a smooth, linear line as you move the TPS. To find the correct voltage readings for your vehicle, refer to the shop manual.
Shudder When Shifting From 1st to 2nd
Another common problem is when it either 'slams' into second gear, or doesn't seem to want to shift into second and the engine just revs.
Take a look at the 1-2 accumulator. This little shock absorber-like device lives inside the valve body and dampens the excess fluid pressure that builds after a gear change. If the little plastic piston or the spring inside of it breaks, you'll feel the fluid pressure buildup as the transmission sort of jerks itself into gear.
If left un-repaired, this problem will eventually cause serious damage to the clutches and clutch drum assembly.
Rebuilt vs Reman vs Used 4L60E
It's a well-known fact that transmission repairs are the most expensive fix you'll probably ever make to your vehicle. So obviously you need to get the most value for your money. A used transmission is out of the question, because you're literally buying someone else's problems. This leaves you with either a rebuilt transmission, or a remanufactured transmission.
Rebuilt 4L60E Transmission
In this scenario, you take your GM vehicle to a mechanic that would remove your existing transmission and rebuild it using a 4L60E master rebuild kit. These factory spec parts include new seals, springs, transmission bands, clutch discs, accumulators, and the other components. In most cases, you'll get a lot of life out of a rebuilt transmission.
However, most mechanics and transmission shops don't have the equipment to test for cracks in hard parts like clutch drums or warping in the valve body, which could lead to new problems down the road. Plus, those OE parts have inherent weaknesses, so they will wear out just as fast as they did before.
Remanufactured 4L60E Transmission
To get the most life from your vehicle, you should really consider a remanufactured transmission. These are built in a factory with state of the art testing equipment and stringent quality control processes. This ensures a uniform product that is as close to brand-new as you are going to get.
Most remanufactured 4L60Es receive component updates and upgrades to extend the service life. In addition, the warranty on a reman transmission is typically better than you would get from a rebuild shop.
4L60E Updates and Upgrades
In order to correct design flaws inherent to the 4L60E 4-speed automatic, many transmission remanufacturing companies will perform the following upgrades:
High Energy 2-4 transmission band with improved friction material that enhances durability
High Energy 3-4 clutch pack with additional 7th clutch disk for extended service life & torque capacity
Sun Shells are replaced with an updated (see: stronger) design
Fully remanufactured pump with upgraded line bore bushings (to eliminate the possibility of leaks, improve durability, ATF flow and pressure control)
Remanufactured valve body includes:
New machined surfaces
System correction and heavy-duty recalibration kit (reduces slippage and increases durability)
Updated servos
Oversized PR valves
Upgraded 1-2 Accumulator Pistons with stronger heat-resistant aluminum pistons (instead of the weaker OE plastic pistons)
Remanufactured torque converter includes:
Upgraded TCC control valve, TCC regulator valve, and Actuator Feed Valve (significantly improves service life over OE specification)
Stator undergoes Tru-Flat stator qualification and machining process.
Fully tested for concentricity, balance and leaks
Dyno tested prior to shipment to ensure proper functionality and to break in new components
How to Buy a Remanufactured Transmission
1) Buying Locally
When you go to your local repair shop, they'll order a remanufactured transmission, then mark up the price. So at the end of the day, you'll be paying 15% to 30% more than the actual cost of the unit.
2) Buying Online
Buying a reman transmission through a company like Street Smart Transmission will save you a considerable amount of money because you pay the wholesale price (avoiding a repair shop's 15% to 30% markup), they'll ship the unit to the shop of your choice free of charge, and returning your old transmission is free as well. Then all you have to pay for is the labor to install the unit (usually $400 to $800), and you're on your way.
Click the green button and we'll send you a quote for a replacement remanufactured transmission to your email.
How Does it Work?
To order a remanufactured transmission from a company like Street Smart Transmission, all you need to do is provide your vehicle's VIN number, the mileage, and the address of the repair shop that you want it shipped to.
Financing
Replacing a transmission can be expensive, so Street Smart Transmission offers financing through PayPal. Depending on your credit, you'll be able to order a new transmission, get back on the road, then pay for it over time. You may have to pay labor charges for the installation up front, but you won't have to shell out for the transmission all at once.
Shipping Charge/Location
When it comes to shipping, a transmission is quite heavy. So you're going to pay quite a bit of money, unless the reman transmission company offers free shipping. Street Smart offers free shipping to a business address, which is usually the repair shop that you've chosen to install the unit.
What is a Core Charge (Core Deposit)?
Every remanufactured transmission originally came from somebody else's car. Therefore, they need your broken transmission in order to refurbish it for another customer.
Your old/damaged transmission is called a "core", and many companies will collect a core charge (usually $500 to $1500), which will be refunded once they receive your old transmission. However, if the transmission case, or other key components are damaged beyond repair, you may not get all of your core charge back. Make sure to ask for the core return policy, so you'll know what to expect.

Our Recommendation
We recommend Street Smart Transmission. Their transmissions carry a 3 year / unlimited miles warranty that covers both parts and labor. Their warranty is nationwide and attached to the VIN so it is transferable with ownership if you decide to sell the vehicle. It also covers both parts and labor for the installation of the replacement transmission.
Watch the Remanufacturing Process
How it Works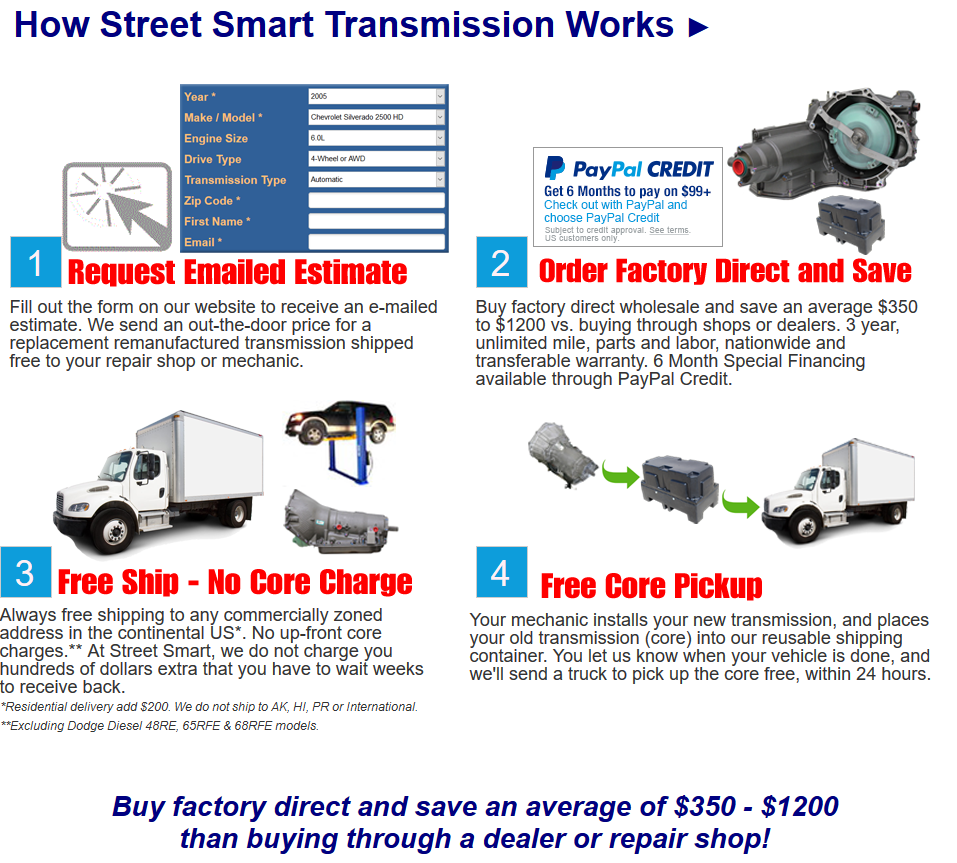 Finding a Shop to Install the Remanufactured Transmission
If your transmission has failed, you're going to need a skilled mechanic to replace it. You can find a shop using our shop locator map.
For warranty purposes, you need to find a reliable repair shop. That way, if the replacement transmission doesn't work properly, the warranty will cover it.
Warranty
Each step in the remanufacturing process has to be verified by quality control managers before the build can continue. This guarantees uniform, properly functioning transmissions that will exceed the original manufacturer's specifications. It also allows for a generous warranty that will protect you from transmission repair costs for up to three years.
Standard coverage: 3 Years / Unlimited Mileage
Commercial applications: 18 Months / 100,000 Miles
Warranty is attached to the VIN number and can be transferred if the vehicle is sold
Coverage is good at any licensed repair shop, anywhere in the United States
Pays for parts & labor
Replacement transmission will be shipped immediately upon receipt of a claim
In addition to the exceptional warranty coverage, every transmission is shipped to any business address for free, and core returns are shipped free as well. Between the build quality and the warranty, a our transmissions are literally better than new.
Ready to Replace Your Transmission?
Click Get a Free Estimate for an unbeatable price on a replacement remanufactured transmission.
Fair Replacement Transmission Cost by Vehicle
Find your transmission model in the table below for fair prices from reputable suppliers. Also fair labor cost for local installation at a local auto repair shop.


Fair Remanufactured Transmission Price Ranges by Transmission Model Updated for 2019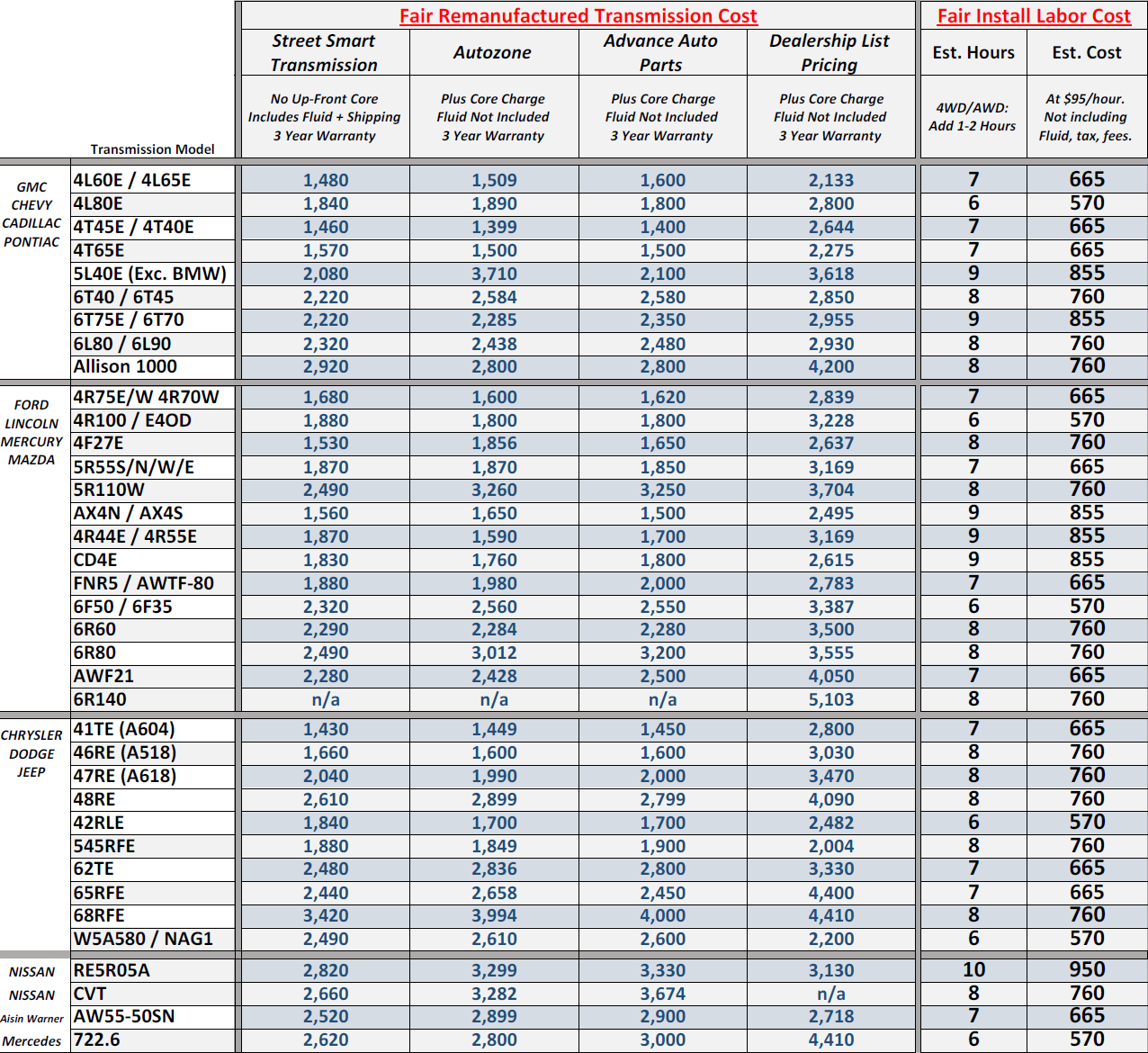 Download Replacement Transmission Cost Guide PDF