The Cadillac Escalade (including the Escalade ESV and Escalade EXT) is perhaps one of this automaker's most important models of the modern era. Not only did it help to re-establish Cadillac in the luxury segment. But it also provided enough profit to develop a whole new generation of American luxury cars. Throughout the years, a number of different transmissions have been used in the 'Slade, including the 4L60E and 4L65E in early models, and the 6-speed 6L80 and 8-speed 8L90 and 10-speed 10L80 in later models.
Need a replacement transmission? Get an estimate for replacement transmissions and local installation. Look up your transmission model by vehicle make and model.
What Transmission Do I Have?
Cadillac Escalade Transmission Models
Cadillac Escalade: 4L60E Transmission (Early Models)
Cadillac Escalade: 4L65E Transmission (6.0L)
Cadillac Escalade: 6L80 Transmission (Later Models)
Cadillac Escalade: 8L90 Transmission (Later Models)
Cadillac Escalade: 10L80 Transmission (2017+)
Cadillac Escalade Transmission Replacement Cost Estimate
Pricing varies by model. To be 100% sure on pricing, have your VIN# handy and use our Get An Estimate feature to look up your transmission by VIN#.
Replacement Cadillac Escalade Transmission Prices:

What are the DTC codes related to Cadillac Escalade transmission problems?
P0717 – Input/Turbine Speed Sensor Circuit No Signal – If the ECU can't communicate with the input speed sensor, this DTC gets stored.
P0894 – Transmission component slipping – This OBDII trouble one of the gear ratios is not consistent with what the ECU is asking for.
P0756 – Shift Solenoid 'B' Performance or Stuck Off – If the ECU saved this code, then a solenoid isn't working right, or it's stuck off.
P0741 – Torque Converter Clutch Circuit Performance or Stuck Off – This diagnostic trouble code means the TCC solenoid is not performing according to specification.
P0961 – Pressure control solenoid 'A' control circuit range/performance – This code means there is a low voltage condition on a line pressure control solenoid.
P2769 – Torque convertor clutch circuit low – This diagnostic trouble code means the ECU is having a problem with the electrical circuit that controls the TCC solenoid.
P0757 – Shift Solenoid 'B' Stuck On – If this solenoid gets stuck 'on', the ECU will save this code.
P0742 – Torque Converter Clutch Circuit Stuck On – If your vehicle has this DTC, then the torque convertor clutch solenoid is most likely stuck in the 'on' position.
P0730 – Incorrect Gear Ratio – This DTC means the ECU has detected either an electrical or hydraulic issue affecting the shift pattern.
P0776 – Pressure Control Solenoid 'B' Performance or Stuck Off – This diagnostic trouble code means there is a mechanical problem with this solenoid.
P0796 – Pressure Control Solenoid 'C' Performance or Stuck Off – If the pressure control solenoid labeled 'C' isn't working correctly, or it gets stuck in the 'On' position, this DTC will be saved.
P2714 – Pressure control solenoid 'D' performance/stuck 'off' – This DTC is triggered when there is an issue with one of the solenoids that controls the fluid pressure inside the transmission
P2723 – Pressure control solenoid 'E' performance/stuck 'off' – This diagnostic trouble code is saved when the ECU detects a problem with one of the pressure control solenoids.
Cadillac Escalade Transmission Recalls
2005 Cadillac Escalade – Recall 05V055000
Summary – On certain trucks, the shift lever position indicator in the instrument panel may not illuminate, preventing the driver from knowing what gear has been selected.
Consequence – In some instances the incorrect gear may be selected, which can then cause the truck to roll away and cause injury or property damage.
Remedy – Dealers will reprogram the instrument panel cluster, free of charge. Owners can contact Cadillac at 1-866-694-6546, or they can call the National Highway Traffic Safety Administration Vehicle Safety Hotline at 1-888-327-4236
Cadillac Escalade Technical Service Bulletins (TSB)
TSB 05-07-30-017B – Water contamination – 2004-2006 Cadillac Escalade 4L60E
Problem – A common transmission problem occurs when the transmission shudders/shakes between 40 and 50 mph, as the torque convertor clutch engages. This is caused by rain water getting into the transmission through the dipstick.
Solution – The air inlet grille panel will have to be modified according to the procedure outlined in the TSB.
TSB PIP4051C – Harsh Shifting 4L60E
Problem – Unusually harsh gear changes, combined with a P0717 DTC for an input shaft speed sensor error, are often caused by damage to the ISS sensor wiring.
Solution – If wire damage is found (usually to the white wire), the wiring and sensor will have to be replaced. The pump cover should also be examined for sharp points/edges that could damage the wiring. If any are found, they should be smoothed with a file.
Intermittent harsh shifting – Cadillac Escalade 4L60E
Problem – A common Cadillac Escalade transmission problem is an intermittent hard 1-2 shift, often accompanied by engine bogging. This condition can be caused by the torque convertor clutch applying during the shift.
Solution – To remedy the problem, the wiring harness needs to be inspected from the transmission case connector to the rear of the engine on the driver side. It's possible that the wires for the TCC solenoid and pressure control solenoid have become frayed on a body seam. If this is the case, the wiring will need to be repaired, and the harness repositioned.
TSB 04-07-30-028A – Transmission fluid leak from reverse servo cover – 4L65E
Problem – An ATF leak can occur under the vehicle during cold weather (temperature below 20°F/6.7°C), due to a failed reverse servo cover seal.
Solution – To remedy the problem, an upgraded (see: better quality) reverse servo cover seal will have to be installed.
Solenoid DTC's – Cadillac Escalade 6L80E
Problem – A number of diagnostic trouble codes, including P0776, P0796, P2714 and P2723, can be caused by a pressure leak at the end of the clutch regulating valve.
Solution – The bore plug will have to be replaced with updated versions, or modified to accept an O-ring kit.
Common Problems with the Cadillac Escalade Transmission
Lack of Response
Leaking Fluid
Low Fluid
Burning Smell
Grinding or Shaking
Whining, Clunking or Humming
Refuses to Go Into Gear
Torque Converter Issues
Valve Body Issues
Transmission Noisy in Neutral
Gears Slipping
No 3rd or 4th Gear
No 1st or 2nd Gear
No Reverse
Dragging Clutch
Trouble Codes / Check Engine Light
Can I drive with a transmission problem?
Cadillac Escalade transmission problems usually start as a minor inconvenience, which most people will ignore for as long as possible. However, it doesn't matter if you have a major or minor transmission problem, continuing to drive your truck can compound the issue until it becomes a lot more expensive to fix.
How often does a Cadillac Escalade transmission need to be replaced?
The key to long transmission life, is regularly scheduled maintenance and careful driving. If treated properly, a Cadillac Escalade transmission can last between 150,000-200,000 miles. A properly built remanufactured transmission by comparison, can last for considerably longer if it has been updated correctly.
How are Cadillac Escalade transmission issues diagnosed?
Thanks to a bevy of sensors, the on-board computer will store error codes whenever something goes wrong. To access this information, a technician will connect a code reader to the OBDII port and download all of the diagnostic trouble codes. Then a visual inspection can be performed, verifying the source of the transmission problems.
How is a Cadillac Escalade transmission replaced?
Since the Cadillac Escalade is primarily a RWD truck, replacing the transmission is simply a matter of unbolting it from the engine, driveshaft/transfer case and chassis. Once the new gearbox is installed, the ECU/PCM will have to be reprogrammed / reflashed to accept the new transmission.
Recommendations for Cadillac Escalade transmission issues?
To save time and get back on the road faster, have your 17-digit truck VIN# handy and you can get an online quote for a reman Cadillac Escalade transmission here, then find a local shop using our Find a Shop guide to install it for you.
How to Solve Cadillac Escalade Transmission Problems
Solution A: Buy a Used Cadillac Escalade Transmission
One of the fastest ways to solve your Cadillac Escalade transmission problems, is to pop down to the local salvage yard and get a used 4L60E / used 4L65E / used 6L80E / used 8L90. However, you can't guarantee the condition of the internal components, so you don't know how long it will really last. And that 30-90 day warranty likely won't cover labor charges if something goes wrong with the first transmission.
Solution B: Buy a Rebuilt Cadillac Escalade Transmission
To avoid the uncertainties of buying a used Cadillac Escalade transmission, many people will opt for a rebuilt 4L60E / rebuilt 4L65E / rebuilt 6L80E / rebuilt 8L90. But the problem there is, most mechanics will use OE spec Cadillac Escalade transmission parts, so all of the factory design flaws will return. And that rebuilt transmission warranty is usually only good at the shop the transmission came from. So if you experience problems while you're traveling, you'll have to pay to fix them yourself.
Solution C: Buy a Remanufactured Cadillac Escalade Transmission
To solve your Cadillac Escalade transmission problems once and for all, you might consider getting a remanufactured 4L60E / remanufactured 4L65 / remanufactured 6L80E / remanufactured 8L90. If you purchase from right supplier, your new transmission will be upgraded beyond factory specifications, which means it will last considerably longer. And some offer an actual nationwide warranty, which will protect you no matter where you go.
Fair Replacement Transmission Cost by Vehicle
Find your transmission model in the table below for fair prices from reputable suppliers. Also fair labor cost for local installation at a local auto repair shop.


Fair Remanufactured Transmission Price Ranges by Transmission Model Updated for 2019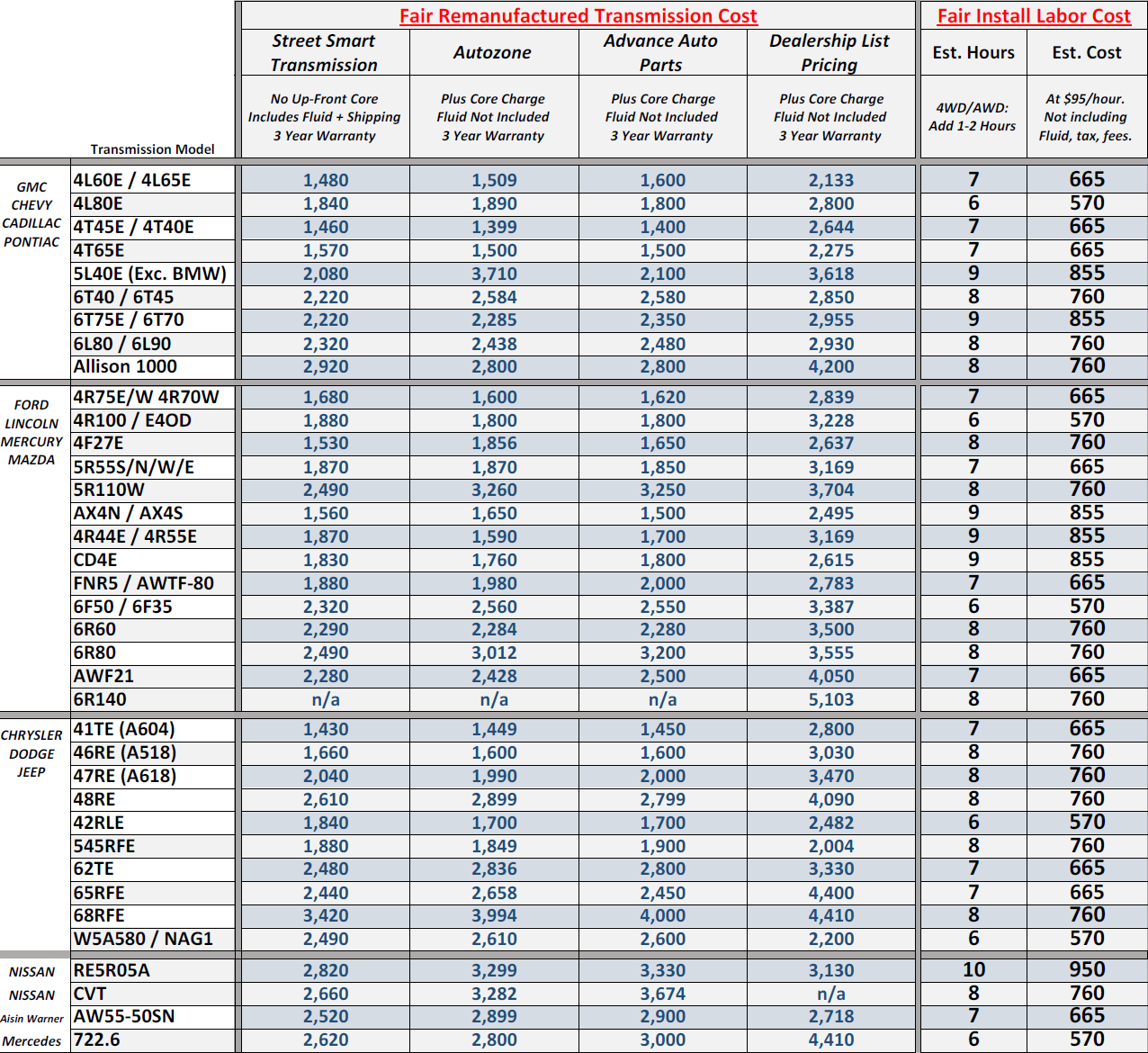 Download Replacement Transmission Cost Guide PDF
What Problem Does Your Cadillac Escalade Have?
Let us know the year, mileage and problem you're having as well as any trouble (OBD) codes you've found. If you've been given a quote or paid for a repair, we'd like to hear about that too!