In This Guide
To get an estimate on a 48RE, click Click Get a Free Estimate.
Need a replacement transmission? Get an estimate for replacement transmissions and local installation. Look up your transmission model by vehicle make and model.
What Transmission Do I Have?

Replacement 48RE Transmission Prices:
| Transmission | Street Smart Transmission |
| --- | --- |
| 48RE | 2712 |
48RE Applications and Compatibility:
48RE Transmission Overview
The 48RE transmission has electronic shift controls and a four-speed gear layout, including overdrive. The 48RE has an electrical solenoid assembly that is responsible for governing shifting rather than a traditional hydraulic assembly, and it is more powerful than the immediate predecessor, the 47RE.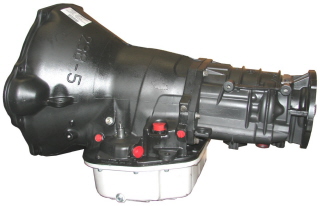 Measurements for the 48RE's torque input rating come between 560 and 570 pound-feet of torque. Meanwhile, the turbodiesel engine with which it was paired was rated up to 610 pound-feet. Therefore, the engine tended to keep itself detuned to enhance the working lifespan of the transmission.
Situations that called for the full 610-pound load include heavy towing or extreme acceleration, which is when the transmission would work its hardest. Although the 48RE is more heavy duty than its predecessor, it does have limits that become obvious when paired with an engine that is too powerful.
One feature that the 48RE retains from the previous 47RE design is the tow/haul switch. Mounted on the gear shift lever, this feature, while not as sophisticated as later iterations on modern transmissions, does have its uses.
For example, it engages the torque converter lockup and does not allow overdrive. This is to prevent excessive speed when towing heavy loads and to conserve fuel. It's generally not a good idea to have a lot of towing weight with overdrive enabled because the torque on the drive wheel does not translate well to the transmission. It can significantly reduce the working lifespan.
You can safely operate the 48RE with fluid temperatures up to 200 degrees Fahrenheit. If you tow in overdrive, you can see the temperature rise beyond this point quite easily. If it gets up to 260 degrees it doesn't matter whether you have the tow-haul switch enabled or not, the transmission will automatically downshift to prevent burnout and reduce the working load. You will not be able to shift back into overdrive until the transmission fluid cools.
Another preventative measure that occurs is that the torque converter clutch will not allow shifts to overdrive in cold temperatures. The fluid temperature has to be at least 50 degrees Fahrenheit. This security measure reduces the warm-up time necessary for the engine and prevents issues when towing in cold weather. One way to prevent fluid temperatures that are too cold or hot is to install an aftermarket cooler, as well as a deep pan.
The 48RE transmission reads the engine load and current vehicle speed to determine whether it should trigger an upshift or a downshift. It has four shift schedules, or governor pressure curves, which are all controlled by electrical solenoids.
48RE Diagnostic Trouble Codes | DTC
| Trouble Code | Description |
| --- | --- |
| P0700 | Transmission Control System (MIL Request) |
| P0711 | Transmission Fluid Temperature Sensor Circuit Range/Performance |
| P0712 | Transmission Fluid Temperature Sensor Circuit Low Input |
| P0713 | Transmission Fluid Temperature Sensor Circuit High Input |
| P0720 | Output Speed Sensor Circuit |
| P0740 | Torque Converter Clutch Circuit Malfunction |
| P0741 | Torque Converter Clutch Circuit |
| P0742 | Torque Converter Clutch Circuit Stuck On |
| P0743 | Torque Converter Clutch Circuit Electrical |
| P0744 | Torque Converter Clutch Circuit Intermittent |
| P0748 | Pressure Control Solenoid 'A' Electrical |
| P0751 | Shift Solenoid 'A' Performance or Stuck Off |
| P0765 | Shift Solenoid 'D' |
| P0783 | 3-4 Shift |
| P0814 | Torque Converter Overstressed |
| P0814 | Transmission Range Display Circuit |
| P1864 | Torque Converter Enable Solenoid Electrical Fault |
| P1873 | Torque Converter Clutch Stator Temperature Switch Circuit Low Voltage |
| P1874 | Torque Converter Clutch Stator Temperature Switch Circuit High Voltage |
| P1887 | Torque Converter Clutch Release Switch |
| P2756 | Torque Converter Clutch Press Ctrl Solenoid |
| P2757 | Torque Converter Clutch Pressure Control Solenoid Ctrl Circuit Performance or Stuck Off |
| P2758 | Torque Converter Clutch Pressure Control Solenoid Ctrl Circuit Stuck On |
| P2759 | Torque Converter Clutch Pressure Control Solenoid Ctrl Circuit Electrical |
| P2760 | Torque Converter Clutch Pressure Control Solenoid Ctrl Circuit Intermittent |
| P2761 | Torque Converter Clutch Pressure Control Solenoid Ctrl Circuit Open |
| P2762 | Torque Converter Clutch Pressure Control Solenoid Ctrl Circuit Range/Performance |
| P2763 | Torque Converter Clutch Pressure Control Solenoid Ctrl Circuit High |
| P2764 | Torque Converter Clutch Pressure Control Solenoid Ctrl Circuit Low |
| P2769 | Torque Converter Clutch Circuit Low |
| P2770 | Torque Converter Clutch Circuit High |
48RE Technical Service Bulletins | TSBs
TSB 21-009-07 – 1-2 shift hunt under light throttle – 48RE transmission
2004 – 2007 Ram 2500 – 2004 – 2007 Ram 3500
Problem – Engine light throttle conditions, drivers may notice that the transmission seems to hunt for a gear, or slip during the 1-2 shift.
Solution – A new 48RE governor pressure solenoid valve will be needed to fix this problem.
Common Problems with the 48RE
Engine RPM increase or partial engine stall when coming to a stop
Problem – Drivers may experience a sudden RPM surge when coming to a stop, which can cause difficulty holding the vehicle at a stop with the brakes. This is usually preceded by a partial engine stall, which the ECU tries to overcome by increasing the RPMs. Upon accelerating, upshift's will feel much harder than usual. These 48RE transmission problems happen because torque converter clutch is applied, due to malfunctioning solenoids.
Solution – To correct this issue, the lockup solenoid and overdrive solenoid assembly (they're one unit) will need to be replaced, or upgraded like they are in a remanufactured 48RE transmission.
Engine stalling in Reverse and/or Drive
Problem – The engine may stall when the vehicle is shifted into either reverse or drive.
Solution – These common 48RE transmission problems are usually caused by a stuck TCC switch valve, restricted transmission cooler lines, or torque converter failure.
Premature forward clutch failure
Problem – It's not uncommon to experience premature forward clutch failure, which can prevent the vehicle being driven.
Solution – This can be caused by a number of issues including valve body failure, a worn stator bushing, a failed forward clutch piston seal, a failed forward drum assembly, the use of power programmers/chips to increase engine output, which can overwhelm a number of internal components.
Overheating
Most vehicles that use the 48RE are heavy-duty work vehicles. Owners tend to underestimate the wear and tear that transmissions undergo in work vehicles, even though they do have a limit for tow weight. Going over this limit causes problems with overheating. Always check the vehicle's tow rating and stay within recommended limits.
Another thing to do is to ease off the gas pedal when going up a hill. Consult your vehicle's manual for information about how to navigate steep terrain while towing. Engage the tow-haul switch as necessary. Abuse of your transmission can lead to overheating and in turn reduce the amount of time it is serviceable in your vehicle.
The 48RE, in particular, doesn't work well if it goes outside its normal operating temperature of 200 degrees Fahrenheit. Whenever you exceed the temperature by 20 degrees and sustain that setting, the lifespan of your transmission is halved.
You can also have problems with the pressure sensor and the output shaft speed sensor. Aftermarket modifications may be necessary to alleviate miscalibrated or malfunctioning sensors.
Electrical problems:
Because the 48RE is an electrical transmission, it is controlled by electric solenoids that can break or lose their power over time. The basic form of a solenoid is a wire coil that forms an electromagnet and moves a plunger.
It's usually a very fine wire that does not stand up well to excess heat or deformation. Either the wire itself might break and open the circuit or the insulative covering will break and allow the bare wire to create a short circuit. If you test them with a multimeter, you should get a reading of about 25 to 30 ohms under optimal conditions.
Upgrades to Remanufactured 48RE Transmission
Updated valve body, which includes pressure regulator valve, switch valve, throttle, and manual valve. These provide more responsive shifting and lubrication.
Valve body modification so torque converter can charge while the vehicle is parked, making for more effective engagement of gears.
Refurbished pump brings consistency to internal fluid pressure to reduce the likelihood of gear slipping and increase the responsiveness of shifting
Direct overdrive clutch switched to eight plate variety for increased durability
Standard overdrive clutch traded for four plate clutch to add to the transmission's durability
Planetary gear assembly switched for gears with five pinions, reducing the wear placed on individual gears
New brake band strut added, sized large enough to maintain clearance so there is little to no play in the drum.
Remanufactured output shaft designed to work with late and early yokes for the driveshaft.
Additional cooler mounted on exterior of transmission to filter and provide extra cooling
New sets of bushings added to improve the quality of fluid control
Rust prevention via meticulous polishing of all metal surfaces and bushings
Refurbished torque converter installed and tested for leaks, balance and other factors. This causes the transmission to perform beyond the original specifications and reduce the likelihood leaks, wear, and vibration. Heavy-duty models have lockup lining for diesel.
Full virtual simulation test for transmission under both idle and working conditions using a proprietary software prior to shipment.
What's Included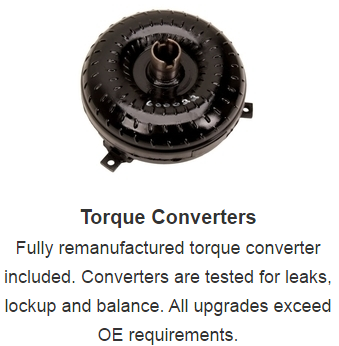 How to Buy a Remanufactured Transmission
1) Buying Locally
When you go to your local repair shop, they'll order a remanufactured transmission, then mark up the price. So at the end of the day, you'll be paying 15% to 30% more than the actual cost of the unit.
2) Buying Online
Buying a reman transmission through a company like Street Smart Transmission will save you a considerable amount of money because you pay the wholesale price (avoiding a repair shop's 15% to 30% markup), they'll ship the unit to the shop of your choice free of charge, and returning your old transmission is free as well. Then all you have to pay for is the labor to install the unit (usually $400 to $800), and you're on your way.
How Does it Work?
To order a remanufactured transmission from a company like Street Smart Transmission, all you need to do is provide your vehicle's VIN number, the mileage, and the address of the repair shop that you want it shipped to.
Financing
Replacing a transmission can be expensive, so Street Smart Transmission offers financing through PayPal. Depending on your credit, you'll be able to order a new transmission, get back on the road, then pay for it over time. You may have to pay labor charges for the installation up front, but you won't have to shell out for the transmission all at once.
Shipping Charge/Location
When it comes to shipping, a transmission is quite heavy. So you're going to pay quite a bit of money, unless the reman transmission company offers free shipping. Street Smart offers free shipping to a business address, which is usually the repair shop that you've chosen to install the unit.
What is a Core Charge (Core Deposit)?
Every remanufactured transmission originally came from somebody else's car. Therefore, they need your broken transmission in order to refurbish it for another customer.
Your old/damaged transmission is called a "core", and many companies will collect a core charge (usually $500 to $1500), which will be refunded once they receive your old transmission. However, if the transmission case, or other key components are damaged beyond repair, you may not get all of your core charge back. Make sure to ask for the core return policy, so you'll know what to expect.

Our Recommendation
We recommend Street Smart Transmission. We have found Street Smart to be of the highest quality. Their transmissions carry a 3 year / unlimited miles warranty that covers both parts and labor. Their warranty is nationwide and attached to the VIN so it is transferable with ownership if you decide to sell the vehicle. It also covers both parts and labor for the installation of the replacement transmission.
Watch the Remanufacturing Process
How it Works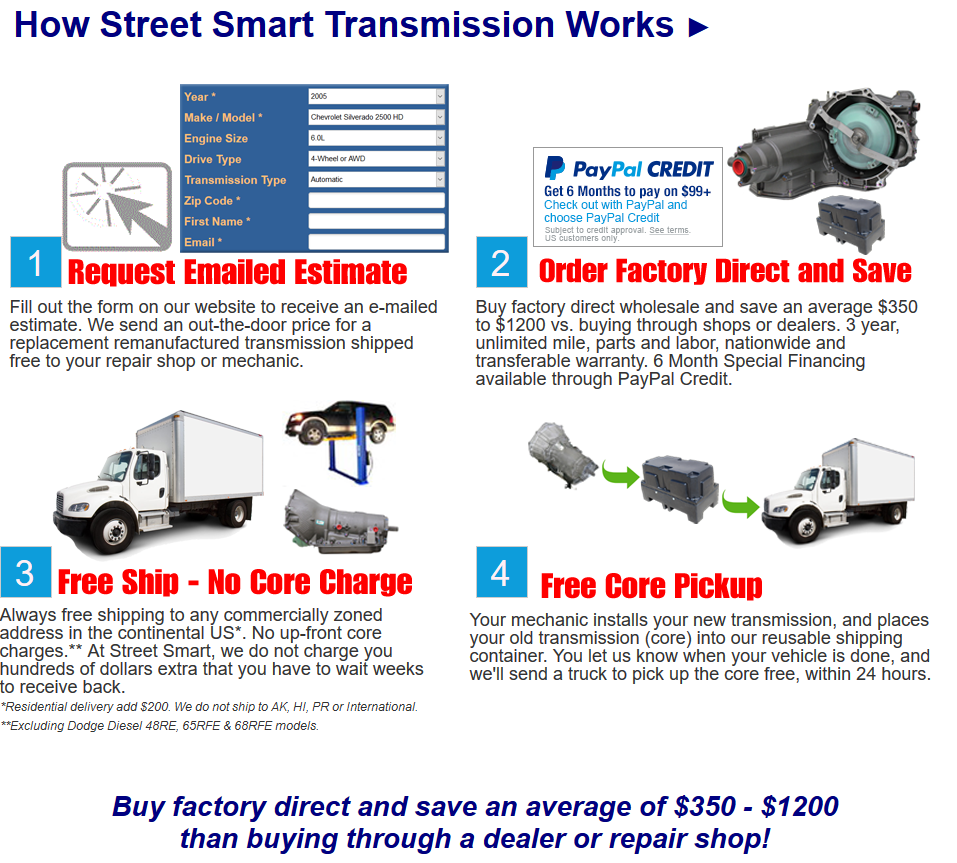 Finding a Shop to Install the Remanufactured 48RE Transmission
If your transmission has failed, you're going to need a skilled mechanic to replace it. You can find a shop using our shop locator map.
For warranty purposes, you need to find a reliable repair shop. That way, if the replacement transmission doesn't work properly, the warranty will cover it.
Ready to Replace Your Transmission?
Click Get a Free Estimate for an unbeatable price on a replacement remanufactured transmission.