The automobile has come a long way in the last 100 years, and the GM 9T65 transmission is a perfect example of this. A decade ago, the 6-speed automatic was thought to be the highest number of forward gears that a vehicle would ever have or need. But this GM 9 speed transmission features a number of new technologies, like a selectable one-way clutch and an on-axis design (all of the gears are in line with the engine crankshaft), which makes it possible to package a higher number of gear ratios in the same footprint. This in turn, allows for an increase in operating efficiency (i.e. better gas mileage), without negatively impacting performance. And the best part is, General Motors developed their 9T65 transmission in partnership with their arch rival; the Ford Motor Company.
Need a replacement transmission? Get an estimate for replacement transmissions and local installation. Look up your transmission model by vehicle make and model.
What Transmission Do I Have?
It takes an insane amount of money to develop any new technology, which is why it makes sense for companies to share the cost, then adapt their product line to work with the new technology. So instead of spending hundreds of millions of dollars developing a transmission for their front-wheel-drive cars, GM partnered with Ford to create the 9T65 transmission. As a result of this partnership, Ford gets to use an identical gearbox in their vehicles, but it will be built in a Ford factory, using transmission parts that come from their suppliers. All of the main components are identical. However, the 9T65 TCM software and some of the hardware will be specific to each car company and model. Now with that out of the way, let's take a closer look at the GM 9T65 transmission.
9T65 Transmission Design
Designed to fit into the same space as the outgoing 6T70E / 6T75 transmission, the 9T65 Hydra-Matic 9-speed transmission weighs just 22 pounds more than the gearbox it replaces. Since General Motors led the design work on this transmission, they got to keep some 60 patents related to the design. It took over 800 prototypes to get the design dialed-in. But clever engineering like the on-axis design, allowed them to fit five planetary gears sets, four stationary clutches and three rotating clutches, into a case that is barely an inch longer than the one used for the GM 6 speed transmission.
Another unique element of the General Motors 9T65 9-speed transmission, is the selectable one-way clutch. This is one of the most unique 9T65 transmission parts, as it essentially combines two clutches into one. The 9T65 selectable one way clutch is responsible for engaging first and reverse gears, and it can freewheel or hold torque, depending on what the 9T65 transmission control module tells it to do. And it's considerably smaller than the traditional plate clutch pack and sprag clutch that was used in the old GM 6 speed automatic.
The 9T65 Active Oil Management system is another unique element of this transmission. To better control the fluid pressure and volume, the 9T65 valve body has an internal expansion tank built into its side cover, which will hold excess ATF until the 9T65 TCM decides that it's needed.
9T65 Transmission Specs
General – 9-speed automatic
Application – RWD / AWD
Production Began – 2018
9T65 Transmission Gear Ratios
First – 4.69
Second – 3.31
Third – 3.01
Fourth – 2.45
Fifth – 1.92
Sixth – 1.45
Seventh – 1.00
Eighth – 0.75
Ninth – 0.62
Reverse – 2.96
Fair Replacement Transmission Cost by Vehicle
Find your transmission model in the table below for fair prices from reputable suppliers. Also fair labor cost for local installation at a local auto repair shop.


Fair Remanufactured Transmission Price Ranges by Transmission Model Updated for 2019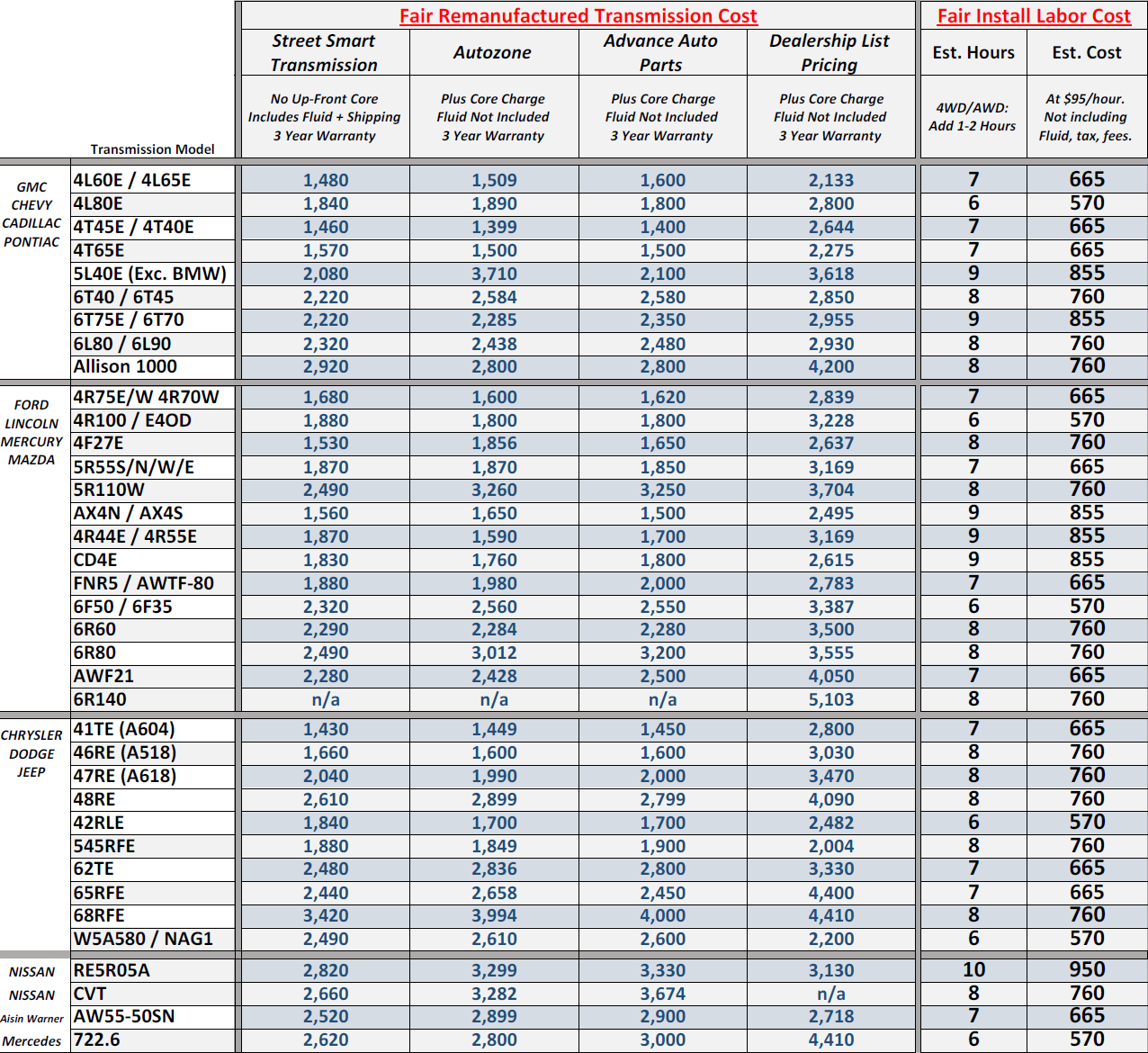 Download Replacement Transmission Cost Guide PDF
9T65 Transmission Problems
9T65 Shifting Problems
A common 9T65 transmission problem can occur during warm up and normal driving. If the transmission is cold, and pronounced deceleration can occur during the 1-2 upshift. This may also happen when the transmission being manually shifted from 1st to 2nd gear. When the transmission is warm, a momentary neutral may occur during the 2-4 upshift. The check engine light may also illuminate.
Cause – This issue can occur on early production 9T65 transmissions due to a undersized 9T65 spacer plate orifice between the 9T65 valve body and transmission case.