To get an estimate on a rebuilt RE5R05A, click Get a Free Estimate.
Need a replacement transmission? Get an estimate for replacement transmissions and local installation. Look up your transmission model by vehicle make and model.
What Transmission Do I Have?
Replacement RE5R05A Transmission Prices:
| Transmission | Street Smart Transmission | Autozone | Advance Auto Parts |
| --- | --- | --- | --- |
| Nissan RE5R05A | 2730 | 3299 | 3329 |
RE5R05A Applications and Compatibility:
The Nissan RE5R05A transmission first saw production in 2003 models. The transmission fits both two-and four-wheel-drive vehicles.
RE5R05A Radiator Issue
Numerous Nissan vehicles equipped with the Jatco RE5R05A 5-speed automatic transmission experienced premature transmission failure (under 120K miles) due to contamination of transmission fluid with engine coolant. This occurred due to fluid contamination occurs due to failure of the transmission fluid coolers seals within the factory radiator.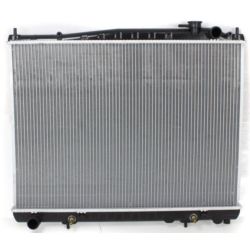 Common Problems with the RE5R05A
The RE5R05A is electronic, meaning that many of its components are controlled by electronic solenoids. These include the gear shifting mechanisms and the torque converter.
If you have a multimeter, you can easily check the solenoids to determine whether there are problems.
Simply connect the multimeter and attach the two probes to the pins on the solenoid. Set the reading on the multimeter to measure resistance. You should, ideally, get a reading between 20 to 30 ohms. If you get 0 ohms, it means the plastic covering from the wire has given way and created a short circuit. A higher reading indicates a complete break in the wire, preventing an electrical circuit from forming. Even if a solenoid is broken, it is easy and inexpensive to fix.
You can also cause the transmission to overheat with improper maintenance or abuse. The main things you need to watch out for are overtowing and revving too much. These cause the transmission to rev too high and strip gears or use too much transmission fluid. The best thing to do, if you think the transmission is overheating, is to pull to the side of the road and let the vehicle cool down.
Also, make sure you check fluid levels every 20,000 miles.
If you notice the transmission fluid is dark or leaking anywhere, it's a sure sign that damage is imminent. At that point, it should be repaired if possible to reduce the costs involved in a full transmission replacement.
Transmission Cooler
You can also purchase an aftermarket transmission cooler. A cooler is important because it keeps the fluid from overheating; even a short time can reduce a transmission's working lifespan significantly. Look for a transmission cooler that has fans built in to increase airflow and increase the effectiveness of the cooler.

Updates to Remanufactured RE5R05A Transmissions
Tru-Flat process applied to case, valve body and pump prevents cross-leakage and delivers consistent performance.
Completely remanufactured valve body, with new pressure switches and, when needed, speed sensors. All valve bodies are tested independently to verify proper operation prior to the dynamometer testing of the completed transmissions. **No Nissan dealer reflash or programming required.
Remanufactured and improved torque converter tested for leaks, lockup, concentricity, and balance. Upgrades exceed OE requirements and eliminate the possibilities of front seal leaks, premature bushing wear, and vibration.
All new, bushings installed in key locations to improve internal fluid flow control and fluid pressures
All bushings and machined surfaces are polished to a mirror-like OE finish of 15 RA or better.
New radiator included free of charge, required to be replaced under warranty—including all rubber coolant hoses.
Complete road simulation using a dynamometer testing program called C.A.R.S. (Computer Aided Road Simulation). Every transmission is cold and hot tested before shipment.
What's Included
Each rebuilt RE5R05A includes a pre-flashed TCM/valve body, so no dealer flash is required.
Each rebuilt RE5R05A includes an aftermarket replacement radiator. Any rubber cooler lines must also be replaced (due to coolant contamination possibility).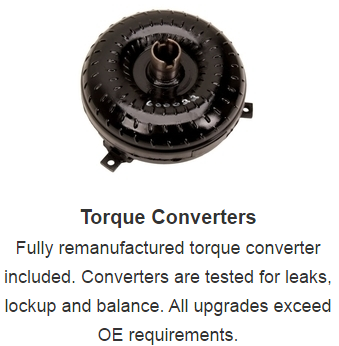 How to Buy a Remanufactured RE5R05A Transmission
1) Buying Locally
When you go to your local repair shop, they'll order a remanufactured RE5R05A transmission, then mark up the price. So at the end of the day, you'll be paying 15% to 30% more than the actual cost of the unit.
2) Buying Online
Buying a reman transmission through a company like Street Smart Transmission will save you a considerable amount of money because you pay the wholesale price (avoiding a repair shop's 15% to 30% markup), they'll ship the unit to the shop of your choice free of charge, and returning your old transmission is free as well. Then all you have to pay for is the labor to install the unit (usually $400 to $800), and you're on your way.
How Does it Work?
To order a remanufactured transmission from a company like Street Smart Transmission, all you need to do is provide your vehicle's VIN number, the mileage, and the address of the repair shop that you want it shipped to.
Financing
Replacing a transmission can be expensive, so Street Smart Transmission offers financing through PayPal Credit. Depending on your credit, you'll be able to order a new transmission, get back on the road, then pay for it over time. You may have to pay labor charges for the installation up front, but you won't have to shell out for the transmission all at once.
Shipping Charge/Location
When it comes to shipping, a transmission is quite heavy. So you're going to pay quite a bit of money, unless the reman transmission company offers free shipping. Street Smart offers free shipping to a business address, which is usually the repair shop that you've chosen to install the unit.
What is a Core Charge (Core Deposit)?
Every remanufactured transmission originally came from somebody else's car. Therefore, they need your broken transmission in order to refurbish it for another customer.
Your old/damaged transmission is called a "core", and many companies will collect a core charge (usually $500 to $1500), which will be refunded once they receive your old transmission. (Street Smart does not charge an up-front core charge.) Make sure to ask any company for their core return policy, so you'll know what to expect.

Our Recommendation
We recommend Street Smart Transmission. We have found Street Smart to be of the highest quality. Their transmissions carry a 3 year / unlimited miles warranty that covers both parts and labor. Their warranty is nationwide and attached to the VIN so it is transferable with ownership if you decide to sell the vehicle. It also covers both parts and labor for the installation of the replacement transmission.
Watch the Remanufacturing Process
How it Works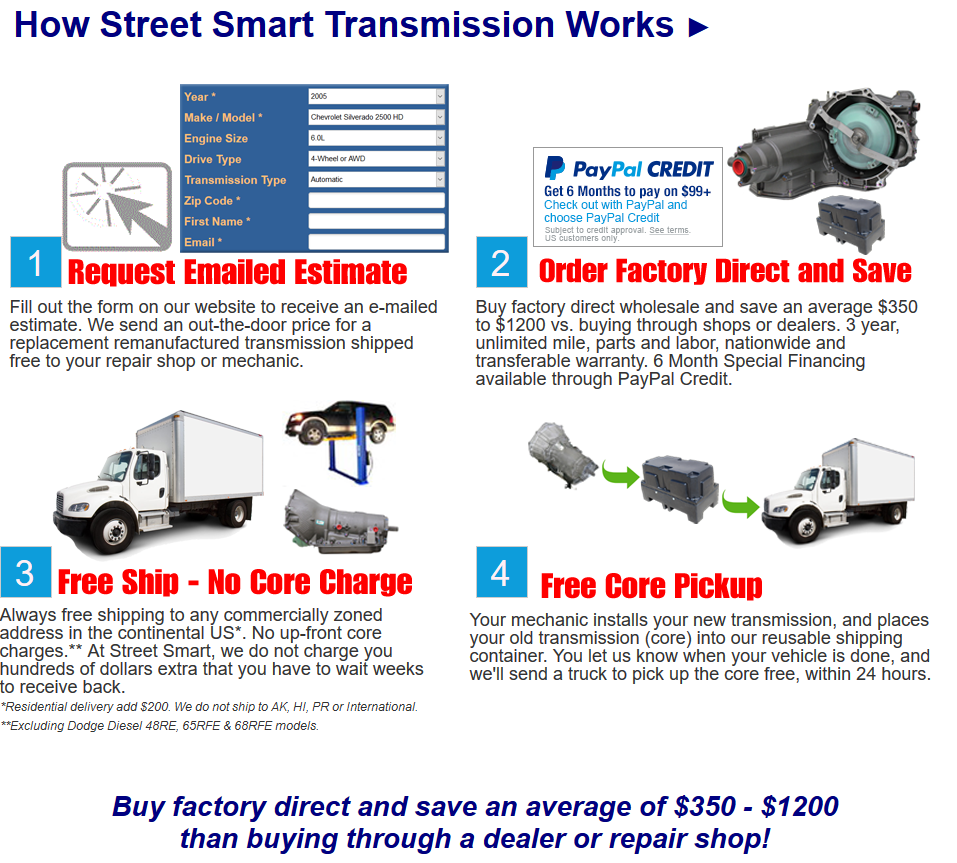 Finding a Shop to Install the Remanufactured Transmission
If your transmission has failed, you're going to need a skilled mechanic to replace it. You can find a shop to install your transmission using our shop locator map.
For warranty purposes, you need to find a reliable repair shop. That way, if the replacement transmission doesn't work properly, the warranty will cover it.
Ready to Replace Your RE5R05A Transmission?
Click Get a Free Estimate for an unbeatable price on a replacement remanufactured transmission.
Fair Replacement Transmission Cost by Vehicle
Find your transmission model in the table below for fair prices from reputable suppliers. Also fair labor cost for local installation at a local auto repair shop.


Fair Remanufactured Transmission Price Ranges by Transmission Model Updated for 2019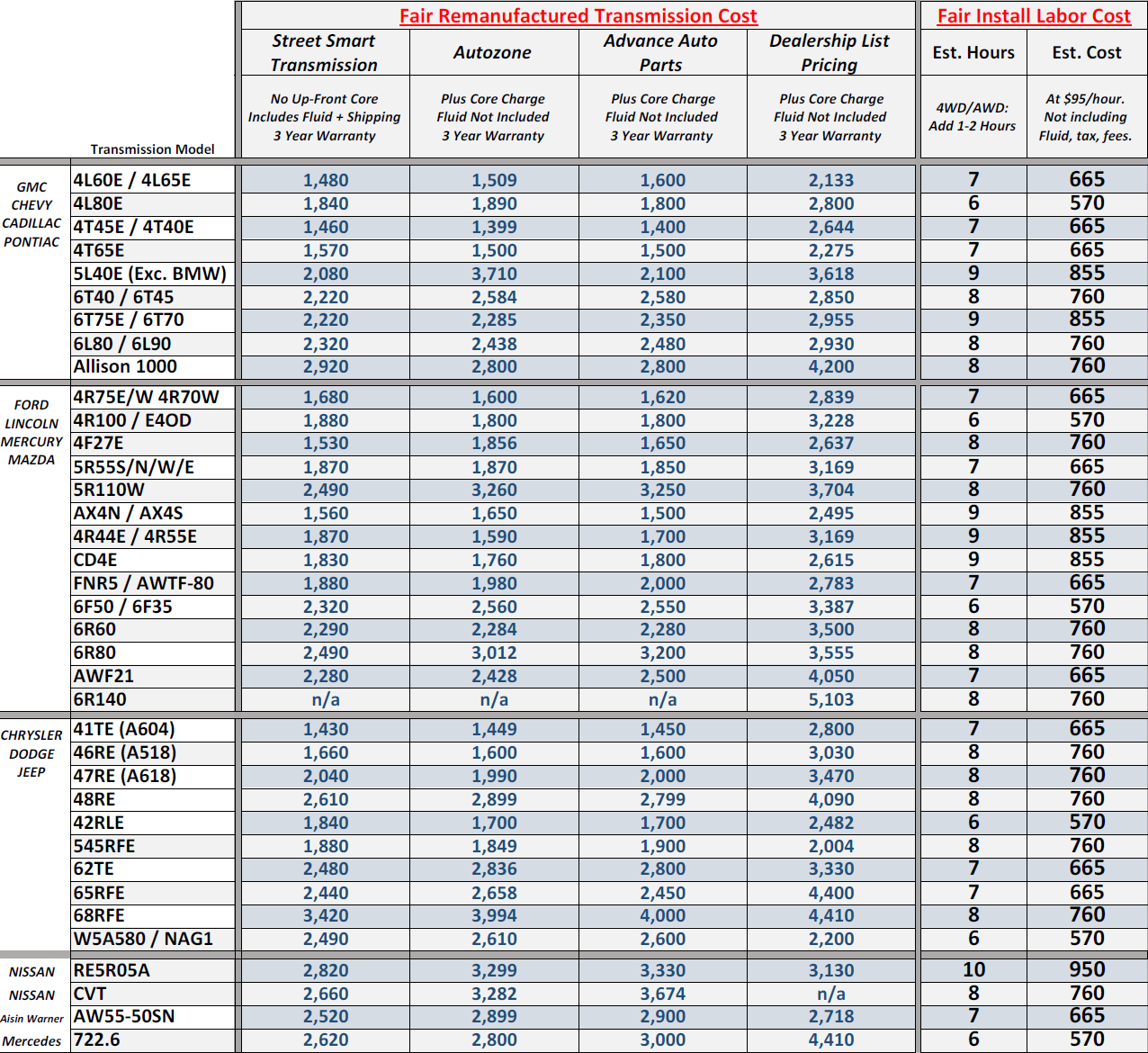 Download Replacement Transmission Cost Guide PDF