So your transmission has failed and you've decided (or are coming to the conclusion) that the best course of action is to either have it rebuilt locally or replace it with a remanufactured transmission.
Need a replacement transmission? Get an estimate for replacement transmissions and local installation. Look up your transmission model by vehicle make and model.
What Transmission Do I Have?
The following is a comparison of the difference in warranties, procedures, quality, and cost between the two most popular methods of fixing a vehicle with a transmission problem.
Not sure what transmission your vehicle has? Use one of these 5 other ways to find out.
Rebuilt vs Remanufactured Transmission Cost
The table below shows what a fair price is for a replacement remanufactured transmission for a number of makes & models.
Click the prices to go direct to the supplier's website page.
Reman Transmission Pricing Table
More Information by Transmission Type
Warranty
Rebuilt / Local Rebuild
A rebuilt transmission is typically covered by a 12-month/12,000 mile warranty (whichever comes first). This is a very basic warranty, but it will pay for repairs, should there be any defective parts in the transmission or torque converter. However, you're often limited to which shops can perform the repairs. And labor charges may or may not be covered, so be sure to read the fine print.
Remanufactured
A quality remanufactured transmission will often come with a 3-year/unlimited mile warranty. Because of the scope of the remanufacturing process, a longer warranty can be offered.
Many companies selling reman transmissions also provide nationwide parts and labor coverage, which allows you to go to the shop of your choice, regardless of what state you happen to be in when your transmission fails. The warranty is also typically transferrable, should you ever decide to sell the vehicle.
Rebuilding Procedure
Rebuilt / Local Rebuild
Also called refurbishing, overhauling or reconditioning, the rebuilding process involves disassembling, inspecting, cleaning and replacing damaged or worn parts in a shop setting.
To rebuild a transmission, a technician will remove it from the vehicle, take it apart and inspect all of the key components.Any parts that are still inside the manufacturer's acceptable wear limits are reused, and anything that's too worn will be replaced.
In most cases, all of the "soft parts" like gaskets, seals, bands and o-rings are replaced. And finally, the whole thing is put back together and reinstalled in the car.
The quality of components used in a rebuild may not be ideal at a less-than-reputable shop.
Remanufactured
Remanufacturing a transmission involves completely restoring a transmission back to factory standards in a factory assembly line setting – making it as close to new as possible.
In some cases, the transmission is upgraded to include "bug fixes" and factory updates from the manufacturer such as modifications to the valve body as well as more durable parts (eg. higher quality friction material) to address common weak points of the transmission that typically caused the failure. This ensures that the transmission is as up-to-date as possible with the design and components used in brand new transmissions.
The process starts by disassembling a core (a broken/used transmission), then cleaning and inspecting all of the parts (crankshaft, camshaft and rods, head & block castings, etc.) and checking them against original equipment specifications.
All of the components that are identified as being out of specification (too worn out or damaged), are replaced with new parts or parts that have been requalified to meet very specific tolerances and standards.
The valve body is then tested and remanufactured back to original specification. Metal surfaces are measured and machined to the correct dimensional tolerances. All of the electronic components are tested, then new solenoids and other electrical parts are installed.
After machining and painting the case, the transmission is reassembled on an assembly line, quality checked, then hot/cold tested on a dynamometer or "dyno" prior machine prior to shipment. A dyno is a device that measures torque, power, RPMs and line pressure to make sure the transmission meets specifications and works properly.
Turnaround Time
Rebuilding a transmission takes time. The transmission must be removed, disassembled, parts purchased, reassembled, and installed back in the vehicle which can take 3 to 5 days.
A remanufactured transmission on the other hand, is already complete, and shipped directly from the factory. Depending on the time it takes to be ordered, shipped and delivered, and the installer's schedule, the job of actually installing a remanufactured transmission should take about 1 to 2 days.
Quality
When it comes down to it, both options are a re-created or "refurbished" transmission made up of a mix of new and old parts. The difference is, all of the key components in a reman transmission are new, and the dyno testing helps prevent problems from even leaving the factory.
How do I know if I am buying a Remanufactured Transmission from a Legit Supplier?
Pro Tip: Resist the urge to buy low priced reman transmissions over the Internet from companies that have no address listed on their website. Any company offering higher than a 3 year warranty is a red flag: Keep in mind that no GM, Ford or Chrysler dealership offers higher than a 3 year warranty on remanufactured transmissions. If you prefer to not have to take a chance, buy a remanufactured transmission through an auto parts store such as Autozone, Oreillys or Advance Auto Parts.
Red flags to watch for:
–Higher than normal warranty. Anything higher than 3 years is not industry standard. Keep in mind that GM, Ford or Chrysler dealers only offer a 3 year warranty on transmissions.
–Priced low. Priced lower than normal remanufactured pricing found at Autozone, Oreillys, Advance Auto Parts above.
–No commercial location. No street address listed, or the street address listed is a home or mail forwarding address.
–No local telephone number. Companies ran out of a home typically will only have a toll-free number. Legitimate companies have both toll-free and local numbers.
–Bad reviews. Patterns of bad reviews, especially regarding warranty situations.
Legitimate remanufactured transmission suppliers:
-Have a street address listed on their website. Google the full street address. If there is no full street address listed on the website, or or if the address appears to be a mail forwarding address, it is likely ran out of a house.
-Have no pattern of 1 star reviews on their Google Business listing, Yelp or Better Business Bureau profile. Google the name of the company.
-Have a local telephone number and not just a toll-free 800 number. Legitimate companies have both toll-free and local numbers.
Cost
Before 2009, it was more economical to have your transmission rebuilt at a local transmission rebuild shop vs. replace it with a remanufactured transmission.
In 2018, the price to replace your transmission with a remanufactured can be less than having it rebuilt, with a longer warranty (3 years vs. 1 year).
Rebuilt / Rebuild- $1500 to $3500 – 1 Year Warranty Standard
The customer is given an estimated price range before the transmission is removed & disassembled.
When having your transmission rebuilt, the repair shop should give you a price range based on their initial diagnosis. An accurate price cannot be determined until the transmission has been taken apart and properly diagnosed. The extent of the internal damage will determine where in the range the final cost will be.
An exact price given over the phone or email before the shop has inspected the transmission is a red flag. There is no way to know exactly how much labor and replacement parts will be needed to get your transmission back on the road.
Remanufactured – $1300 to $3400 – 3 Year Warranty Standard
The customer is quoted a fixed price for the transmission.
When you buy a remanufactured transmission you pay one price, and all of the internal components are Original Equipment (OE) spec or better. There are no surprise charges because the transmission has already been completely remanufactured and tested at the factory.
The installation cost of the remanufactured transmission is in addition to the cost of the transmission. The labor cost to remove your transmission and install the reman typically ranges from $500 to $1200 and it should take them about 1-2 days to install it and get you back on the road.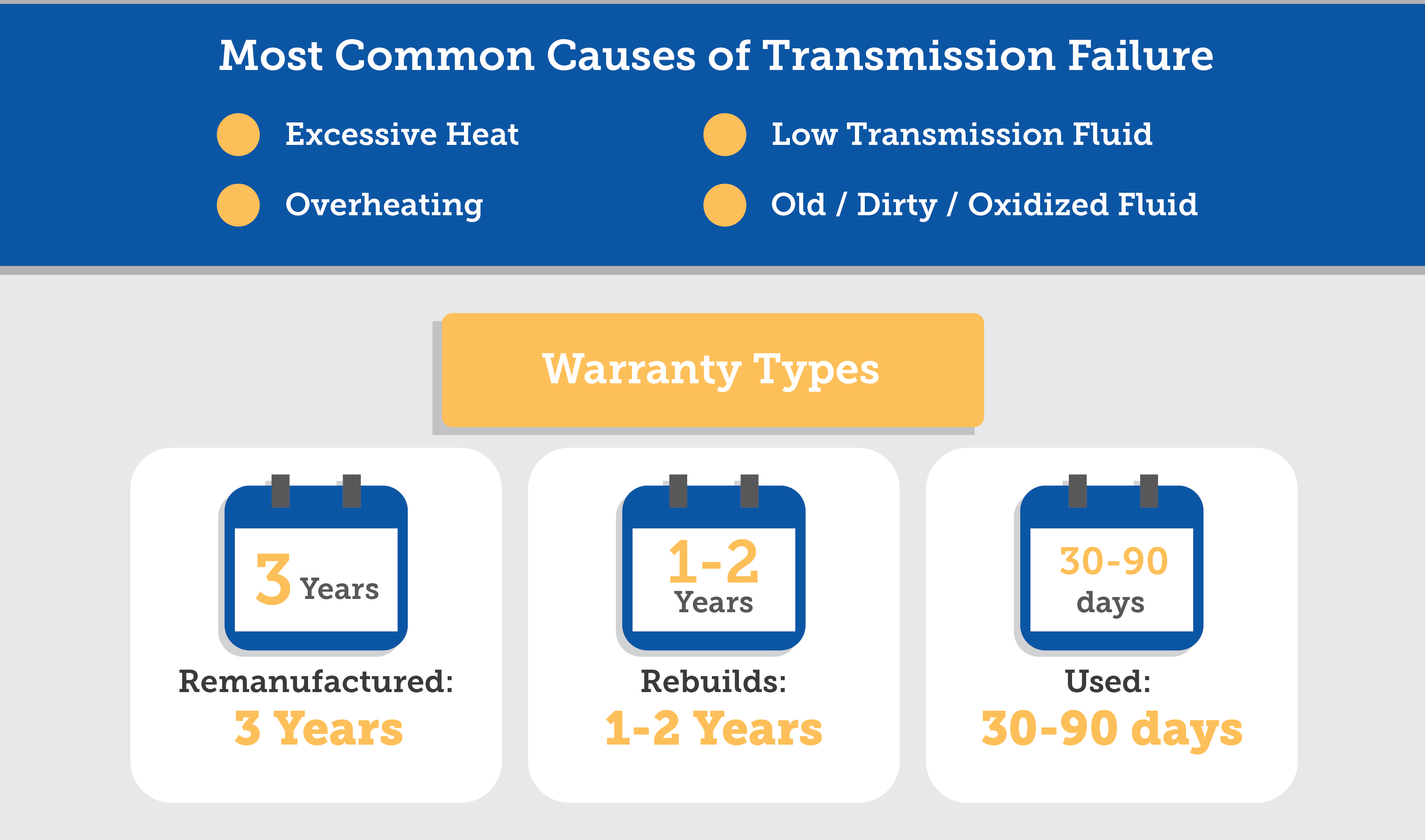 Other Repair & Replacement Options
– "New" Transmissions
If you go to your local dealership and ask for a new transmission, you'll actually be getting a remanufactured transmission. Car manufacturers don't build parts for sale to the general public. Every transmission that comes off the production line, goes into a car. When a dealer needs to replace one under warranty, they're sent one from a factory authorized remanufacturer. So that "new" transmission, isn't actually new at all.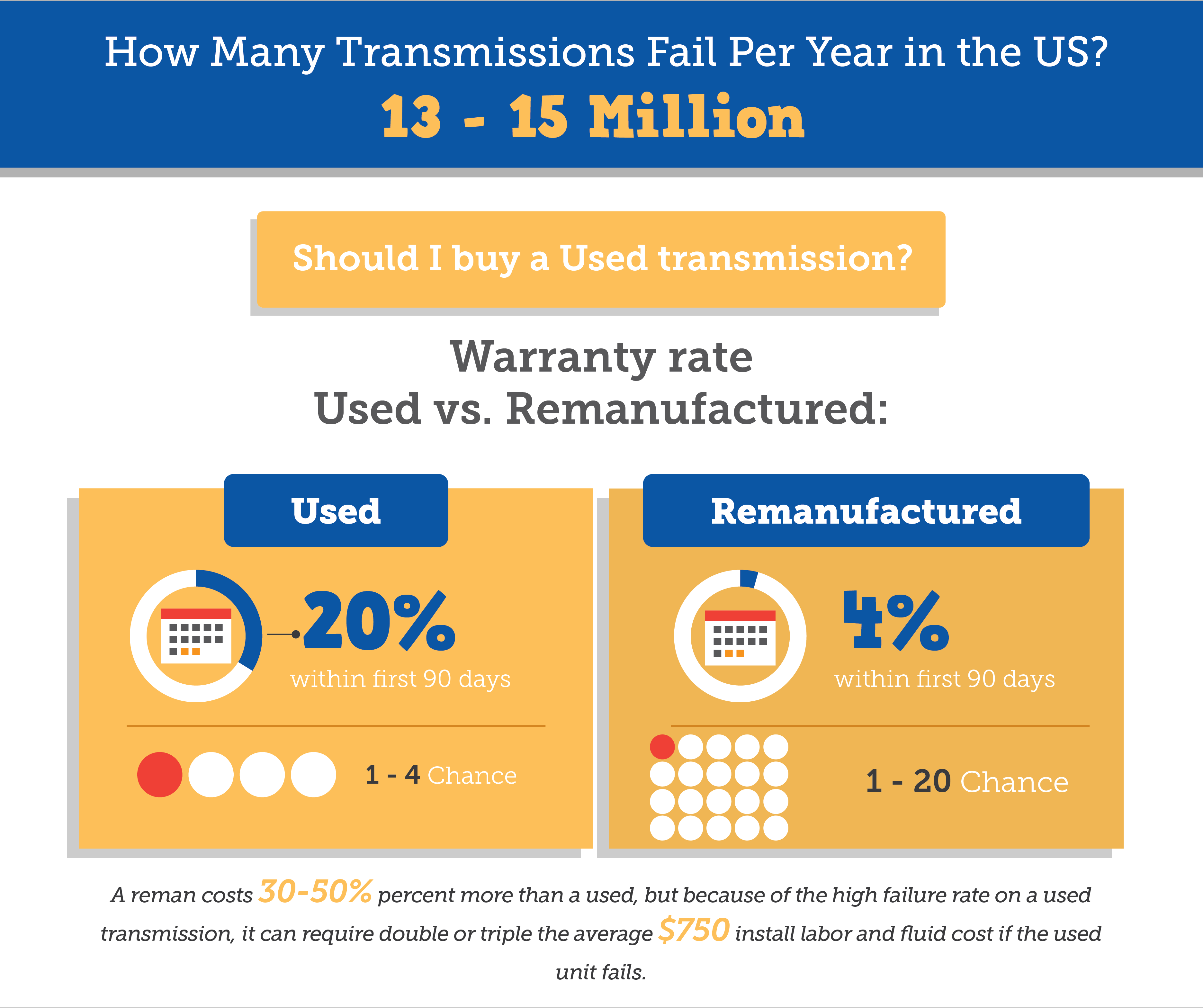 – Used Transmissions
When you buy a used transmission from a junk yard, you could be buying somebody else's problems. Salvage yards aren't equipped to perform a sufficient mechanical inspection. They simply remove the transmission from a junked/wrecked car, then sell it to you.
There's no way to know how long a used transmission will last. And the junk yard warranty only means that they'll give you another "gently used" transmission, if the one you just bought does not work properly. The labor charges to put a second or third transmission in typically come out of your pocket.
All that said, this is the cheapest way to get your car back on the road–but also the riskiest.
– Repaired Transmissions
Getting a transmission repaired / patched typically involves fixing or replacing a specific component which requires much less time and effort than a rebuild or replacement. For example, a failed solenoid, transmission leak or broken input shaft can be repaired without having to take the entire transmission apart. The goal is to keep costs down by doing the minimum required to make the transmission work again.
Example: This is typically the level of work done at used car dealerships for resale of a car at a dealers auction.
Repairs are cost effective, but it may not be an option if the transmission's problem has caused significant internal damage, but minor repairs are all that's needed to fix many transmission issues and trouble codes. This type of repair typically has an expected higher failure rate.
Keep in mind that every option may not be practical for your situation. A lot depends on the type of car you have, the mileage, the type of failure, and so on.
A Reair Shop will be happy to diagnose your car's problem, and discuss the transmission repair options that are available to you.
Fair Replacement Transmission Cost by Vehicle
Find your transmission model in the table below for fair prices from reputable suppliers. Also fair labor cost for local installation at a local auto repair shop.


Fair Remanufactured Transmission Price Ranges by Transmission Model Updated for 2019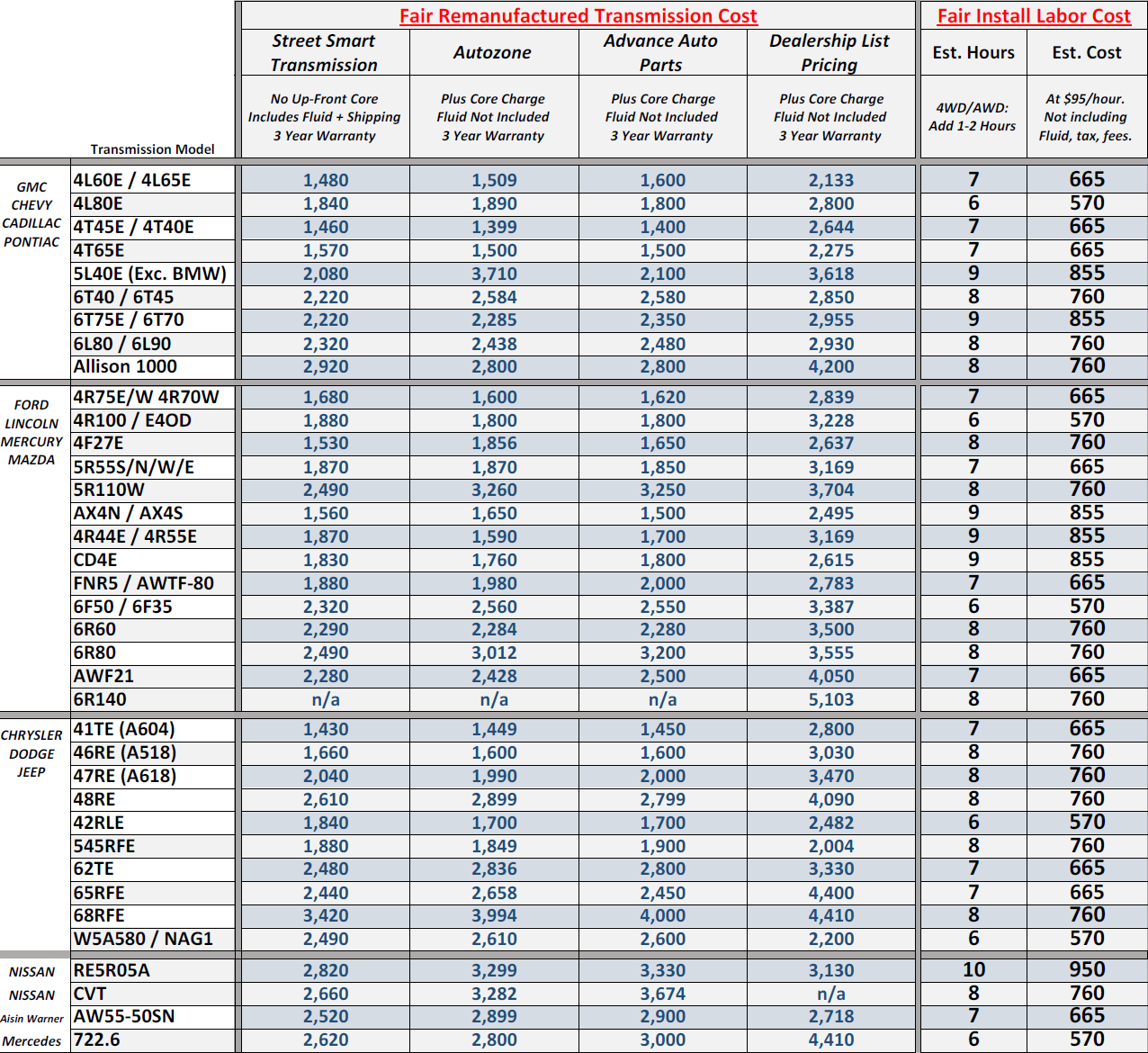 Download Replacement Transmission Cost Guide PDF
Read Next