We offer remanufactured 4T80E auto transmissions directly from the factory, providing affordable wholesale discounts for users and manufacturers. We guarantee satisfaction and back it up with a three-year full coverage warranty. Nationwide, unlimited miles, parts and labor coverage. To get an estimate on a rebuilt 4T80E, click Get a Free Estimate.
Need a replacement transmission? Quality transmission suppliers can be hard to find. Have your 17-digit vehicle VIN# ready. Free estimates sent via text and email.
4T80E Vehicle Compatibility – Makes & Models
1994–2005 Cadillac Deville
1993-2002 Cadillac Eldorado
1993-2004 Cadillac Seville
1995-1999 Oldsmobile Aurora
1996–2005 Cadillac Deville Concours/DTS
1993-2002 Cadillac Eldorado ETC
1993-2004 Cadillac Seville STS
1995-1999 Oldsmobile Aurora
2001-2003 Oldsmobile Aurora V8
2004–2005 Pontiac Bonneville GXP
2006-2011 Buick Lucerne V8
2006 Cadillac DTS
The Chrysler 4T80E transmission first saw production in 1993 models developed for use with V8 front-wheel-drive cars, specifically for the Cadillac Northstar V8.
Common Problems with the 4T80E
Slipping, Erratic Shifting, Harsh Forward or Reverse Gear Engagement: Some of the most common 4T80E transmission problems are slipping between gears, erratic up or down shifts, or a hard slam when the 4T80E transmission engages Drive or Reverse.
Another common problem is overheating. This happens when the moving parts inside the transmission are creating more friction heat than the ATF can remove. The most common cause of this condition is towing heavy loads, driving in stop/go traffic, or on mountain roads where the transmission has to shift a lot.
How to Buy a Remanufactured 4T80E Transmission
1) Buying Locally
When you go to your local repair shop, they'll order a remanufactured 4T80E transmission, then mark up the price. So at the end of the day, you'll be paying 15% to 30% more than the actual cost of the unit.
2) Buying Online
Buying a reman transmission through a company like Street Smart Transmission will save you a considerable amount of money because you pay the wholesale price (avoiding a repair shop's 15% to 30% markup), they'll ship the unit to the shop of your choice free of charge, and returning your old transmission is free as well. Then all you have to pay for is the labor to install the unit (usually $400 to $800), and you're on your way.
How Does it Work?
To order a remanufactured 4T80E transmission from a company like Street Smart Transmission, all you need to do is provide your vehicle's VIN number, the mileage, and the address of the repair shop that you want it shipped to.
Financing
Replacing a transmission can be expensive, so Street Smart Transmission offers financing through PayPal Credit. Depending on your credit, you'll be able to order a new transmission, get back on the road, then pay for it over time. You may have to pay labor charges for the installation up front, but you won't have to shell out for the transmission all at once.
Shipping Charge/Location
When it comes to shipping, a transmission is quite heavy. So you're going to pay quite a bit of money, unless the reman transmission company offers free shipping. Street Smart offers free shipping to a business address, which is usually the repair shop that you've chosen to install the unit.
What is a Core Charge (Core Deposit)?
Every remanufactured transmission originally came from somebody else's car. Therefore, they need your broken transmission in order to refurbish it for another customer.
Your old/damaged transmission is called a "core", and many companies will collect a core charge (usually $500 to $1500), which will be refunded once they receive your old transmission. (Street Smart does not charge an up-front core charge.) Make sure to ask any company for their core return policy, so you'll know what to expect.

Our Recommendation
We recommend Street Smart Transmission. We have found Street Smart to be of the highest quality. Their transmissions carry a 3 year / unlimited miles warranty that covers both parts and labor. Their warranty is nationwide and attached to the VIN so it is transferable with ownership if you decide to sell the vehicle. It also covers both parts and labor for the installation of the replacement transmission.
Watch the Remanufacturing Process
How it Works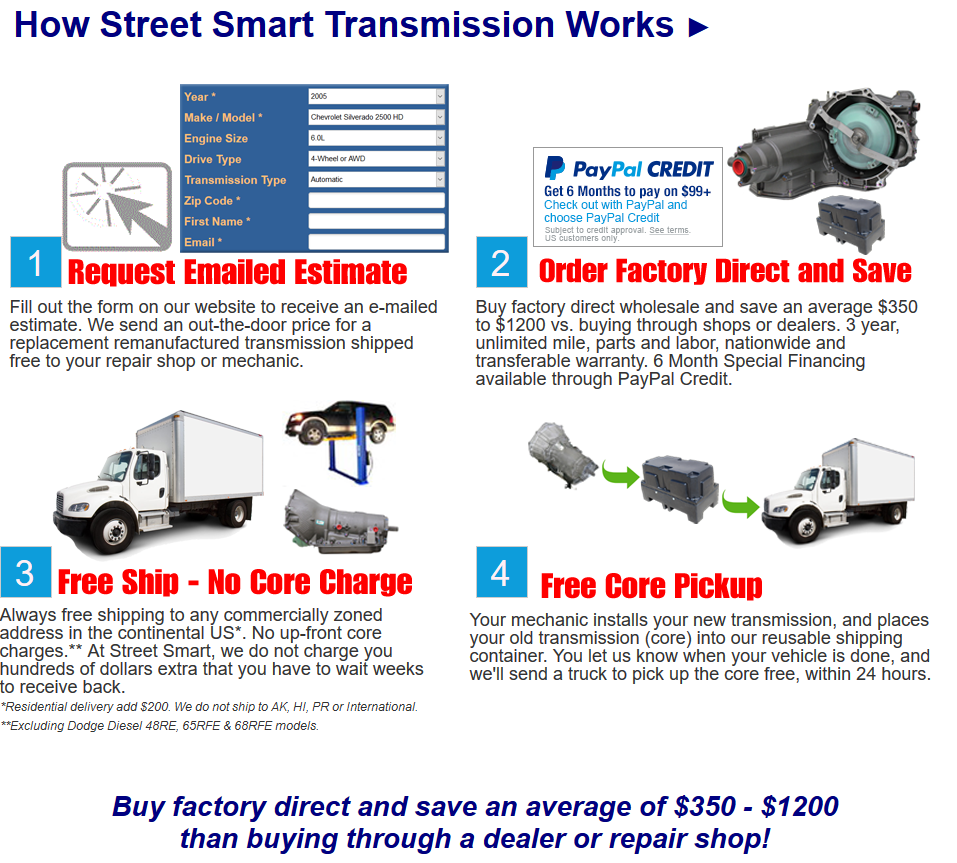 Finding a Shop to Install the Remanufactured Transmission
If your transmission has failed, you're going to need a skilled mechanic to replace it. You can find a shop to install your transmission using our shop locator map.
For warranty purposes, you need to find a reliable repair shop. That way, if the replacement transmission doesn't work properly, the warranty will cover it.
Ready to Replace Your 4T80E Transmission?
Click Get a Free Estimate for an unbeatable price on a replacement remanufactured transmission.
Fair Replacement Transmission Cost by Vehicle
Find your transmission model in the table below for fair prices from reputable suppliers. Also fair labor cost for local installation at a local auto repair shop.


Get a free estimate on a remanufactured transmission by email.
Fair Remanufactured Transmission Price Ranges by Transmission Model Updated July 2018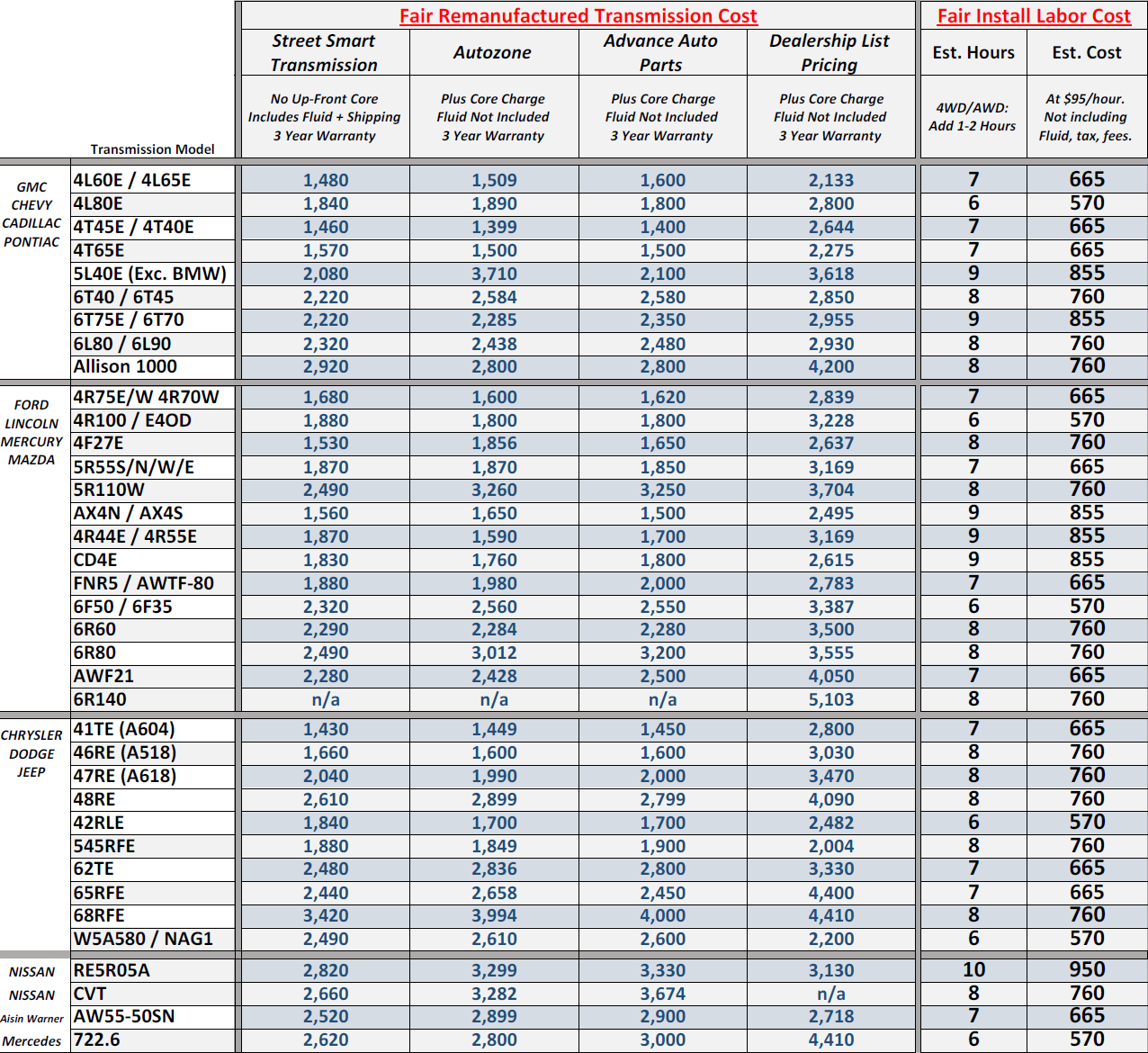 Download Replacement Transmission Cost Guide PDF