Replacement 8L90 Transmission Prices:
** Being a 2015+ model, the 8L90 is currently dealer and salvage yard only.
Need a replacement transmission? Get an estimate for replacement transmissions and local installation. Look up your transmission model by vehicle make and model.
What Transmission Do I Have?
GM 8L90 Hydra-Matic M5U History
The Porsche 911 and Chevrolet Corvette have been direct competitors since anyone can remember. They cost about the same, and the performance figures are about the same too. But they dish out performance in completely different ways. Besides the obvious front-engine/rear-engine divergence, the Porsche PDK 7 speed dual clutch debuted in 2009, simultaneously raising the bar for automatic transmissions. Not to be outdone, GM engineers created their own 8-speed automatic that could swap gears faster than your brain can process. The GM 8L90 Hydra-Matic 8-speed transmission can perform wide open throttle upshifts 8/100 of a second faster than Porsche's DCT gearbox. The 8L90 transmission can also be manually shifted via steering wheel paddles. And it operates far smoother than a double clutch transmission, thanks to the turbine dampers in the 8L90 torque converter.
2015+ 8L90 Applications and Compatibility:
8L90 Transmission Overview
Designed to replace the 6-speed 6L80E transmission and 6L90E transmission, the 8L90E transmission features smaller steps between the gears to maximize performance in cars like the Chevrolet Corvette and Cadillac CTS-V. Yet with a few changes, it can be adapted to work in high volume models like the Chevrolet Silverado and GMC Yukon. This new 8-speed automatic transmission was developed completely in house by General Motors, and is produced at their assembly plant in Toledo, Ohio.
The 8L90 transmission features five clutches and four gearsets, housed inside of a one-piece aluminum case with an integrated bell housing and detachable extension for the Corvette transaxle. Thanks to clever packaging and lightweight materials, the GM 8L90 actually fits into the same footprint as the gearbox it replaces. The Corvette 8L90 weighs 8 lbs less than the old 6L90. And the 8L90 performance transmission comes with something called Performance Algorithm Shifting (PAS) that reads how aggressively the driver is using the throttle, then adapts the shift points for performance oriented driving.
The 8L90E transmission uses three rotating clutches and two brake clutches. However to lower spin losses and improve efficiency, only two of the crutches are open at a time. Further reducing parasitic loss is an industry-first chain driven off axis binary vane-type pump that is located in the valve body, very low in the sump. This unique 8L90 transmission pump also significantly improves priming capability and line pressure.
To improve off the line performance for both towing and spirited driving, a wider 7.0 gear ratio spread is used. This allows for a more aggressive 4.56 first gear ratio, compared to the 4.03 ratio in the 6L80 / 6L90. The rear axle ratio is also able to be much higher than before, which lowers engine rpm on the highway and increases fuel economy by as much as 5%.
A new 32-bit Gen II 8L90 transmission controller is mounted outside the transmission, and can complete hundreds of operations every 6.25 milliseconds. This 8L90 control system monitors clutch pressures and actually tests other internal components to ensure that they are performing properly. It can also compensate for normal wear on clutch plates and other components.
The main differences between the performance version used in cars like the Chevrolet Camaro SS and Chevy Corvette Z06, and 'normal' version used in vehicles like the Chevy Silverado 1500 and GMC Canyon, are the torque convertor, clutches and the programming of the 8L90E transmission controller. Additionally, a fixed yolk design is used in cars with the supercharged 6.2L LT4 V8, while a slip yolk is used for naturally aspirated 6.2L LT1 applications.
8L90 Transmission Specs
General – 8-speed automatic with traditional torque converter
Application – RWD & 4WD / AWD
RPO Code – M5U
Production Began – 2015
Max Horsepower – 650
Max Torque – 635 lb-ft
Max Transmission Torque – 738 lb-ft
Max Shift Speed – 7000 rpm
Max GVW – 13,200 lbs
Max GCVW – 20,500
Case – 1 piece aluminum with integrated bell housing
Torque Converter – 258 mm with turbine damper
Torque Converter Clutch – Variable Force Solenoid ECCC
Weight – 210+ lbs (weight varies depending on application)
Fluid Type – Dexron High Performance ATF
Fluid Capacity – 11.1 qts
8L90 Transmission Gear Ratios
First – 4.56
Second – 2.97
Third – 2.08
Fourth – 1.69
Fifth – 1.27
Sixth – 1.00
Seventh – 0.85
Eighth – 0.65
Reverse – 3.82
8L90 Transmission Problems & Technical Service Bulletins
TSB 16-NA-014 – Delayed engagement after sitting with the engine off
Problem – Drivers may experience a pronounced delay in forward or reverse gear engagement after shifting from Park. This condition typically occurs when the vehicle has been sitting for several hours with the engine off (like overnight).
Solution – In order to correct this common 8L90 transmission problem, a new stator shaft support assembly will have to be installed.
PIP5437A – Harsh shifts
Problem – One of the more common 8L90 transmission problems is excessively hard or abrupt gear changes.
Solution – The TCM may need to be recalibrated with the latest control software. It could also be caused by one or more of the clutch fill times not being learned by the TCM. In which case, the Service Fast Learn (SFL) procedure will have to be performed.
TSB – 16-NA-404 – Erratic shifting behavior
Problem – Drivers may experience harsh shifts, delayed shifts, unexpected downshift, stuck in a gear and/or hesitation to shift. The following DTC codes may also be set: P0747, P0777, P0797, P2715, P2724.
Solution – These problems may be caused by a programming error in the TCM, which will require a software update.
Used 8L90 vs. Rebuilt vs. Remanufactured
If you're having problems with your 8L90 you're going to want the most economical solution.
A rebuilt 8L90 will only have a certain number of components that get replaced. So the service life is limited, and the warranty will only last 1-2 years.
A used 8L90 is pulled from a wrecked vehicle, so there's no telling what may be wrong with it, or how long it will last.
A remanufactured 8L90 on the other hand, is completely remanufactured, and it's designed to exceed the manufacturer's original specifications. That way you get a longer service life, along with a 3-year/Unlimited Mile Nationwide Warranty.'
Watch the Remanufacturing Process
Ready to Replace Your Transmission?
Click Get a Free Estimate for an unbeatable price on a replacement remanufactured transmission.
Fair Replacement Transmission Cost by Vehicle
Find your transmission model in the table below for fair prices from reputable suppliers. Also fair labor cost for local installation at a local auto repair shop.


Fair Remanufactured Transmission Price Ranges by Transmission Model Updated for 2019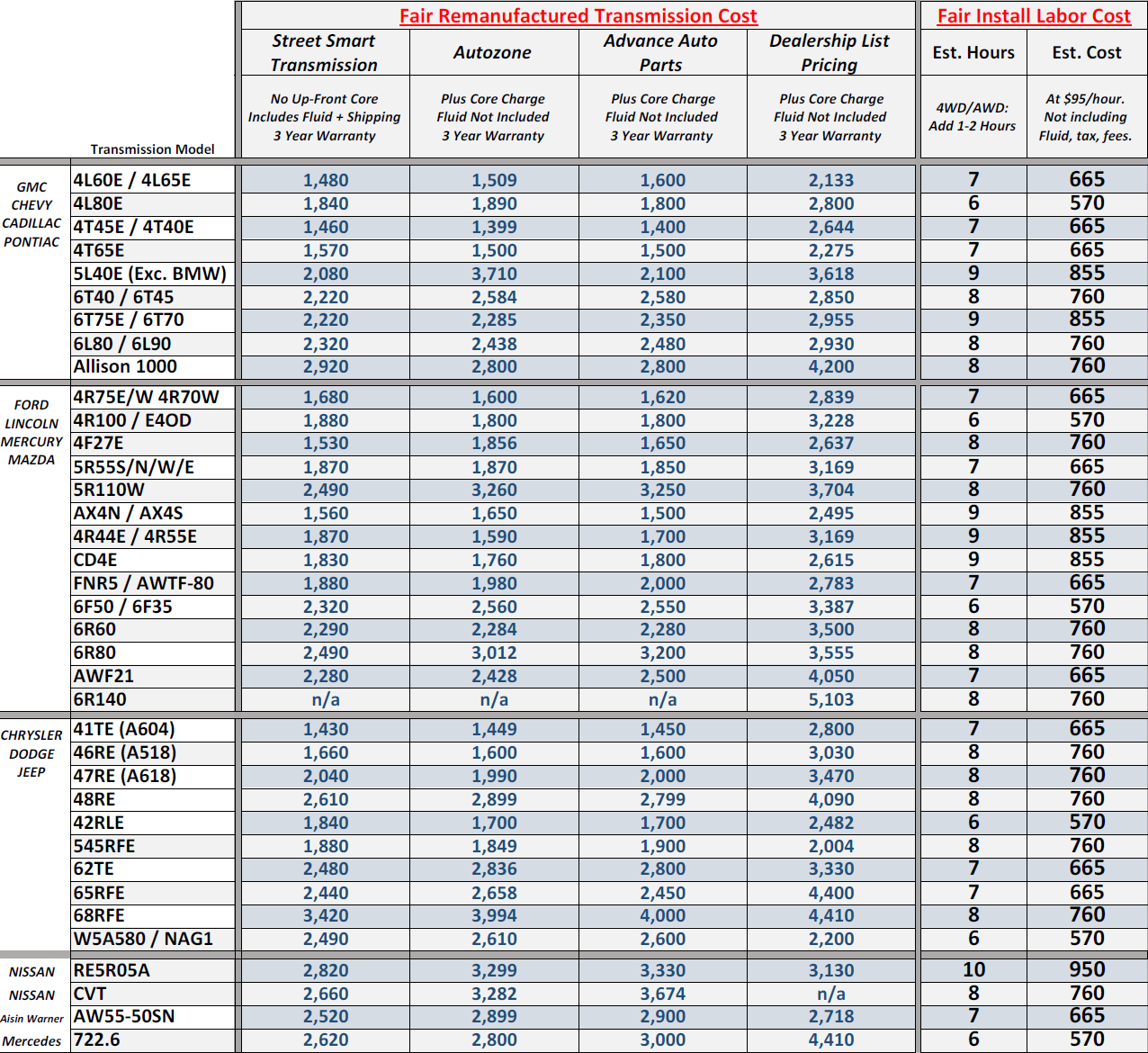 Download Replacement Transmission Cost Guide PDF