Use the tool below to locate the transmission model type, approximate price, and approximate labor hours for install.
If you're having transmission problems you'll need to know what kind of transmission is installed in your vehicle. Knowing the year, make and model isn't always enough – in some cases it can depend on the size of the engine and/or number of speeds it has. For example, a 2010 Toyota Highlander L4 2.7L has a U660E transmission, while a V6 3.5L has a U151E transmission.
Fair Remanufactured Transmission Cost by Vehicle
Use the Year / Make / Model lookup tool above.
Find your transmission model in the table at the bottom of this page for links to fair prices from reputable suppliers and fair labor estimates for local installation at an auto repair shop.
Get a quote on a remanufactured transmission by email / text message so you have a written copy you can reference.
2) Check Your Owner's Manual
One of the best places to find vehicle-specific information is in the glove box. Your owner's manual contains a wealth of information, such as the type of transmission, the kind of transmission fluid to use, and how often you should change the fluid and filter. If your vehicle didn't come with an owners manual (which is common if you bought it used), there are a few other ways to figure out which transmission you have.
3) White Card on the Driver's Door
On the inside edge of the driver's door is a tag that lists the year of the vehicle, country of origin, the type of engine installed, and usually, the transmission.
4) Look Under the Hood or on the Transmission Oil Pan
Another way is to crawl under the vehicle and look for part numbers. Using a good flashlight, look for part numbers stamped into the transmission pan or the transmission itself. Your local auto part store or dealer will be able to cross-reference the numbers to determine the kind of transmission the part belongs to.
5) Vehicle Identification Number (VIN) Lookup
Every vehicle has a unique 17-character identification number located on a metal dash plaque that can be seen from the outside through the windshield at the edge of the dashboard on the driver's side. It can also be found on the door tag (inside the driver's door) or on the vehicle registration/insurance/finance papers. Each digit of the VIN number provides a different piece of information about that particular vehicle including the factory installed engine, transmission type, where it was built, etc. To decode the number, use DecodeThis.com or call your local dealership and they'll tell you what transmission you have. It should look like this: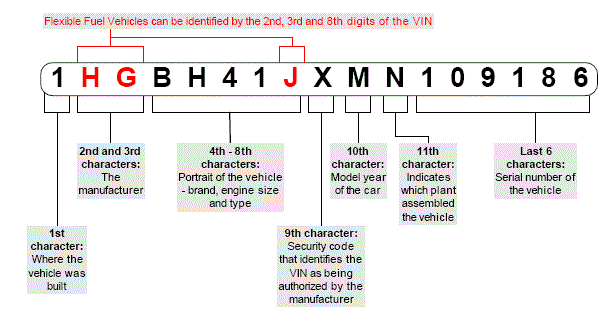 Reman Transmission Pricing 2019 – Links to Supplier Transmission Prices
This table above shows how much reputable suppliers typically charge for a remanufactured transmission, with direct links to the supplier's website for that model transmission.
Domestic Year / Make / Model to Transmission Guide
| Model | Years | Engines | Transmission |
| --- | --- | --- | --- |
| BUICK | | | |
| CENTURY | 00-04 | 2.5L 3.0L 3.1L | 4T65E |
| ENCLAVE | 07-12 | 3.6L | 6T75 |
| LACROSSE | 04-09 | 2.4L 3.0L 3.6L 3.8L 5.3L | 4T65E |
| LACROSSE | 06-09 | 2.4L 3.0L | 4T65E |
| LACROSSE | 08-12 | 2.4L 3.0L | 6T40 /45 |
| LACROSSE | 09-12 | 3.0L 3.6L | 6T70 |
| LACROSSE | 10-12 | 2.0L | 6T70 |
| LACROSSE | 10-12 | 2.4L | 6T45 |
| LESABRE | 95-97 | 3.8L | 4T60E |
| LESABRE | 98-05 | 3.8L | 4T65E |
| LUCERNE | 05-11 | 3.8L 3.9L | 4T65E |
| LUCERNE | 05-11 | 4.6L | 4T80E |
| PARK AVENUE | 97-04 | 3.8L 3.8L SC | 4T65E |
| PARK AVENUE | 07-09 | 2.8L 3.6L | 5L40E |
| PARK AVENUE | 10-11 | 2.0L 2.8L 3.6L | 6L50 |
| RAINIER | 03-07 | 4.2L 5.3L | 4L60E |
| REGAL | 95-97 | 3.1L 3.8L | 4T60E |
| REGAL | 97-04 | 3.8L 3.8L SC | 4T65E |
| REGAL | 03-08 | 2.4L 2.5L 3.0L | 4T65E |
| REGAL | 08-12 | 2.0L 2.4L 2.5L | 6T40 /45 |
| REGAL | 12 | 2.0L | AF40-6 |
| RENDEZVOUS | 01-06 | .3.4L 3.5L 3.6L | 4T65E |
| RIVIERA | 95-96 | 3.8L | 4T60E |
| RIVIERA | 97-99 | 3.8L | 4T65E |
| ROADMASTER | 94-96 | 5.7L | 4L60E |
| SKYLARK | 95 | 2.3L | 3T40 |
| SKYLARK | 97 | 2.4L | 4T40E |
| SKYLARK | 95-98 | 2.3L 2.4L 3.1L | 4T60E |
| TERRAZA | 05-07 | 3.5L 3.9L | 4T65E |
| VERANO | 12 | 1.4L 2.5L | 6T40 |
| CADILLAC | | | |
| ATS | 12 | 2.0L 3.6L | 6L45 /6L50 |
| BLS | 06-08 | 2.0L | AW55-50SN |
| BLS | 06-09 | 1.9L 2.8L | AF40-6 |
| CATERA | 98-01 | 3.0L | 4L30E |
| CONCOURS/SEVILLE | 95 | 4.6L | 4T80E |
| CTS | 01-07 | 2.6L 2.8L 3.2L 3.6L | 5L40E |
| CTS | 07-09 | 2.8L 6.0L | 6L80 |
| CTS | 07-12 | 2.8L 3.0L 3.6L | 6L45 /6L50 |
| CTS | 08-09 | 6.0L | 6L80 |
| CTS | 08-12 | 6.2L | 6L90 |
| DEVILLE | 95 | 4.9L | 4T60E |
| DEVILLE/SEVILLE/ CONCOURS | 96-05 | 4.6L | 4T80E |
| DTS | 05-11 | 4.6L | 4T80E |
| E-CUV | 12 | 3.6L | 6T75 |
| ELDORADO | 95-02 | 4.6L | 4T80E |
| ESCALADE/ESV/EXT | 99-06 | 5.3L 5.7L 6.0L | 4L60E /4L65E |
| ESCALADE/ESV/EXT | 05-12 | 6.2L | 6L80 |
| ESCALADE HYBRID | 07-12 | 6.0L | AHS-T |
| FLEETWOOD/BROUGHAM/ LIMO | 95-96 | 5.7L | 4L60E |
| LIVERY/HEARSE/LIMO | 97-01 | 4.6L | 4T80E |
| SRX | 03-10 | 3.6L 4.6L | 5L40E /5L50E |
| SRX | 06-09 | 4.6L | 6L50 |
| SRX | 09-12 | 2.8L | AF40-6 |
| SRX | 09-12 | 3.0L | 6T70 |
| STS | 04-09 | 2.8L 3.6L 4.6L | 5L40E /5L50E |
| STS | 05-11 | 4.4L | 6L80 |
| STS | 06-12 | 3.0L 3.6L 4.6L | 6L50 |
| XLR | 03-06 | 4.6L | 5L50E |
| XLR/XLR-V | 05-09 | 4.4L 4.6L | 6L80 |
| XLR | 06-09 | 4.6L | 6L50 |
| XTS | 12 | 3.6L | 6T70 |
| Chevy / GMC / Hummer | | | |
| ACADIA | 07-12 | 3.6L | 6T75 |
| ASTRA | 04-11 | 2.0L | AW50-40LE |
| ASTRO | 95-05 | 4.3L | 4L60E |
| AVALANCHE | 01-08 | 5.3L 8.1L | 4L60E |
| AVALANCHE | 06-08 | 6.0L | 4L70E |
| AVALANCHE | 08-12 | 5.3L 6.0L | 6L80 |
| AVEO | 04-10 | 1.6L | ZF4HP14 |
| AVEO | 05-08 | 1.4L 1.6L | AW60-41SN |
| AVEO | 06-12 | 1.4L | 80-40LS /81-40LE U440 |
| AVEO | 07-12 | 1.5L 1.6L | AW60-40LE |
| AVEO | 09-12 | 1.4L 1.6L | 6T30 |
| B-CUV | 12 | 1.8L | 6T30 |
| BERETTA/CORSICA | 95-96 | 2.2L | 3T40 |
| BERETTA/CORSICA | 95-96 | 3.1L | 4T60E |
| BLAZER | 95-05 | 2.2L 2.3L 3.0L 4.3L 5.3L | 4L60E |
| C/K, PICK-UP 1500-2500-3500(95) | 95-97 | 4.3L 4.8L 5.0L 5.3L 5.7L 6.0L | 4L60E |
| C/K, PICK-UP 1500-2500 | 95-00 | 5.0L 5.3L 5.7L 6.0L 7.4L 6.5L DIESEL | 4L80E |
| C/K, PICK-UP 2500-3500 | 01-03 | 8.1L 6.6L DIESEL | LCT 1000 |
| CAMARO | 95-02 | 3.4L 3.8L 5.7L | 4L60E |
| CAMARO | 09-12 | 3.6L | 6L50 |
| CAMARO SS | 09-12 | 6.2L | 6L80 |
| CANYON | 03-12 | 2.8L 2.9L 3.5L 3.7L 5.3L | 4L60E |
| CAPRICE SEDAN/WAGON | 95-96 | 4.3L 5.7L | 4L60E |
| CAPTIVA/SPORT | 08-10 | 2.4L | 4T45E |
| CAPTIVA | 06-12 | 2.0L 2.4L 3.2L | AW55-50SN |
| CAPTIVA/SPORT | 07-12 | 2.0L 2.4L 3.0L 3.2L | 6T40 /6T45 |
| CAPTIVA/SPORT | 08-12 | 2.2L 3.6L | 6T70 |
| CASSIA | 00-02 | 1.6L | AW60-41SN |
| CAVALIER | 95-01 | 2.2L | 3T40 |
| CAVALIER | 95-05 | 2.2L 2.3L 2.4L | 4T40E |
| COBALT | 05-10 | 2.2L 2.4L | 4T45E |
| COLORADO | 03-12 | 2.8L 2.9L 3.5L 3.7L 3.6L 5.3L | 4L60E |
| COLORADO | 04-12 | 2.4L 2.8L 3.0L | JR405E |
| CORVETTE | 95-05 | 5.7L 6.0L | 4L60E /4L65E |
| CORVETTE | 05-12 | 6.0L 6.2L | 6L80 |
| CRUZE | 01-05 | 1.5L | AW60-40LE |
| CRUZE | 01-08 | 1.3L | 81-40LS |
| CRUZE | 09-12 | 1.6L 1.8L 2.0L | 6T30 |
| CRUZE | 09-12 | 1.4L 1.6L 1.8L 2.5L | 6T40 /6T45 |
| ENVOY | 99-09 | 4.2L 5.3L | 4L60E |
| EQUINOX | 04-09 | 3.4L | AF33-5 |
| EQUINOX | 07-12 | 3.0L 3.6L | 6T70 |
| EQUINOX | 09-12 | 2.4L | 6T40 /6T45 |
| EQUINOX | 11-12 | 3.6L | AHS-F |
| GRAND VITARA | 05-12 | 2.0L | 03-72LE |
| GRAND VITARA | 06-07 | 2.5L | 4L60E |
| GRAND VITARA | 08-12 | 2.7L | TB-50LS |
| H1 HUMMER | 92 | 6.2L | 3L80 |
| H1 HUMMER | 93-05 | 5.7L 6.5L DIESEL | 4L80E |
| H1 HUMMER | 06-07 | 6.6L DIESEL | 1000 |
| HUMMER H2 | 02-07 | 6.0L | 4L65E |
| HUMMER H2 | 06-10 | 6.0L 6.2L | 6L80 |
| HUMMER H3 / H3T | 06-11 | 3.7L 3.9L 5.3L | 4L60E |
| HUMMER H3 / H3T | 08-11 | 5.3L | 6L80 |
| HHR | 06-10 | 2.0L 2.2L 2.4L | 4T45E |
| IMPALA | 00-10 | 3.4L 3.5L 3.8L 3.9L 3.8L SC 5.3L | 4T65E |
| IMPALA | 95-96 | 5.7L | 4L60E |
| IMPALA | 11-12 | 2.0L 3.5L 3.6L 3.9L | 6T70 |
| LUMINA | 95 | 3.1L | 3T40 |
| LUMINA | 95-01 | 3.1L 3.4L 3.8L | 4T60E |
| LUMINA | 97-01 | 3.1L 3.4L 3.8L 3.8L SC | 4T65E |
| MALIBU | 97 | 3.1L | 4T60E |
| MALIBU | 07-12 | 3.6L | 6T70 |
| MALIBU | 08-12 | 2.4L 2.5L | 6T40 |
| MALIBU | 12 | 3.0L | 6T50 |
| MALIBU/MALIBU HYBRID | 97-10 | 2.2L 2.4L 3.1L 3.5L 3.6L 3.9L | 4T40E /4T45E |
| MONTE CARLO | 95-99 | 3.1L 3.4L 3.8L | 4T60E |
| MONTE CARLO | 97-07 | 3.1L 3.4L 3.5L 3.8L 3.9L 3.8L SC 5.3L | 4T65E |
| S10 / SONOMA | 95-05 | 2.2L 4.2L 4.3L | 4L60E |
| SAFARI | 95-05 | 4.3L | 4L60E |
| SIERRA DENALI | 08 | 6.2L | 6L80 |
| SILVERADO 1500HD/1500SS/SIERRA 1500HD/1500SS/SIERRA | 98-07 | 6.0L 6.5L | 4L80E |
| 1500HD/1500SS/SIERRA | | | |
| SILVERADO/SIERRA 1500 | 98-12 | 4.3L 4.8L 5.3L 6.0L | 4L60E /4L65E/4L70E |
| SILVERADO/XFE/SIERRA 1500/SIERRA DENALI | 08-12 | 4.8L 5.3L 6.0L 6.2L | 6L80 |
| SILVERADO/SIERRA 2500/2500HD/3500 | 01-07 | 6.0L | 4L80E |
| SILVERADO/SIERRA 2500HD/3500 | 00-12 | 8.1L 6.6L DIESEL | LCT 1000 |
| SILVERADO/SIERRA 2500/2500HD/3500 | 07-12 | 6.0L | 6L90 |
| SILVERADO HYBRID/SIERRA HYBRID | 09-12 | 6.0L | AHS-T |
| SPARK | 03-09 | L3 0.8L | JF400E |
| SSR | 03-06 | 5.3L 6.0L | 4L65E |
| SUBURBAN 1500 | 95-08 | 6.0L 6.5L DIESEL 7.4L | 4L80E |
| SUBURBAN 1500 | 95-08 | 4.8L 5.0L 5.3L 5.7L 6.0L | 4L60E /4L70E |
| SUBURBAN 1500 | 09-12 | 5.3L 6.0L | 6L80 |
| SUBURBAN 2500 | 96-07 | 8.1L | 4L85E |
| SUBURBAN 2500 | 06-12 | 6.0L | 6L90 |
| TAHOE | 95-03 | 6.0L 8.1L 6.5L DIESEL | 4L80E |
| TAHOE | 95-11 | 4.8L 5.3L 5.7L | 4L60E |
| TAHOE | 06-12 | 5.3L 6.2L | 6L80 |
| TAHOE HYBRID | 07-12 | 6.0L | AHS-T |
| TAVERA | 02-05 | 2.2L | AW30-43LE |
| TERRAIN | 09-12 | 2.4L | 6T40 /6T45 |
| TERRAIN | 09-12 | 3.0L | 6T70 |
| TRACKER | 98 | 1.6L | 3L30 |
| TRACKER | 98-04 | 1.6L 2.0L | 4L60E |
| TRACKER | 98-04 | 1.6L 2.0L 2.5L | 03-72LE |
| TRAILBLAZER | 99-09 | 4.2L 5.3L 6.0L | 4L60E /4L70E |
| TRAVERSE | 09-12 | 3.6L | 6T75 |
| UPLANDER | 03-08 | 3.5L 3.9L | 4T65E |
| VAN FULL SIZE 1500-2500 | 95-12 | 4.3L 4.8L 5.0L 5.3L 5.7L 6.5L DIESEL | 4L60E |
| VAN FULL SIZE 2500 | 96-09 | 4.3L 4.8L 5.7L 6.0L 7.4L 8.1L 6.5L 6.6L DIESEL | 4L80E /4L85E |
| VAN FULL SIZE 2500 | 09-12 | 4.8L 5.3L | 6L80 |
| VAN FULL SIZE 3500 | 95-99 | 4.3L | 4L60E |
| VAN FULL SIZE 3500 | 95-09 | 4.3L 4.8L 5.7L 6.0L 7.4L 8.1L 6.5L 6.6L DIESEL | 4L80E /4L85E |
| VAN FULL SIZE 3500 | 10-12 | 4.8L 6.0L 6.6L DIESEL | 6L90 |
| VECTRA/VECTRA GT | 00-11 | 2.0L 2.2L 2.4L | AW50-40LE |
| VENTURE APV | 97-98 | 3.4L | 4T60E |
| VENTURE APV | 99-05 | 3.4L | 4T65E |
| VOLT | 11-12 | 1.4L | X30F |
| YUKON /YUKON XL | 00-12 | 4.8L 5.3L 6.0L | 4L60E /4L65E |
| YUKON XL | 00-06 | 6.0L 8.1L | 4L80E /4L85E |
| YUKON XL | 07-08 | 6.0L | 4L70E |
| YUKON XL | 06-12 | 6.0L | 6L90 |
| YUKON/YUKON XL | 09-12 | 5.3L 6.0L 6.2L | 6L80 |
| YUKON HYBRID | 08-12 | 6.0L | AHS-T |
| CHRYSLER | | | |
| 300M | 99-04 | 2.7L 3.5L | 42LE |
| 300 SERIES | 04-10 | 2.7L 3.5L | 42RLE |
| 300 SERIES | 04-12 | 3.0L 3.5L 3.6L 5.7L 6.1L 6.4L | W5A580 |
| 300 SERIES | 11-12 | 3.6L | ZF8HP45 |
| ASPEN | 07-09 | 4.7L 5.7L | 545RFE |
| ASPEN HYBRID | 09 | 5.7L HEMI | AHS-T |
| CIRRUS | 95-00 | 2.4L 2.5L | 41TE |
| CONCORDE | 95-04 | 2.7L 3.2L 3.3L 3.5L | 42LE |
| CROSSFIRE | 04-08 | 3.2L 3.2L *SC | W5A380/W5A580 |
| LEBARON | 95 | 3.0L | 41TE |
| LHS | 95-01 | 3.5L | 42LE |
| NEW YORKER | 95-96 | 3.5L | 42LE |
| PACIFICA | 04-07 | 3.5L 3.8L | 41TE |
| PACIFICA | 07-08 | 4.0L | 62TE |
| PROWLER | 01-02 | 3.5L | 42LE |
| PT CRUISER | 00 | 2.4L | 31TH |
| PT CRUISER | 01-09 | 2.0L 2.4L | 41TE |
| SEBRING | 01-05 | 2.4L SOHC | F4A42-2 |
| SEBRING | 01-05 | 3.0L | F4A51-2 |
| SEBRING/SEBRING | 00-10 | 2.4L 2.5L | 41TE |
| CONVERTIBLE | | 2.7L 3.0L | |
| SEBRING/SEBRING CONVERTIBLE | 06-12 | 2.4L 2.7L 3.5L | 62TE |
| SEBRING | 07-10 | 2.0L 2.2L | MPS6(6DCT450) WD CLUTCH |
| TOWN & COUNTRY | 95-10 | 3.3L 3.8L | 41TE |
| TOWN & COUNTRY | 07-12 | 2.8L 3.6L 3.8L 4.0L | 62TE |
| VOYAGER | 01 | 2.4L 3.0L | 31TH |
| VOYAGER | 01-11 | 2.4L 2.8L 3.0L 3.3L 3.8L | 41TE |
| VOYAGER | 07-08 | 2.8L | 62TE |
| DODGE | | | |
| AVENGER | 95-00 | 2.0L 2.5L | 41TE |
| AVENGER | 08-12 | 2.4L 2.7L | 41TE |
| AVENGER | 08-12 | 2.4L 2.7L 3.5L 3.6L | 62TE |
| CALIBER | 06-12 | 2.0L 2.4L | JF011E |
| CARAVAN/GRAND CARAVAN | 95-00 | 2.4L | 31TH |
| CARAVAN/GRAND CARAVAN 95-11 | | 2.4L 3.0L 3.3L 3.8L | 41TE |
| CARAVAN/GRAND CARAVAN | 07-12 | 2.8L 3.3L 3.6L 3.8L 4.0L | 62TE |
| CHALLENGER | 08-11 | 3.5L | 42RLE |
| CHALLENGER | 08-12 | 5.7L 6.1L | W5A580 |
| CHALLENGER | 12 | 6.4L | ZF8HP45 |
| CHARGER | 05-10 | 2.7L 3.5L | 42RLE |
| CHARGER | 05-12 | 3.5L 3.6L 5.7L 6.1L 6.4L | W5A580 |
| CHARGER | 12 | 3.6L | ZF8HP45 |
| COLT | 92-94 | 1.8L | F4A22-2 |
| COLT | 92-94 | 2.4L | F4A23-2 |
| COLT | 92-94 | 1.8L 2.4L | W4A32-1 |
| COLT/COLT VISTA | 90-92 | 1.5L | F3A21-2 |
| COLT/COLT VISTA | 90-92 | 1.5L 1.6L | F4A21-2 |
| DURANGO | 98-02 | 3.9L | 42 /44RE |
| DURANGO | 98-03 | 5.9L | 46RE |
| DURANGO | 00-01 | 5.2L | 44RE |
| DURANGO | 00-02 | 4.7L | 45RFE |
| DURANGO | 04-08 | | 42RLE |
| DURANGO | 02-12 | 4.7L 5.7L | 545RFE |
| DURANGO | 10-12 | | W5A580 |
| DURANGO HYBRID | 09 | 5.7L HEMI | AHS-T |
| INTREPID | 95-04 | 2.7L 3.2L 3.3L 3.5L | 42LE |
| JOURNEY | 08-10 | 2.4L 2.7L | 41TE |
| JOURNEY | 09-12 | 2.0L 2.2L | MPS6(6DCT450) WD CLUTCH |
| JOURNEY | 09-12 | 2.7L 3.5L 3.6L | 62TE |
| MAGNUM | 04-08 | 2.7L | 42RLE |
| MAGNUM | 04-08 | 3.5L 5.7L 6.1L | W5A580 |
| MONACO | 90-92 | 3.0L | ZF4HP18 |
| NEON | 95-01 | 2.0L | 31TH |
| NEON | 01-06 | .2.0L | 41TE |
| NITRO | 07-11 | | 42RLE |
| NITRO | 07-11 | 2.8L 4.0L | W5A580 |
| PICKUP/D50 | 90-94 | 2.4L 3.0L | A500 |
| PICKUP/DAKOTA | 95 | 5.2L | 46RH |
| PICKUP/DAKOTA | 95-03 | 3.9L | 42RE |
| PICKUP/DAKOTA | 96-99 | 5.2L | 44RE |
| PICKUP/DAKOTA | 98-00 | 5.9L | 46RE |
| PICKUP/DAKOTA | 00-02 | 4.7L | 45RFE |
| PICKUP/DAKOTA | 03-11 | 3.7L | 42RLE |
| PICKUP/DAKOTA | 01-11 | 4.7L | 545RFE |
| PICKUP/RAM | 00-02 | 3.9L | 32RH |
| PICKUP/RAM 1500 | 95-02 | 3.9L | 42RE |
| PICKUP/RAM 1500-3500 | 95-02 | 5.2L 5.9L | 46RE |
| PICKUP/RAM 1500 | 02-05 | 3.7L 4.7L | 45RFE |
| PICKUP/RAM 1500-3500 | 02-12 | 3.7L 4.7L 5.7L | 545RFE |
| PICKUP/RAM 2500-3500 | 95-02 | V10 8.0L 5.9L DIESEL | 47RE |
| PICKUP/RAM 2500-3500 | 03-07 | V10 8.0L 5.9L DIESEL 6.7L DIESEL 48RE | |
| PICKUP/RAM 2500-3500 | 06-12 | 5.9L 6.7L DIESEL | 68RFE |
| PICKUP/RAM 3500 | 07-12 | 6.7L DIESEL | A45X |
| RAM 3500 / 4500 / 5500 CHASSIS CAB | 03-14 | 6.7L DIESEL | AS68RC / AS69RC |
| SPRINTER | 03-10 | 2.7L 3.5L | W5A330 |
| SPRINTER | 07-10 | 3.0L | W5J400 |
| STEALTH | 91-96 | 3.0L | F4A33-1 |
| STRATUS | 95-06 | 2.0L 2.4L 2.5L 2.7L 3.0L | 41TE |
| STRATUS | 01-05 | 2.4L SOHC | F4A42-2 |
| STRATUS | 01-05 | 3.0L | F4A51-2 |
| VAN/WAGON 1500-2500 | 95-03 | 3.9L | 32RH |
| VAN/WAGON 1500-2500 | 95-96 | 3.9L | 42RE |
| VAN/WAGON 1500-3500 | 95-03 | 5.2L | 46RE |
| FORD | | | |
| AEROSTAR | 95 | 3.0L 4.0L | A4LD |
| AEROSTAR | 96 | 4.0L | 4R55E |
| AEROSTAR | 96-97 | 3.0L | 4R44E |
| AEROSTAR | 97 | 4.0L | 5R55E |
| ASPIRE | 94-97 | 1.3L | F3A |
| B-MAX | 12 | 3 CYL 1.0L 1.4L 1.6L | 6DCT250 |
| BRONCO | 95-96 | 5.0L 5.8L | E4OD |
| C-COUPE | 12 | 1.6L | 6DCT250 |
| C-COUPE | 12 | 2.0L | MPS6(6DCT450) WD CLUTCH |
| C-MAX | 10-12 | 2.0L | MPS6(6DCT450) |
| C-MAX | 12 | 1.6L | 6DCT250 |
| CONTOUR | 95-00 | 2.0L 2.5L | CD4E |
| CROWN VICTORIA | 95-11 | 4.6L | 4R75E |
| ECONOLINE 150 | 95-96 | 4.9L 5.8L | C6 |
| ECONOLINE 150 | 95-12/97 | 4.9L 5.4L 5.8L | E4OD |
| ECONOLINE 150 | 95-08 | 4.2L 4.6L 5.0L 5.4L | 4R70W |
| ECONOLINE 150 | 1/98-04 | 5.4L | 4R100 |
| ECONOLINE 150 | 04-12 | 4.6L 5.4L | 4R75W |
| ECONOLINE 250 | 95 | 5.8L | C6 |
| ECONOLINE 250 | 97-03 | 4.2L 5.4L | 4R70W |
| ECONOLINE 250/250 | 1/98-04 | 5.4L 7.3L DIESEL | 4R100 |
| SUPER DUTY | | V10 6.8L | |
| ECONOLINE 250/250 | 95- | 5.4L 5.8L 7.3L DIESEL | E4OD |
| SUPER DUTY | 12/97 | V10 6.8L | |
| ECONOLINE 350 | 95-96 | 7.5L | C6 |
| ECONOLINE 350 | 03-12 | 4.6L 5.4L | 4R75E |
| SUPERDUTY | | | |
| ECONOLINE 350 | 04-12 | V10 6.8L | 5R110W |
| SUPERDUTY | | 5.4L 6.0L DIESEL | |
| ECONOLINE 350/350 | 95- | 5.4L 7.5L 7.3L DIESEL | E4OD |
| SUPER DUTY | 12/97 | V10 6.8L | |
| ECONOLINE 350/350 | 1/98-05 | 5.4L 7.3L DIESEL | 4R100 |
| SUPER DUTY | | V10 6.8L | |
| ECOSPORT | 07-12 | 2.0L | 4F27E |
| ECOSPORT | 12 | 1.6L 2.0L | 6DCT250 |
| EDGE | 07-12 | 3.5L 3.7L | 6F50 |
| EDGE | 11-12 | 2.0L | 6F35 |
| ESCAPE | 01-08 | 2.0L 2.3L 3.0L | CD4E |
| ESCAPE | 08-12 | 2.0L 2.3L 2.5L 3.0L | 6F35 |
| ESCAPE HYBRID | 04-06 | 2.3L | P310 |
| ESCAPE HYBRID | 07-11 | 2.3L 2.5L | HD-10 |
| ESCAPE HYBRID | 11-12 | 2.0L | HF35 |
| ESCORT/ZX2 | 90-03 | 1.8L 1.9L 2.0L | F4E |
| EVEREST | 04-11 | 2.5L 3.0L | RE4R01A |
| EVEREST | 04-10 | 3.0L | 5R55S |
| EVEREST | 11 | 3.0L | 6R60 |
| EVEREST | 11-12 | 2.4L 3.2L | 6R80 |
| EXCURSION | 00-05 | 5.4L 7.3L DIESEL V10 6.8L | 4R100 |
| EXCURSION | 03-05 | 5.4L 6.0L DIESEL V10 6.8L | 5R110W |
| EXPEDITION | 9/96- | 5.4L | E4OD |
| | 12/97 | | |
| EXPEDITION | 97-06 | 4.6L 5.4L | 4R75E |
| EXPEDITION | 1/98-02 4 SP RWD/4X4 | 5.4L | 4R100 |
| EXPEDITION | 07-08 | 5.4L | 6R75 |
| EXPEDITION | 09-12 | 3.5L 5.0L 5.4L | 6R80 |
| EXPLORER | 95-96 | 4.0L | 4R55E |
| EXPLORER | 96-01 | 5.0L | 4R70W |
| EXPLORER | 02-03 | 4.0L 4.6L | 5R55W |
| EXPLORER | 10-12 | 2.0L | 6F35 |
| EXPLORER | 10-12 | 3.5L | 6F50 |
| EXPLORER/SPORT TRAC | 97-08 | 4.0L | 5R55E |
| EXPLORER/SPORT TRAC | 00-10 | 4.0L 4.6L | 5R55S |
| EXPLORER/SPORT TRAC | 05-10 | 4.6L | 6R60 |
| F-150 /F-250 | 95-10 | 4.2L 4.6L 5.0L 5.4L | 4R75E |
| F-150 /F-250 | 95-97 | 4.9L 5.0L 5.4L 5.8L 7.3L 7.5L | E4OD |
| F-150 /F-250 | 1/98-07 4 SP RWD/4X4 | 5.4L 7.3L DIESEL V10 6.8L | 4R100 |
| F-150 | 08-09 | 4.6L | 6R60 |
| F-150 | 08-12 | 3.5L 3.7L 4.6L 5.0L 5.4L 6.2L | 6R80 |
| F-250 F350 | 95-96 | 4.9L 5.8L 7.5L | C6 |
| F-250 F-350 SD | 03-10 | 5.4L 6.0L 6.4L 6.8L | 5R110W |
| F-250 F-350 SD | 10-12 | 6.2L 6.7L | 6R140 |
| F-350/350 SD | 95-98 | 4.9L 5.8L 7.5L 7.3L DIESEL | E4OD |
| F-350/350 SD | 99-04 | 5.4L 7.3L DIESEL V10 6.8L | 4R100 |
| F-450 SD | 95-3/98 4 SP RWD/4X4 | 7.5L 7.3L DIESEL | E4OD |
| F-450/550 SD | 3/98-04 | 7.3L DIESEL V10 6.8L | 4R100 |
| F-450/550 SD | 03-08 | 6.0L DIESEL | 5R110W |
| FESTIVA | 90-93 | 1.6L | JATCO F3A |
| FESTIVA | 00 | 1.3L | 4F27E |
| FIESTA | 00-12 | 1.6L | 80-40LS |
| FIESTA | 08-12 | 1.3L 1.4L 1.5L | 4F27E |
| FIESTA | 10-12 | L31.0L 1.4L 1.6L 2.0L | 6DCT250 |
| FIVE HUNDRED | 05-07 | 3.0L | AF21 |
| FIVE HUNDRED | 05-07 | 3.0L | CFT30 |
| FLEX | 08-12 | 3.5L | 6F50 |
| FOCUS | 00-12 | 1.6L 1.8L 2.0L 2.3L | 4F27E |
| FOCUS | 08-12 | 1.6L 2.0L 2.5L | MPS6 |
| FOCUS | 04-08 | 1.6L 1.8L | CFT23 |
| FOCUS | 00-11 | 1.6L 1.8L 2.0L 2.3L | 4F27E |
| FOCUS | 10-12 | 1.6L 1.8L 2.0L | 6DCT250 |
| FOCUS | 04-08 | 1.6L 1.8L | CFT23 |
| FREESTAR | 04-07 | 3.9L 4.2L | 4F50N |
| FREESTYLE | 05-07 | 3.0L | CFT30 |
| FUSION | 06-11 | 1.6L | 80-40LS |
| FUSION | 06-08 | 2.3L | FNR5 |
| FUSION | 06-09 | 3.0L | AF21 |
| FUSION | 09-12 | 2.0L 2.5L 3.0L | 6F35 |
| FUSION | 09-12 | 3.5L | 6F50 |
| FUSION | 10-11 | L31.0L 1.4L 1.6L | 6DCT250 |
| FUSION | 09-12 | 2.5L | HD-10 |
| MUSTANG | 95 | 3.8L 5.0L | AODE |
| MUSTANG | 96-04 | 3.8L 3.9L 4.6L | 4R70W |
| MUSTANG | 05-10 | 4.0L 4.6L | 5R55S |
| MUSTANG | 10-12 | 3.7L 5.0L | 6R80 |
| PROBE | 90-93 | 2.2L 3.0L | 4EAT-G |
| PROBE | 94-97 | 2.0L | CD4E |
| PROBE GT | 94-97 | 2.5L | 4EAT-GF |
| PRONTO | 00-07 | L31.0L | TW-40E |
| RANGER | 95-01 | 2.3L 2.5L 3.0L | 4R44E |
| RANGER | 95-96 | 4.0L | 4R55E |
| RANGER | 00-06 | 2.5L | JR400E |
| RANGER | 00-07 | 2.5L | RE4R01A |
| RANGER | 97-11 | 2.3L 3.0L 4.0L | 5R55E |
| RANGER | 00-09 | 2.5L 3.0L | 5R55S |
| RANGER | 01-12 | 2.3L 3.0L | 5R44E |
| RANGER | 10-12 | 2.2L 2.5L 3.0L 3.2L | 6R80 |
| TAURUS | 95-02 | 3.0L 3.2L 3.8L | AX4S |
| TAURUS | 95-04 | 3.0L 3.4L | AX4N |
| TAURUS | 01-07 | 3.0L | 4F50N |
| TAURUS | 04-07 | 3.0L | AF21 |
| TAURUS | 07-12 | 3.5L | 6F50 |
| TAURUS | 04-07 | 3.0L | CFT30 |
| TERRITORY SX | 04-05 | 4.0L | DSI M93LE |
| TERRITORY SY | 05-11 | 4.0L | DSI M93LE |
| TERRITORY SY | 05-12 | 4.0L | ZF6HP26 |
| THUNDERBIRD | 95-97 | 3.8L 4.6L | 4R70W |
| THUNDERBIRD | 02 | 3.9L | 5R55N |
| THUNDERBIRD | 03-05 | 3.9L | 5R55S |
| TIERRA | 00-07 | 1.6L | 4F27E |
| TRANSIT | 00 | 2.5L | A4LD |
| TRANSIT CONNECT | 09-12 | 2.0L | 4F27E |
| WINDSTAR | 95-02 | 3.0L 3.8L | AX4S |
| WINDSTAR | 01-03 | 3.8L | 4F50N |
| JEEP | | | |
| CHEROKEE | 95-00 | 2.5L | 30RH |
| CHEROKEE | 87-01 | 4.0L( 2.5L TO 93) | 30-40LE |
| CHEROKEE | 00-03 | 4.0L | 42RE |
| CHEROKEE | 00-11 | 2.4L 2.5L 3.6L 3.7L 4.0L | 42RLE |
| CHEROKEE | 02-12 | 3.6L 3.7L | 545RFE |
| COMANCHE | 90-93 | 4.0L | 30-40LE |
| COMMANDER | 05-10 | 3.7L | W5A580 |
| COMMANDER | 06-10 | 3.7L 4.7L 5.7L | 545RFE |
| COMPASS | 07-12 | 2.0L 2.4L | JF011E CVT |
| GRAND CHEROKEE | 91-93 | 4.0L | 30-40LE |
| GRAND CHEROKEE | 94-04 | 4.0L | 42RE |
| GRAND CHEROKEE | 94-95 | 5.2L | 46RH |
| GRAND CHEROKEE | 96-00 | 5.2L 3.1L DIESEL | 44RE |
| GRAND CHEROKEE | 98 | 5.9L | 46RE |
| GRAND CHEROKEE | 99-00 | 4.7L | 45RFE |
| GRAND CHEROKEE | 01-09 | 4.7L 5.7L | 545RFE |
| GRAND CHEROKEE | 02-05 | 2.7L | W5J400 |
| GRAND CHEROKEE | 05-12 | 3.0L 3.6L 3.7L 5.7L 6.1L 6.4L | W5A580 |
| GRAND CHEROKEE | 11-12 | 3.0L | ZF8HP45 |
| LIBERTY | 02-12 | 2.4L 2.5L 3.7L | 42RLE |
| LIBERTY | 05-07 | 2.8L DIESEL | 545RFE |
| LIBERTY | 08-12 | 2.8L DIESEL | W5A580 |
| PATRIOT | 07-12 | 2.0L 2.4L | JF011E CVT |
| WRANGLER | 95-02 | 2.5L | 30RH |
| WRANGLER | 95-02 | 4.0L | 32RH |
| WRANGLER | 10-12 | 2.2L | W5A580 |
| WRANGLER | 02-12 | 2.4L 2.8L 3.8L 4.0L | 42RLE |
| WRANGLER | 08-12 | 2.2L 2.8L | 545RFE |
| LINCOLN | | | |
| MKT | 09-12 | 3.5L | 6F50 |
| MKX | 10-12 | 2.0L | 6F35 |
| MKX | 07-12 | 2.0L 3.5L | 6F50 |
| MKZ | 06-11 | 3.0L 3.5L | AF21 |
| MKZ | 10-12 | 2.5L | HD-10 |
| MARK VIII | 95-98 | 4.6L | 4R70W |
| MARK LT | 06-12 | 5.4L | 4R75E |
| NAVIGATOR | 97 | 5.4L | E4OD |
| NAVIGATOR | 98 | 5.4L | 4R100 |
| NAVIGATOR | 04-06 | 5.4L | ZF6HP26 |
| NAVIGATOR | 06-08 | 5.4L | 6R75 |
| NAVIGATOR | 09-12 | 5.0L 5.4L | 6R80 |
| NAVIGATOR | 12 | 5.0L | 6R140 |
| TOWN CAR | 95-11 | 4.6L | 4R75E |
| TOWN CAR | 05-07 | 4.6L | ZF6HP26 |
| LTI | | | |
| TX1 | 00-03 | 2.7L | RE4R01A |
| TX2 | 05-07 | 2.4L | RE4R01A |
| TX4 | 07-12 | 2.5L | 545RFE |
| MAZDA | | | |
| 2 | 07-12 | 1.3L 1.5L | FN4A-EL |
| 3 | 04-12 | 1.6L 2.0L | FN4A-EL |
| 3 | 10-12 | 1.6L 2.0L | FS5A-EL |
| 323 | 90-94 | 1.6L 1.8L | F4A-EL |
| 323 | 90-01 | 1.6L | GF4A-EL |
| 323 | 00-07 | 1.3L 1.5L 1.6L 1.8L 2.0L | FN4A-EL |
| 5 | 05-11 | 2.0L | FN4A-EL |
| 5 | 12 | 1.8L 2.0L | FS5A-EL |
| 6 | 02-08 | 2.0L 2.3L | FN4A-EL |
| 6 | 02-06 | 2.3L 3.0L | JA5A-EL |
| 6 | 06-12 | 2.0L 2.3L 2.5L | FS5A-EL |
| 6 | 05-12 | 3.0L 3.7L | AW6A-EL |
| 626 | 86-93 | 2.0L 2.5L | G4A-EL |
| 626 | 94-02 | 2.0L 2.5L | CD4E |
| 626 | 00-06 | 2.0L | GF4A-EL |
| 8 | 11-12 | 2.3L | FN4A-EL |
| 8 | 09-12 | 2.3L | FS5A-EL |
| CX5 | 12 | 2.0L | FZ |
| CX7 | 12 | 2.3L | FN4A-EL |
| CX7 | 09-12 | 2.5L | FS5A-EL |
| CX7 | 07-11 | 2.2L 2.3L | AW6A-EL |
| CX7 | 11-12 | 2.5L | FZ |
| CX9 | 07-12 | 3.5L 3.7L | AW6A-EL |
| MIATA | 91-97 | 1.8L | L4N71B |
| MIATA/MX5 | 98-05 | 1.8L | A44DE |
| MIATA/MX5 | 06-12 | 2.0L | SJ6A-EL |
| MILLENIA | 95-02 | 2.3L | LJ4A-EL |
| MILLENIA | 95-03 | 2.3L 2.5L | GF4A-EL |
| MPV | 89-95 | 2.6L | L4N71B |
| MPV | 89-99 | 3.0L | R4A-EL |
| MPV | 00-02 | 2.0L 2.5L | GF4A-EL |
| MPV | 00-02 | 2.5L 2.9L | JF403E |
| MPV | 01-07 | 2.3L | FN4A-EL |
| MPV | 02-06 | 3.0L | JA5A-EL |
| MPV | 08-12 | 2.3L | FS5A-EL |
| MPV | 06-12 | 2.2L 2.3L | AW6A-EL |
| MPV | 10-11 | 2.5L | FZ |
| MX3 | 92-95 | 1.6L 1.8L | F4A-EL |
| MX6 | 87-93 | 2.0L 2.5L | G4A-EL |
| MX6 | 94-97 | 2.0L 2.5L | CD4E |
| MX6 | 94-97 | 2.0L 2.5L | GF4A-EL |
| NAVAJO | 91-94 | 4.0L | A4LD |
| PICKUP | 90-93 | 2.6L | R4A-EL |
| PICKUP | 90-93 | 2.2L 2.6L | L4N71B |
| PICKUP | 94 | 2.3L 3.0L 4.0L | A4LD |
| PICKUP B SERIES | 95-02 | 2.3L 2.5L 3.0L | 4R44E /4R55E |
| PICKUP B SERIES | 97-10 | 4.0L | 5R55E |
| PICKUP B SERIES | 00-08 | 2.3L 2.5L 3.0L | 5R44E |
| PICKUP B SERIES | 00-11 | 2.5L 3.0L | 5R55S |
| PICKUP BT50 | 11 | 2.2L 3.2L | 6R80 |
| PREMACY | 00-10 | 1.8L 2.0L 2.3L | FN4A-EL |
| PREMACY | 07-12 | 2.0L 2.3L | FS5A-EL |
| PROTEGE | 90-98 | 1.5L 1.8L | F4A-EL |
| PROTEGE | 99-04 | 1.6L 1.8L 2.0L | FN4A-EL |
| ROADSTER | 00-02 | 1.6L 1.8L | 03-70LE |
| ROADSTER | 02-05 | 1.6L 1.8L | 03-71LE |
| ROADSTER | 05-12 | 2.0L | TB-65SN |
| RX7 | 89-92 | ROTARY | N4A-EL |
| RX7 | 93-02 | 1.3L ROTARY | R4A-EL |
| RX8 | 04-06 | 1.3L ROTARY | RC4A-EL |
| RX8 | 06-12 | 1.3L ROTARY | SJ6A-EL |
| SENTIA | 00 | 2.9L | JR400E |
| TRIBUTE | 00-08 | 2.0L 2.3L 3.0L | CD4E |
| TRIBUTE | 03-08 | 2.3L | FN4A-EL |
| TRIBUTE | 08-12 | 2.3L 2.5L 3.0L | 6F35 |
| TRIBUTE | 07-11 | 2.3L 2.5L | HD-10 |
| VERISA | 04-09 | 1.5L | FN4A-EL |
| MERCURY | | | |
| CAPRI | 91-94 | 1.6L | 4EAT-G |
| COUGAR | 95-97 | 3.8L 4.6L | 4R70W |
| COUGAR | 99-02 | 2.0L 2.5L | CD4E |
| GRAND MARQUIS | 95-10 | 4.6L | 4R75E |
| MARAUDER | 03-04 | 4.6L | 4R75W |
| MARINER | 05-08 | 2.3L 3.0L | CD4E |
| MARINER | 09-10 | 1.6L 2.0L 2.5L 3.0L | 6F35 |
| MARINER HYBRID | 05-06 | 2.3L | P310 |
| MARINER HYBRID | 07-10 | 2.3L 2.5L | HD-10 |
| MILAN | 05-08 | 2.3L | FNR5 |
| MILAN | 06-09 | 3.0L | AF21 |
| MILAN | 09-10 | 2.5L 3.0L | 6F35 |
| MILAN | 09-10 | 2.5L | HD-10 |
| MONTEGO | 05-07 | 3.0L | AF21 |
| MONTEGO | 05-07 | 3.0L | CFT30 |
| MONTEREY | 03-06 | 4.2L | 4F50N |
| MOUNTAINEER | 97-01 | 5.0L | 4R70W |
| MOUNTAINEER | 98-00 | 4.0L | 5R55E |
| MOUNTAINEER | 01-10 | 4.0L 4.6L | 5R55S |
| MOUNTAINEER | 06-10 | 4.6L | 6R60 |
| MYSTIQUE | 95-00 | 2.0L 2.5L | CD4E |
| SABLE | 95-03 | 3.0L | AX4S |
| SABLE | 95-05 | 3.0L | AX4N |
| SABLE | 04-07 | 3.0L | CFT30 |
| SABLE | 04-07 | 3.0L | AF21 |
| SABLE | 08-09 | 3.5L | 6F50 |
| TRACER | 90-99 | 1.8L 1.9L 2.0L | 4EAT-F |
| VILLAGER | 93-02 | 3.3L | 4F20E |
| OLDSMOBILE | | | |
| 88 ROYALE | 95-97 | 3.8L | 4T60E |
| 88 ROYALE | 97 | 3.8L SC | 4T65E |
| 88 ROYALE | 98-99 | 3.8L 3.8L SC | 4T65E |
| 98 REGENCY | 95-96 | 3.8L | 4T60E |
| ACHIEVA | 95 | 2.3L | 3T40 |
| ACHIEVA | 95-98 | 2.3L 2.4L 3.1L | 4T60E |
| ALERO | 99-04 | 2.2L 2.4L | 4T40E |
| ALERO | 99-04 | 3.4L | 4T45E |
| AURORA | 95-03 | 4.0L | 4T80E |
| AURORA | 01-03 | 3.5L | 4T65E |
| BRAVADA | 95-04 | 4.2L 4.3L | 4L60E |
| CUTLASS CIERA | 95-96 | 2.2L | 3T40 |
| CUTLASS CIERA | 95-96 | 3.1L | 4T60E |
| CUTLASS SUPREME | 95-97 | 3.1L 3.4L | 4T60E |
| CUTLASS | 97-99 | 3.1L | 4T40E |
| INTRIGUE | 98-02 | 3.5L 3.8L 4.5L | 4T65E |
| SILHOUETTE | 95 | 3.1L | 3T40 |
| SILHOUETTE | 95-98 | 3.4L 3.8L | 4T60E |
| SILHOUETTE | 99-04 | 3.4L | 4T65E |
| PONTIAC | | | |
| AZTEK | 01-05 | 3.4L | 4T65E |
| BONNEVILLE | 95-97 | 3.8L | 4T60E/4T65E |
| BONNEVILLE | 98-05 | 3.8L 4.6L | 4T65E |
| FIREBIRD | 95-02 | 3.8L 5.7L | 4L60E |
| G3 | 08-10 | 1.6L | 60-40LE |
| G5 | 04-09 | 2.2L | 4T45E |
| G6 | 05-09 | 2.4L | 4T45E |
| G6 | 06-09 | 3.9L | 4T65E |
| G6 | 07-09 | 3.6L | 6T70 |
| G6 | 08-09 | 2.4L | 6T40 |
| G8 | 08-09 | 3.6L | 5L40E |
| G8 | 07-10 | 6.0L 6.2L | 6L80 |
| G8 | 08-10 | 3.6L | 6L50 |
| GRAND AM | 95 | 2.3L | 3T40 |
| GRAND AM | 95-98 | 2.4L 3.1L | 4T60E |
| GRAND AM | 99-05 | 2.2L 2.4L 3.4L | 4T40E /4T45E |
| GRAND PRIX | 95-99 | 3.1L 3.4L 3.8L | 4T60E |
| GRAND PRIX | 97-08 | 3.1L 3.8L 5.3L | 4T65E |
| GTO | 04-06 | 5.7L 6.0L | 4L65E |
| MONTANA / SV6 | 99-08 | 3.5L 3.9L | 4T65E |
| SOLSTICE | 05-09 | 2.0L 2.4L | 5L40E |
| SUNFIRE | 95-02 | 2.2L | 3T40 |
| SUNFIRE | 95-05 | 2.2L 2.4L | 4T40E |
| TORRENT | 04-09 | 3.4L | AF33-5 |
| TORRENT | 07-09 | 3.6L | 6T70 |
| TRANS SPORT | 95 | 3.1L | 3T40 |
| TRANS SPORT | 95-98 | 3.4L 3.8L | 4T60E |
| TRANS SPORT | 00-04 | 3.4L | 4T65E |
| VIBE | 03-07 | 1.8L | U341F |
| VIBE | 03-09 | 1.8L | 72-41LE /73-41LS |
| VIBE | 08-09 | 1.8L 2.4L | U250E /F |
| SATURN | | | |
| ASTRA | 08-09 | 1.8L | AF17 |
| AURA | 06-09 | 2.4L 3.5L | 4T45E |
| AURA | 09 | 2.4L | 6T40 |
| AURA XR | 07-09 | 3.6L | 6T70 |
| ION | 04-07 | 2.2L 2.4L | 4T45E |
| ION | 03-04 | 2.2L | AF33-5 |
| ION | 03 | 2.2L | VT25-E |
| L-SERIES | 00-04 | 2.2L 3.0L | 4T40E /4T45E |
| OUTLOOK | 07-09 | 3.6L | 6T75 |
| RELAY | 05-07 | 3.5L 3.9L | 4T65E |
| S-SERIES | 95-03 | 1.9L | TAAT |
| SKY/SKY REDLINE | 07-09 | 2.0L 2.4L | 5L40E |
| VUE | 04-10 | 2.2L 2.4L | 4T45E |
| VUE | 02-03 | 3.0L | AF33-5 |
| VUE | 04-07 | 3.5L | MDRA /MDPA |
| VUE | 07-10 | 3.0L 3.5L 3.6L | 6T70 |
| VUE | 02-04 | 2.2L | VT25-E |
| VUE HYBRID | 09 | 3.6L | AHS-F |