In This Guide
We can provide you with a remanufactured Allison 1000 transmission directly from the factory, and you pay unbeatable wholesale prices. Because we want you to have the best experience possible with your transmission repair, we offer a no-limit, three-year warranty that can be transferred across state lines and that covers the cost of part and labor.
To get an estimate on an Allison 1000, fill out the form below:
Vehicle Compatibility – Makes & Models
Chevrolet Kodiak/GMC Topkick
GMC Sierra
Hummer H1
Chevrolet B-Series
Allison 1000 Transmission Overview
The Allison 1000, 2000, and 2400 series of transmissions are made by Allison Transmission in the heart of the auto industry, Indianapolis. These transmissions see the most use in medium- and heavy-duty trucks and other vehicles that have to carry heavy loads.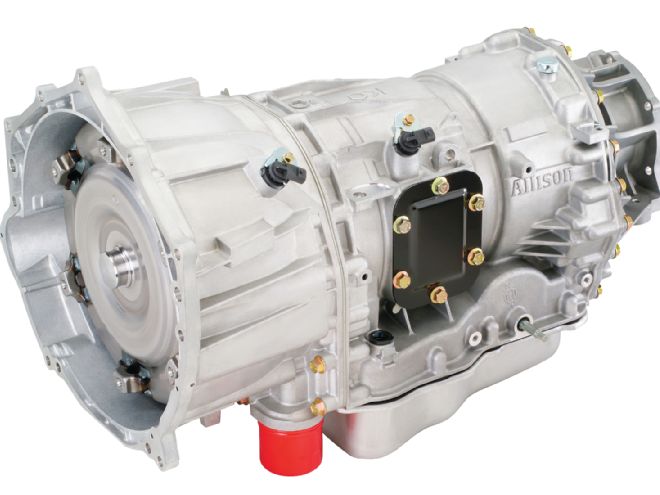 They are all at least 5-speed transmissions, and some are even six-speed. They have electronic control systems governed by solenoid wire assemblies. The company specializes in commercial vehicle transmissions, which also includes tractor trailers.
The Allison 1000 started its life as a five-speed that could handle 620 pound-feet of torque. This translates to 841 newton-meters. In 2005, a new version of the transmission added a sixth gear, lessening the RPM count by 14 percent at highway speeds. This has the effect of increasing gas mileage, especially good for large vehicles traveling long distances on the highway.
In 2006, the transmission received the option for manual shifting, Casual drivers may prefer automatics, but some drivers like manual transmissions because they offer greater control and require less braking. Instead, the engine can be downshifted.
For the 2006 model year, manual gear selection was introduced. This feature gives the driver greater control over the transmission, enhancing operation when engine braking or less frequent shifting is desired.
Here is the list of Allison 1000 gear ratios, starting from 1 to 6 and reverse: 3.1:1, 1.81:1, 1.41:1, 1:1, 0.71:1, 0.6:1, and 4.49:1.
Features of the Allison 1000
The Allison 1000 has a transmission control module that gets a collection of information from the torque converter turbine, the engine, and various other parts that work together to provide smooth, efficient shifting. The shift mechanism is controlled with a pair of pulsed solenoids located in the valve body of the transmission.
For 3500 cab or chassis trucks, you have the option of getting a power take-off, providing a little more acceleration. Its torque rating is 250 pound-feet. Meanwhile, the main case of the transmission contains the gear train, valve body, park pawl, input retarder, and PTO gear.
The 2006 model of the Allison 1000 contains separate modes for alternate weather conditions like low-traction mode, suitable for ice. The other new feature, grade braking, provided an extra safety option for traveling down inclines.
The Allison 1000 uses a modular design for its case, so it can have parts replaced or repaired individually, and can deal with 5,000-rpm input shaft speed. Another modular part is the external filter that makes it far more simple to provide service to the transmission. The internal filter should only be removed when the whole transmission is replaced.
Also, the Allison 1000 is light for its intended use, weighing in at approximately 330 pounds with the PTO gear. This does not include transmission fluid. Incidentally, the Allison 1000 can use TranSynd or Dexron-III automatic fluid.
Limp Home Mode
Drivers who mod their transmissions with aftermarket components have been known to experience the vehicle's so-called limp-home mode. This is a safety feature. Should higher gears of the transmission fail, it locks into third gear, which provides enough torque to travel at slow speeds and get to safety rather than be stranded by the side of the road. Limp home mode activates if the control system detects too much slipping in a short time.
Need Your Transmission Repaired? A good repair shop can be hard to find – especially on short notice. We'll have the Cost Guide Certified shop in your area give you a call with a free estimate.
Weaknesses of the Allison 1000
The Allison 1000 works by the concept of adaptive learning. By comparing the average shift time against preprogrammed ideal benchmarks, the transmission can make shifting more efficient. However, rapid changes in speed or sporadic acceleration/deceleration prevent this process from occurring and the gear and valve assemblies cannot adapt to fluid pressure increases.
Another key problem can be an improperly lubricated C3 clutch. The way the transmission is set up, this clutch does not get any fluid unless it's done directly. It reduces performance due to wear on the clutch pad and can lead to failure.
Five-speed Allison 1000 transmissions have problems with the C1 and C2 clutches. The pistons that cause these clutches to engage were designed slightly off center, leading to a lack of even pressure and in turn to uneven wear and early failure of the clutch plate.
Other Information
Light Trucks
The Society of Automotive Engineers stated that Allison made extensive preparations and conducted research prior to the introduction of the Allison 1000. They extrapolated torque increase in truck engines by watching the growth that occurred from 1990 to about 1994, approximately 15 pound-feet of torque increase per year.
Features
Allison succeeded with its earlier model, the AT542, but vastly improved its design for the 1999 introduction of the Allison 1000. For example, the 1000 model has an overdrive gear, valve body, torque converter clutch, and a parking pawl.
Adaptive Learning
The Allison 1000 makes use of an advanced learning feature called adaptive learning. Adaptive learning involves taking a set of ongoing data from driving about how the vehicle handles under road conditions.
It checks the actual recorded shift times and compares them to a set of prefixed values that the transmission uses to determine how it should shift. This is an ongoing process.
It can cause problems with aftermarket parts. Because the adaptive learning parameters adjust to defaults, anything outside that amount will not read correctly.
Updates to the Remanufactured Allison 1000
Complete registering of a remanufactured valve body. Improvements to pressure control and the quality of the shift.
Calibration kit is an extra improvement.
New front pump covers maintain seal integrity around torque converters.
Changed the lubricant regulator valve in an effort to lower operating temperatures. Also added a new upgraded relief spring.
Switched out F-trim valve sleeve to aid in cooling the torque converter and reduce overheating.
Changed the E-shift valve spring to add to the transmission's durability.
C3 clutch received additional plate for greater friction and control
New pump with redone bushings to promote proper fluid motion inside the transmission
Fully remade torque converter installed and tested for various qualities like concentricity, leakage and balance in an effort to prevent premature wear and excess vibration. Upgrades go beyond the OE specifications.
Bushings replaced in an effort to prevent fluid leakage at leak-prone locations along the seals and joints of the transmission in an effort to improve pressure consistency.
New calibration kit installed, which includes changes to the valve body accumulators, the servo system, and the PR system.
Prior to shipment, the transmission undergoes a strenuous test via computer-based road simulation under both hot and cold conditions to ensure the integrity of all components.
What's Included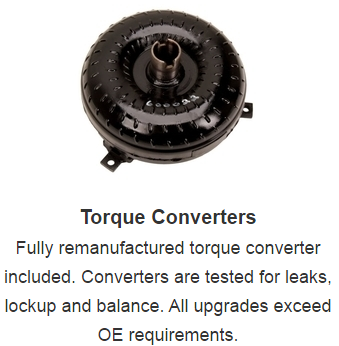 We know how frustrating it can be to have your truck's transmission go out, especially given how much it can cost to replace it. What makes it worse is that unless you are a mechanic, you may not know what caused the need for the replacement. We can get you a refurbished transmission at a reasonable out-the-door price. The shipping fee is included, and we can have the transmission sent to your home or to any nearby auto shop for ease of repair
Get a Diagnosis
Still not sure what the problem is? Click the green button and we'll have the Cost Guide Certified shop in your area give you a call with a free estimate.