Replacement 8L45 Transmission Prices:
** Being a 2016+ model, the 8L45 is currently dealer and salvage yard only.
Need a replacement transmission? Get an estimate for replacement transmissions and local installation. Look up your transmission model by vehicle make and model.
What Transmission Do I Have?
2016+ 8L45 Applications and Compatibility:
About the 8L45 & Common Problems
The 8L45 is an eight-speed automatic transmission built by GM starting in the 2016+ model years.
Used 8L45 vs. Rebuilt vs. Remanufactured
If you're having problems with your 8L45 you're going to want the most economical solution.
A rebuilt 8L45 will only have a certain number of components that get replaced. So the service life is limited, and the warranty will only last 1-2 years.
A used 8L45 is pulled from a wrecked vehicle, so there's no telling what may be wrong with it, or how long it will last.
A remanufactured 8L45 on the other hand, is completely remanufactured, and it's designed to exceed the manufacturer's original specifications. That way you get a longer service life, along with a 3-year/Unlimited Mile Nationwide Warranty.'
Watch the Remanufacturing Process
Ready to Replace Your Transmission?
Click Get a Free Estimate for an unbeatable price on a replacement remanufactured transmission.
Fair Replacement Transmission Cost by Vehicle
Find your transmission model in the table below for fair prices from reputable suppliers. Also fair labor cost for local installation at a local auto repair shop.


Fair Remanufactured Transmission Price Ranges by Transmission Model Updated for 2019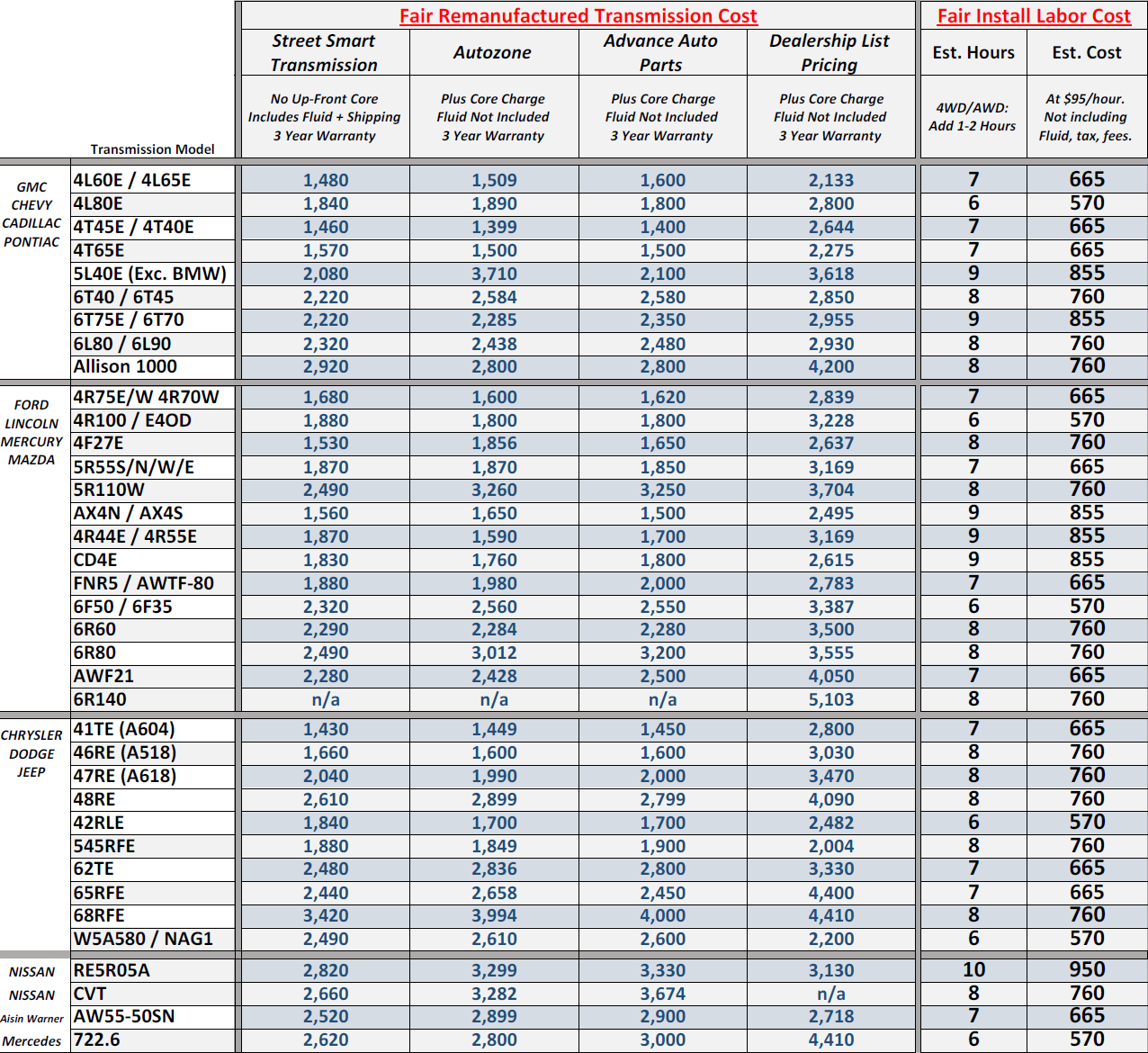 Download Replacement Transmission Cost Guide PDF