In This Guide
To get an estimate on 47RE, click Get a Free Estimate.
Need a replacement transmission? Quality transmission suppliers can be hard to find. Have your 17-digit vehicle VIN# ready. Free estimates sent via text and email.
Replacement 47RE Transmission Prices:
| Transmission | Street Smart Transmission | Autozone | Advance Auto Parts |
| --- | --- | --- | --- |
| 47RE (A618) | 2040 | 1990 | 2000 |
Vehicle Compatibility – Makes & Models
1994-2002 Dodge Ram 2500/3500 Diesel/V10
2003-2004 Dodge Ram 2500/3500 ISB Diesel
2004-2007 Dodge Ram 2500/3500 600/610 Diesel
2004-2006 Dodge Ram SRT-10
47RE Transmission Overview
The 47RE began its working life under the name of A618, which was an update to the A519 and the 46RE. These two transmissions both are electronically controlled rather than controlled by hydraulics like the 46RH.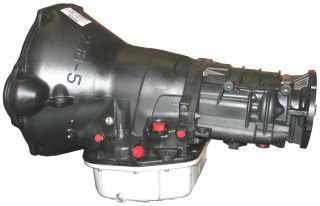 The main market for this transmission was for vehicles that were expected to pull a heavy load or have a large payload, like pickup trucks or passenger vans. It was invented in the mid-1990s and saw service until 2003.
The 47RE is basically a 727 transmission with overdrive and some updated parts like steel gears instead of aluminum, as well as an increased number of clutch plates. This applies when the transmission is used with a turbo diesel or a V10 motor. The 47RE carries a 450 pound-feet internal torque rating, which approximates to 610 newton-meters. It has three normal gears, one overdrive gear, and reverse.
The original design for the 47RE has changed little over the years, albeit with some bells and whistles added. For example, there is an output shaft that has an overdrive setting added to it. The shaft connects to the back of the standard three-speed transmission. Its gear ratios are 1:1 and 0.69:1, respectively.
In the early stages of this transmission's life cycle, it was a challenge to keep the gears lubricated enough to withstand road stress. The advent of valve body aftermarket kits and tweaks to the original design mitigated this issue
The standard gear ratios for the 47RE are, from 1-4 and reverse, 2.45:1, 1.45:1, 1:1, 0.69:1, and 2.21:1.
Differences Between the 47RH and 47RE
The 47RH and 47RE are similar in many fundamental ways, but the main difference is how the governor pressure control works. In the RH model, it works by means of hydraulic and mechanical control.
The 47RE, meanwhile, uses electronics for all its controls. Both systems use electronic controls for the overdrive unit and have a hydraulic valve body. Don't mistake the RH for having entirely hydraulic parts and the RE for being entirely electronic; this is not the case and can lead to an unwelcome surprise when you open one up expecting a particular layout.
The 47RE began phasing out of the market in 2003, while the 48RE began to take its place due to higher torque output requirements. If you aren't sure what transmission you have in the vehicle, take a look at the VIN (Vehicle Identification Number) if it's available. The eighth character of the VIN indicates which transmission model; the number 6 indicates a standard model with 47RE, while the letter C indicates the presence of a 48RE.
47RH/47RE Reliability Concerns
Unfortunately, the 47RE and 47RH transmissions tended not to be known for their strength when it comes to turbodiesel. Turbodiesel engines require an extremely high torque output, which these transmission models cannot reliably provide over a long period. It also does not support a high GCWR or Gross Combined Weight Rating.
Chrysler rates transmission strength on a scale of 1 to 9, and this one comes in at a 7, so not as powerful as some might desire it. In standard vehicles, it works just fine. The torque rating at maximum is about 450 pound-feet. It is on par with Chrysler transmissions from 2000 and earlier.
Because of the low GCWR, it's not advisable to tow in a vehicle with 47RE. People began attempting to perform more work with their vehicles and the transmission simply could not handle the extra load, although normal wear and tear are well within its capabilities.
A lively aftermarket community has grown up around the 47RE to address concerns and drawbacks of this transmission. It requires quite a few modifications and regular maintenance if you really want to push it to its potential.
Remanufactured 47RE / A618 Transmission Updates and Upgrades
Completely remanufactured valve body kit provides manual valves, switch valve, pressure regulator valve, and throttle valve to use hydraulic power more efficiently and improve shifting.
Made modifications to the valve body, allowing the torque converter to charge while the vehicle is in park. This increases durability and makes it easier to switch gears.
New pump keeps a constant fluid pressure to allow smooth shifting and gear engagement.
Overdrive clutch changed out for an eight-plated one.
Overdrive planetary gear assembly changed to five-pinion gears, reducing the wear on each individual gear.
Switched out the brake strut for a more powerful one to prevent gear slippage and lack of reverse.
New output shaft added that is backward-compatible with early yokes and modern ones.
Added external fluid cooler, allowing a more efficient method of cooling and lubrication as well as filtering out debris.
Custom-made bushings for better regulation of pressure and fluid flow.
Polished metal surfaces and bushings to prevent rust buildup.
New torque converter installed, improving the flow, output, and lifetime of the transmission.
All upgrades and new parts are tested under computer-based road simulation under both hot and cold conditions prior to shipping.
How to Buy a Remanufactured 47RE Transmission
1) Buying Locally
When you go to your local repair shop, they'll order a remanufactured transmission, then mark up the price. So at the end of the day, you'll be paying 15% to 30% more than the actual cost of the unit.
2) Buying Online
Buying a reman transmission through a distributor like Street Smart Transmission will save you a considerable amount of money because you pay the wholesale price (avoiding a repair shop's 15% to 30% markup), they'll ship the unit to the shop of your choice free of charge, and returning your old transmission is free as well. Then all you have to pay for is the labor to install the unit (usually $400 to $800), and you're on your way.
How Does it Work?
To order a remanufactured transmission from a company like Street Smart Transmission, all you need to do is provide your vehicle's VIN number, the mileage, and the address of the repair shop that you want it shipped to.
Financing
Replacing a transmission can be expensive, so Street Smart Transmission offers financing through PayPal. Depending on your credit, you'll be able to order a new transmission, get back on the road, then pay for it over time. You may have to pay labor charges for the installation up front, but you won't have to shell out for the transmission all at once.
Shipping Charge/Location
When it comes to shipping, a transmission is quite heavy. So you're going to pay quite a bit of money, unless the reman transmission company offers free shipping. Street Smart offers free shipping to a business address, which is usually the repair shop that you've chosen to install the unit.
What is a Core Charge (Core Deposit)?
Every remanufactured transmission originally came from somebody else's car. Therefore, they need your broken transmission in order to refurbish it for another customer.
Your old/damaged transmission is called a "core", and many companies will collect a core charge (usually $500 to $1500), which will be refunded once they receive your old transmission. However, if the transmission case, or other key components are damaged beyond repair, you may not get all of your core charge back. Make sure to ask for the core return policy, so you'll know what to expect.

Our Recommendation
We recommend Street Smart Transmission. We have found Street Smart to be of the highest quality. Their transmissions carry a 3 year / unlimited miles warranty that covers both parts and labor. Their warranty is nationwide and attached to the VIN so it is transferable with ownership if you decide to sell the vehicle. It also covers both parts and labor for the installation of the replacement transmission.
Watch the Remanufacturing Process
How it Works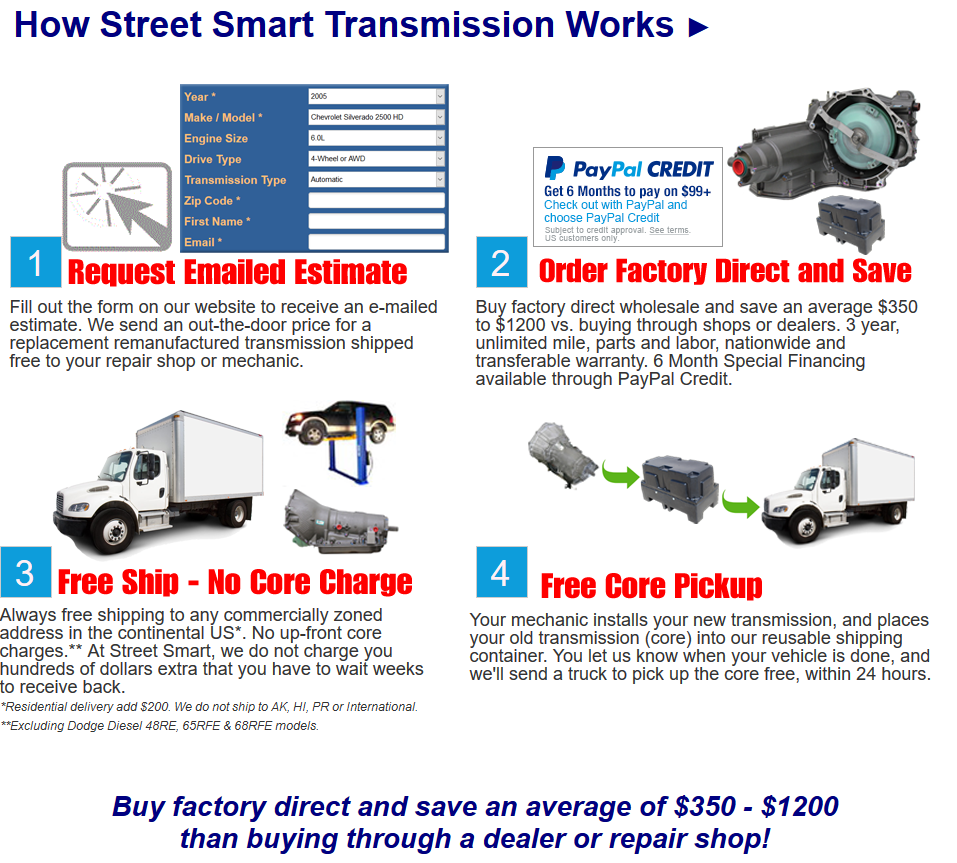 Finding a Shop to Install the Remanufactured Transmission
If your transmission has failed, you're going to need a skilled mechanic to replace it. You can find a shop using our shop locator map.
For warranty purposes, you need to find a reliable repair shop. That way, if the replacement transmission doesn't work properly, the warranty will cover it.
We can provide you with a competitive price for a new transmission, including shipping costs. We know how expensive and frustrating it can be when it's time for replacing this valuable part of your car, especially if you don't understand what's wrong with it. The transmission can be shipped to your home or to the auto shop of your choice for installation and testing.
Ready to Replace Your 47RE Transmission?
Click Get a Free Estimate for an unbeatable price on a replacement remanufactured transmission.
Fair Replacement Transmission Cost by Vehicle
Find your transmission model in the table below for fair prices from reputable suppliers. Also fair labor cost for local installation at a local auto repair shop.


Get a free estimate on a remanufactured transmission by email.
Fair Remanufactured Transmission Price Ranges by Transmission Model Updated July 2018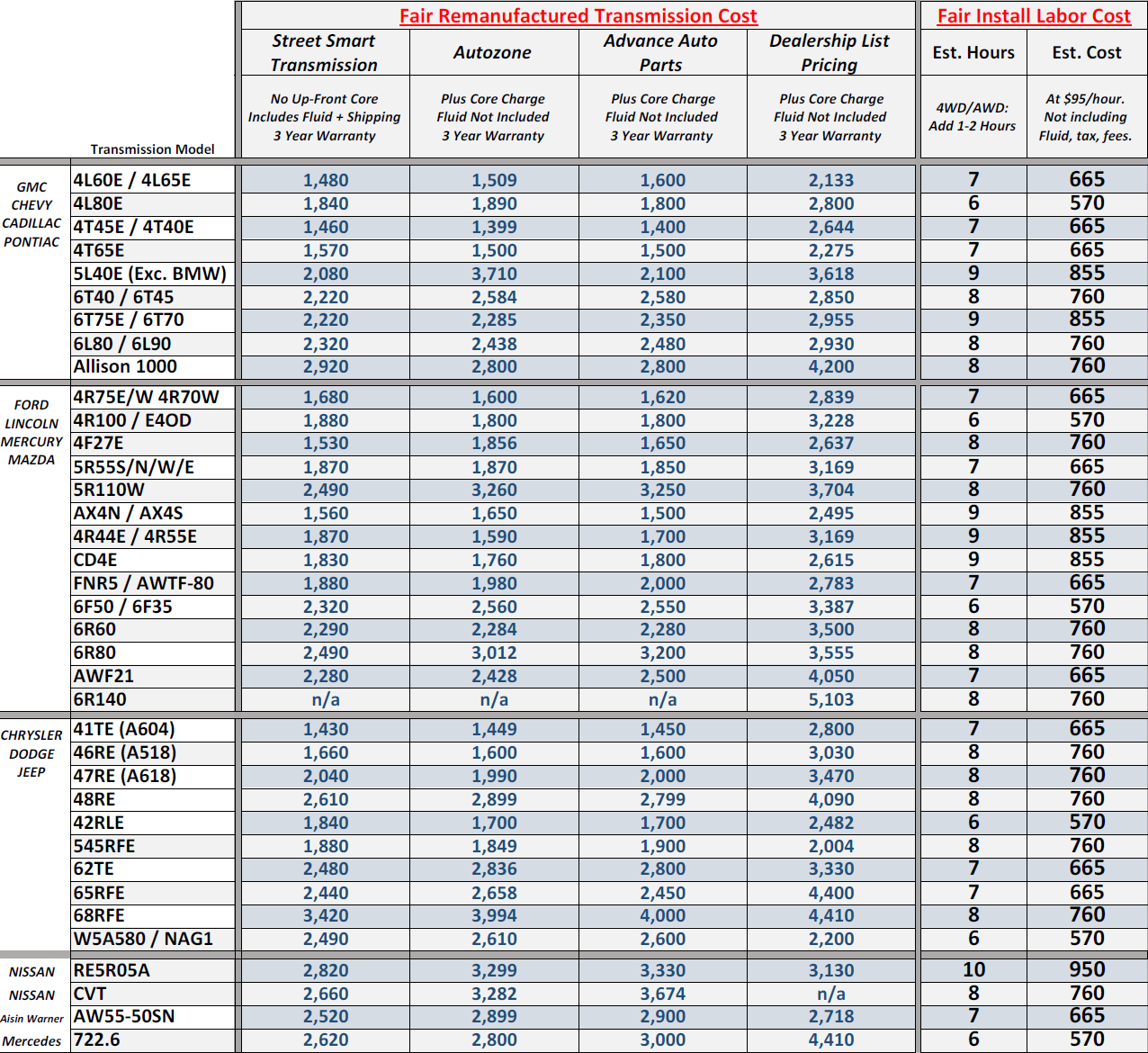 Download Replacement Transmission Cost Guide PDF