In This Guide
To get an estimate on a 46RE/A518, click Get a Free Estimate.
Need a replacement transmission? Get an estimate for replacement transmissions and local installation. Look up your transmission model by vehicle make and model.
What Transmission Do I Have?
Replacement 46re Transmission Prices:
| Transmission | Street Smart Transmission | Autozone | Advance Auto Parts |
| --- | --- | --- | --- |
| 46RE (A518) | 1660 | 1600 | 1600 |
46RE / A518 Applications and Compatibility:
A518 Model Name Explanation
Until 1991, Torqueflite assigned their transmissions and transaxles received designations starting with the letter A followed by a three-digit number. Obviously, this made it hard to remember what a given transmission was supposed to be. In 1992, the naming schematic was altered. Now, they have a four-character model number. Each character denotes a quality of the transmission.
The first one is either a 3 or a 4, representing forward speeds. The second digit is a 1 through a 9, representing torque strength. This torque strength is a scale designated by Chrysler. The third character represents the drive type: rear wheel, all wheel, or transaxle. Finally, the fourth character denotes how the transmission is controlled. H means hydromechanical and E means electronic. Newer models are electronic.
A518 / 46RE Transmission Overview
The A518, later renamed to the 46RE or the 46RH depending on the model, featured prominently in Chrysler vehicles throughout the early 1990s. It was intended to replace the 727. The A518 has a similar layout to the A500, but more robust performance. It worked for V6 engines. Converting from the A727 to the A518 is relatively easy. It's much easier to do this than it is to convert to a completely different transmission.
The A518 can make use of an overdrive that provides up to 30 percent more fuel efficiency than the standard drive. Not only that, it can also increase the working lifetime of the engine because it needs to turn fewer times per minute. Here are some of the gear ratios for the A518 from 1 to 4 and reverse: 2.45:1, 1.45:1, 1:1, 0.69:1, and 2.35:1.
The 46RE first appeared in 1996, compared to the 46RH, which was in production earlier. The 46RH had hydraulic controls that worked similarly to the A727, but it had slightly different internal parts. The most prominent example of this is the elongated tail, due to the addition of the overdrive gear that was not present in earlier models. You could find the A518 on transaxle and rear-wheel drive vehicles. When you're switching out a transmission, research thoroughly to determine that it will match your vehicle's motor.
The 46RE and the A727 contain a cross-compatible oil pan and screen, which can make it harder to tell the two models apart. If you have a tape measure it's a little easier. Just measure the length. The 46RE comes in at about 38 inches, while the 727 is 35 inches. The measurement from the flange to the mounting block has a 1⅜-inch difference, with the 46RE as the slightly longer one. To be exact, the 46RE measures 24 ⅞ inches from the flange to the block.
Finally, to distinguish the 46RH, check the driver's side. Models made between 1990 and 1995 have a connector for the overdrive and torque converter solenoids. The connector for the 46RH has three pins. The 46RE, meanwhile, has a connector, but this connector uses an eight-pin connector for other electronic components. IF you have an older vehicle, you'll want to use the 46RH.
Control of the 46RE
Torqueflite transmissions have a basic torque converter and the Simpson gearset, which Chrysler obtained the rights to in 1955. They use a sun gear and two planetary gear sets.
They had three forward gears and reverse, with the driver controlling the gear by pressing buttons built into the dashboard rather than the more customary gear shift lever.
You could find these gear buttons at the far left of the dash. Right-hand drive vehicles sold in Australia, the United Kingdom, and other places placed these on the right with the exception of the Dodge Phoenix, which placed the buttons on the left. The order tended to be R, N, 3, 2, and 1, just as many gearshifts do today. Occasionally, you could find the shift buttons aligned vertically or in a cluster.
Updates Made to Remanufactured 46RE Transmissions
Completely rebuilt valve body, which adds a new throttle valve, switch valve, manual valve, and pressure regulator valve. This provides an improvement in lubrication and shift response time.
Valve body modified to allow the torque converter to build an electrical charge while the vehicle is in park, making it easier to shift and reducing the strain on components.
Rebuilt pump that regulates and provides stabilized internal fluid pressure, promoting a cooler and more lubricated transmission.
Upgraded overdrive direct clutch with an eight-plate assembly and a thrust plate.
Updated standard overdrive clutch to a four-plate variety to increase the working load of the transmission.
The planetary assembly for the overdrive switched out for a five-pinion design, lessening the wear on each individual gear.
Switched out brake band strut, allowing ample space between the band and the drum and eliminating gear slipping and allowing the vehicle to go into reverse.
Torque output shaft measured and cut so it can fit both early and modern yokes for the driveshaft.
Added external cooler to increase cooling efficiency and act as a filter for transmission fluid which could otherwise be contaminated with debris
Bushings remeasured to custom dimensions, creating a more watertight and airtight seal inside the transmission and increasing fluid pressure and flow quality.
All metal surfaces coated with anti-rust compound for looks and part longevity.
New torque converter added, which is fully tested for a variety of attributes such as balance and protection against leaks. The new converter does not leak from the front seal or from the bushings, nor does it vibrate. This can make it more feasible for heavy-duty transmissions.
Transmission is tested for complete functionality by using a road simulation program under both idle and operational conditions at various speeds.
How to Buy a Remanufactured 46RE Transmission
1) Buying Locally
When you go to your local repair shop, they'll order a remanufactured transmission, then mark up the price. So at the end of the day, you'll be paying 15% to 30% more than the actual cost of the unit.
2) Buying Online
Buying a reman transmission through a distributor like Street Smart Transmission will save you a considerable amount of money because you pay the wholesale price (avoiding a repair shop's 15% to 30% markup), they'll ship the unit to the shop of your choice free of charge, and returning your old transmission is free as well. Then all you have to pay for is the labor to install the unit (usually $400 to $800), and you're on your way.
How Does it Work?
To order a remanufactured transmission from a company like Street Smart Transmission, all you need to do is provide your vehicle's VIN number, the mileage, and the address of the repair shop that you want it shipped to.
Financing
Replacing a transmission can be expensive, so Street Smart Transmission offers financing through PayPal. Depending on your credit, you'll be able to order a new transmission, get back on the road, then pay for it over time. You may have to pay labor charges for the installation up front, but you won't have to shell out for the transmission all at once.
Shipping Charge/Location
When it comes to shipping, a transmission is quite heavy. So you're going to pay quite a bit of money, unless the reman transmission company offers free shipping. Street Smart offers free shipping to a business address, which is usually the repair shop that you've chosen to install the unit.
What is a Core Charge (Core Deposit)?
Every remanufactured transmission originally came from somebody else's car. Therefore, they need your broken transmission in order to refurbish it for another customer.
Your old/damaged transmission is called a "core", and many companies will collect a core charge (usually $500 to $1500), which will be refunded once they receive your old transmission. However, if the transmission case, or other key components are damaged beyond repair, you may not get all of your core charge back. Make sure to ask for the core return policy, so you'll know what to expect.

Our Recommendation
We recommend Street Smart Transmission. We have found Street Smart to be of the highest quality. Their transmissions carry a 3 year / unlimited miles warranty that covers both parts and labor. Their warranty is nationwide and attached to the VIN so it is transferable with ownership if you decide to sell the vehicle. It also covers both parts and labor for the installation of the replacement transmission.
Watch the Remanufacturing Process
How it Works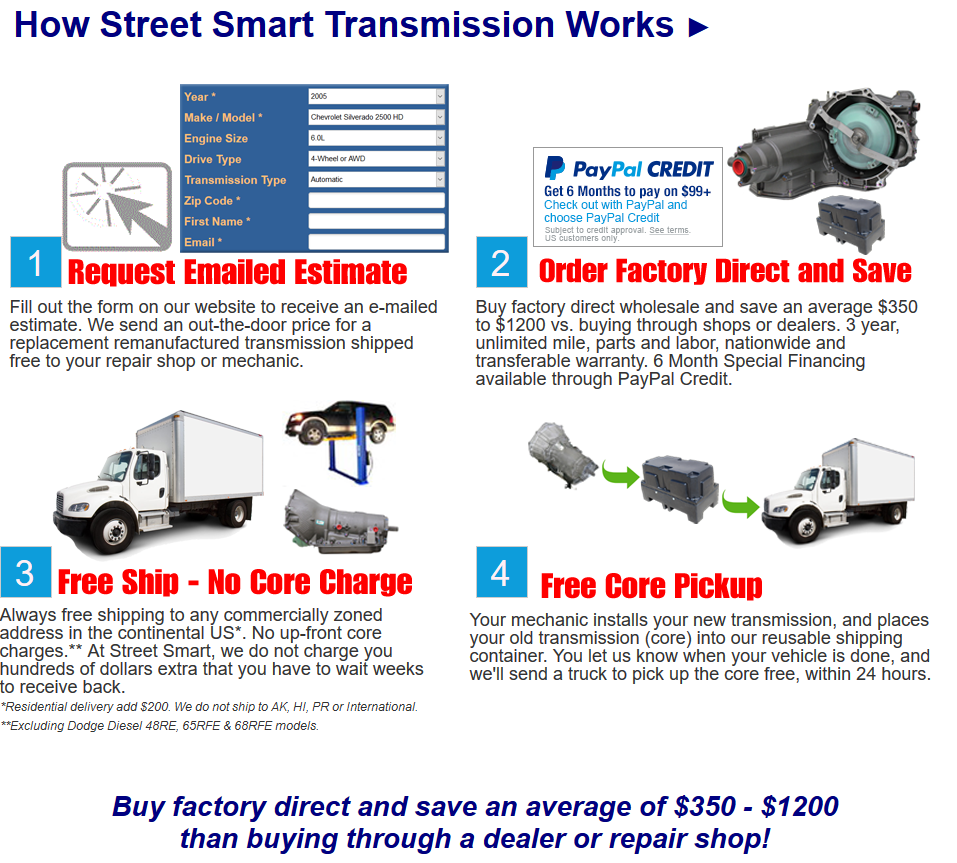 Finding a Shop to Install the Remanufactured Transmission
If your transmission has failed, you're going to need a skilled mechanic to replace it. You can find a shop using our shop locator map.
For warranty purposes, you need to find a reliable repair shop. That way, if the replacement transmission doesn't work properly, the warranty will cover it.
Ready to Replace Your Transmission?
Click Get a Free Estimate for a price on a replacement remanufactured transmission.
Fair Replacement Transmission Cost by Vehicle
Find your transmission model in the table below for fair prices from reputable suppliers. Also fair labor cost for local installation at a local auto repair shop.


Fair Remanufactured Transmission Price Ranges by Transmission Model Updated for 2019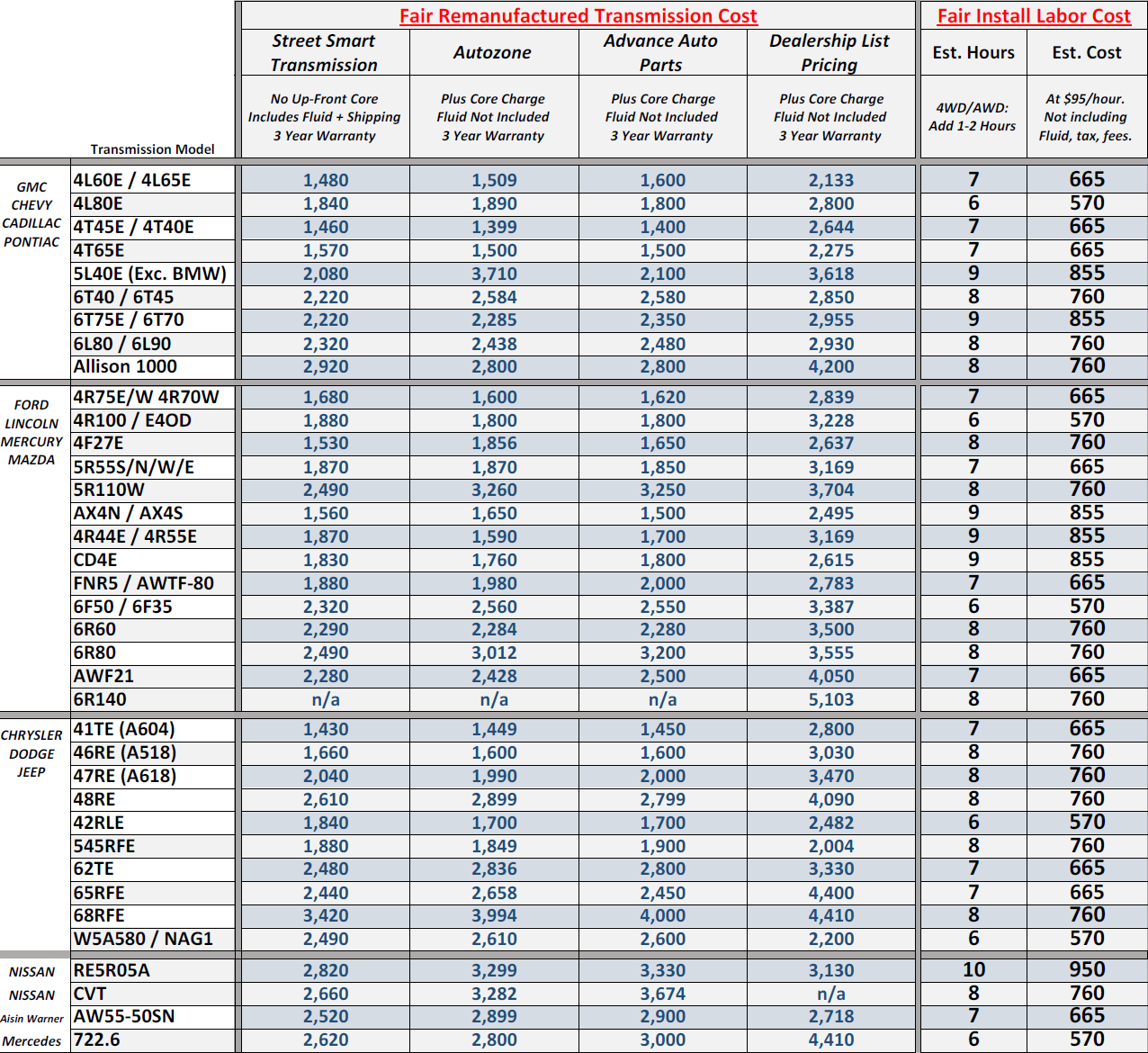 Download Replacement Transmission Cost Guide PDF