In This Guide
To get an estimate on a 5R55E or 5R55S, click Get a Free Estimate.
Need a replacement transmission? Get an estimate for replacement transmissions and local installation. Look up your transmission model by vehicle make and model.
What Transmission Do I Have?

Replacement 5R55 Transmission Prices:
| Transmission | Street Smart Transmission |
| --- | --- |
| 5R55S/N/W/E | 2203 |
5R55S / 5R55N / 5R55W / 5R55E Applications and Compatibility:
Model Name Explanation
Here's how the transmission model numbers for Ford model break down. First, the 5 represents the number of forward gears, including overdrive. The R represents a rear wheel drive, with the transmission longitudinally mounted along the vehicle's axis behind the engine.
The 55 represents the transmission's relative torque. In the case of the 5R55E, it has 550 pound-feet of torque, which is relatively powerful. Finally, the E means that the valve body has electronic controls rather than the older hydro mechanical ones.
5R55E Transmission Overview
The 5R55E transmission first saw production in Ford's 1997 auto models. It has the distinction of being the first 5-speed transmission for standard road vehicles. You can currently find the 5R55E in Ford Ranger trucks from 1997 to 2001 models, as well as the 1997 Aerostar, the 1997-2001 Explorer. The transmission tends to fit both two-and four-wheel-drive trucks.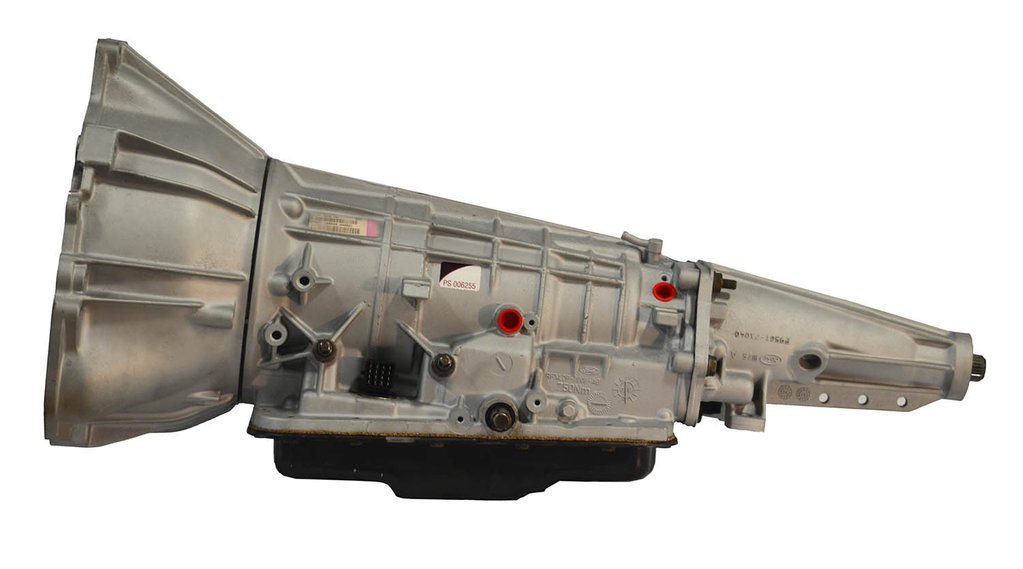 Although the 5R55E and the 4R44E look similar, they are not. The parts are not interchangeable. For example, the 55E uses a drive band that adds to the gear ratio. Be careful if it comes time to replace and change parts for the transmission.
5R44E
The 5R55E has a light-duty model called the 5R44E. It is virtually identical to the 55E, but only rated to handle 440 pound-feet of torque. You can find the 44E in trucks that use the 3-liter V6 engine. More powerful trucks tend to use the 4-liter V6.
Several other variants of the 55E were released. Very little difference exists between these offshoot models except for a few specialized controls and gear ratios. As always, be sure the transmission matches the engine or can be made compatible before purchasing.
5R55N
The 5R55N is another version of the 5R55 model series. It could be found in sedans and luxury vehicles like the Ford Thunderbird, mainly the 2002 model. The 2003 Thunderbird switched the 5R55N to the 5R55S. Respectively, the N and S stand for Nonsynchronous and Synchronous.
One feature of the 5R55N and S was the addition of the SelectShift feature. This allowed drivers to treat the transmission like a manual one even though it was automatic, and without having to worry about the clutch.
The 5R55N has five forward gears and complete electronic control. It is not compatible with the 55E, aside from several small parts. Here is a list of the components found in the 55N: the three compound gear sets, the forward and rear overdrive, three brake bands, clutch packs, and controlled shifts
The 5R55S could be found in the Mustang from 2005 until 2010, while the baseline 5R55W saw use in the Explorer and Ranger from 2000. Meanwhile, the 2008 Falcon was the other one to get other models of the 5R55. The main difference between the 55W and the 55S is the ratio between gears. A wide shift means there is more of a gear ratio from 1 to 2.
Ford SelectShift
Normally the transmission is fully automatic. If you decide to use the toggle switches for the shift, it treats it as a manual transmission without needing to engage a clutch pedal by shifting one gear up or down at a time. After the switch toggles, the system allows a short time before returning the control to fully automatic transmission.
The 5R55E might use SelectShfting automatically in some instances. For example, if you're traveling at low speed with low RPMs, the transmission will downshift to conserve efficiency and prevent stalling. In a similar situation, it will prevent downshifting to the point of revving the engine too much, which can damage the transmission and engine. It may even upshift. It's best to keep an eye on the tachometer when driving.
One final situation in which SelectShift will automatically act is a sudden acceleration in high gear. Doing this might cause a downshift, allowing the transmission to create acceleration so the vehicle can change direction quickly if deemed necessary.
5R55 Transmission DTCs
| Trouble Code | Description |
| --- | --- |
| P0705 | Transmission Range Sensor Circuit Malfunction (PRNDL Input) |
| P0711 | Transmission Fluid Temperature Sensor Circuit Range/Performance |
| P0712 | Transmission Fluid Temperature Sensor Circuit Low Input |
| P0713 | Transmission Fluid Temperature Sensor Circuit High Input |
| P0730 | Incorrect Gear Ratio |
| P0731 | Gear 1 Incorrect Ratio |
| P0732 | Gear 2 Incorrect Ratio |
| P0733 | Gear 3 Incorrect Ratio |
| P0734 | Gear 4 Incorrect Ratio |
| P0735 | Gear 5 Incorrect Ratio |
| P0745 | Pressure Control Solenoid 'A' |
| P0775 | Pressure Control Solenoid 'B' |
| P0795 | Pressure Control Solenoid 'C' |
| P0797 | Pressure Control Solenoid 'C' Stuck On |
| P0798 | Pressure Control Solenoid 'C' Electrical |
| P1762 | Nissan DTC: Direct Clutch Solenoid Valve |
5R55 Technical Service Bulletins | TSBs
TSB 01-10-2 – Fluid leak from the transmission cooler lines at the transmission case connection
2002 Ford Explorer – 2002 Mercury Mountaineer
Problem – On vehicles built from 11/13/2000-4/2/2001, there may be a transmission fluid leak at the cooler line-to-case connection. This can be caused by contamination of the tube nut, threads, flare, or improper installation torque.
Solution – The transmission cooler line and tube nuts will need to be cleaned and an O-ring installed in the case fitting.
TSB 01-10-7 – Transmission control indicator lamp On with P0713 DTC, along with other OBDII codes
2002 Ford Explorer – 2002 Mercury Mountaineer
Problem – On vehicles built between 11/13/2000-3/8/2001, various transmission trouble codes may appear due to water intrusion into the transmission solenoid body connector
Solution – Install an updated transmission wiring harness – part number 1L2Z-7C078-AB
TSB 01-22-3 – Buzzing noise from the transmission when the converter is engaged
2002 Ford Explorer 4.6L – 2002 Mercury Mountaineer 4.6L
Problem – On vehicles produced between 11/15/2000-11/11/2001, equipped with the Ford 4.6L engine and the 5R55W transmission, a buzzing noise may be heard when the torque converter engages, due to a higher fluid velocity inside of the valve body / main control unit.
Solution – Install updated 5R55W valve body
TSB 01-20-7 – Ticking noise coming from the front or intermediate servo cover area
2002 Ford Explorer 5R55W – 2002 Mercury Mountaineer 5R55W
Problem – A ticking noise may be present when the vehicle is idling in Park or Neutral.
Solution – The separator plate or valve body may need to be replaced.
TSB 02-08-03 – Transmission fluid leak at servo cover
2001 – 2002 Ford Explorer Sport Trac – 2001 – 2002 Ford Explorer Sport – 2001 – 2002 Ford Ranger
Problem – On vehicles equipped with the 2.3L, 3.0L or 4.0L engine with the 5R55E transmission, operating in cold climates may cause a transmission fluid leak at the servo cover.
Solution – Install updated servo cover(s).
TSB 02-13-8 – Low line pressure at wide open throttle (WOT), slipping and or delayed gear engagement
1995 – 2001 Ford Explorer – 1999 – 2002 Ford Explorer Sport – 2001 – 2002 Ford Explorer Sport Trac – 1995 – 2002 Ford Ranger – 1997 – 2001 Mercury Mountaineer
Problem – Vehicles built prior to 12/1/2001 may experience a number of transmission problems including; no 2nd gear, no 3rd gear, no engine braking when in manual 1st, slipping and/or delayed gear engagements, DTC's P0732, P0733 and/or P1762
Solution – Modify or install updated valve body
TSB 03-25-4 – No 3rd gear or slipping on the 2-3 shift
2002 Ford Explorer 5R55W – 2002 Mercury Mountaineer 5R55W
Problem – Certain vehicles may exhibit no third gear, slipping on the 2-3 shift and P0733 and P0745 DTC's due to a broken intermediate band inside the transmission.
Solution – Install new 5R55W intermediate band, OD band and pistons. The direct clutch drum will also need to be inspected for signs of damage, cracking etc.
TSB 05-21-8 – Delayed or harsh reverse engagement – 5R55S Transmission
2004 – 2005 Ford Explorer – 2004 – 2005 Ford Thunderbird – 2004 – 2005 Lincoln LS – 2004 – 2005 Lincoln Aviator – 2004 – 2005 Mercury Mountaineer
Problem – Some vehicles may experience a delayed or harsh reverse gear engagement due to improper pressure control
Solution – It may be necessary to place the solenoid body assembly, valve body and/or an in-line filter
Common Problems with the 5R55E
The 5R55E is electronic, meaning that many of its components are controlled by electronic solenoids. These include the gear shifting mechanisms and the torque converter.
If you have a multimeter, you can easily check the solenoids to determine whether there are problems.
Simply connect the multimeter and attach the two probes to the pins on the solenoid. Set the reading on the multimeter to measure resistance. You should, ideally, get a reading between 20 to 30 ohms. If you get 0 ohms, it means the plastic covering from the wire has given way and created a short circuit. A higher reading indicates a complete break in the wire, preventing an electrical circuit from forming. Even if a solenoid is broken, it is easy and inexpensive to fix.
You can also cause the transmission to overheat with improper maintenance or abuse. The main things you need to watch out for are overtowing and revving too much. These cause the transmission to rev too high and strip gears or use too much transmission fluid. The best thing to do, if you think the transmission is overheating, is to pull to the side of the road and let the vehicle cool down.
Also, make sure you check fluid levels every 20,000 miles.
If you notice the transmission fluid is dark or leaking anywhere, it's a sure sign that damage is imminent. At that point, it should be repaired if possible to reduce the costs involved in a full transmission replacement.
Transmission Cooler
You can also purchase an aftermarket transmission cooler. A cooler is important because it keeps the fluid from overheating; even a short time can reduce a transmission's working lifespan significantly. Look for a transmission cooler that has fans built in to increase airflow and increase the effectiveness of the cooler.
Updates to Remanufactured 5R55E & 5R55S Transmissions
Added a completely rebuilt pump, preventing leaks and increasing the durability of the valves and lines.
Rebuilt valve body with an added system kit to improve fluid pressure control and shifting precision.
Torque converter switched out for an aftermarket model and tested for structural integrity, balance, and concentricity.These improvements reduce leakage and vibration, making for a smoother ride.
New bushings installed throughout the transmission to improve the integrity of fluid seals and pressure consistency.
Upgrades to servomotors, PR system, and valve body. In addition, a complete correction recalibration kit is installed.
More robust kit installed to recalibrate the transmission and reduce gear slipping.
Prior to shipping, transmission receives a complete road test via computer simulation under both idle and working conditions.
What's Included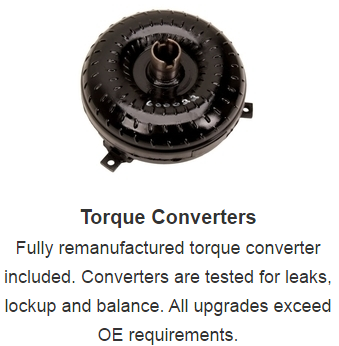 How to Buy a Remanufactured 5R55S Transmission
1) Buying Locally
When you go to your local repair shop, they'll order a remanufactured transmission, then mark up the price. So at the end of the day, you'll be paying 15% to 30% more than the actual cost of the unit.
2) Buying Online
Buying a reman transmission through a company like Street Smart Transmission will save you a considerable amount of money because you pay the wholesale price (avoiding a repair shop's 15% to 30% markup), they'll ship the unit to the shop of your choice free of charge, and returning your old transmission is free as well. Then all you have to pay for is the labor to install the unit (usually $400 to $800), and you're on your way.
How Does it Work?
To order a remanufactured transmission from a company like Street Smart Transmission, all you need to do is provide your vehicle's VIN number, the mileage, and the address of the repair shop that you want it shipped to.
Financing
Replacing a transmission can be expensive, so Street Smart Transmission offers financing through PayPal. Depending on your credit, you'll be able to order a new transmission, get back on the road, then pay for it over time. You may have to pay labor charges for the installation up front, but you won't have to shell out for the transmission all at once.
Shipping Charge/Location
When it comes to shipping, a transmission is quite heavy. So you're going to pay quite a bit of money, unless the reman transmission company offers free shipping. Street Smart offers free shipping to a business address, which is usually the repair shop that you've chosen to install the unit.
What is a Core Charge (Core Deposit)?
Every remanufactured transmission originally came from somebody else's car. Therefore, they need your broken transmission in order to refurbish it for another customer.
Your old/damaged transmission is called a "core", and many companies will collect a core charge (usually $500 to $1500), which will be refunded once they receive your old transmission. However, if the transmission case, or other key components are damaged beyond repair, you may not get all of your core charge back. Make sure to ask for the core return policy, so you'll know what to expect.

Our Recommendation
We recommend Street Smart Transmission. We have found Street Smart to be of the highest quality. Their transmissions carry a 3 year / unlimited miles warranty that covers both parts and labor. Their warranty is nationwide and attached to the VIN so it is transferable with ownership if you decide to sell the vehicle. It also covers both parts and labor for the installation of the replacement transmission.
Watch the Remanufacturing Process
How it Works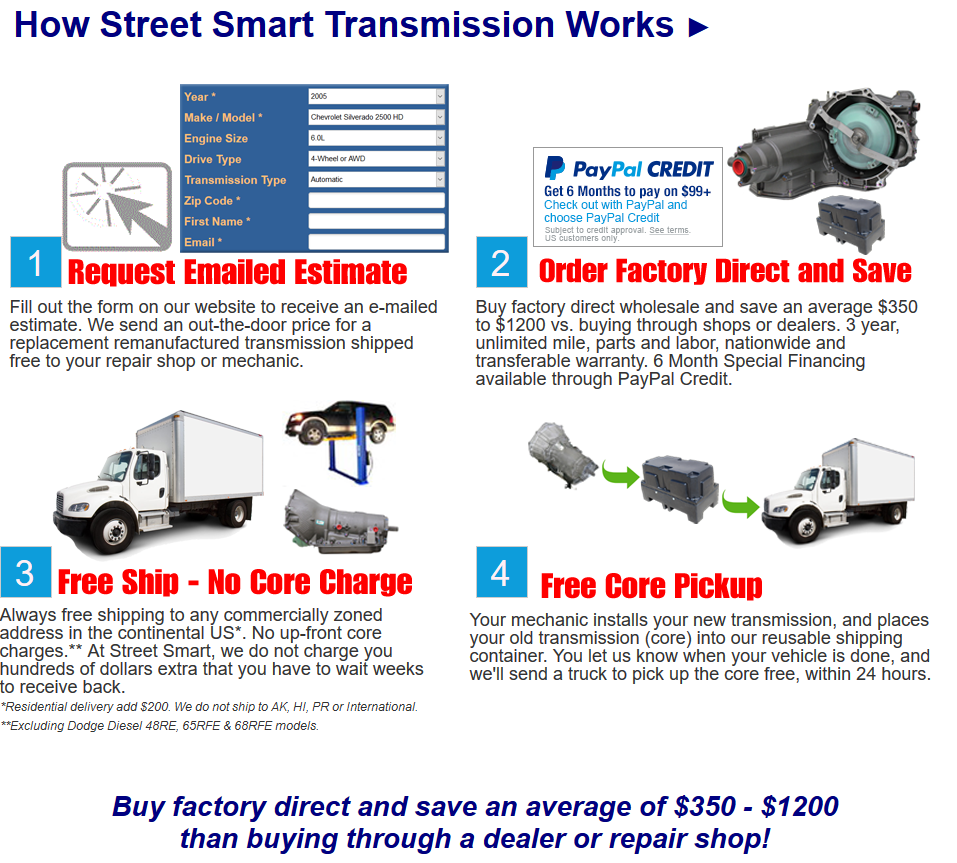 Finding a Shop to Install the Remanufactured Transmission
If your transmission has failed, you're going to need a skilled mechanic to replace it. You can find a shop using our shop locator map.
For warranty purposes, you need to find a reliable repair shop. That way, if the replacement transmission doesn't work properly, the warranty will cover it.
Ready to Replace Your 5R55S / 5R55E / 5R55W Transmission?
Click Get a Free Estimate for an unbeatable price on a replacement remanufactured transmission.