The Ford 5R55S, 5R55N and 5R55W transmission was used in both 2 and 4-wheel drive Explorers, and the 6R60 in V8 models. But they aren't without their problems though, so let's look at some of the most common Ford Explorer transmission problems, look at cost estimates and figure out what you can do about them.

Need a replacement transmission? Get an estimate for replacement transmissions and local installation. Look up your transmission model by vehicle make and model.
What Transmission Do I Have?
Ford Explorer Transmission Replacement Cost Estimate
Replacement Ford Explorer Transmission Prices:

Solenoid Failure
One of the most common Ford Explorer transmission problems is a failed solenoid. These little plunger like devices are used by the computer to route pressurized transmission fluid and change gears. To activate one of the solenoids, the computer sends an electrical charge though a coil of wire that wraps around the plunger mechanism. Heat and vibration can cause these wires to short out, which will lead to all sorts of transmission problems.
If you want to check the functionality of your solenoids, simply hook an ohmmeter to the two wires coming off of the solenoid. The reading should be somewhere between 20-30 ohms. If you  get a reading above or below that number, it's a safe bet that solenoid won't function properly.
Explorer Technical Service Bulletins (TSB)
2013 TSB 365099 / 13-5-31
Problem:
According to the Technical Service Bulletin: "Some 2013 Explorer vehicles equipped with 3.5L GTDI (twin-turbo EcoBoost 3.5L) engines may exhibit long crank-to-start times and delayed/harsh downshift when commanded in the middle of a 4-5 or 3-5 upshift and delayed upshifts from 3rd, 4th or 5th gear when transmission fluid temperature is below 21 degrees Celsius (70 degrees Fahrenheit)."
Solution:
To fix the problem, a Ford dealer will need to update the Powertrain Control Module (PCM) software.
2013 TSB 365977 / ASI-32216
Problem:
Certain 2013 Explorers with the 6R35 transmission may experience a fluid leak from the left hand half shaft seal. This is likely due to premature bushing or seal wear, caused by the half shaft surface finish.
Solution:
Fixing the problem will require the installation of an updated case bushing, seal and half shaft.
2002 TSB 190029 / 04-24-17
Problem:
Certain 5-speed auto equipped 2002 models built before 03-04-2002, may experience slipping on the 2-3 shift, or a loss of 3rd gear altogether. This problem is most likely due to a broken intermediate band, which could trigger diagnostic trouble codes: P0733 and P0745
Solution:
To properly fix this problem, you'll need to replace both the intermediate and OD bands, along with the pistons. The direct clutch drum should also be inspected for damage.
2002 TSB 88202 / 01-10-7
Problem:
2002 models of the Ford Explorer that were built between 11-13-2000 – 03-08-2001, might experience a problem where the Transmission Control Indicator Lamp (TCIL) flashes with different DTC / diagnostic trouble codes, like P0713, during the self test. This is likely caused by water seeping into the transmission solenoid body connector.
Solution:
If this happens, the transmission wiring harness will need to be replaced with updated part # 1L2Z-7C078-AB.
Can I drive with a Ford Explorer transmission problem?
If your Ford Explorer can still make it up and down the road, you might say "It's fine, I'll just drive it until I can get it fixed". But that is not always a good idea, depending on the symptoms. You see, there are a lot of (very expensive) moving parts inside of a transmission, and if something isn't right, continuing to drive with a transmission problem could damage something else.
How often does a Ford Explorer transmission need to be replaced?
The overall lifespan of a Ford Explorer transmission largely depends on how well it was maintained. Factory design flaws also factor into this equation, along with how/how hard you drive. But on average, we've seen the Ford Explorer transmission last for between 80,000-180,000 miles. A high quality replacement transmission however, can last considerably longer if all of the factory design flaws have been addressed and the vehicle has been maintained.
How are Ford Explorer transmission issues diagnosed?
It is fairly easy to guesstimate what the root cause of your Ford Explorer transmission problems might be, but you won't truly know unless you have the right tools and experience. A good mechanic or transmission repair center will be able to connect your truck to a computer and find out which diagnostic trouble codes (DTC's) have been stored. Once they know what to look for, they can perform a visual inspection to verify the problem.
How is a Ford Explorer transmission replaced?
In order to replace your Ford Explorer transmission, the truck has to be lifted from the ground in order to gain access to all of the parts that will need to be unbolted. Then the transmission can be lowered to the ground (typically with a transmission jack), so the new transmission can be installed.
Recommendations for Ford Explorer transmission issues?
To save time and get back on the road faster, have your 17-digit VIN# handy and you can get an online quote for a reman Ford Explorer transmission here, then find a local shop using our Find a Shop guide to install it for you.
How to Solve Ford Explorer Transmission Problems
Solution A: Buy a Used Ford Explorer Transmission
The quickest way to fix your transmission problems is to simply buy a used transmission or used transmission. These can be found at most junk yards, and they often come with a 30-90 day warranty. However, there's no way to determine the actual condition of the internal components, so you could be spending a bunch of money to have the exact same problems. Plus, that warranty only covers the transmission if it's defective, not the labor costs that you'll have to pay.
Solution B: Buy a Rebuilt Ford Explorer Transmission
Another option would be a rebuilt transmission or rebuilt transmission. A local repair shop will remove your transmission, then install a bunch of new parts during the rebuild. The problem here is, the skills and experience of each transmission rebuilder will vary widely from shop to shop, so you could have problems from something that wasn't adjusted properly. And the 1-2 year warranty might only cover you at certain transmission repair shops, in a specific geographical area.
Solution C: Buy a Remanufactured Ford Explorer Transmission
Many owners depend on their vehicle to commute and get things done. Their gasoline engines are designed to go 100's of thousands of miles, so it makes sense to invest in a remanufactured transmission.
Fair Replacement Transmission Cost by Vehicle
Find your transmission model in the table below for fair prices from reputable suppliers. Also fair labor cost for local installation at a local auto repair shop.


Fair Remanufactured Transmission Price Ranges by Transmission Model Updated for 2019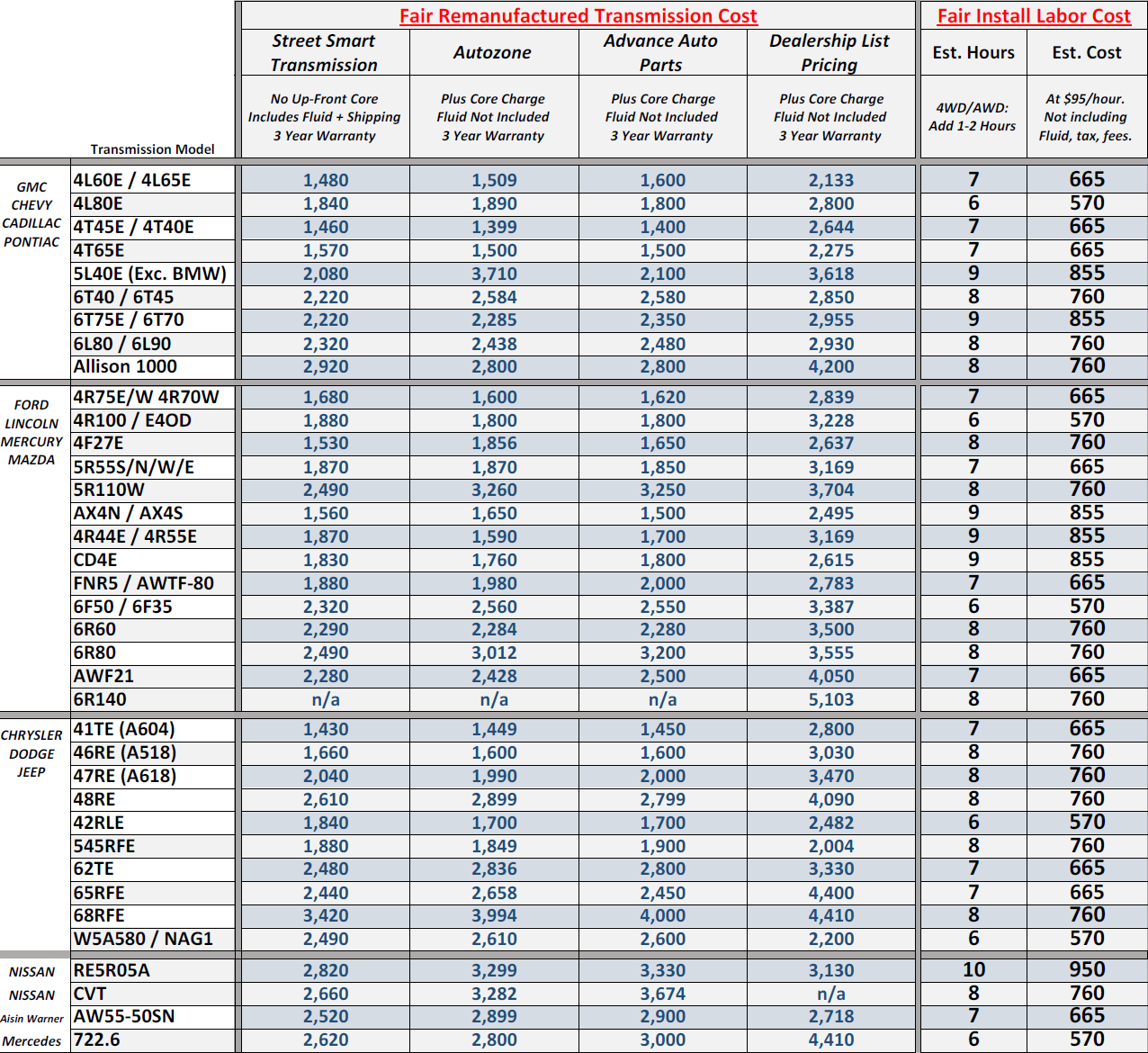 Download Replacement Transmission Cost Guide PDF
How to Diagnose & Fix
Check the OBD Codes
Check the fluid level
Test transmission pressure
Drop the transmission pan
Repair, replace or rebuild
What to Read Next
Related Forum Discussions
What Problem Does Your Explorer Have?
Let us know the year, mileage and problem you're having as well as any trouble (OBD) codes you've found. If you've been given a quote or paid for a repair, we'd like to hear about that too!