Designed to replace the legendary Chevy S-10, the Chevrolet Colorado is a small truck that's engineered to handle big jobs. From 4-8 cylinders and 2-4 doors, to 2WD-4WD and luxury to work trim, this little Chevy truck can be tailored for most situations. And they're pretty reliable too. However Chevy Colorado transmission problems do still happen. So let's find out what you can do about them.
Need a replacement transmission? Get an estimate for replacement transmissions and local installation. Look up your transmission model by vehicle make and model.
What Transmission Do I Have?
Chevy Colorado Transmission Models
Chevy Colorado: 4L60E Transmission
Chevy Colorado: 6L50 Transmission
Chevy Colorado: 8L45 Transmission
Chevy Colorado Transmission Replacement Cost Estimate
Pricing varies by model. To be 100% sure on pricing, have your VIN# handy and use our Get An Estimate feature to look up your transmission by VIN#.
Replacement 4L60E Transmission:

| Transmission | Street Smart Transmission | Autozone | Advance Auto Parts |
| --- | --- | --- | --- |
| 4L60E / 4L65E | 1480 | 1539 | 1748 |
What are the DTC codes related to Chevy Colorado transmission problems?
P0717 – Input/Turbine Speed Sensor Circuit No Signal – If the ECU can't communicate with the input speed sensor, this DTC gets stored.
P0894 – Transmission component slipping – This OBDII trouble one of the gear ratios is not consistent with what the ECU is asking for.
P0756 – Shift Solenoid 'B' Performance or Stuck Off – If the ECU saved this code, then a solenoid isn't working right, or it's stuck off.
P0741 – Torque Converter Clutch Circuit Performance or Stuck Off – This diagnostic trouble code means the TCC solenoid is not performing according to specification.
P0961 – Pressure control solenoid 'A' control circuit range/performance – This code means there is a low voltage condition on a line pressure control solenoid.
P2769 – Torque convertor clutch circuit low – This diagnostic trouble code means the ECU is having a problem with the electrical circuit that controls the TCC solenoid.
Chevy Colorado Transmission Recalls
2011 Chevrolet Colorado Recall 11V337000
Summary – According to the recall, the Chevrolet Colorado transmission shift lever may become detached from the transmission shift cable adjuster. If this happens, the transmission shifter won't work properly, and the gear indicator won't be able to display the gear that's actually selected.
Consequence – Should the shifter become detached while the truck is being driven, the driver won't be able to select Park, even though the shifter is in the correct position. This can lead to an unintended rollaway, resulting in serious property damage and/or injury.
Remedy – This recall began on July 1, 2011, and Chevrolet dealers were instructed to inspect and replace any affected transmission shift cable adjusters, free of charge. Owners can contact Chevrolet at 1-800-630-2438 Or they can call the National Highway Traffic Safety Administration Vehicle Safety Hotline at 1-888-327-4236
Chevy Colorado Technical Service Bulletins (TSB)
TSB PIP4051C – Harsh Shifting
Problem – Unusually harsh gear changes, combined with a P0717 DTC for an input shaft speed sensor error, are often caused by damage to the ISS sensor wiring.
Solution – If wire damage is found (usually to the white wire), the wiring and sensor will have to be replaced. The pump cover should also be examined for sharp points/edges that could damage the wiring. If any are found, they should be smoothed with a file.
Intermittent harsh shifting – Chevrolet Colorado 4L60E
Problem – A common xx model transmission problem is an intermittent hard 1-2 shift, often accompanied by engine bogging. This condition can be caused by the torque convertor clutch applying during the shift.
Solution – To remedy the problem, the wiring harness needs to be inspected from the transmission case connector to the rear of the engine on the driver side. It's possible that the wires for the TCC solenoid and pressure control solenoid have become frayed on a body seam. If this is the case, the wiring will need to be repaired, and the harness repositioned.
PIP5071 – Squawking noise on the 2-3 shift
Problem – An unusual squawking or groaning noise may be heard on the upshift from 2nd to 3rd gear.
Solution – The 3-4 friction and steel plates, clutch plate, apply plate, and selective backing plates will have to be replaced.
Common Problems with the Chevy Colorado Transmission
Lack of Response
Leaking Fluid
Low Fluid
Burning Smell
Grinding or Shaking
Whining, Clunking or Humming
Refuses to Go Into Gear
Torque Converter Issues
Valve Body Issues
Transmission Noisy in Neutral
Gears Slipping
No 3rd or 4th Gear
No 1st or 2nd Gear
No Reverse
Dragging Clutch
Trouble Codes / Check Engine Light
Can I drive with a transmission problem?
Obviously, Chevy Colorado transmission problems will vary in their severity. However, continuing to drive while your 4L60E transmission is not functioning properly, can easily cause a small problem to become much worse. This of course will increase the amount of money you'll have to pay to fix it. So do your wallet a favor and have your transmission problems diagnosed as soon as they happen.
How often does a Chevy Colorado transmission need to be replaced?
On average, we've seen the Chevrolet Colorado 4L60E transmission last anywhere from 130,000-180,000 miles. The 6L50 and 8L45 generally last about the same mileage. Maintenance and driving style have a lot to do with the life-cycle of a transmission. But factory design flaws have a lot to do with it too, as they can turn into premature failures which can obviously reduce that mileage total.
How are Chevy Colorado transmission issues diagnosed?
Compared to modern 5-6 speed automatic transmissions, the 4L60E transmission is fairly simple. However, to accurately diagnose Chevy Colorado transmission problems, an OBDII scan tool will still be needed to pull the diagnostic trouble codes from the computer. The 6L50 and 8L45 are considerably more complex, however the diagnostic procedure is the same. Once they have some guidance on where to look, a technician can then perform a visual inspection to verify the problem.
How is a Chevy Colorado transmission replaced?
Because it's a rear wheel drive/4WD truck, the Chevy Colorado 4L60E transmission, 6L50 and 8L45 can be replaced once it's been disconnected from the engine, frame and driveshaft(s). Installation happens in the reverse order.
Recommendations for Chevy Colorado transmission issues?
To save time and get back on the road faster, have your 17-digit truck VIN# handy and you can get an online quote for a reman Chevy Colorado transmission here, then find a local shop using our Find a Shop guide to install it for you.
How to Solve Chevy Colorado Transmission Problems
Solution A: Buy a Used Chevy Colorado Transmission
In order to quickly solve all of your Chevy Colorado transmission problems, you might be tempted to simply buy a used 4L60E / used 6L50 / used 8L45 transmission from the local salvage yard. There are cheap, plentiful, and most come with a 30-90 day warranty. However, you have no way of knowing the condition of the internal components. So it could very easily have the same problems that you're trying to fix now. Plus, that junkyard warranty usually doesn't cover labor charges.
Solution B: Buy a Rebuilt Chevy Colorado Transmission
The next best idea would be to get a rebuilt 4L60E / rebuilt 6L50 / rebuilt 8L45 transmission from your mechanic or a transmission repair shop. In this scenario, a mechanic will install a bunch of new Chevy Colorado transmission parts, essentially returning the gearbox to its stock form. And while this may sound like a good idea, it also means that none of the factory design flaws will be dealt with. Plus, that rebuilt transmission warranty may only be honored by the shop that built it.
Solution C: Buy a Remanufactured Chevy Colorado Transmission
In order to get a lasting solution to all of your Chevy Colorado transmission problems, you need to consider a remanufactured 4L60E / remanufactured 6L50 / remanufactured 8L45 transmission. These cost a little bit more than a rebuilt transmission, however every single component will either meet or exceed OE specifications. They're also usually modified to correct the factory design flaws and extend the service life. Plus, some of them will come with a nationwide warranty, which means you will be able to have transmission repairs performed anywhere in the country.
Fair Replacement Transmission Cost by Vehicle
Find your transmission model in the table below for fair prices from reputable suppliers. Also fair labor cost for local installation at a local auto repair shop.


Fair Remanufactured Transmission Price Ranges by Transmission Model Updated for 2019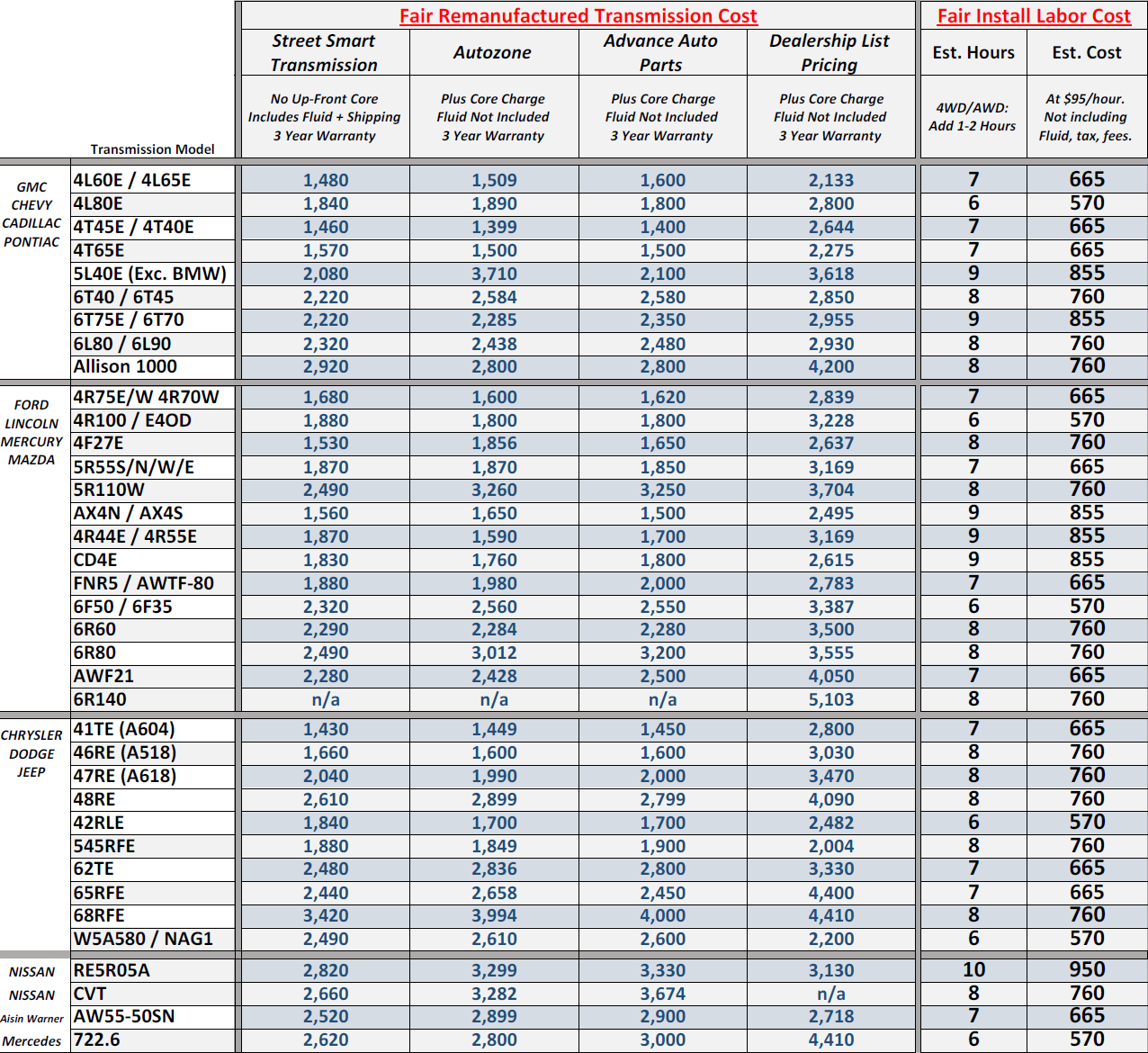 Download Replacement Transmission Cost Guide PDF
What Problem Does Your Chevy Colorado Have?
Let us know the year, mileage and problem you're having as well as any trouble (OBD) codes you've found. If you've been given a quote or paid for a repair, we'd like to hear about that too!