In This Guide
C6 Vehicle Compatibility – Makes & Models
1978–1991 Ford Bronco
1967–1996 Ford F-Series
1964–1970 Ford Fairlane
1966-1974 Ford Galaxie
1966–1980 Ford LTD
1977–1979 Ford LTD II
1966–1979 Ford Ranchero
1966–1979 Ford Thunderbird
1968–1976 Ford Torino
1966–1979 Lincolns
1966–1969 Mercury Comet
1967–1973 Ford Mustang
1967–1978 Mercury Cougar
1966–1972 Mercury Meteor
1968–1976 Mercury Montego
1968–1974 Mercury Monterey
1977 Mustang Cobra 2
C6 Transmission Overview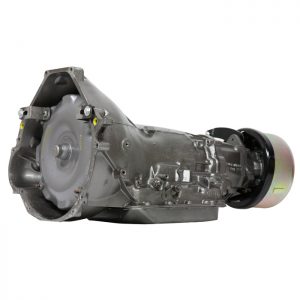 Produced from 1966–1996, the Ford C6 transmission is a heavy duty 3-speed automatic gearbox that saw use in some of the Blue Oval's most popular models. It was called the "SelectShift Cruise-O-Matic" in the early days, and because of its ability to handle more torque than the C4 transmission, it was commonly used behind the big engines in full-size sedans and pickup trucks.
This was a completely mechanical automatic, so it didn't have a lockup torque convertor or overdrive gears. The Ford C6 was also the first automatic transmission to be completely designed and built by Ford Motor Company. And it would eventually serve as the basis for Ford's first electronically controlled heavy duty transmission, the E4OD.
The predecessor to the C6 was known as the Ford MX transmission (it was designed by Borg-Warner), and it was quite heavy (it actually had a cast-iron case) and complex. To address these issues without making their new transmission any larger, many components inside of the Ford C6 were made from powdered metal, and the transmission case was made from aluminum.
The new transmission used a much simpler 3-speed Simpson compound planetary gear set, and the C6 was the first autobox to use the Borg-Warner flexible shift band. Low and reverse gears used clutch disc plates, and there were also advanced (for the time) composite plates and valving. All of this gave the Ford C6 a maximum torque capacity of 475 lb-ft. Making it the perfect transmission for Ford to pair with their 351W, 351C, 428, 429, 460, and 462 gasoline V8's. Along with the 7.3L diesel.
Bell Housing Patterns
Windsor / Small Block Pattern – 5-1/8" between top two bolt holes
Fits:
221ci / 3.6L V8
255ci / 4.2L V8
260ci / 4.3L V8
289ci / 4.7L V8
300ci / 4.9L I6
302ci / 4.9L (5.0) V8
335ci / 5.5L V8
351W ci / 5.8L V8 – 351 Windsor
351C ci / 5.8L V8 – 351 Cleveland
Cleveland / Big Block Pattern – 7-3/4" between top two bolt holes
Fits:
351M ci / 5.8L V8 – 351 "Big Block" or "Tall Deck"
400 ci / 6.6L V8
Ford 385 Engines –
370 ci / 6.1L V8
429 ci / 7.0L V8
460 ci / 7.5L V8
514 ci / 8.4L V8 (Ford SVO)
FE Pattern – 6" between top two bolt holes
Fits:
Ford FE Engines –
332 ci / 5.4L V8
352 ci / 5.8L V8
360 ci / 5.9L V8
361 ci / 5.9L V8
390 ci / 6.4L V8
396 ci / 6.5L V8
406 ci / 6.7L V8
410 ci / 6.7L V8
427 ci / 7.0L V8
428 ci / 7.0L V8
Diesel Pattern – Similar to the FE pattern, but not interchangeable
Fits:
420 ci / 6.9L Diesel V8
444 ci / 7.3L Diesel V8
Lincoln MEL Pattern – Similar to the FE pattern, but not interchangeable
Fits:
462 ci V8 – 1966-1968 Lincoln Continental
460 ci V8 – 1968-1970 Lincoln Continental
Due to its heavy duty design, the Ford C6 was used in a number of applications, including everything from the Ford Mustang Boss 302 & Ford LTD, to the Ford F-150 4×4 & Ford F-350 Diesel.
As a result, there were a number of variations to the case design, the pan, and the tail shaft. If you are planning to install a C6 transmission into a project vehicle, you need to make sure that it will fit your application, and that you're using the correct torque converter.
This transmission is very popular for off-roading and drag racing, but it's mechanical 3-speed design requires a lot of horsepower to operate. Which may reduce the fuel economy in road cars.
Materials, Size & Weight
In order to reduce weight, the Ford C6 transmission features a one-piece case design (the case and bellhousing are integrated), made from cast aluminum alloy. Over 10 lbs of powdered metal were used to make many of the internal components, which cut even more weight when compared to the cast iron Ford FMX transmission.
Thanks to these cutting-edge materials (for the 1960's), the dry weight of a C6 transmission is 140 lbs, plus 30 lbs for the torque convertor. It requires 7-quarts of Type FA transmission fluid with the stock pan, plus an additional 2–4 quarts for the torque converter. The case length is 22-3/8", but the overall length depends on which tailshaft housing is used – Ford cars: 14-in – Ford trucks: 7-in – Lincoln: 17.4-in.
Common Problems
No forward or reverse gear engagement
One of the most common C6 transmission problems is the complete lack of forward and/or reverse gears. The cause could be as simple as a low transmission fluid level, or a clogged transmission filter. But it could also be a stuck valve inside the valve body, a faulty torque converter, or the shift linkage may have become detached or broken.
Failed 1-2 upshift
If your C6 won't upshift from first to second gear, then there could be a number of problems. It could be a bad governor, shift valve, servo, or one-way clutch. Many of these problems are related to age and mileage. However, shift kits and other upgrades will significantly increase the service life of your transmission.
Slipping in, out of, and/or between gears
Probably the most common C6 transmission problems are slipping between the gears, out of gear, and the hesitation to go into gear. The first thing you should check is the fluid level. If there is too much or too little transmission fluid, this problem can occur. It could also be a blocked transmission filter, a transmission pump problem, a bad vacuum modulator, a faulty torque converter, or an improperly adjusted transmission clutch / transmission band.
Ford C6 Shift Kits
If you need more performance from your C6 than the stock setup will provide, then you should consider a Ford C6 transmission kit. These are modification packages for the valve body, and are typically available in towing, performance, or racing specification.
Each one contains parts that will change the line pressure, so the transmission will have more holding power for the bands and clutches. Thus preventing slippage during extreme use conditions. Race-specific input / output shafts and hardened planetary gear sets are so available.