In This Guide
Need a replacement transmission? Quality transmission suppliers can be hard to find. Have your 17-digit vehicle VIN# ready. Free estimates sent via text and email.
OE T-56 6-speed Manual Transmission Vehicle Compatibility – Makes & Models
1992-2007 Dodge Viper
1993-2002 Chevrolet Camaro / Pontiac Firebird
1997-2007 Chevrolet Corvette
1999-2003 Aston Martin DB7 Vantage
2000 Ford Mustang Cobra R
2001-2004 Chevrolet Corvette ZO6
2001-2006 Aston Martin Vanquish
2003-2004 Ford Mustang Cobra
2004-2006 Dodge Ram SRT10
2004-2007 Cadillac CTS-V
2004-2006 Pontiac GTO
2005-2006 Chevrolet SSR
2005-2007 Chevrolet Corvette Z51
T56 Overview
Back in 1992, Borg-Warner was asked to develop a heavy duty 6-speed manual transmission that could handle the immense torque of a V10 engine that would be installed in forthcoming supercar called the Dodge Viper.
This gearbox was known as the T-56, and General Motors was so impressed by its performance, they made the T-56 transmission a no-cost option on the redesigned 1993 Chevrolet Camaro Z/28 and Pontiac Trans Am.
This transmission was later used in a number of other high performance applications, including the Ford Mustang Cobra and Cadillac CTS-V. Although there were a number of differences to the case design, the internal components are basically the same.
Nearly every application of the T-56 uses a hydraulic clutch, however the Mustang Cobra uses a mechanical clutch with an 11-inch clutch disc. The case and bellhousing were made from aluminum, and the transmission features internal stops rather than stop bolts inside the shifter mechanism. And all of the synchros are made from brass in Ford and GM applications. However, the Dodge Viper T-56 transmission used stainless steel synchros.
Tremec took over production of the T-56 in 1998, and they eventually introduced a more robust version called the Tremec TR-6060, which was used in vehicles that produced more than the T-56's 450 lb-ft torque capacity.
Drawbacks
Unless your vehicle was originally designed for a T56 transmission, making it fit and installing the necessary hydraulic clutch could require some creative fabrication. However, one of the biggest issues that many people don't think of, is this gearbox's Bonneville gear overdrive ratios.
On paper, installing a T56 transmission could drop the motor down 600-800 rpm's when you're cruising down the road. That could result in less engine wear and lower fuel consumption.
But cruising along at 1500 RPMs with a high performance engine, can require a lot of horsepower (i.e. Speed) to overcome the steep ratio of 5th & 6th gears. If you're running a motor with a maximum of 450 lb-ft of torque, then the 0.74 and 0.50:1 ratios should be fine. Otherwise, you may have to modify your driving behavior.
Conclusion
The T-56 transmission was one of the first 6-speed manual transmissions on the market, and some would argue that it was one of the best. It can easily handle the abuse of performance driving, thanks to OE features like constant-mesh synchronized gears, tapered roller bearings, speed gear needle bearings, and two overdrive gears. Plus, it's still a joy to use when you're just puttering around town.
Fair Replacement Transmission Cost by Vehicle
Use the Year / Make / Model lookup tool to determine what transmission your vehicle has.



Find your transmission model in the table below for fair prices from reputable suppliers. Also fair labor cost for local installation at a local auto repair shop.


Get a free estimate on a remanufactured transmission by email.
Fair Remanufactured Transmission Price Ranges by Transmission Model Updated May 1, 2018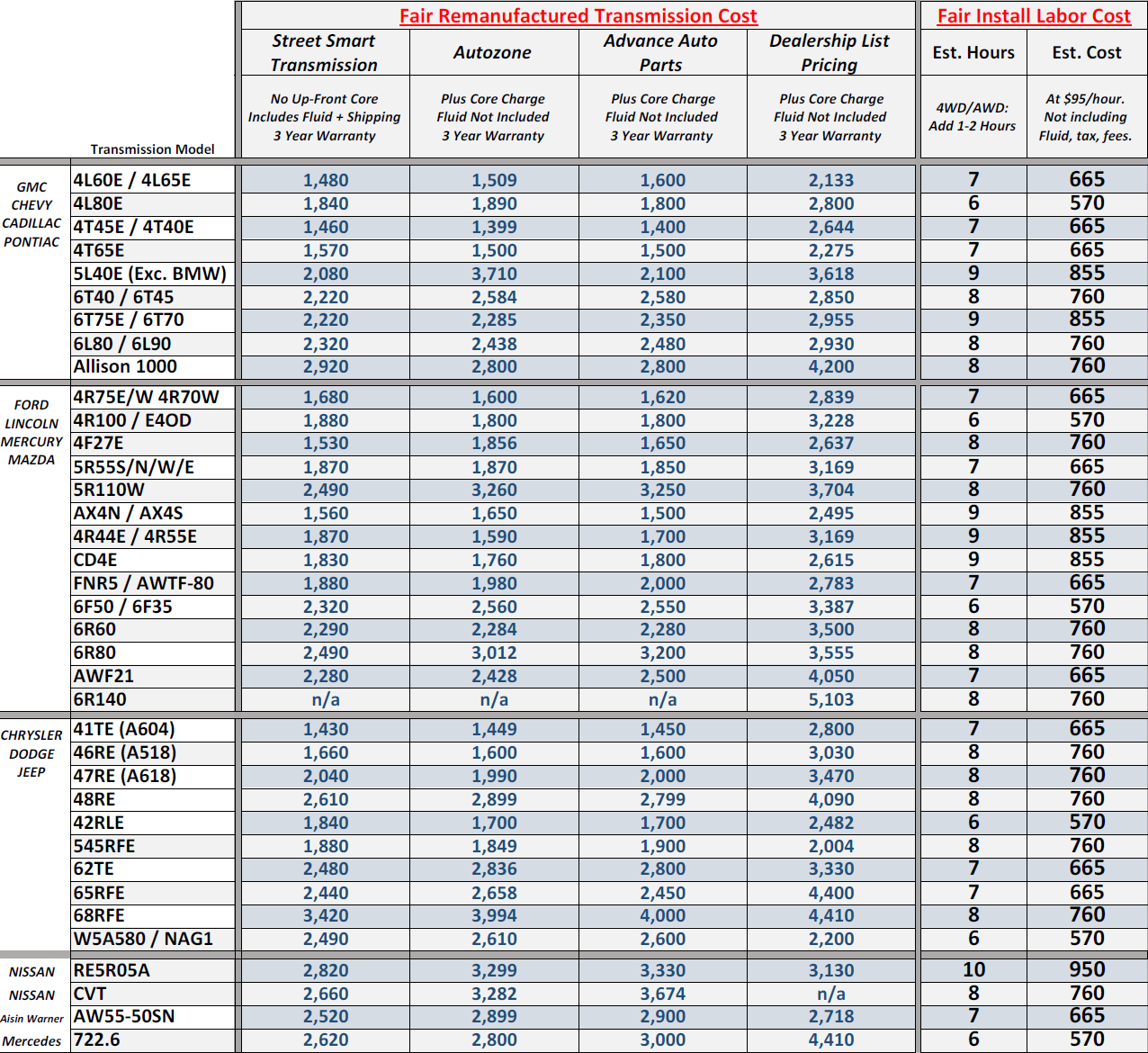 Download Replacement Transmission Cost Guide PDF