In other parts of the world, the Volkswagen Jetta is regarded as simply another compact sedan. But in the United States, this suave little VW has an upscale image. Mainly because of it's Germanic refinement, eager engines, and balanced handling. Since its introduction in 1980, over 14 million Jetta's have been sold around the world. The VW Jetta is the marque's best-selling model, but it has had some drivetrain-related recalls and service bulletins.
Need a replacement transmission? Quality transmission suppliers can be hard to find. Have your 17-digit vehicle VIN# ready. Free estimates sent via text and email.
Does something seem wrong with your Jetta? Let's look at some of the most common VW Jetta transmission problems, and see what you can do to get your car back on the road.
Common Issues/Codes Summary
Recalls
2014 Volkswagen Jetta – 14V182000 / 38B9/9V
Summary
Volkswagen is recalling certain 2014 VW Jetta models equipped with the 1.8T engine and torque converter automatic transmission. In the affected vehicles, the O-ring seals between the oil cooler and the transmission may leak fluid.
Consequence
The leaking transmission fluid could come in contact with a hot surface, resulting in a vehicle fire.
Remedy
Volkswagen dealers will replace the O-ring seals in the transmission oil cooler, free of charge. Owners can contact Volkswagen at 1-800-822-8987. Refer to Volkswagen's recall number 38B9/9V
2013-2014 Jetta Hybrid – 13V568000 / 34F6/4V
Summary:
Volkswagen recalled 2013-2014 VW Jetta Hybrid models that were manufactured October 2012 through October 2013, and were equipped with a DQ-200 direct-shift gearbox. It seems that fluid additives used in the transmission may cause internal components to corrode. The deposits from this corrosion could then cause an electrical short, resulting in a stall-like condition.
Consequence:
If stalling occurs, the sudden loss of power while driving can significantly increase the risk of a crash.
Remedy:
Volkswagen dealers have been instructed to replace the gearbox oil with a non-corrosive version, free of charge. This recall began on December 6, 2013. Owners may contact Volkswagen at 1-800-893-5298. Refer to Volkswagen's recall number: 34F6/4V
2009-2010 Jetta – 09V333000 / 37E3/S7
Summary
Volkswagen recalled 2009-2010 VW Jetta & 2009-2010 VW Jetta TDI models that were equipped with the DSG transmission. It seems that the wiring harness of a temperature sensor may have connector wires that were inadequately crimped. This could cause the sensor to falsely read a high transmission temperature, which can cause the gearbox to suddenly shift into neutral. The transmission position indicator on the dash will begin to flash, and the "Depress Brake Pedal" light will illuminate.
Consequence
The sudden shift into neutral can increase the risk of a crash.
Remedy
This VW recall was issued on October 20, 2009. To fix the issue, Volkswagen dealers were instructed to reprogram the transmission control module (TCM). Owners can contact Volkswagen at 1-800-822-8987, referring to recall number: 37E3/S7
Volkswagen Jetta Technical Service Bulletins (TSB)
2009-2012 Jetta  – TSB 30-14-01
Problem:
This Technical Bulletin is for fault code P2711 ONLY, if any other faults appear with this code, perform normal diagnostic procedures. If this is the single fault code, the condition may lead to shifting concerns and/or a lack of mobility upon initial startup. For example, the selector is moved to Drive or Reverse and the transmission does not engage the selected gear. This problem is caused by debris in the clutch assembly causing too much drag torque from the multiple clutch.
Solution:
New Jetta's made after March 12, 2010 received a revised clutch. If the Transmission Control Module has fault code P2711 (only) and the vehicle has more than 19,000 miles, replace the multiple clutch and cover. If more than the P2711 error code is stored in the Transmission Control Module, or the vehicle has less than 19,000 miles, the faults need to be diagnosed using normal GFF processes.
2009-2012 Volkswagen Jetta  – TSB 30-14-01
Problem:
Transmission noise while driving, possibly coming from the differential area. It may sound like a whistle or whine, and be more distinguishable at 55 mph to 65 mph in the upper gear range. Technical background noise may appear to be coming from the transmission counter gear, when in actuality; the shifter cable may transmit noise (high frequency) into the passenger compartment.
Solution:
Install updated shifter cable bracket components to reduce shifter cable noise.
Fair Replacement Transmission Cost by Vehicle
Find your transmission model in the table below for fair prices from reputable suppliers. Also fair labor cost for local installation at a local auto repair shop.


Get a free estimate on a remanufactured transmission by email.
Fair Remanufactured Transmission Price Ranges by Transmission Model Updated July 2018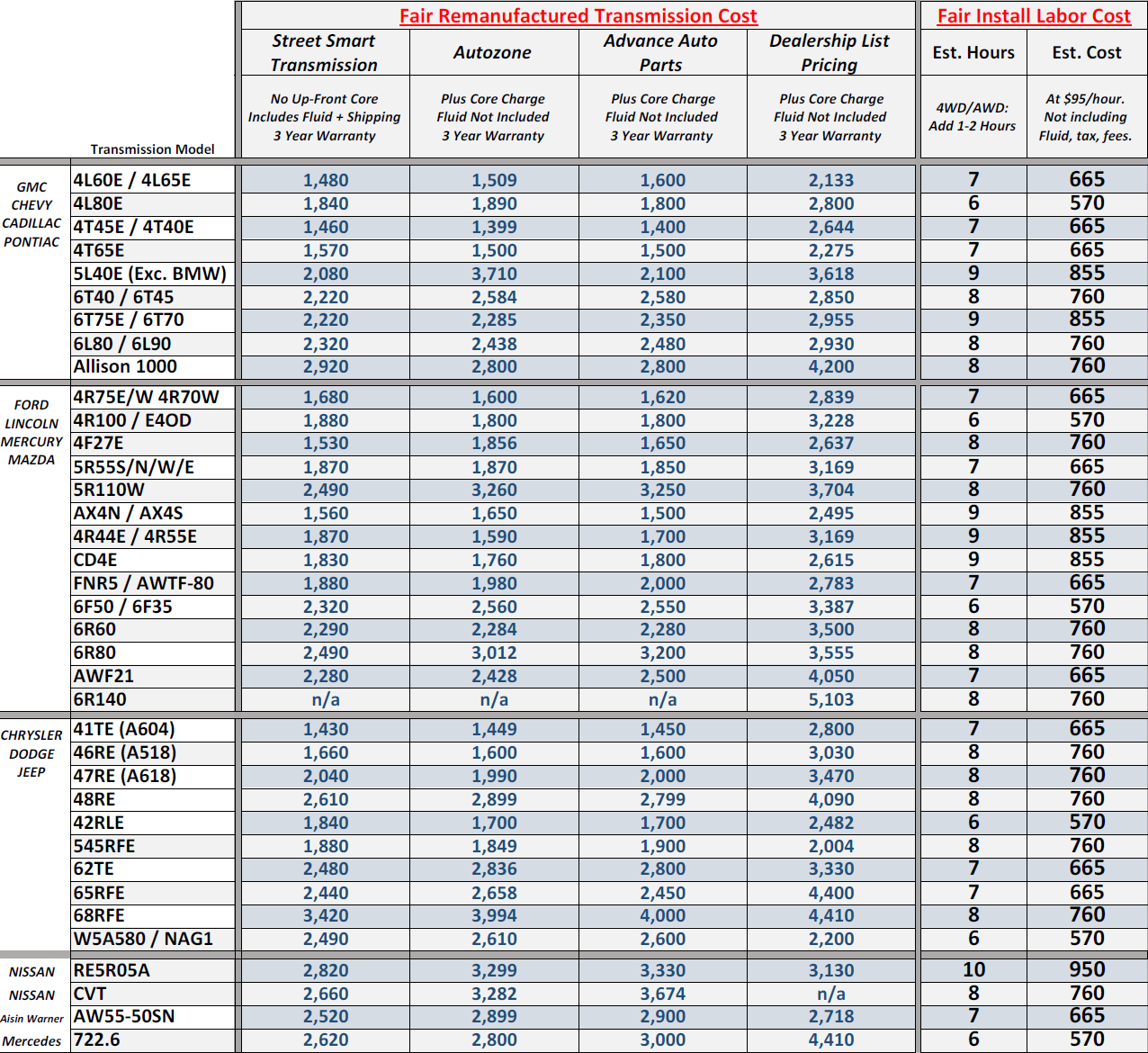 Download Replacement Transmission Cost Guide PDF
How to Diagnose & Fix
Check the OBD Codes
Check the fluid level
Test transmission pressure
Drop the transmission pan
Repair, replace or rebuild
What to Read Next
Over to You
[yop_poll id="22″] [yop_poll id="23″]
What Problem Does Your Jetta Have?
Let us know the year, mileage and problem you're having as well as any trouble (OBD) codes you've found. If you've been given a quote or paid for a repair, we'd like to hear about that too!