Although the Camaro and Corvette are two of Chevrolet's most iconic models, it's high volume compact crossovers like the Chevy Equinox that actually pay the bills. It's not designed to break any new ground, but an Equinox will provide you and your family with very convenient way to traverse the planet. And while they tend to be very reliable, Chevy Equinox transmission problems do still happen. So let's find out what you can do about them.
Need a replacement transmission? Get an estimate for replacement transmissions and local installation. Look up your transmission model by vehicle make and model.
What Transmission Do I Have?
Chevy Equinox Transmission Models
Chevy Equinox: 6T70 Transmission
Chevy Equinox: 6T45 Transmission
Chevy Equinox: 6T40 Transmission
Chevy Equinox: 9T50 Transmission
Chevy Equinox: AW55-50SN Transmission
Chevy Equinox Transmission Replacement Cost Estimate
Pricing varies by model. To be 100% sure on pricing, have your VIN# handy and use our Get An Estimate feature to look up your transmission by VIN#.
Replacement 6T70 Transmission:

| Transmission | Street Smart Transmission | Autozone | Advance Auto Parts |
| --- | --- | --- | --- |
| 6T75E / 6T70 | 2220 | 2400 | 2400 |
Replacement 6T40 Transmission:

| Transmission | Street Smart Transmission | Autozone | Advance Auto Parts |
| --- | --- | --- | --- |
| 6T40 / 6T45 | 2220 | 2580 | 2580 |
Replacement AW55-50SN Transmission:

| Transmission | Street Smart Transmission | Autozone | Advance Auto Parts |
| --- | --- | --- | --- |
| AW55-50SN | Call | 2900 | 2900 |
What are the DTC codes related to Chevy Equinox transmission problems?
P0711 – Transmission Fluid Temperature Sensor Circuit Range/Performance – This means there is a problem with the transmission fluid temperature sensor.
P0716 – Input/Turbine Speed Sensor Circuit Range/Performance – This DTC means there is a problem with the input / turbine speed sensor, and the ECU may not be able to control the transmission properly.
P0722 – Output Speed Sensor Circuit No Signal – This DTC is triggered when the ECU stops receiving data from the OSS sensor.
P0723 – Output Speed Sensor Circuit Intermittent – This OBDII code means the ECU is not receiving a steady signal from the output speed sensor.
P0751 – Shift Solenoid 'A' Performance or Stuck Off – When you see this DTC, it means the 'A' shift solenoid is not working right, or is stuck in the 'off' position.
P0756 – Shift Solenoid 'B' Performance or Stuck Off – If the ECU saved this code, then a solenoid isn't working right, or it's stuck off.
P0776 – Pressure Control Solenoid 'B' Performance or Stuck Off – This diagnostic trouble code means there is a mechanical problem with this solenoid.
P0796 – Pressure Control Solenoid 'C' Performance or Stuck Off – If the pressure control solenoid labeled 'C' isn't working correctly, or it gets stuck in the 'On' position, this DTC will be saved.
P0742 – Torque Converter Clutch Circuit Stuck On – If your vehicle has this DTC, then the torque convertor clutch solenoid is most likely stuck in the 'on' position.
Chevy Equinox Transmission Recalls
None Found
Chevy Equinox Technical Service Bulletins (TSB)
Input/Output Speed Sensor Issues – Chevrolet Equinox 6T70
Problem – When repairing a failed input speed sensor or output speed sensor, steering system damage could occur.
Solution – To avoid damage to the clock springs, the splined steering knuckle must be prevented from falling out of the steering rack when dropping the subframe to access the valve body.
Axle seal leak – Chevrolet Equinox 6T40E
Problem – A transmission fluid leak on the driver side, is often traced back to the driver side axle seal.
Solution – This issue stems from a failure prone drivers side axle bushing, which often fails to poor material quality and lubrication. An upgraded bearing will have to be installed.
PI0376A – Flare or slipping on the shift from 2nd or 6th gear – Chevrolet Equinox 6T40
Problem – When this common Equinox transmission problem occurs, the driver may experience slipping and/or a sudden flare/surge when the transmission shifts into or out of 2nd/6th gear.
Solution – This problem is often caused by debris blocking the opening on the channel plate and spacer plate that provides oil to the 2-6 clutch regulator valve. To correct the issue, the channel plate, spacer plate and valve body will have to be cleaned.
TSB 07-07-30-014 – Check Engine Light with P0711 DTC – Chevrolet Equinox – AF33
Problem – Due to a software glitch in the TCM, it's possible to have a Check Engine Light with a P0711 diagnostic trouble code.
Solution – Reprogram the TCM.
Common Problems with the Chevy Equinox Transmission
Lack of Response
Leaking Fluid
Low Fluid
Burning Smell
Grinding or Shaking
Whining, Clunking or Humming
Refuses to Go Into Gear
Torque Converter Issues
Valve Body Issues
Transmission Noisy in Neutral
Gears Slipping
No 3rd or 4th Gear
No 1st or 2nd Gear
No Reverse
Dragging Clutch
Trouble Codes / Check Engine Light
Can I drive with a transmission problem?
Most of the time, Chevy Equinox transmission problems start off as minor inconveniences. A gear will slip, it'll take a little longer to change gears, or there may be a weird noise when you put the vehicle into gear. Most of these symptoms can be easily dismissed and ignored, but you may be setting yourself up for a much bigger repair bill if you do. So do yourself a favor and get your transmission seen about as soon as possible.
How often does a Chevy Equinox transmission need to be replaced?
Driving style and the way you take care of it, has a lot to do with how long your Chevrolet Equinox transmission will last. But OE design flaws also have a lot to do with it too. The average we've seen is 130,000-180,000 miles for the stock gearbox. However a remanufactured 6T45E / 6T70E / AW55-50SN transmission can often last for a lot longer.
How are Chevy Equinox transmission issues diagnosed?
Thanks to computers, diagnosing Chevrolet Equinox transmission problems is a fairly straightforward process. The first thing a technician will do is retrieve the diagnostic trouble codes from the ECU. This information can help point them in the right direction, that way they'll know where to look when performing a visual inspection to verify the problem.
How is a Chevy Equinox transmission replaced?
Because the Equinox is primarily FWD, removing the old transmission may require the engine and/or front subframe to be partially removed. Installing the new gearbox is obviously a reverse of the removal process. But once it is in place, the vehicle PCM will have to be reprogrammed / reflashed to accept the new transmission using the latest GM subscription.
Recommendations for Chevy Equinox transmission issues?
To save time and get back on the road faster, have your 17-digit truck VIN# handy and you can get an online quote for a reman Chevy Equinox transmission here, then find a local shop using our Find a Shop guide to install it for you.
How to Solve Chevy Equinox Transmission Problems
Solution A: Buy a Used Chevy Equinox Transmission
The simplest solution to your Chevy Equinox transmission problems would be to buy a used 6T45E / used 6T70E / used AW55-50SN transmission from a local junkyard. However, it may very well have the same problems that you're trying to fix now. And the 30-90 day warranty may not cover labor charges to fix that shiny used transmission.
Solution B: Buy a Rebuilt Chevy Equinox Transmission
To avoid the uncertainty of buying a used Chevy Equinox transmission, you could opt for a rebuilt 6T45E / rebuilt 6T70E / rebuilt AW55-50SN transmission. But if the mechanic uses an OE master rebuild kit, most of the problems associated with factory design flaws will eventually return. And the warranty they give you may only be honored by that shop. So if you have transmission problems while you're traveling, you'll be paying for the repairs yourself.
Solution C: Buy a Remanufactured Chevy Equinox Transmission
To get the most reliable solution for your Chevrolet Equinox transmission problems, you're going need to consider investing in a remanufactured 6T45E / remanufactured 6T70E / remanufactured AW55-50SN transmission. If they're done correctly (i.e. good quality components, modifications to correct design flaws, dyno testing etc.), you can get a lot more miles out of it. And you may be able to get a nationwide warranty too.
Fair Replacement Transmission Cost by Vehicle
Find your transmission model in the table below for fair prices from reputable suppliers. Also fair labor cost for local installation at a local auto repair shop.


Fair Remanufactured Transmission Price Ranges by Transmission Model Updated for 2019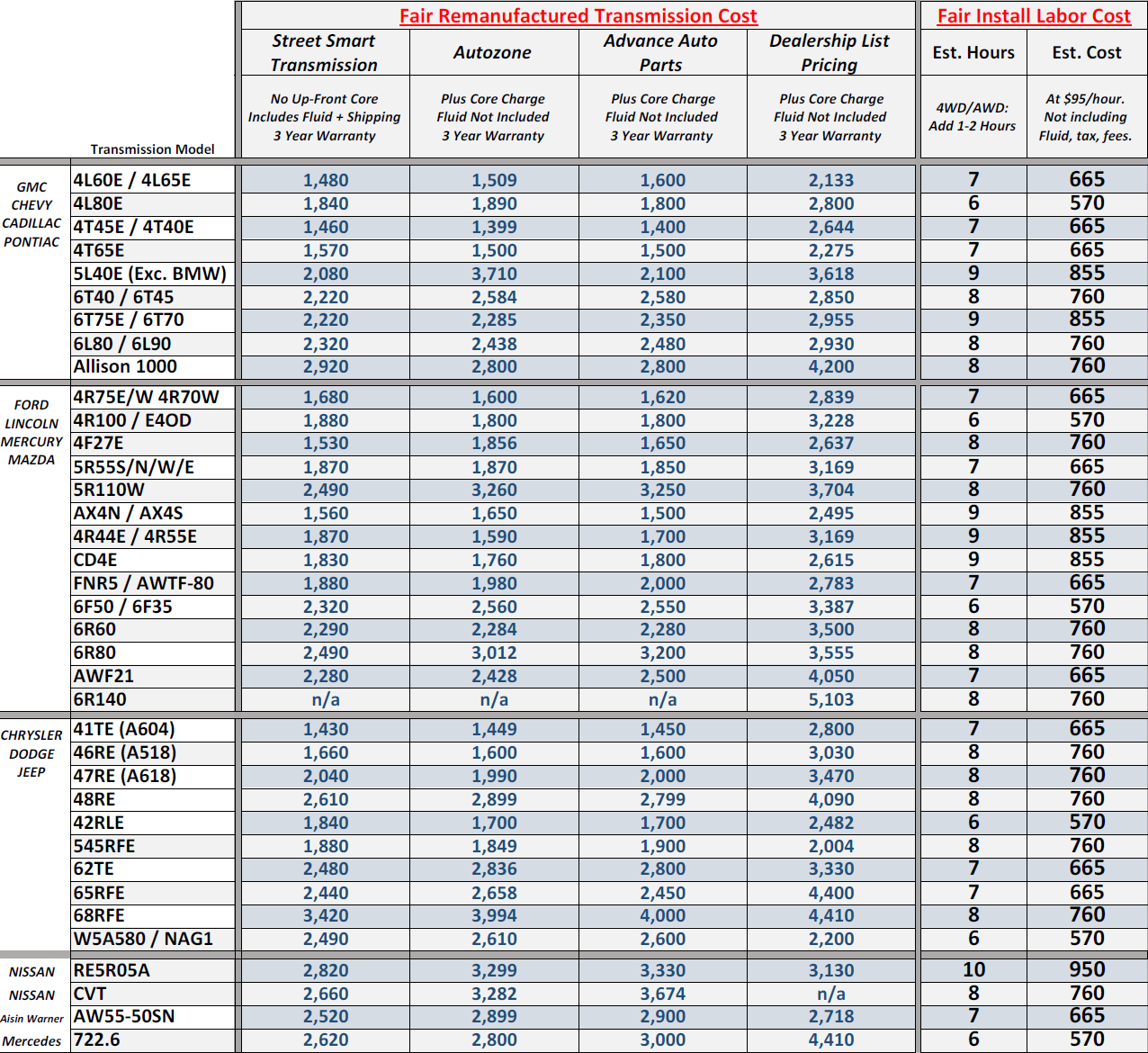 Download Replacement Transmission Cost Guide PDF
What Problem Does Your Chevy Equinox Have?
Let us know the year, mileage and problem you're having as well as any trouble (OBD) codes you've found. If you've been given a quote or paid for a repair, we'd like to hear about that too!