Is there something wrong with your Mini Cooper? Let's look at some of the most common transmission problems, and see what you can do to get your car back on the road.
Need a replacement transmission? Quality transmission suppliers can be hard to find. Have your 17-digit vehicle VIN# ready. Free estimates sent via text and email.
Mini Cooper Recalls
2014-2015 Cooper / Cooper S – 14V789000
Summary
BMW of North America recalled certain 2014-2015 MINI Cooper Hardtop 2 Door, and Cooper S Hardtop 2 Door vehicles manufactured January 6, 2014, to October 17, 2014. During service appointments, dealers may have inadvertently reprogrammed the transmission control unit with software that may allow drivers to exit the vehicle when the car is not in Park.
Consequence
If the driver exits the car without the transmission being in Park, it could roll away as the driver and other occupants exit or anytime thereafter. A vehicle rollaway increases the risk of injury to exiting occupants and bystanders.
Remedy
This recall began on February 1, 2015, and dealers were instructed to reprogram the transmission control module with the correct software, free of charge. Owners can contact MINI customer service at 1-866-825-1525, or the National Highway Traffic Safety Administration Vehicle Safety Hotline at 1-888-327-4236.
2002 Cooper – 02V201000
Summary
On 2002 Mini Cooper models equipped with the manual transmission, shift cable is responsible for connecting the gearshift lever in the vehicle interior to the shift linkage. It is possible for the shift cable to detach from the shift linkage while the driver is attempting to change gears. If the cable detaches from the shift linkage, gear changes will no longer be possible and the transmission will remain in the last gear selected.
Consequence
If shift cable detachment occurs and the transmission remains in any forward gear, the vehicle can still be driven in that gear only. However, if the car shifts into neutral and remains there, the ability to accelerate or maintain speed will be lost, increasing the risk of a crash.
Remedy
Owner notification began in August 2002, and dealers were instructed to inspect the shift cable and, if necessary, install a retaining clip over the end of the shift cable to prevent it from detaching from the transmission. Owners can contact BMW at 1-866-ask-mini (1-866-275-6464), or the National Highway Traffic Safety Administration's auto safety hotline at 1-888-dash-2-dot (1-888-327-4236).
Mini Cooper Technical Service Bulletins (TSB)
2014 Mini Cooper A/T – TSB SI M12 07 14
Problem:
After a cold start, the engine idles poorly and could shut off when the transmission in placed into Reverse or Drive position.
Solution:
A software fault is the cause of this issue, and it can be corrected by reprogramming the DME using version ISTA/P 2.53.2 or later.
2008 Cooper / Cooper S – TSB SI M25 02 14
Problem:
The gear selector lever cannot be disengaged from the "P" position. This can occur very randomly and is difficult to reproduce. No faults are stored in the EGS control unit, and no warnings are displayed in the instrument cluster. For the most part, if the car is locked and goes to sleep (the light in the hazard switch goes out), the problem is no longer present.
Solution:
This problem is caused by an error in the EGS software. The computer will have to be reprogrammed using the latest version of ISTA/P. z Target integration: R056-14-11-501 or higher
Fair Replacement Transmission Cost by Vehicle
Find your transmission model in the table below for fair prices from reputable suppliers. Also fair labor cost for local installation at a local auto repair shop.


Get a free estimate on a remanufactured transmission by email.
Fair Remanufactured Transmission Price Ranges by Transmission Model Updated July 2018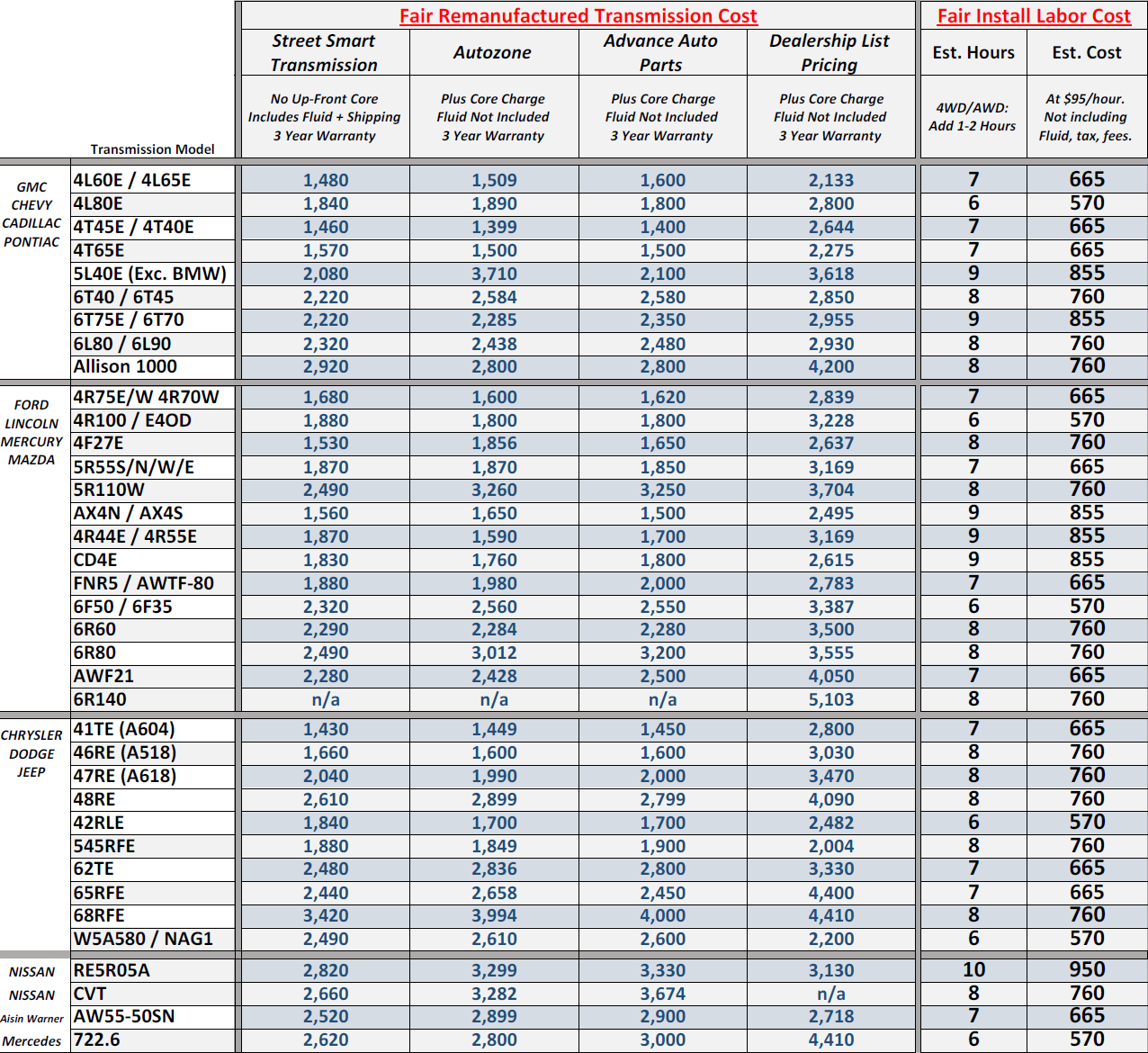 Download Replacement Transmission Cost Guide PDF
What Transmission Does a Mini Cooper Have?
What to Read Next
Related Forum Discussions
Over to You
[yop_poll id="12″] [yop_poll id="13″]
What Problem Does Your Cooper Have?
Let us know the year, mileage and problem you're having as well as any trouble (OBD) codes you've found. If you've been given a quote or paid for a repair, we'd like to hear about that too!