The Ford Escape is a small crossover SUV that was first offered for sale in 2001. Through 3 generations, 2001-present, Ford has used 4 different transmissions, including a manual option that was available from 2001-2004. The leading option for the first generation (2001-2008) was the 4 speed CD4E. Developed in conjunction with Mazda, it was used in the Mazda Tribute and Mercury Mariner as well. The two manufacturers also produced another 4 speed transmission, GF4A-EL, that Ford put in the Escape from 2007-2012. In 2009 Ford added a 6 speed option, the 6F35, and a proven powertrain option that was also used in the larger Ford Edge. Ford did recall some 2001-2008 transmissions but it was only on vehicle that had a factory rebuilt unit installed.
Need a replacement transmission? Quality transmission suppliers can be hard to find. Have your 17-digit vehicle VIN# ready. Free estimates sent via text and email.
Ford Escape Transmission Replacement Cost Estimate
These are the most current prices for a remanufactured replacement Ford Escape transmission.
Replacement CD4E Transmission:

| Transmission | Street Smart Transmission | Autozone | Advance Auto Parts |
| --- | --- | --- | --- |
| CD4E | 1830 | 1790 | 1800 |
Replacement 6F35 Transmission:

| Transmission | Street Smart Transmission | Autozone | Advance Auto Parts |
| --- | --- | --- | --- |
| 6F50 / 6F35 | 2320 | 2560 | 2550 |
Can I drive with a Ford Escape transmission problem?
If your Ford Escape can still make it up and down the road, you might say "It's fine, I'll just drive it until I can get it fixed". But that is not always a good idea, depending on the symptoms. You see, there are a lot of (very expensive) moving parts inside of a transmission, and if something isn't right, continuing to drive with a transmission problem could damage something else.
How often does a Ford Escape transmission need to be replaced?
The overall lifespan of a Ford Escape transmission largely depends on how well it was maintained. Factory design flaws also factor into this equation, along with how/how hard you drive. But on average, we've seen the Ford Escape transmission last for between 80,000-180,000 miles. A high quality replacement transmission however, can last considerably longer if all of the factory design flaws have been addressed and the vehicle has been maintained.
How are Ford Escape transmission issues diagnosed?
It is fairly easy to guesstimate what the root cause of your Ford Escape transmission problems might be, but you won't truly know unless you have the right tools and experience. A good mechanic or transmission repair center will be able to connect your truck to a computer and find out which diagnostic trouble codes (DTC's) have been stored. Once they know what to look for, they can perform a visual inspection to verify the problem.
How is a Ford Escape transmission replaced?
In order to replace your Ford Escape transmission, the truck has to be lifted from the ground in order to gain access to all of the parts that will need to be unbolted. Then the transmission can be lowered to the ground (typically with a transmission jack), so the new transmission can be installed.
Recommendations for Ford Escape transmission issues?
To save time and get back on the road faster, have your 17-digit VIN# handy and you can get an online quote for a reman Ford Escape transmission here, then find a local shop using our Find a Shop guide to install it for you.
How to Solve Ford Escape Transmission Problems
Solution A: Buy a Used Ford Escape Transmission
The quickest way to fix your transmission problems is to simply buy a used transmission or used transmission. These can be found at most junk yards, and they often come with a 30-90 day warranty. However, there's no way to determine the actual condition of the internal components, so you could be spending a bunch of money to have the exact same problems. Plus, that warranty only covers the transmission if it's defective, not the labor costs that you'll have to pay.
Solution B: Buy a Rebuilt Ford Escape Transmission
Another option would be a rebuilt transmission or rebuilt transmission. A local repair shop will remove your transmission, then install a bunch of new parts during the rebuild. The problem here is, the skills and experience of each transmission rebuilder will vary widely from shop to shop, so you could have problems from something that wasn't adjusted properly. And the 1-2 year warranty might only cover you at certain transmission repair shops, in a specific geographical area.
Solution C: Buy a Remanufactured Ford Escape Transmission
Many owners depend on their vehicle to commute and get things done. Their gasoline engines are designed to go 100's of thousands of miles, so it makes sense to invest in a remanufactured transmission.
Recalls
2001-2008 Ford Escape – Shift Lever Disengages from Transmission (Recall # 15V606000)
Summary
Certain 2001-2008 Ford Escapes have been recalled for a transmission shift lever problem. The vehicles are equipped with either the 2.3L or 3.0L engine and must have had the CD4E transmission replaced with a rebuilt one.
The rebuilt units may have a shift lever bolt that was not tightened properly. The lever is responsible for changing gears from "P" to "D" etc. The bolt may fall out rendering the lever inoperable and the driver may not be aware. Although the dash may indicate "P" or "D", the transmission may not be in that gear.
Consequence
If the lever were to come unhooked while the vehicle is being driven, the driver would have no indication. When the vehicle is parked and the driver shifts to "P", the dash would tell the driver that the vehicle was in park, however, the transmission was never actually shifted and is still in "D" (or whichever gear it was in at time of disengagement). In this case the vehicle may roll away without warning or may be stuck in "P".
Remedy
Ford will contact owners, assuming they have the correct contact information. Just because your local dealer has your contact information does not mean that Ford will. You can contact Ford directly at 1-866-4367332 or your local dealer referencing the recall 15S28. Ford expects to begin checking/servicing vehicles in October, 2015.
Ford Escape Service Bulletins
2016 Ford Escape TSB 388560
From 2013-2016 models, Ford had a problem with loss of proper hydraulic pressure in the transmission if the vehicle went long periods of time without being started or driven. The 2016 Escape could experience a shift hesitation from 2nd to 3rd gear due to hydraulic circuit drain
2009 Ford Escape TSB 378464
Some 2009-2014 Escapes built before Oct. 14/2013 and are equipped with the 6F35 transmission may leak transmission fluid from the left side axle seal. This is caused by excessive wear on the axle (half shaft) seal and case bushing.
2013 Ford Escape TSB 373466
If you find a fluid at the bottom of the transmission housing and it is sticky and honey colored, it likely came about from the assembly process. It may be grease that was applied to the torque converter hub or a rust inhibitor used on the flex plate during manufacturing.
Fair Replacement Transmission Cost by Vehicle
Use the Year / Make / Model lookup tool to determine what transmission your vehicle has.



Find your transmission model in the table below for fair prices from reputable suppliers. Also fair labor cost for local installation at a local auto repair shop.


Get a free estimate on a remanufactured transmission by email.
Fair Remanufactured Transmission Price Ranges by Transmission Model Updated May 1, 2018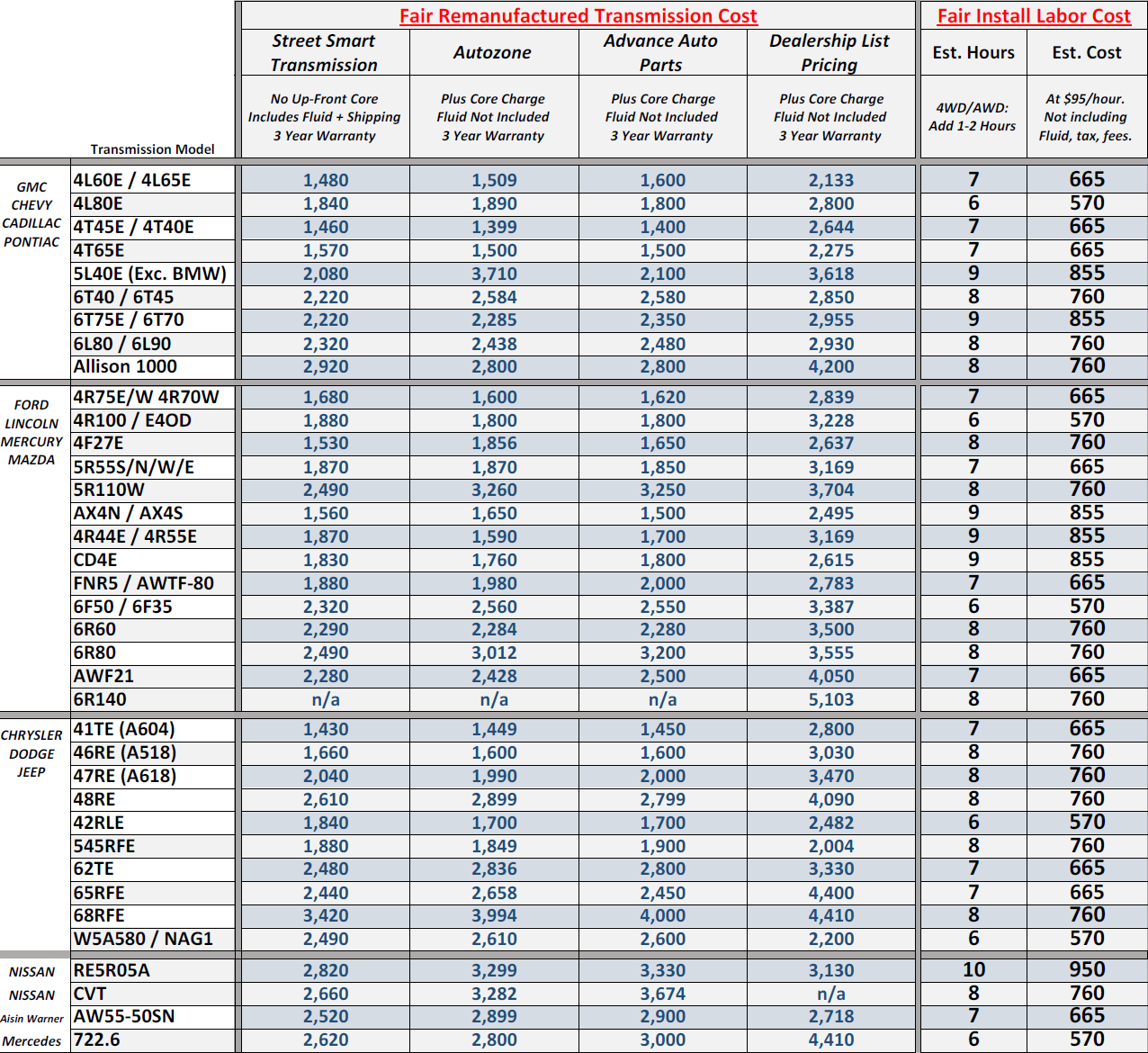 Download Replacement Transmission Cost Guide PDF
What Problem Does Your Escape Have?
Let us know the year, mileage and problem you're having as well as any trouble (OBD) codes you've found. If you've been given a quote or paid for a repair, we'd like to hear about that too!