The Ford Escape is a small crossover SUV that was first offered for sale in 2001. Through 3 generations, 2001-present, Ford has used 4 different transmissions, including a manual option that was available from 2001-2004.
The leading option for the first generation (2001-2008) was the 4 speed CD4E. Developed in conjunction with Mazda, it was used in the Mazda Tribute and Mercury Mariner as well. The two manufacturers also produced another 4 speed transmission, GF4A-EL, that Ford put in the Escape from 2007-2012.
In 2009 Ford added a 6 speed option, the 6F35, and a proven powertrain option that was also used in the larger Ford Edge. Ford did recall some 2001-2008 transmissions but it was only on vehicle that had a factory rebuilt unit installed.
Recalls
2001-2008 Ford Escape – Shift Lever Disengages from Transmission (Recall # 15V606000)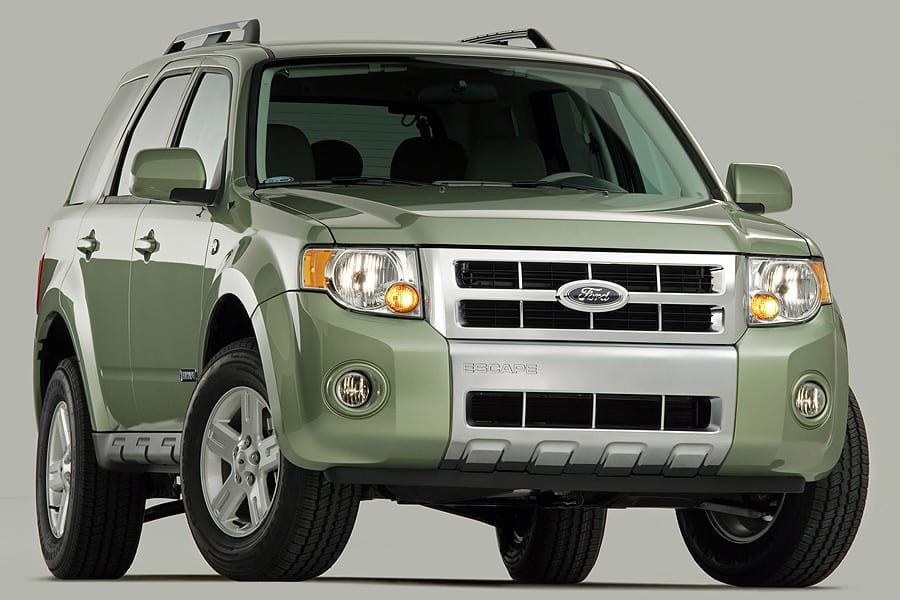 Summary
Certain 2001-2008 Ford Escapes have been recalled for a transmission shift lever problem. The vehicles are equipped with either the 2.3L or 3.0L engine and must have had the CD4E transmission replaced with a rebuilt one.
The rebuilt units may have a shift lever bolt that was not tightened properly. The lever is responsible for changing gears from "P" to "D" etc. The bolt may fall out rendering the lever inoperable and the driver may not be aware. Although the dash may indicate "P" or "D", the transmission may not be in that gear.
Consequence
If the lever were to come unhooked while the vehicle is being driven, the driver would have no indication. When the vehicle is parked and the driver shifts to "P", the dash would tell the driver that the vehicle was in park, however, the transmission was never actually shifted and is still in "D" (or whichever gear it was in at time of disengagement). In this case the vehicle may roll away without warning or may be stuck in "P".
Remedy
Ford will contact owners, assuming they have the correct contact information. Just because your local dealer has your contact information does not mean that Ford will. You can contact Ford directly at 1-866-4367332 or your local dealer referencing the recall 15S28. Ford expects to begin checking/servicing vehicles in October, 2015.
Ford Escape Service Bulletins
2016 Ford Escape TSB 388560
From 2013-2016 models, Ford had a problem with loss of proper hydraulic pressure in the transmission if the vehicle went long periods of time without being started or driven. The 2016 Escape could experience a shift hesitation from 2nd to 3rd gear due to hydraulic circuit drain
2009 Ford Escape TSB 378464
Some 2009-2014 Escapes built before Oct. 14/2013 and are equipped with the 6F35 transmission may leak transmission fluid from the left side axle seal. This is caused by excessive wear on the axle (half shaft) seal and case bushing.
2013 Ford Escape TSB 373466
If you find a fluid at the bottom of the transmission housing and it is sticky and honey colored, it likely came about from the assembly process. It may be grease that was applied to the torque converter hub or a rust inhibitor used on the flex plate during manufacturing.
Need Your Transmission Repaired? A good repair shop can be hard to find – especially on short notice. We'll have the Cost Guide Certified shop in your area give you a call with a free estimate.
What Transmission Does a Ford Escape Have?
What to Read Next
Over to You
What Problem Does Your Escape Have?
Let us know the year, mileage and problem you're having as well as any trouble (OBD) codes you've found. If you've been given a quote or paid for a repair, we'd like to hear about that too!
Get a Diagnosis
Still not sure what the problem is? Click the green button and we'll have the Cost Guide Certified shop in your area give you a call with a free estimate.