Designed to replace the midsize Ford Taurus, the first generation Fusion could be had with  a 160-hp 2.3L 4-cyl, or a 221-hp 3.0L V6. The smaller engine could be paired with either the Mazda G5M 5-speed manual, or the Mazda FNR5 5-speed automatic. V6 models were fitted exclusively with the AWF21 / Aisin TF-80 6-speed automatic. A 2010 facelift brought a host of improvements, including a new 175-hp 2.5L 4-cyl, a 240-hp version of the Duratec 3.0L V6, and the new Ford 6F35 6-speed automatic. Fusion Hybrid models used an Aisin CVT. The second generation Ford Fusion was part of the new One-Ford global product strategy, which meant this one car could be sold in all markets. North American versions were powered by a number of different engines, including turbo 4-cylinder's, a hybrid, a plug-in hybrid, and a V6. The 1.6L EcoBoost model was available with the Ford B6 6-speed manual, the other engines were paired with the 6F35 6-speed auto, the hybrids got the Ford HF35 CVT transmission, while the V6-powered Ford Fusion Sport got the 6F55. Something seems wrong with your Fusion? Let's look at some of the most common Ford Fusion transmission problems, and see what you can do to get your car back on the road.
Need a replacement transmission? Get an estimate for replacement transmissions and local installation. Look up your transmission model by vehicle make and model.
What Transmission Do I Have?
Ford Fusion Transmission Replacement Cost Estimate
These are the most current prices for a remanufactured replacement Ford Fusion transmission.
Replacement 6F35 Transmission:

| Transmission | Street Smart Transmission | Autozone | Advance Auto Parts |
| --- | --- | --- | --- |
| 6F50 / 6F35 | 2320 | 2560 | 2550 |
Replacement AWF21 / TF-80 Transmission:

| Transmission | Street Smart Transmission | Autozone | Advance Auto Parts |
| --- | --- | --- | --- |
| AWF21 | 2280 | 2428 | 2500 |
Replacement FNR5 Transmission:

| Transmission | Street Smart Transmission | Autozone | Advance Auto Parts |
| --- | --- | --- | --- |
| FNR5 / AWTF-80 | 1880 | 1980 | 2000 |
Replacement Ford CVT Transmission:
*** DEALER ONLY ***
Solenoid Failure
One of the most common Ford Fusion transmission problems is a failed solenoid. These little plunger like devices are used by the computer to route pressurized transmission fluid and change gears. To activate one of the solenoids, the computer sends an electrical charge though a coil of wire that wraps around the plunger mechanism. Heat and vibration can cause these wires to short out, which will lead to all sorts of transmission problems.
If you want to check the functionality of your solenoids, simply hook an ohmmeter to the two wires coming off of the solenoid. The reading should be somewhere between 20-30 ohms. If you get a reading above or below that number, it's a safe bet that solenoid won't function properly.
Can I drive with a Ford Fusion transmission problem?
If your Ford Fusion can still make it up and down the road, you might say "It's fine, I'll just drive it until I can get it fixed". But that is not always a good idea, depending on the symptoms. You see, there are a lot of (very expensive) moving parts inside of a transmission, and if something isn't right, continuing to drive with a transmission problem could damage something else.
How often does a Ford Fusion transmission need to be replaced?
The overall lifespan of a Ford Fusion transmission largely depends on how well it was maintained. Factory design flaws also factor into this equation, along with how/how hard you drive. But on average, we've seen the Ford Fusion transmission last for between 80,000-180,000 miles. A high quality replacement transmission however, can last considerably longer if all of the factory design flaws have been addressed and the vehicle has been maintained.
How are Ford Fusion transmission issues diagnosed?
It is fairly easy to guesstimate what the root cause of your Ford Fusion transmission problems might be, but you won't truly know unless you have the right tools and experience. A good mechanic or transmission repair center will be able to connect your truck to a computer and find out which diagnostic trouble codes (DTC's) have been stored. Once they know what to look for, they can perform a visual inspection to verify the problem.
How is a Ford Fusion transmission replaced?
In order to replace your Ford Fusion transmission, the truck has to be lifted from the ground in order to gain access to all of the parts that will need to be unbolted. Then the transmission can be lowered to the ground (typically with a transmission jack), so the new transmission can be installed. Once it is in place, for the 6L80, the vehicle PCM will have to be reprogrammed / reflashed to accept the new transmission using the latest GM subscription.
Recommendations for Ford Fusion transmission issues?
To save time and get back on the road faster, have your 17-digit VIN# handy and you can get an online quote for a reman Ford Fusion transmission here, then find a local shop using our Find a Shop guide to install it for you.
How to Solve Ford Fusion Transmission Problems
Solution A: Buy a Used Ford Fusion Transmission
The quickest way to fix your transmission problems is to simply buy a used transmission or used transmission. These can be found at most junk yards, and they often come with a 30-90 day warranty. However, there's no way to determine the actual condition of the internal components, so you could be spending a bunch of money to have the exact same problems. Plus, that warranty only covers the transmission if it's defective, not the labor costs that you'll have to pay.
Solution B: Buy a Rebuilt Ford Fusion Transmission
Another option would be a rebuilt transmission or rebuilt transmission. A local repair shop will remove your transmission, then install a bunch of new parts during the rebuild. The problem here is, the skills and experience of each transmission rebuilder will vary widely from shop to shop, so you could have problems from something that wasn't adjusted properly. And the 1-2 year warranty might only cover you at certain transmission repair shops, in a specific geographical area.
Solution C: Buy a Remanufactured Ford Fusion Transmission
Many owners depend on their vehicle to commute and get things done. Their gasoline engines are designed to go 100's of thousands of miles, so it makes sense to invest in a remanufactured transmission.
Ford Fusion Recalls
2014-2015 Fusion – Unexpected Vehicle Roll Away – 14V736000 / 14C11
Summary
On November 18, 2014, Ford recalled 2014-2015 Ford Fusion models that were manufactured between July 27, 2013 – October 31, 2014, 2015 Ford Fusion Hybrid models that were manufactured between February 24, 2014 – October 31, 2014, and 2015 Ford Fusion Energi models that were manufactured between July 14, 2014 – October 31, 2014. These vehicles can exhibit a condition where the ignition key could be removed, even though the gear shift lever isn't in the Park position.
Consequence
If the gear selector isn't in Park, removing the ignition key and exiting the vehicle could result in the Fusion rolling away, potentially causing physical injury and property damage.
Remedy
So solve the problem, Ford dealers were instructed to reprogram the Instrument Panel Display Cluster. Owners can contact Ford at 1-866-436-7332 (refer to Fusion recall 14C11). Or the National Highway Traffic Safety Administration at 1-888-327-4236 (refer to recall 14V736000). This recall began on Issued November 18, 2014
2010 Fusion – Vehicle May Roll Without Warning – 10V222000 / 10C12
Summary
According to the recall, some 19 vehicles left the factory without the park rod guide retention pin being installed properly. This could prevent the park prawl from engaging Park.
Consequence
With the transmission unable to engage Park, the vehicle could roll away and cause serious physical injury or property damage.
Remedy
Ford notified owners on May 28, 2010, and dealers were instructed to inspect and install a new park rod guide retention pin. Owners can contact Ford at 1-866-436-7332 (refer to Ford Fusion recall 10C12). Or the National Highway Traffic Safety Administration at 1-888-327-4236 (refer to recall 10V222000).
Ford Fusion Technical Service Bulletins (TSB)
2013-2014 Ford Fusion – TSB 374584
Problem:
On Ford Fusions equipped with either the 1.5L or 1.6L, fluid can accumulate around the bottom of the transmission housing. Sticky, "honey colored" fluid is likely from excessive grease or rust-inhibitor that was applied during manufacturing. Less viscous fluid is likely to be engine oil, or automatic transmission fluid.
Solution:
If the fluid is determined to be grease or rust inhibitor, it can simply be drained, and the housing cleaned with brake cleaner. If the fluid is determined to be engine oil or ATF, further diagnostic procedures may be required.
2013-2014 Ford Fusion Hybrid / Ford Fusion Energi – TSB 14-0176 / 387601
Problem:
On Ford Fusion Hybrid models equipped with the Ford HF35 transmission, owners may experience a pronounced thumping, rubbing, or grinding noise coming from the transmission.
Solution:
This problem can be solved by replacing either the entire transmission, or the transfer shaft gear assembly. The transmission cooling system will also need to be flushed.
2010-2014 Ford Fusion – TSB 15-0079 / 379414
Problem:
Owners of some 2010-2014 Ford Fusion models equipped with the Ford 6F35 transmission, may experience a fluid leak coming from the left half shaft seal, due to premature wear to the transmission case bushing.
Solution:
To solve this issue, an updated case bushing, seal and half shaft will need to be installed.
Fair Replacement Transmission Cost by Vehicle
Find your transmission model in the table below for fair prices from reputable suppliers. Also fair labor cost for local installation at a local auto repair shop.


Fair Remanufactured Transmission Price Ranges by Transmission Model Updated for 2019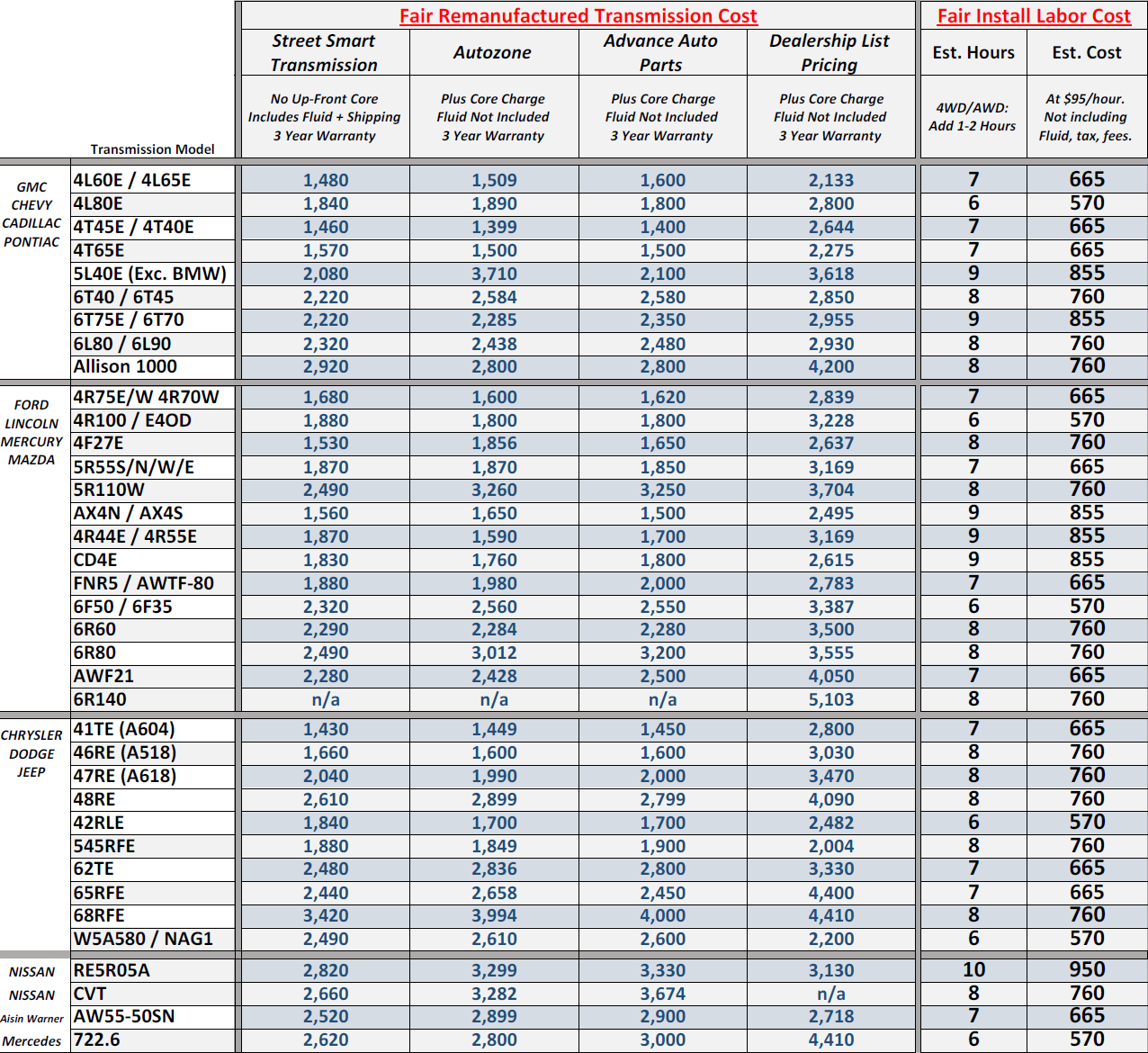 Download Replacement Transmission Cost Guide PDF
What Problem Does Your Fusion Have?
Let us know the year, mileage and problem you're having as well as any trouble (OBD) codes you've found. If you've been given a quote or paid for a repair, we'd like to hear about that too!