The Buick Rendezvous is a midsize crossover that GM started selling in 2002. It had a lots of innovative features, the choice of several V6 engines (depending on the year), and the mostly reliable 4T65E transmission. However, Buick Rendezvous transmission problems do still happen. So let's find out what you can do without them.
Need a replacement transmission? Get an estimate for replacement transmissions and local installation. Look up your transmission model by vehicle make and model.
What Transmission Do I Have?
Buick Rendezvous Transmission Models
Buick Rendezvous: 4T65E FWD Transmission
Buick Rendezvous: 4T65E AWD Transmission (Rare)
Buick Rendezvous Transmission Replacement Cost Estimate
Pricing varies by model. To be 100% sure on pricing, have your VIN# handy and use our Get An Estimate feature to look up your transmission by VIN#.
Replacement 4T65E Transmission:

| Transmission | Street Smart Transmission | Autozone | Advance Auto Parts |
| --- | --- | --- | --- |
| 4T65E | 1570 | 1530 | 1599 |
What are the DTC codes related to Buick Rendezvous transmission problems?
P0742 – Torque Converter Clutch Circuit Stuck On – If your vehicle has this DTC, then the torque convertor clutch solenoid is most likely stuck in the 'on' position.
P0716 – Input/Turbine Speed Sensor Circuit Range/Performance – This DTC means there is a problem with the input / turbine speed sensor, and the ECU may not be able to control the transmission properly.
P0218 – Transmission Over Temperature Condition – This means the transmission fluid temperature has exceeded the allowable limit.
P2761 – Pressure control solenoid 'D' performance or stuck 'off' – This diagnostic trouble code is triggered when one of the pressure control solenoids is either not performing correctly, or it's the in the 'off' position.
P2764 – TCC pressure control solenoid control circuit 'low' – This diagnostic trouble code get stored when the degree of actual torque convertor lock-up, differs the amount of TCC lock-up requested by the ECU / TCM.
P0894 – Transmission component slipping – This OBDII trouble one of the gear ratios is not consistent with what the ECU is asking for.
Buick Rendezvous Transmission Recalls
None Found
Buick Rendezvous Technical Service Bulletins (TSB)
TCC Solenoid Circuit DTC – Buick Rendezvous 4T65E
Problem – Diagnostic trouble codes (P0742, P2761, P2764) relating to the torque convertor clutch, may be caused by an incorrectly routed internal wiring harness that can short itself out over time.
Solution – To solve this problem, reposition the tan colored TCC solenoid so that it does not come in contact with the metal wiring harness retaining clip.
TSB 06-07-30-023 – 4T65E transmission 1-2 Shift Shudder
Problem – Shuddering or shaking may be felt during the 1-2 shift, under light acceleration at speeds below 25 mph.
Solution – To correct this common 4T65E transmission problem, the entire second clutch assembly will need to be replaced.
TSB 08-07-30-016 – Slipping, refusal to shift, overheating
Problem – Slipping between the gears, overheating, refusal to shift out of a gear, and/or DTC P0894 or P0218, may be because by friction material debonding from the torque convertor clutch (TCC).
Solution – If the friction material has circulated throughout the transmission, the entire transmission may need to be replaced. It is possible to remove the material from the internal components (like transmission cooler lines and the valve body), but it depends on the extent of the damage.
Common Problems with the Buick Rendezvous Transmission
Lack of Response
Leaking Fluid
Low Fluid
Burning Smell
Grinding or Shaking
Whining, Clunking or Humming
Refuses to Go Into Gear
Torque Converter Issues
Valve Body Issues
Transmission Noisy in Neutral
Gears Slipping
No 3rd or 4th Gear
No 1st or 2nd Gear
No Reverse
Dragging Clutch
Trouble Codes / Check Engine Light
Can I drive with a transmission problem?
The simple answer is yes. You might actually be able to continue driving, however there is a catch. Those Buick Rendezvous transmission problems can multiply themselves very quickly if you continue driving. So do yourself, and your wallet a favor by having your 4T65E transmission inspected by a mechanic as soon as possible.
How often does a Buick Rendezvous transmission need to be replaced?
Maintenance and responsible driving habits can greatly extend the lifespan of a transmission. However, we've noticed the typical Buick Rendezvous 4T65E usually lasts between 130,000-180,000 miles. A good quality remanufactured transmission on the other hand, can last a lot longer than that with proper maintenance.
How are Buick Rendezvous transmission issues diagnosed?
To accurately diagnose most Buick Rendezvous transmission problems, a mechanic will need to connect an OBDII code reader to pull the diagnostic trouble codes. Then they will need to perform a visual inspection to verify their diagnosis.
How is a Buick Rendezvous transmission replaced?
Because there's 'a lot engine' in a relatively tiny engine bay, the motor may have to be unbolted in order to gain access to the gearbox. After installing that new Rendezvous 4T65E transmission, ECU will have to be reprogrammed / reflashed to accept the new transmission using the latest GM subscription.
Recommendations for Buick Rendezvous transmission issues?
To save time and get back on the road faster, have your 17-digit truck VIN# handy and you can get an online quote for a reman Buick Rendezvous transmission here, then find a local shop using our Find a Shop guide to install it for you.
How to Solve Buick Rendezvous Transmission Problems
Solution A: Buy a Used Buick Rendezvous Transmission
Buying a used 4T65E transmission might seem like the most affordable way to solve your Buick Rendezvous transmission problems. However, you don't really have any way to know the true condition of the internal components. And the 30-90 day warranty that most junkyards give you, might not cover labor charges if the first used 4T65 one doesn't work right.
Solution B: Buy a Rebuilt Buick Rendezvous Transmission
Buying a rebuilt 4T65 transmission might seem like the next best option, but there are some things to consider here too. First of all, most mechanics use what's called a master rebuild kit, which takes the transmission back to its stock form. This won't correct any of the factory design flaws, which can reduce the transmission's service life. And secondly, the rebuilt transmission warranty may only be honored by a small number of shops, in a specific region.
Solution C: Buy a Remanufactured Buick Rendezvous Transmission
To get the most life out of your stylish little CUV, you may want to consider buying a remanufactured Buick Rendezvous transmission. They're often upgraded or modified to correct for OE design flaws. And the warranty on a remanufactured 4T65 transmission will usually be much, much better.
Fair Replacement Transmission Cost by Vehicle
Find your transmission model in the table below for fair prices from reputable suppliers. Also fair labor cost for local installation at a local auto repair shop.


Fair Remanufactured Transmission Price Ranges by Transmission Model Updated for 2019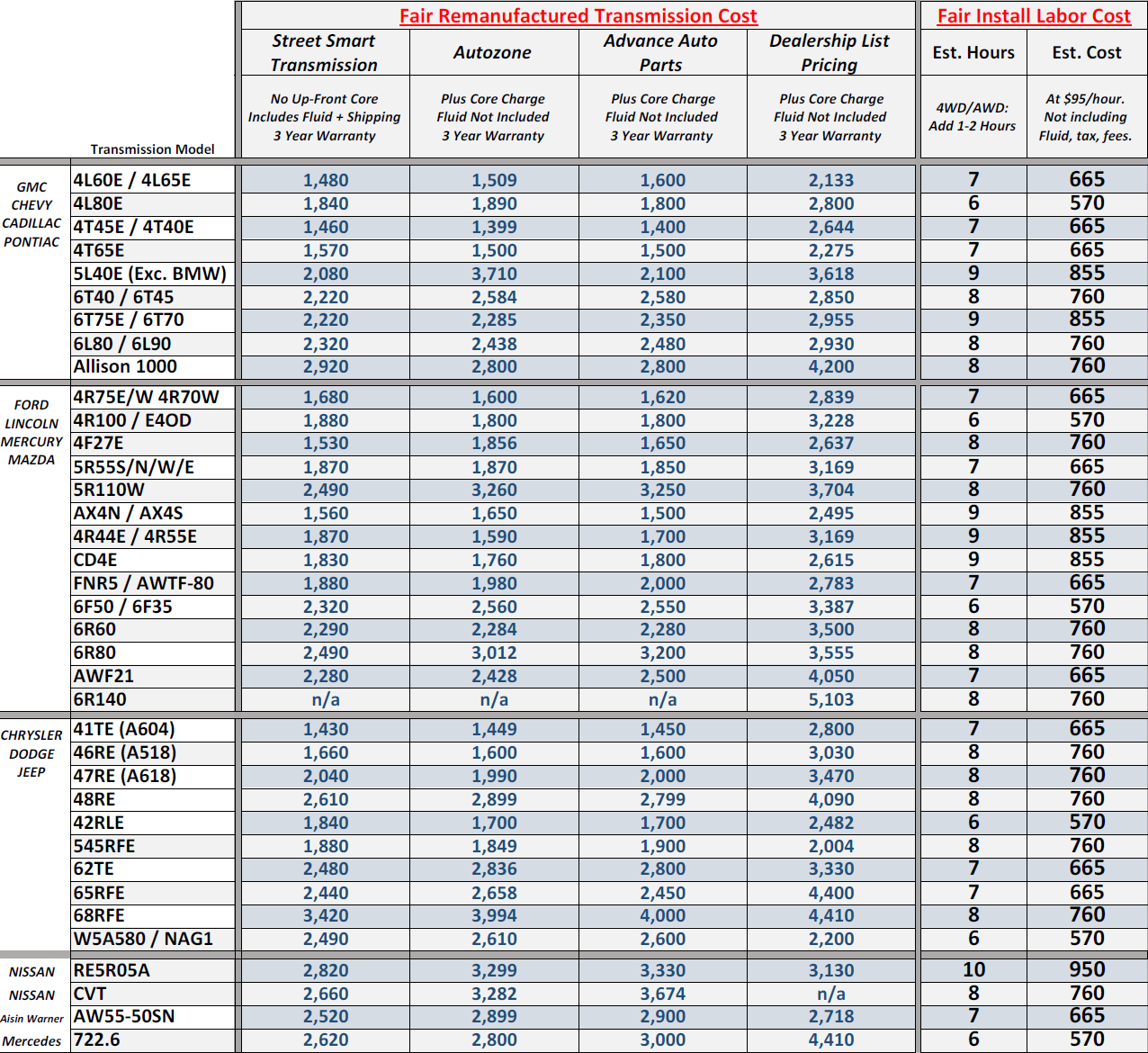 Download Replacement Transmission Cost Guide PDF
What Problem Does Your Buick Rendezvous Have?
Let us know the year, mileage and problem you're having as well as any trouble (OBD) codes you've found. If you've been given a quote or paid for a repair, we'd like to hear about that too!