The Ford Focus was equipped with the 4F27E transmission. Does something seem wrong with your Ford Focus transmission? Let's look at some of the most common problems, and see what you can do to get your car back on the road.
Need a replacement transmission? Get an estimate for replacement transmissions and local installation. Look up your transmission model by vehicle make and model.
What Transmission Do I Have?
Ford Focus Transmission Replacement Cost Estimate
These are the most current prices for a remanufactured replacement Ford Focus 4F27E Series transmission.
Replacement 4F27E Transmission:

| Transmission | Street Smart Transmission | Autozone | Advance Auto Parts |
| --- | --- | --- | --- |
| 4F27E | 1530 | 1856 | 1650 |
Solenoid Failure
One of the most common Ford Focus transmission problems is a failed solenoid. These little plunger like devices are used by the computer to route pressurized transmission fluid and change gears. To activate one of the solenoids, the computer sends an electrical charge though a coil of wire that wraps around the plunger mechanism. Heat and vibration can cause these wires to short out, which will lead to all sorts of transmission problems.
If you want to check the functionality of your solenoids, simply hook an ohmmeter to the two wires coming off of the solenoid. The reading should be somewhere between 20-30 ohms. If you get a reading above or below that number, it's a safe bet that solenoid won't function properly.
Can I drive with a Ford Focus transmission problem?
If your Ford Focus can still make it up and down the road, you might say "It's fine, I'll just drive it until I can get it fixed". But that is not always a good idea, depending on the symptoms. You see, there are a lot of (very expensive) moving parts inside of a transmission, and if something isn't right, continuing to drive with a transmission problem could damage something else.
How often does a Ford Focus transmission need to be replaced?
The overall lifespan of a Ford Focus transmission largely depends on how well it was maintained. Factory design flaws also factor into this equation, along with how/how hard you drive. But on average, we've seen the Ford Focus transmission last for between 80,000-180,000 miles. A high quality replacement transmission however, can last considerably longer if all of the factory design flaws have been addressed and the vehicle has been maintained.
How are Ford Focus transmission issues diagnosed?
It is fairly easy to guesstimate what the root cause of your Ford Focus transmission problems might be, but you won't truly know unless you have the right tools and experience. A good mechanic or transmission repair center will be able to connect your truck to a computer and find out which diagnostic trouble codes (DTC's) have been stored. Once they know what to look for, they can perform a visual inspection to verify the problem.
How is a Ford Focus transmission replaced?
In order to replace your Ford Focus transmission, the truck has to be lifted from the ground in order to gain access to all of the parts that will need to be unbolted. Then the transmission can be lowered to the ground (typically with a transmission jack), so the new transmission can be installed. Once it is in place, for the 6L80, the vehicle PCM will have to be reprogrammed / reflashed to accept the new transmission using the latest GM subscription.
Recommendations for Ford Focus transmission issues?
To save time and get back on the road faster, have your 17-digit VIN# handy and you can get an online quote for a reman Ford Focus transmission here, then find a local shop using our Find a Shop guide to install it for you.
How to Solve Ford Focus Transmission Problems
Solution A: Buy a Used Ford Focus Transmission
The quickest way to fix your transmission problems is to simply buy a used transmission or used transmission. These can be found at most junk yards, and they often come with a 30-90 day warranty. However, there's no way to determine the actual condition of the internal components, so you could be spending a bunch of money to have the exact same problems. Plus, that warranty only covers the transmission if it's defective, not the labor costs that you'll have to pay.
Solution B: Buy a Rebuilt Ford Focus Transmission
Another option would be a rebuilt transmission or rebuilt transmission. A local repair shop will remove your transmission, then install a bunch of new parts during the rebuild. The problem here is, the skills and experience of each transmission rebuilder will vary widely from shop to shop, so you could have problems from something that wasn't adjusted properly. And the 1-2 year warranty might only cover you at certain transmission repair shops, in a specific geographical area.
Solution C: Buy a Remanufactured Ford Focus Transmission
Many owners depend on their vehicle to commute and get things done. Their gasoline engines are designed to go 100's of thousands of miles, so it makes sense to invest in a remanufactured transmission.
Ford Focus Recalls
Recall ID – NHTSA: 02V117000 – 2002 Ford Focus
Summary
On 534 2002 Ford Focus models equipped with a manual transmission, the speed/cruise control cable could become entangled with the throttle body bracket during high or wide open throttle application. If this happens, the throttle would be prevented from returning to the closed position once the accelerator pedal is released.
Consequence
If the throttle becomes stuck open, the driver would have to depress both the clutch and the brake pedals in order to bring the car to a stop.
Remedy
On April 25, 2002, Ford instructed dealers to replace the throttle body assembly on affected cars. Owners can contact Ford at 1-866-436-7332. Or the National Highway Traffic Safety Administration at 1-888-327-4236 (refer to the Focus recall 04V176000).
Ford Focus Technical Service Bulletins (TSB)
2012-2015 Focus – TSB 14-0197-15-0043 / 10057872
Problem:
2012-2015 Focus' that were equipped with the dual-clutch Ford DPS6 automatic transmission, can experience a pronounced transmission clutch shudder during light acceleration, and/or fluid leaks around the clutch housing. This can occur because faulty input shaft seals can allow fluid to seep in and contaminate the surface of the clutch.
Solution:
Both input shaft seals will need to be replaced. And depending on the severity of the damage, a new clutch assembly may be required. However, it might be possible to clean and reinstall the clutch.
2014-2015 Focus – TSB 44852 / 10057815
Problem:
With regard to the TSB listed above, if the clutch contamination repair isn't performed correctly, the problem could re-occur because the new input shaft seals could swell and rupture.
Solution:
The accepted procedure is to use brake cleaner to clean the bell housing and clutch assembly. However, if ample time isn't allowed for the parts to dry before installing them, the new input shaft seals could swell and rupture if they come in contact with the cleaning solvent.
2014-2015 Focus – TSB 383123 / 10057861
Problem:
After replacing the dual clutch assembly on a DPS6 transmission, it's not uncommon to experience a light shudder during shifts, because the clutch friction material requires a 1,000 mile break in period.
Solution:
Unless there is a fluid leak, the clutch assembly will not need to be replaced. Instead, the technician should run the IDS Service Routine Transmission Adaptive Learning program to reset the clutch travel.
2012-2013 Focus – TSB 32331 / 10053657
Problem:
This was a service tip to diagnose the following problems: no crank, no start, hard start, unusual noise during start, delayed or intermittent gear engagement, and numerous diagnostic trouble codes.
Solution:
Prior to performing normal diagnostics, it's recommended to first check the G-104 ground for good body to ground contact. If the eyelet is loose, torque the fastener to 12 Nm. If no problem is found, resume normal diagnostic procedures.
Fair Replacement Transmission Cost by Vehicle
Find your transmission model in the table below for fair prices from reputable suppliers. Also fair labor cost for local installation at a local auto repair shop.


Fair Remanufactured Transmission Price Ranges by Transmission Model Updated for 2019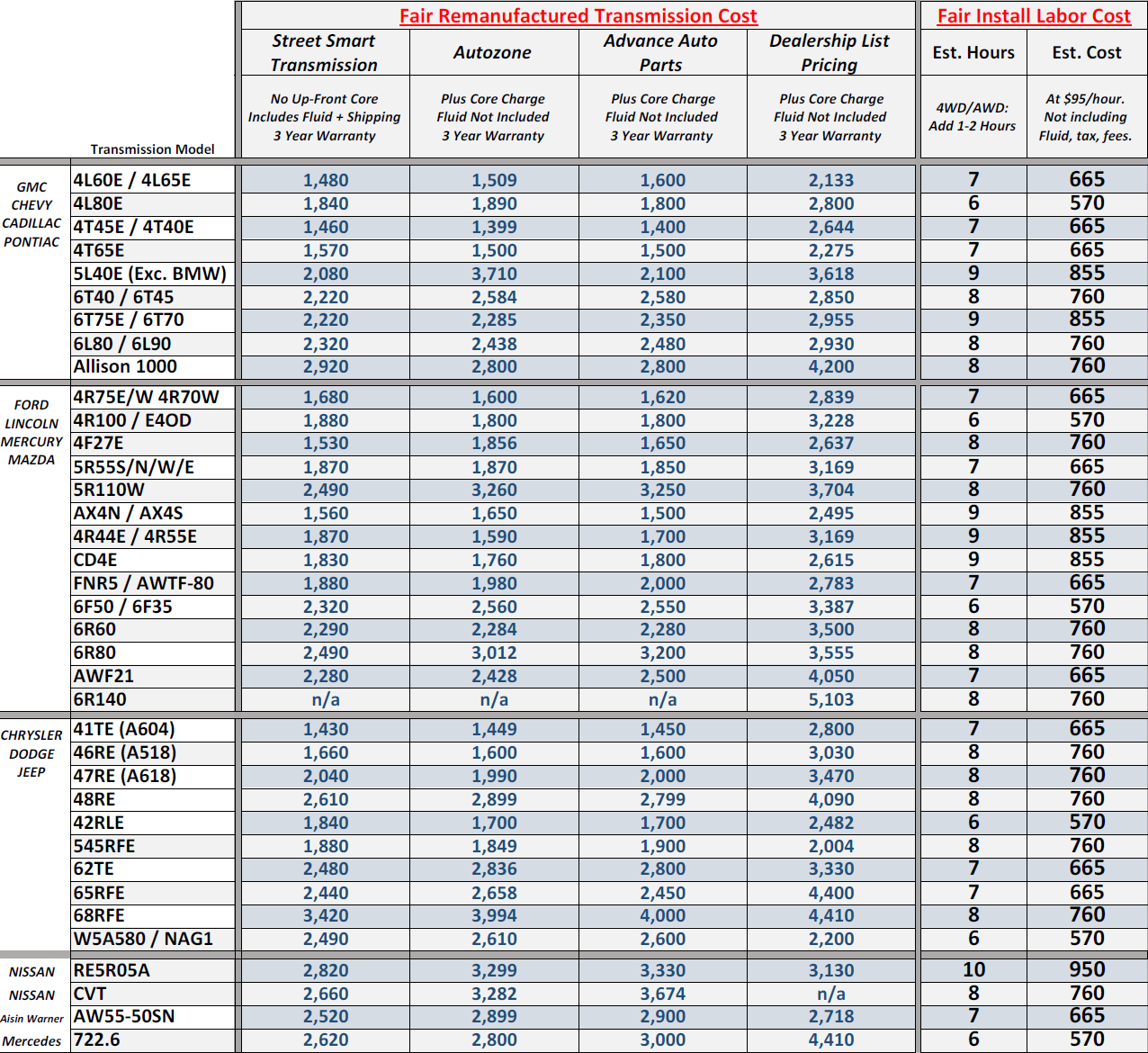 Download Replacement Transmission Cost Guide PDF
Related Forum Discussions
What Problem Does Your Focus Have?
Let us know the year, mileage and problem you're having as well as any trouble (OBD) codes you've found. If you've been given a quote or paid for a repair, we'd like to hear about that too!