First introduced in 1973, the Buick Regal is one of the most recognized names in the marque's lineup. These upscale midsizers draw power from a number of engines, and the three most common transmissions are the 4T60E, 4T65E and the 6-speed 6T45 transmission. For the most part, they're pretty bulletproof. But like all mechanical devices, they're not without failure points. So let's look at the most common Buick Regal transmission problems and find out what you can do about them.
Need a replacement transmission? Get an estimate for replacement transmissions and local installation. Look up your transmission model by vehicle make and model.
What Transmission Do I Have?
Buick Regal Transmission Models
Buick Regal: 4T60E Transmission
Buick Regal: 4T65E Transmission
Buick Regal: 6T45 Transmission
Buick Regal Transmission Replacement Cost Estimate
Pricing varies by model. To be 100% sure on pricing, have your VIN# handy and use our Get An Estimate feature to look up your transmission by VIN#.
Replacement 4T65E Transmission:

| Transmission | Street Smart Transmission | Autozone | Advance Auto Parts |
| --- | --- | --- | --- |
| 4T65E | 1570 | 1500 | 1500 |
Replacement 6T45 Transmission:

| Transmission | Street Smart Transmission | Autozone | Advance Auto Parts |
| --- | --- | --- | --- |
| 6T40 / 6T45 | 2220 | 2580 | 2580 |
What are the DTC codes related to Buick Regal transmission problems?
P0742 – Torque Converter Clutch Circuit Stuck On – If your vehicle has this DTC, then the torque convertor clutch solenoid is most likely stuck in the 'on' position.
P0218 – Transmission Over Temperature Condition – This means the transmission fluid temperature has exceeded the allowable limit.
P2761 – Pressure control solenoid 'D' performance or stuck 'off' – This diagnostic trouble code is triggered when one of the pressure control solenoids is either not performing correctly, or it's the in the 'off' position.
P2764 – TCC pressure control solenoid control circuit 'low' – This diagnostic trouble code get stored when the degree of actual torque convertor lock-up, differs the amount of TCC lock-up requested by the ECU / TCM.
P0894 – Transmission component slipping – This OBDII trouble one of the gear ratios is not consistent with what the ECU is asking for.
P0720 – Output Speed Sensor Circuit – This DTC is triggered when there's an issue with the data coming from the output speed sensor.
P0730 – Incorrect Gear Ratio – This DTC means the ECU has detected either an electrical or hydraulic issue affecting the shift pattern.
Buick Regal Transmission Recalls
None Found
Buick Regal Technical Service Bulletins (TSB)
TSB 06-07-30-023 – 4T65E transmission 1-2 Shift Shudder
Problem – Shuddering or shaking may be felt during the 1-2 shift, under light acceleration at speeds below 25 mph.
Solution – To correct this common 4T65E transmission problem, the entire second clutch assembly will need to be replaced.
TSB 08-07-30-016 – Slipping, refusal to shift, overheating – Buick Regal 4T65E
Problem – Slipping between the gears, overheating, refusal to shift out of a gear, and/or DTC P0894 or P0218, may be because by friction material debonding from the torque convertor clutch (TCC).
Solution – If the friction material has circulated throughout the transmission, the entire transmission may need to be replaced. It is possible to remove the material from the internal components (like transmission cooler lines and the valve body), but it depends on the extent of the damage.
TSB PI0376A – Flare or slipping on the shift from 2nd or 6th gear – Buick Regal 6T40
Problem – When this common Regal transmission problem occurs, the driver may experience slipping and/or a sudden flare/surge when the transmission shifts into or out of 2nd/6th gear.
Solution – This problem is often caused by debris blocking the opening on the channel plate and spacer plate that provides oil to the 2-6 clutch regulator valve. To correct the issue, the channel plate, spacer plate and valve body will have to be cleaned.
Common Problems with the Buick Regal Transmission
Lack of Response
Leaking Fluid
Low Fluid
Burning Smell
Grinding or Shaking
Whining, Clunking or Humming
Refuses to Go Into Gear
Torque Converter Issues
Valve Body Issues
Transmission Noisy in Neutral
Gears Slipping
No 3rd or 4th Gear
No 1st or 2nd Gear
No Reverse
Dragging Clutch
Trouble Codes / Check Engine Light
Can I drive with a transmission problem?
Although many Buick Regal transmission problems may not make the car undrivable, continuing to drive it could make a simple problem much worse. Especially if the transmission is slipping or hanging in a gear.
How often does a Buick Regal transmission need to be replaced?
Routine maintenance is the best way to extend the life of any Buick Regal transmission. However, factory design flaws can still cut the service life short. On average, a Buick Regal transmission tends to last between 130,000-180,000 miles. A well made replacement transmission on the other hand, can often last a lot longer. Provided all of the factory design flaws are corrected.
How are Buick Regal transmission issues diagnosed?
To figure out what is causing those pesky Buick Regal transmission problems, a mechanic should first connect a code reader to the car's OBDII port. After pulling all of the diagnostic trouble codes, they can then perform a visual inspection to verify the source of the problem.
How is a Buick Regal transmission replaced?
Since the later generation Buick Regals are front wheel drive, the motor may have to be partially removed to access the transmission. Once it's removed and replaced the ECU/PCM will have to be reprogrammed / reflashed to accept the new transmission using the latest GM subscription.
Recommendations for Buick Regal transmission issues?
To save time and get back on the road faster, have your 17-digit truck VIN# handy and you can get an online quote for a reman Buick Regal transmission here, then find a local shop using our Find a Shop guide to install it for you.
How to Solve Buick Regal Transmission Problems
Solution A: Buy a Used Buick Regal Transmission
On the surface, buying a used 4T60E / used 4T65E / used 6T45 from the local junkyard may seem like the most economical solution. However, with no way to verify the condition of the internal components, you may have to eventually fix that transmission too. And that 30-90 day
warranty probably won't cover the labor charges to replace the transmission if it goes bad.
Solution B: Buy a Rebuilt Buick Regal Transmission
The next best alternative would be a rebuilt 4T60E / rebuilt 4T65E / rebuilt 6T45. But many mechanics will use OE spec Buick Regal transmission parts, which means all of the original problems will eventually return. Plus, the warranty may only be honored by the shop that rebuilt it, which won't do you any good if you decide to take a trip and experience problems.
Solution C: Buy a Remanufactured Buick Regal Transmission
To get a more permanent solution to your transmission problems, you might consider a remanufactured 4T60E / remanufactured 4T65E / remanufactured 6T45. These are often upgraded to correct the factory design flaws, and the warranties are usually much better too.
Fair Replacement Transmission Cost by Vehicle
Find your transmission model in the table below for fair prices from reputable suppliers. Also fair labor cost for local installation at a local auto repair shop.


Fair Remanufactured Transmission Price Ranges by Transmission Model Updated for 2019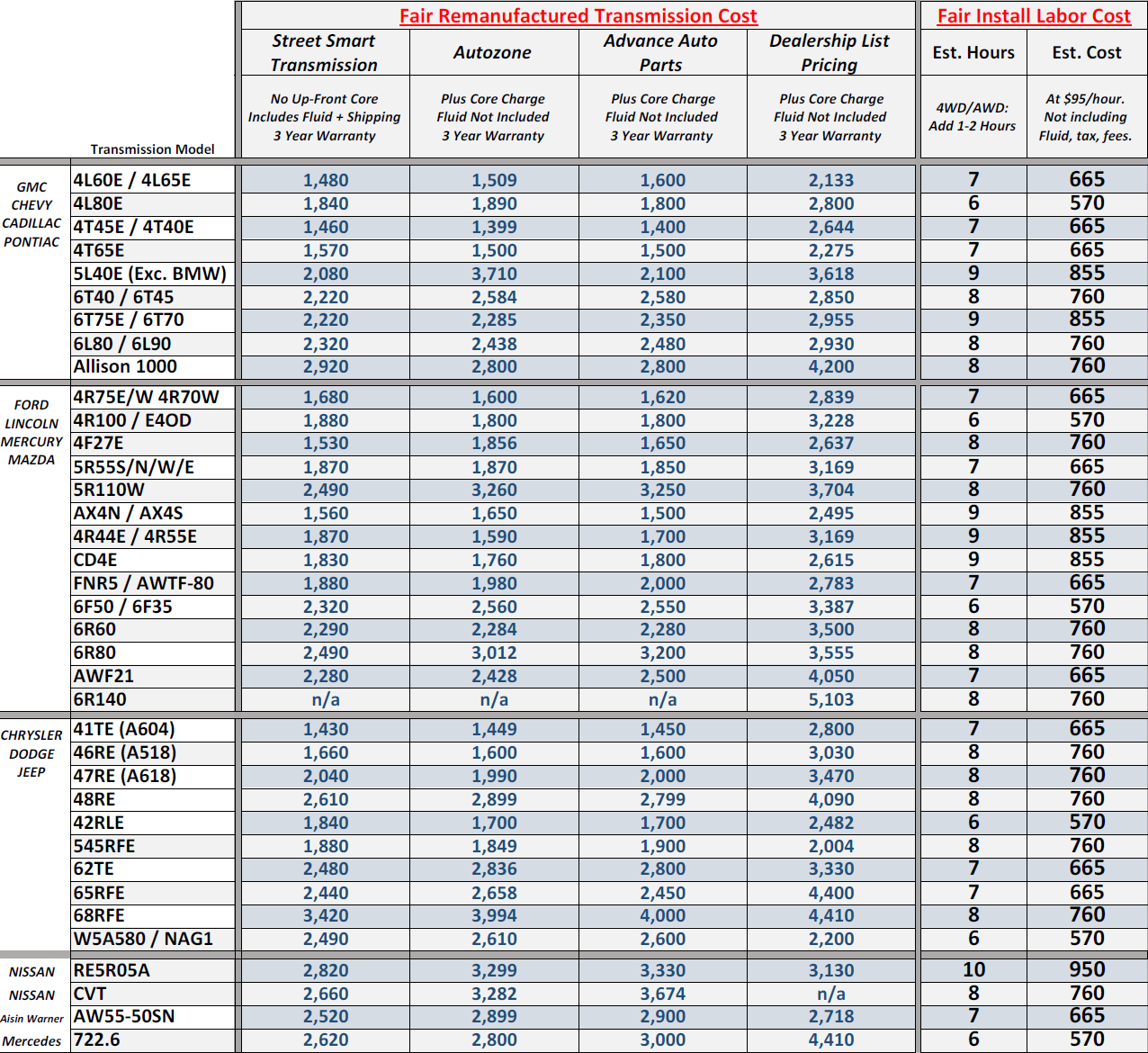 Download Replacement Transmission Cost Guide PDF
What Problem Does Your Buick Regal Have?
Let us know the year, mileage and problem you're having as well as any trouble (OBD) codes you've found. If you've been given a quote or paid for a repair, we'd like to hear about that too!