The Acura MDX was equipped with the MDKA, BDGA, BYFA, BDKA and MT4A transmission. Based on the same "Global Midsize" platform that underpins the Honda Accord, the first-gen Acura MDX debuted in 2000 for the 2001 model year. This was Acura's first SUV to be designed and built in-house (their Acura SLX was based on the Isuzu Trooper), and it used a more powerful version of the Accord's V6. The 2nd-gen 2007-2013 Acura MDX got a powerful 300-hp 3.7L V6, along with the option of Acura's much lauded Super-Handling AWD (SH-AWD) system. The 3rd generation debuted in the summer of 2013, at which point a staggering 692,710 MDX's had been sold since 2000. This impressive sales tally made it "the best-selling three-row luxury crossover of all time", and it continues to be the second best-selling midsize luxury CUV behind the Lexus RX. Does something seem wrong with your MDX? Let's look at some of the most common transmission problems, and see what you can do to get your SUV back on the road.
Need a replacement transmission? Get an estimate for replacement transmissions and local installation. Look up your transmission model by vehicle make and model.
What Transmission Do I Have?
Acura MDX Transmission Models
Acura MDX Transmissions: MDKA, MT4A, BDKA, BYDA and BDGA
Acura MDX Transmission Replacement Cost Estimate
Pricing varies by exact engine size and year. To be 100% sure on pricing, have your VIN# handy and use our Get An Estimate feature to look up your transmission by VIN#.
What are the DTC codes related to Acura MDX transmission problems?
P0766 – Failed Shift Solenoid D – This DTC can be stored when there is a problem with a shift solenoid or the valve body.
P2703 – Failed Friction Element D – This trouble code can be triggered by a failed friction element like a clutch disc.
P0720 – Failed Input Speed Sensor or Output Speed Sensor – This trouble code is caused by a bad speed sensor on the transmission.
P0730 – Incorrect Gear Ratio – This issue could be caused by a number of problems, including a fault in the transmission control module, dirty transmission fluid, or a bad transmission solenoid.
P0657 – Voltage Problem in the 'A' Circuit – This transmission problem is often caused by a short, or bad ground on the PCM or PCM wiring harness.
P0700 – Malfunction in the transmission control system – This DTC is often triggered when there is a problem with the TCM, a wiring harness, a solenoid, or the valve body.
P0715 – Input/Turbine Speed Sensor Malfunction – This code typically gets stored when the input sensor cannot read the engine RPM, which can prevent the transmission from appropriately shifting gears.
P0717 – Input/Turbine Speed Sensor No Signal – This trouble code is generated when the PCM does not get a signal from the input speed sensor, which will prevent the computer from being able to determine when the transmission needs to shift.
P0791 – Intermediate Shaft Speed Sensor 'A' Circuit – This error can occur when there is a problem with the intermediate shaft speed sensor, most likely due to a bad sensor, wiring problem, or a failed shift solenoid.
P0793 – Intermediate Shaft Speed Sensor Circuit No Signal – The computer will generate this DTC when it cannot communicate with the intermediate shaft speed sensor.
Acura MDX Recalls
2014 MDX AWD – 13V571000 / JC8
Summary
American Honda Motor Co., Inc. recalled certain 2014 MDX AWD models that were manufactured between May 6, 2013, through October 14, 2013. It seems that the bolts that attach the drive shaft to the automatic transmission transfer assembly may not have been properly tightened. As a result, the bolts could loosen possibly allowing the shaft to detach.
Consequence
If the drive shaft detaches while driving it could cause excessive noise and possibly damage the vehicle, increasing the risk of a crash.
Remedy
Honda began notifying owners in December 2013, and dealers were instructed to inspect and tighten the drive shaft attaching bolts as necessary, free of charge. Owners may contact Honda at 1-800-999-1009 or visit their website at www.recalls.honda.com. Be sure to refer to Honda's recall number: JC8. Owners can also contact the National Highway Traffic Safety Administration Vehicle Safety Hotline at 1-888-327-4236
2003-2006 MDX – 12V573000 / S74
Summary
Honda is recalling certain 2003-2006 Acura MDX SUVs that were manufactured from November 26, 2001, through August 30, 2006. It seems that the interlock lever of the ignition switch may deform, which can allow the interlock function of a vehicle with an automatic transmission to be defeated.
Consequence
Removal of the ignition key when the gear selector of a vehicle with an automatic transmission has not been shifted to the park position can allow the vehicle to roll away, increasing the risk of a crash that could result in serious injury and/or property damage.
Remedy
Honda began notifying owners in February 2013, and instructed their dealers to install an updated shift interlock lever and, if necessary, replace the ignition switch, free of charge.  Owners may contact Honda at 1-800-999-1009, be sure to refer to the Acura recall number: S74.
2001-2002 MDX – 04V176000 / P31
Summary
According to the recall, certain operating conditions can result in heat build-up between the countershaft and secondary shaft second gears in the automatic transmission, eventually leading to gear tooth chipping or gear breakage.
Consequence
Gear failure could result in transmission lockup, which could result in a crash.
Remedy
This recall began on April 21, 2004, and Honda issued the following repair procedures: On vehicles with 15,000 miles or less, the dealer was instructed to update the transmission with a simple revision to the oil cooler return line to increase lubrication to the second gear. On vehicles with more than 15,000 miles, the dealer was supposed to inspect the transmission to identify gears that have already experienced discoloration due to overheating. If discoloration exists, the transmission was to be replaced. If discoloration is not present, the dealer will perform the revision to the oil cooler return line.
Owners can contact Acura at 1-800-382-2238, referring to recall number: P31. Owners can also contact the National Highway Traffic Safety Administration's auto safety hotline at 1-888-dash-2-dot (1-888-327-4236).
Acura MDX Technical Service Bulletins (TSB)
2007-2009 MDX – TSB 12-029
Problem:
A shudder from the torque converter lock-up clutch may be felt while driving between 20–45 mph. To minimize the opportunity for the judder to occur, a software update for the transmission is available.
Solution:
This AT software update is available free of charge to all affected vehicles regardless of its age or mileage. However, if the judder returns after the transmission software is updated, the torque converter may need to be replaced. American Honda did extend the warranty on the torque converter in affected vehicles to 8 years from the original date of purchase or 105,000 miles, whichever comes first.
If you have any questions about this warranty extension, please call Acura Client Relations at 1-800-382-2238, and select option 4. US owners can also locate a dealer online at myAcura.com. Owners in US territories, please contact your local dealer/distributor.
2003-2004 MDX – TSB 06-003
Problem:
If your MDX shudders or vibrates between 35 and 40 mph, there's a good chance that the torque converter is faulty.
Solution:
Replace the torque converter, or the torque converter and the transmission, and update the PCM with the HDS. NOTE: The PCM software must be updated in order to complete the repair.
Fair Replacement Transmission Cost by Vehicle
Find your transmission model in the table below for fair prices from reputable suppliers. Also fair labor cost for local installation at a local auto repair shop.


Fair Remanufactured Transmission Price Ranges by Transmission Model Updated for 2019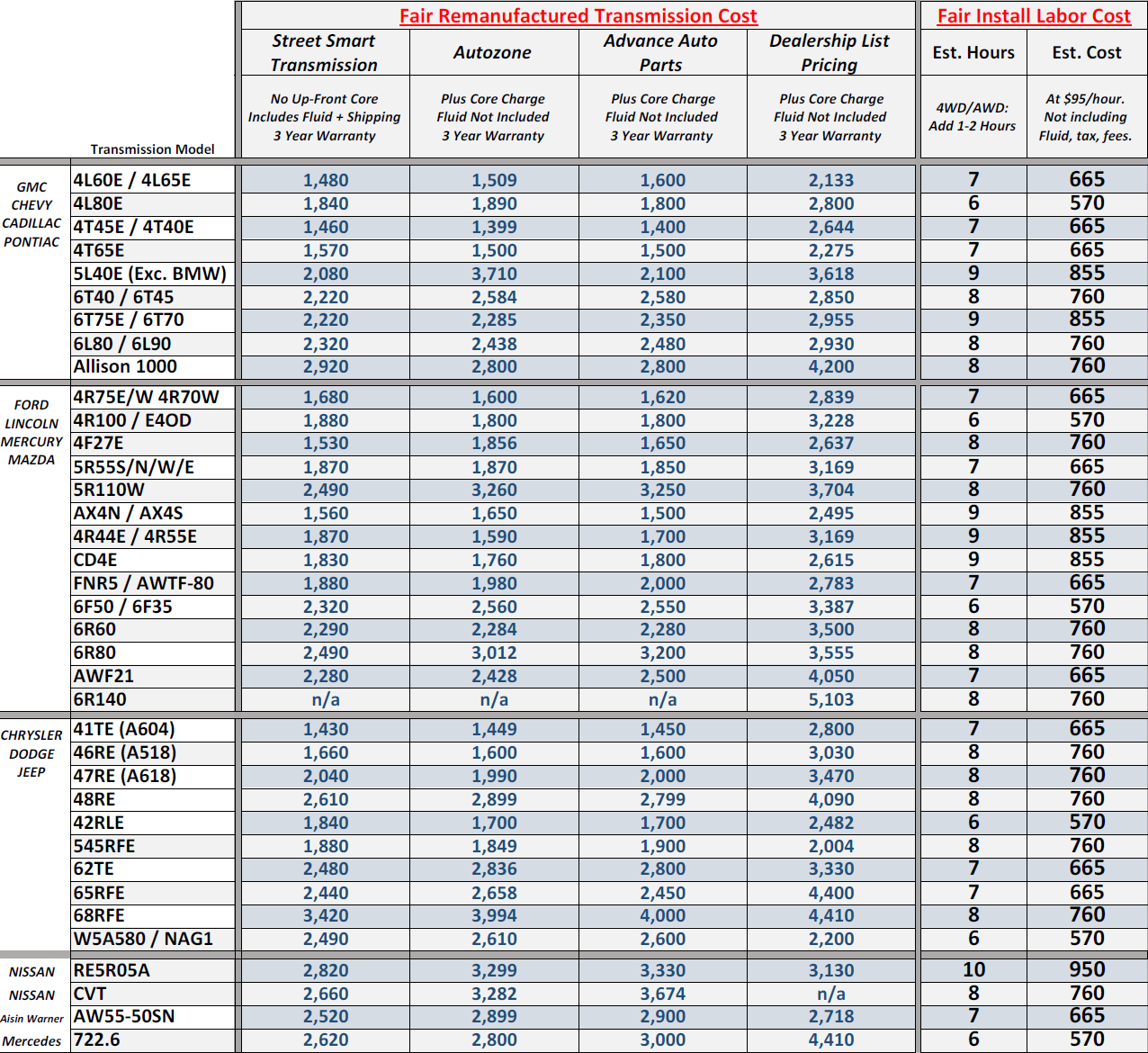 Download Replacement Transmission Cost Guide PDF
What Transmission Does an Acura MDX Have?
[transtar]
What to Read Next
Over to You
[yop_poll id="15″] [yop_poll id="14″]
What Problem Does Your MDX Have?
Let us know the year, mileage and problem you're having as well as any trouble (OBD) codes you've found. If you've been given a quote or paid for a repair, we'd like to hear about that too!