The Cadillac DTS officially replaced the Cadillac DeVille in 2006 as the brand's flagship model. This was mostly just a name change, as this big Caddy still offered full-size luxury, with Northstar V8 power. Under that powerful engine was the beefed up 4T80E transmission, which was designed to handle all of the torque that aluminum V8 put out. Although Cadillac DTS transmission problems are rare, they do still happen. So let's find out when you can do about them.
Need a replacement transmission? Get an estimate for replacement transmissions and local installation. Look up your transmission model by vehicle make and model.
What Transmission Do I Have?
Cadillac DTS Transmission Models
Cadillac DTS: 4T80E Transmission
Cadillac DTS Transmission Replacement Cost Estimate
Pricing varies by model. To be 100% sure on pricing, have your VIN# handy and use our Get An Estimate feature to look up your transmission by VIN#.
What are the DTC codes related to Cadillac DTS transmission problems?
P0894 – Transmission component slipping – This OBDII trouble one of the gear ratios is not consistent with what the ECU is asking for.
P0218 – Transmission over temperature – This diagnostic trouble code is triggered when the gearbox exceeds the maximum allowable temperature.
Cadillac DTS Transmission Recalls
None Found
Cadillac DTS Technical Service Bulletins (TSB)
08-07-30-009 – 4T80E transmission leak and slipping
Problem – One of the most common 4T80E transmission problems includes an ATF leak and slipping. Many times these two problems are related.
Solution – This problem is often caused by worn third clutch housing bushings, which can allow excessive transmission fluid build up at the axle seal. This condition can cause both the leak and the slipping. To correct it, a new third clutch housing with revised bushings will have to be installed.
TSB 08-07-30-016 – Slipping, refusal to shift, overheating
Problem – Slipping between the gears, overheating, refusal to shift out of a gear, and/or DTC P0894 or P0218, may be because by friction material debonding from the torque convertor clutch (TCC).
Solution – If the friction material has circulated throughout the transmission, the entire transmission may need to be replaced. It is possible to remove the material from the internal components (like transmission cooler lines and the valve body), but it depends on the extent of the damage.
Common Problems with the Cadillac DTS Transmission
Lack of Response
Leaking Fluid
Low Fluid
Burning Smell
Grinding or Shaking
Whining, Clunking or Humming
Refuses to Go Into Gear
Torque Converter Issues
Valve Body Issues
Transmission Noisy in Neutral
Gears Slipping
No 3rd or 4th Gear
No 1st or 2nd Gear
No Reverse
Dragging Clutch
Trouble Codes / Check Engine Light
Can I drive with a transmission problem?
Although many Cadillac DTS transmission problems won't keep you from being able to drive the car, it's still not a good idea. The 4T80E transmission is a heavy duty gearbox, and if something inside of it is broken, you can bet that it's a major problem. And continuing to drive the car could make things a lot worse/more expensive to fix.
How often does a Cadillac DTS transmission need to be replaced?
If properly maintained, a Cadillac DTS 4T80E transmission can easily last for 130,000-180,000 miles. However, a good quality remanufactured 4T80E can last even longer.
How are Cadillac DTS transmission issues diagnosed?
The first step to figuring out what's wrong with your Cadillac DTS 4T80E transmission, is to hook up a scan tool and pull the diagnostic trouble codes. Then the technician can perform a visual inspection to determine how to fix the problems.
How is a Cadillac DTS transmission replaced?
Replacing a Cadillac DTS 4T80 is fairly complicated, and typically requires the engine, transmission and front subframe to be removed. After separating the engine and transmission, the replacement 4T80E can be attached to the motor, and the whole assembly reinstalled in the car. There may be other methods of doing this, but that is the most accepted practice. However, the ECU/PCM will have to be reprogrammed / reflashed to accept the new transmission.
Recommendations for Cadillac DTS transmission issues?
To save time and get back on the road faster, have your 17-digit truck VIN# handy and you can get an online quote for a reman Cadillac DTS transmission here, then find a local shop using our Find a Shop guide to install it for you.
How to Solve Cadillac DTS Transmission Problems
Solution A: Buy a Used Cadillac DTS Transmission
Buying a used Cadillac DTS 4T80E from the local salvage yard might seem like the most economical solution at first. But with no way to verify the condition of the internal components, you may literally be buying someone else's transmission problems. And that junkyard warranty may not cover labor charges if something goes wrong with the first used 4T80E.
Solution B: Buy a Rebuilt Cadillac DTS Transmission
Next up the ladder of logic, would be a rebuilt 4T80E transmission. In this scenario, a mechanic would take your existing gearbox and install a bunch of factory spec Cadillac transmission parts. When you compare this with a used Cadillac transmission, it does seem like the better choice. However returning the transmission back to stock will cause all of the original factory design flaws to return in the future. And that rebuilt transmission warranty is usually only good at the shop that built the transmission. So if you have transmission problem what your out of town, that warranty will do you absolutely no good.
Solution C: Buy a Remanufactured Cadillac DTS Transmission
The most viable solution to all of your Cadillac DTS transmission problems, is to get a remanufactured 4T80E transmission from a reputable supplier. They use are often upgraded beyond OE specs to extend their service life. And many will come with a nationwide warranty, that will provide you with coverage no matter where you travel.
Fair Replacement Transmission Cost by Vehicle
Find your transmission model in the table below for fair prices from reputable suppliers. Also fair labor cost for local installation at a local auto repair shop.


Fair Remanufactured Transmission Price Ranges by Transmission Model Updated for 2019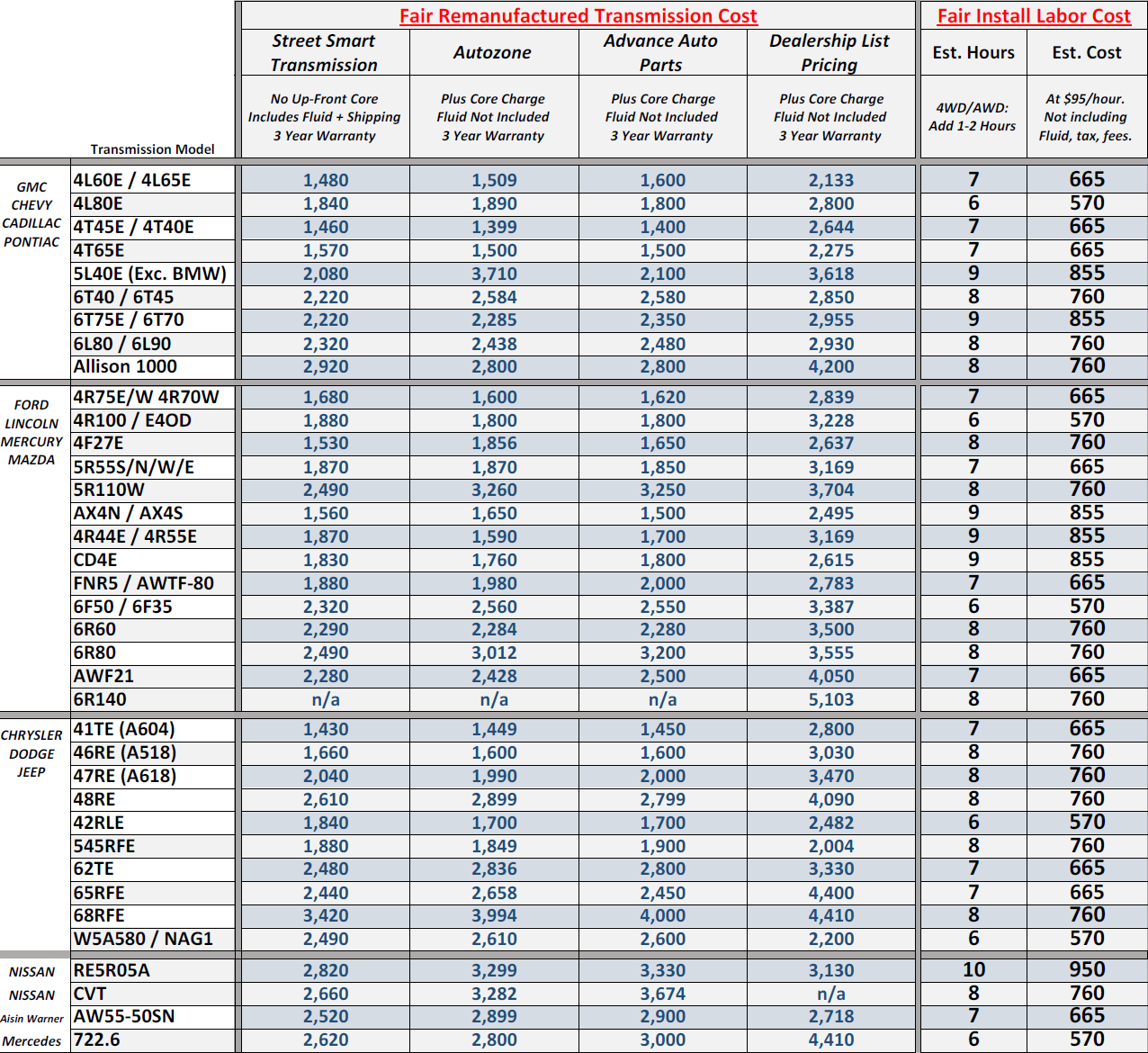 Download Replacement Transmission Cost Guide PDF
What Problem Does Your Cadillac DTS Have?
Let us know the year, mileage and problem you're having as well as any trouble (OBD) codes you've found. If you've been given a quote or paid for a repair, we'd like to hear about that too!