While the Chevrolet Cavalier was never intended to compete with a BMW, it has certainly proved itself to be more reliable there is similarly aged Bimmer. However, Chevy Cavalier transmission problems do still happen. So let's figure out what you can do about them
Need a replacement transmission? Get an estimate for replacement transmissions and local installation. Look up your transmission model by vehicle make and model.
What Transmission Do I Have?
Chevy Cavalier Transmission Models
Chevy Cavalier: 4T40E Transmission
Chevy Cavalier Transmission Replacement Cost Estimate
Pricing varies by model. To be 100% sure on pricing, have your VIN# handy and use our Get An Estimate feature to look up your transmission by VIN#.
Replacement 4T40E Transmission:

| Transmission | Street Smart Transmission | Autozone | Advance Auto Parts |
| --- | --- | --- | --- |
| 4T45E / 4T40E | 1460 | 1400 | 1400 |
What are the DTC codes related to Chevy Cavalier transmission problems?
P0742 – Torque Converter Clutch Circuit Stuck On – If your vehicle has this DTC, then the torque convertor clutch solenoid is most likely stuck in the 'on' position
P1887 – Torque Convertor Clutch Release Switch Circuit Malfunction
P0716 – Input/Turbine Speed Sensor Circuit Range/Performance – This DTC means there is a problem with the input / turbine speed sensor, and the ECU may not be able to control the transmission properly.
P0722 – Output Speed Sensor Circuit No Signal – This DTC is triggered when the ECU stops receiving data from the OSS sensor
P0723 – Output Speed Sensor Circuit Intermittent – This OBDII code means the ECU is not receiving a steady signal from the output speed sensor.
P0751 – Shift Solenoid 'A' Performance or Stuck Off – When you see this DTC, it means the 'A' shift solenoid is not working right, or is stuck in the 'off' position.
P0756 – Shift Solenoid 'B' Performance or Stuck Off – If the ECU saved this code, then a solenoid isn't working right, or it's stuck off.
P0776 – Pressure Control Solenoid 'B' Performance or Stuck Off – This diagnostic trouble code means there is a mechanical problem with this solenoid.
P0796 – Pressure Control Solenoid 'C' Performance or Stuck Off – If the pressure control solenoid labeled 'C' isn't working correctly, or it gets stuck in the 'On' position, this DTC will be saved.
P0741 – Torque Converter Clutch Circuit Performance or Stuck Off – This diagnostic trouble code means the TCC solenoid is not performing according to specification.
P0766 – Shift Solenoid 'D' Performance or Stuck Off – When this solenoid isn't functioning properly, or it gets stuck in the 'off' position, this code will get stored.
P2703 – Failed Friction Element D – This trouble code can be triggered by a failed friction element like a clutch disc.
P0720 – Output Speed Sensor Circuit – This DTC is triggered when there's an issue with the data coming from the output speed sensor.
P0730 – Incorrect Gear Ratio – This DTC means the ECU has detected either an electrical or hydraulic issue affecting the shift pattern.
P0657 – Voltage Problem in the 'A' Circuit – This transmission problem is often caused by a short, or bad ground on the PCM or PCM wiring harness.
P0700 – Transmission Control System – This generic code means something went wrong in the electrical system that controls the transmission.
P0715 – Input/Turbine Speed Sensor Circuit – This DTC means the signal coming from the transmission input speed sensor does not meet the ECU's programmed parameters.
P0717 – Input/Turbine Speed Sensor Circuit No Signal – If the ECU can't communicate with the input speed sensor, this DTC gets stored.
P0791 – Intermediate Shaft Speed Sensor Circuit – This DTC means there is a general problem with the ISS sensor.
P0793 – Intermediate Shaft Speed Sensor Circuit No Signal – This DTC means there is no signal returning to the ECU from the ISS sensor.
Chevy Cavalier Transmission Recalls
None Found
Chevy Cavalier Technical Service Bulletins (TSB)
Torque convertor clutch bearing failure – Chevrolet Cavalier 4T40E
Problem – Unusually harsh shifts can occur due to a premature failure of the TCC seal and needle bearing assembly, located inside the transmission pump.
Solution – A revised TCC needle bearing assembly will have to be installed.
Common Problems with the Chevy Cavalier Transmission
Lack of Response
Leaking Fluid
Low Fluid
Burning Smell
Grinding or Shaking
Whining, Clunking or Humming
Refuses to Go Into Gear
Torque Converter Issues
Valve Body Issues
Transmission Noisy in Neutral
Gears Slipping
No 3rd or 4th Gear
No 1st or 2nd Gear
No Reverse
Dragging Clutch
Trouble Codes / Check Engine Light
Can I drive with a transmission problem?
While many Chevy Cavalier transmission problems won't render them unusable, continuing to drive it can drastically reduce its reliability and increase the amount of money that it will take to fix the problem.
How often does a Chevy Cavalier transmission need to be replaced?
If it has been properly maintained, a Chevy Cavalier 4T40E can go between 130,000-180,000 miles. But maintenance isn't the only thing that can affect the service life. Factory design flaws can actually cause premature transmission failure. A remanufactured transmission on the other hand, will typically last for a lot longer if all of the design issues have been properly addressed.
How are Chevy Cavalier transmission issues diagnosed?
Later model Chevrolet Cavalier transmission problems can be partially diagnosed using the OBDII system. However, some hand tools and experience will still be needed to determine the proper course of action.
How is a Chevy Cavalier transmission replaced?
Because this is a very small front wheel drive car, the motor may have to be partially removed in order to pull out the old transmission. Installation will obviously be a reverse of the removal process.
Recommendations for Chevy Cavalier transmission issues?
To save time and get back on the road faster, have your 17-digit truck VIN# handy and you can get an online quote for a reman Chevy Cavalier transmission here, then find a local shop using our Find a Shop guide to install it for you.
How to Solve Chevy Cavalier Transmission Problems
Solution A: Buy a Used Chevy Cavalier Transmission
To save a bit of money, you might be tempted to go buy a used 4T40E transmission from the local salvage yard. But you have no way to know what kind of condition it is on the inside, which means you could face worse transmission problems in the future. And that junkyard warranty likely will not cover labor charges, if the first used transmission does not work properly.
Solution B: Buy a Rebuilt Chevy Cavalier Transmission
An alternative to a used transmission is obviously to buy a rebuilt 4T40E transmission from a mechanic or transmission repair shop. However, if they take the transmission back to its stock specifications, then all of the original problems will return at some point in the future. In addition, the warranty you yet will probably only be good at the shop or franchise that built it. So if you have more Cavalier transmission problems and you're not close to one of those shops, you could be paying for those transmission repairs out of pocket.
Solution C: Buy a Remanufactured Chevy Cavalier Transmission
If you want to get the most life out of your tough little car, then you'll want to get a top quality remanufactured 4T40E transmission from a reputable manufacturer. If it's done properly, all of the factory design flaws will have been addressed, which will increase durability and the service life. And if you can find one with a nationwide warranty, you won't to have to worry about steep transmission repair bills popping out of nowhere.
Fair Replacement Transmission Cost by Vehicle
Find your transmission model in the table below for fair prices from reputable suppliers. Also fair labor cost for local installation at a local auto repair shop.


Fair Remanufactured Transmission Price Ranges by Transmission Model Updated for 2019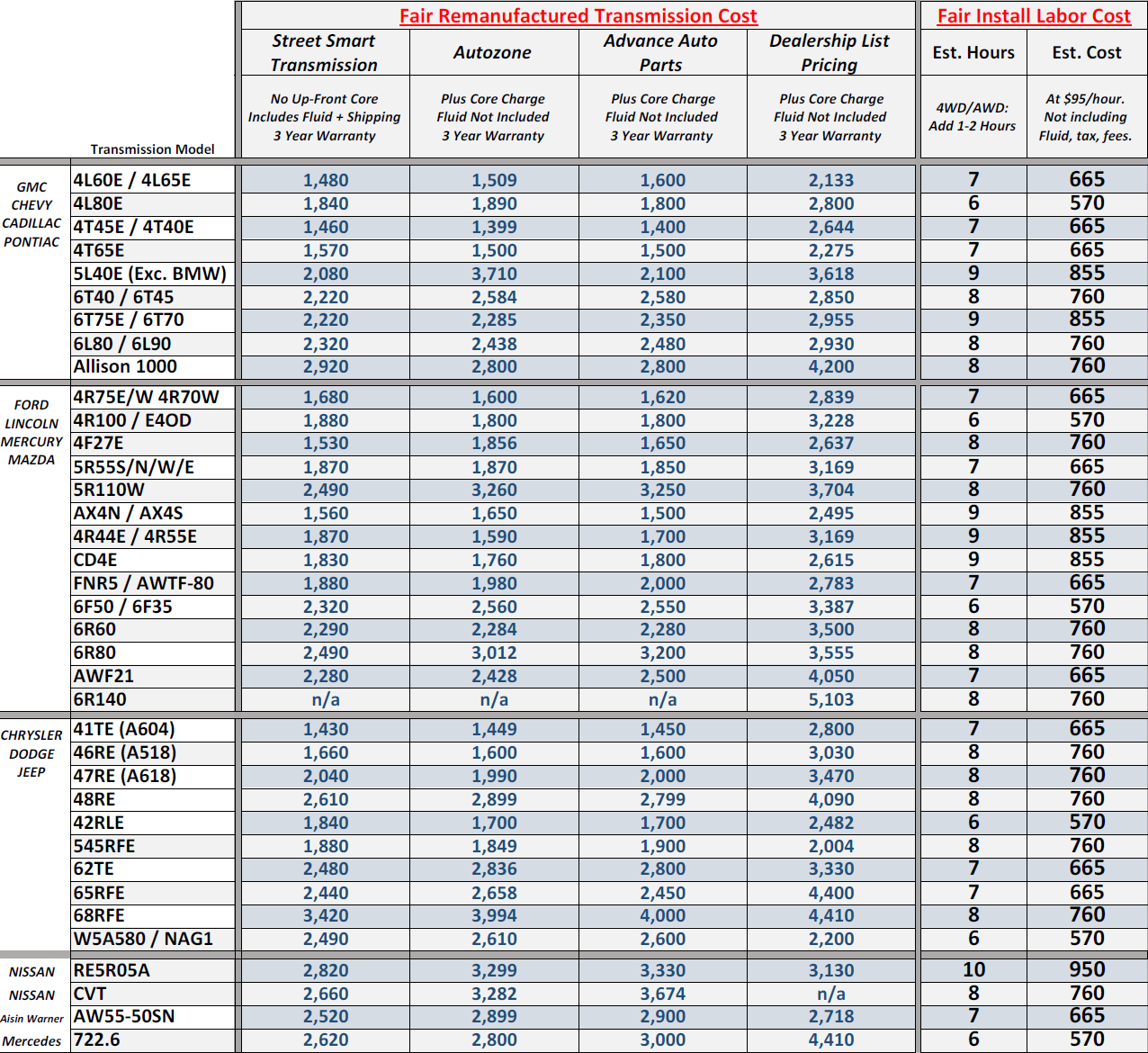 Download Replacement Transmission Cost Guide PDF
What Problem Does Your Chevy Cavalier Have?
Let us know the year, mileage and problem you're having as well as any trouble (OBD) codes you've found. If you've been given a quote or paid for a repair, we'd like to hear about that too!