The Cadillac SRX is a mid-size luxury SUV that was first introduced for the 2003 model year. Initially, it was rear wheel drive and offered the option of a Northstar V8 engine. But that all changed for the 2010 model year, when the SRX was redesigned on a FWD platform and became what we now know as a crossover/CUV. This transition more than doubled the sales volume, and made Cadillac an actual player in the luxury CUV segment. Throughout its life, a number of fairly reliable 5 and 6-speed transmissions have been offered. With proper maintenance, these gearboxes can last for a good long time. However, Cadillac SRX transmission problems do still happen. So let's find out what you can do about them.
Need a replacement transmission? Get an estimate for replacement transmissions and local installation. Look up your transmission model by vehicle make and model.
What Transmission Do I Have?
Cadillac SRX Transmission Models
Cadillac SRX: 5L40E / 5L50 Transmission
Cadillac SRX: 6L50 Transmission
Cadillac SRX: 6T70 Transmission
Cadillac SRX Transmission Replacement Cost Estimate
Pricing varies by model. To be 100% sure on pricing, have your VIN# handy and use our Get An Estimate feature to look up your transmission by VIN#.
Replacement Cadillac SRX Transmission Prices:

What are the DTC codes related to Cadillac SRX transmission problems?
P0716 – Input/Turbine Speed Sensor Circuit Range/Performance – This DTC means there is a problem with the input / turbine speed sensor, and the ECU may not be able to control the transmission properly.
P0722 – Output Speed Sensor Circuit No Signal – This DTC is triggered when the ECU stops receiving data from the OSS sensor.
P0723 – Output Speed Sensor Circuit Intermittent – This OBDII code means the ECU is not receiving a steady signal from the output speed sensor.
P0742 – Torque Converter Clutch Circuit Stuck On – If your vehicle has this DTC, then the torque convertor clutch solenoid is most likely stuck in the 'on' position.
P0751 – Shift Solenoid 'A' Performance or Stuck Off – When you see this DTC, it means the 'A' shift solenoid is not working right, or is stuck in the 'off' position.
P0756 – Shift Solenoid 'B' Performance or Stuck Off – If the ECU saved this code, then a solenoid isn't working right, or it's stuck off.
P0776 – Pressure Control Solenoid 'B' Performance or Stuck Off – This diagnostic trouble code means there is a mechanical problem with this solenoid.
P0796 – Pressure Control Solenoid 'C' Performance or Stuck Off – If the pressure control solenoid labeled 'C' isn't working correctly, or it gets stuck in the 'On' position, this DTC will be saved.
Cadillac SRX Transmission Recalls
2013 Cadillac SRX Recall – 13V097000
Summary – On certain models of the 2013 Cadillac SRX, the transmission may inadvertently shift into 'Sport Mode', reducing any engine braking effect.
Consequence – As a result of losing engine braking, the vehicle may not slow as expected, increasing the risk of a crash.
Remedy – To fix this problem, GM released a software update for the transmission control module/TCM, and will install it free of charge. Owners can contact Cadillac at 1-866-694-6546. Or they can call the National Highway Traffic Safety Administration Vehicle Safety Hotline at 1-888-327-4236
Cadillac SRX Technical Service Bulletins (TSB)
TSB 02-07-30-026 – Transmission shudder during hard acceleration – Cadillac SRX 5L40E / 5L50
Problem – During hard acceleration, it is not uncommon for the transmission to shudder/shake after launch. This is caused by insufficient clearance between the driveshaft attaching bolts and the transmission output shaft flange.
Solution – Install a revised transmission output shaft flange.
Input/Output Speed Sensor Issues – Cadillac SRX 6T50
Problem – When repairing a failed input speed sensor or output speed sensor, steering system damage could occur.
Solution – To avoid damage to the clock springs, the splined steering knuckle must be prevented from falling out of the steering rack when dropping the subframe to access the valve body.
TSB 13120A – 2013 Cadillac SRX 6T70E
Problem – The torque converter clutch solenoid can stick due to debris in the transmission. When the vehicle is at the end of a coast-down, as the vehicle is coming to a stop, a stuck solenoid will fail to release the torque converter clutch. This keeps the engine directly connected to the driven wheels. As the vehicle stops, the engine speed will be pulled down below normal idle speed and the engine may stall. The vehicle can be immediately restarted and driven.
Solution – The valve control solenoid should be replaced, and the transmission control module will have to be reprogrammed in order to correct the problem.
Common Problems with the Cadillac SRX Transmission
Lack of Response
Leaking Fluid
Low Fluid
Burning Smell
Grinding or Shaking
Whining, Clunking or Humming
Refuses to Go Into Gear
Torque Converter Issues
Valve Body Issues
Transmission Noisy in Neutral
Gears Slipping
No 3rd or 4th Gear
No 1st or 2nd Gear
No Reverse
Dragging Clutch
Trouble Codes / Check Engine Light
Can I drive with a transmission problem?
In many cases, the average Cadillac SRX transmission problems won't hamper drivability. However, you do run the risk of making the problem worse. Which can, at the end of the day, cost you a lot more money.
How often does a Cadillac SRX transmission need to be replaced?
Regularly scheduled maintenance is very important to extending the life of your Cadillac SRX transmission. But even with proper maintenance, OE design flaws can still cut the service life short. On average, we've noticed SRX transmissions tend to last between 130,000-180,000 miles. But a well designed remanufactured Cadillac SRX transmission can last significantly longer, if all of the factory design flaws have been addressed.
How are Cadillac SRX transmission issues diagnosed?
In order to determine what is causing your Cadillac SRX transmission problems, a technician will need to connect a code reader to the OBDII port under the dash. Once all of the diagnostic trouble codes have been read, a visual inspection can be performed to verify the source of the problem.
How is a Cadillac SRX transmission replaced?
On the first generation (RWD) Cadillac SRX, the exhaust system and driveshaft will have to be removed before lowering the transmission from the chassis. Installation is a reverse of the removal process. On FWD models made after 2010, the subframe may have to be partially removed before the transmission can be removed from the chassis. But in either case, the ECU/PCM will have to be reprogrammed / reflashed to accept the new transmission.
Recommendations for Cadillac SRX transmission issues?
To save time and get back on the road faster, have your 17-digit truck VIN# handy and you can get an online quote for a reman Cadillac SRX transmission here, then find a local shop using our Find a Shop guide to install it for you.
How to Solve Cadillac SRX Transmission Problems
Solution A: Buy a Used Cadillac SRX Transmission
To get back on the road as quickly responsible, a used 5L40E / used 6L50 / used 6T70E transmission from the local junkyard might seem like a viable option. However, you don't know how it was maintained. So you might wind up having even more Cadillac SRX transmission problems down the road. Plus, that junkyard warranty probably does not cover labor charges.
Solution B: Buy a Rebuilt Cadillac SRX Transmission
Another solution would be to get a rebuilt 5L40E / rebuilt 6L50 / rebuilt 6T70E transmission. In this scenario, a mechanic will take your existing gearbox and install a bunch of OE spec Cadillac SRX transmission parts. Most of the time, they will also give you a 1-2 year warranty. However, that warranty may only be honored by a single shop, which means you will have to pay for transmission repairs out of pocket if you travel. And those factory spec transmission parts mean that any premature failures due to a design flaw will return.
Solution C: Buy a Remanufactured Cadillac SRX Transmission
To achieve a more permanent solution to all your Cadillac SRX transmission problems, you might consider a remanufactured 5L40E / remanufactured 6L50 / remanufactured 6T70E transmission. If they are done properly, a reman transmission will be upgraded to address all of the factory design flaws. This will provide you with a longer service life and much better performance. Plus you may even be able to get a nationwide warranty, so you don't have to worry about breakdowns when you travel.
Fair Replacement Transmission Cost by Vehicle
Find your transmission model in the table below for fair prices from reputable suppliers. Also fair labor cost for local installation at a local auto repair shop.


Fair Remanufactured Transmission Price Ranges by Transmission Model Updated for 2019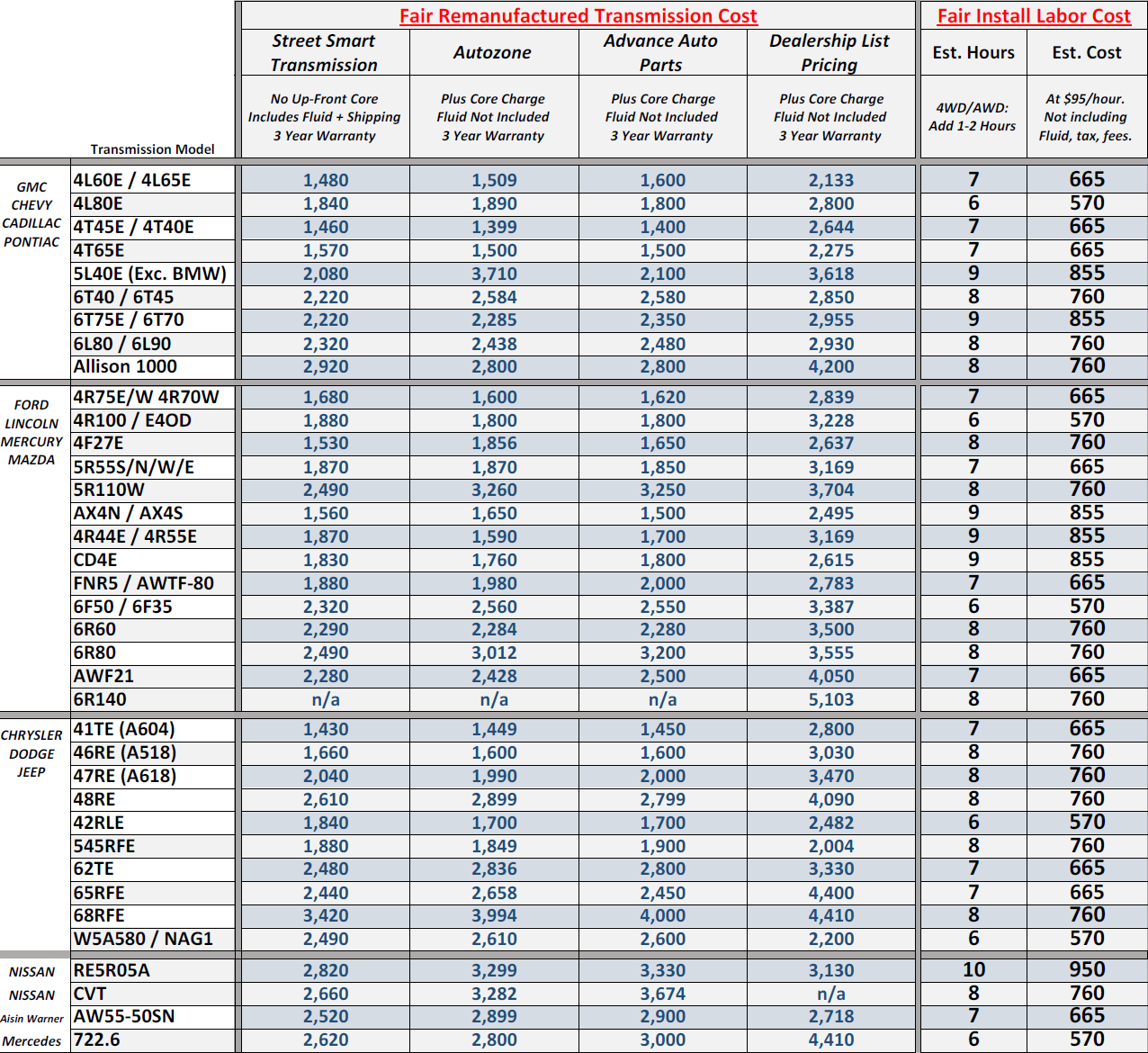 Download Replacement Transmission Cost Guide PDF
What Problem Does Your Cadillac SRX Have?
Let us know the year, mileage and problem you're having as well as any trouble (OBD) codes you've found. If you've been given a quote or paid for a repair, we'd like to hear about that too!