The Toyota Camry was equipped with the U241E, A541E and A140E transmission in certain models. Introduced for the 1983 model year, the Toyota Camry was designed to give Americans a reliable alternative to all the compact FWD cars that were pouring out of Detroit. Within a few short years the Camry was a success, and by 1997 it had become the best selling car in America. Today's Camry is a lot more luxurious and athletic than its predecessors. There's fresh styling, a metric ton of features, and the choice of 4cyl, V6 or hybrid power. The cabin has also been reimagined, and it's now filled with high quality materials, soft touch points, accent stitching, and tasteful chrome accents. Toyota has gone to great lengths to shed the appliance-like feel of previous Camry's. But it's still every bit as durable as you would expect. Does something seem wrong with your Camry? Let's look at some of the most common Toyota Camry transmission problems, and see what you can do to get your car back on the road.
Need a replacement transmission? Get an estimate for replacement transmissions and local installation. Look up your transmission model by vehicle make and model.
What Transmission Do I Have?
Toyota Camry Transmission Models
Toyota Camry: U241E Transmission
Toyota Camry: A541E Transmission
Toyota Camry: A140E Transmission
Toyota Camry Transmission Replacement Cost Estimate
Pricing varies by model. To be 100% sure on pricing, have your VIN# handy and use our Get An Estimate feature to look up your transmission by VIN#.
What are the DTC codes related to Toyota Camry transmission problems?
P0766 – Failed Shift Solenoid D – This DTC can be stored when there is a problem with a shift solenoid or the valve body.
P2703 – Failed Friction Element D – This trouble code can be triggered by a failed friction element like a clutch disc.
P0720 – Failed Input Speed Sensor or Output Speed Sensor – This trouble code is caused by a bad speed sensor on the transmission.
P0730 – Incorrect Gear Ratio – This issue could be caused by a number of problems, including a fault in the transmission control module, dirty transmission fluid, or a bad transmission solenoid.
P0657 – Voltage Problem in the 'A' Circuit – This transmission problem is often caused by a short, or bad ground on the PCM or PCM wiring harness.
P0700 – Malfunction in the transmission control system – This DTC is often triggered when there is a problem with the TCM, a wiring harness, a solenoid, or the valve body.
P0715 – Input/Turbine Speed Sensor Malfunction – This code typically gets stored when the input sensor cannot read the engine RPM, which can prevent the transmission from appropriately shifting gears.
P0717 – Input/Turbine Speed Sensor No Signal – This trouble code is generated when the PCM does not get a signal from the input speed sensor, which will prevent the computer from being able to determine when the transmission needs to shift.
P0791 – Intermediate Shaft Speed Sensor 'A' Circuit – This error can occur when there is a problem with the intermediate shaft speed sensor, most likely due to a bad sensor, wiring problem, or a failed shift solenoid.
P0793 – Intermediate Shaft Speed Sensor Circuit No Signal – The computer will generate this DTC when it cannot communicate with the intermediate shaft speed sensor.
Common Problems with the Toyota Camry Transmission
Lack of Response
Leaking Fluid
Low Fluid
Burning Smell
Grinding or Shaking
Whining, Clunking or Humming
Refuses to Go Into Gear
Torque Converter Issues
Valve Body Issues
Transmission Noisy in Neutral
Gears Slipping
No 3rd or 4th Gear
No 1st or 2nd Gear
No Reverse
Dragging Clutch
Trouble Codes / Check Engine Light
Toyota Camry Recalls
No transmission-related recalls.
Toyota Camry Technical Service Bulletins (TSB)
2012-2014 Camry – TSB 0034-14
Problem:
On Camry models equipped with the U760 transmission, a brief shudder may be experienced under light throttle between 25-50 mph.
Solution:
To fix the problem, the ECU needs to be reprogrammed with the latest transmission control software.
2006-2009 Camry – TSB 0033-08
Problem:
When equipped with the 4-cyl and 5-speed automatic, the '06-'09 Toyota Camry may exhibit an unusually harsh 5-4 downshift after decelerating from above 45 mph to below 28 mph.
Solution:
A revised line pressure control solenoid assembly will need to be installed.
Problem:
Certain 2010 Camry's equipped with the 4-cyl engine may experience a transmission fluid leak due to a missing plug in the upper right hand side of the transmission case.
Solution:
If the plug is missing, a new one will need to be installed. Otherwise, follow normal diagnostic procedures to determine the source of the leak.
2004 Camry – TSB TC003-04
Problem:
Due to manufacturing issues with the Powertrain Control Module, cars equipped with the 3.0L V6 and 3.3L V6 may display malfunction warning lights with the following trouble codes: P0748, P0798, P0985 and P0986
Solution:
In order to fix this issue, an updated PCM will need to be installed.
2002-2003 Camry V6 – TSB EG022-02
Problem:
Some '02-'03 Camry V6 models produced at the TMMK plant may exhibit a triple shock/shudder during the 2-3 upshift under light throttle.
Solution:
To stop this from happening, the ECM needs to be reset and the car needs to be driven with light throttle application to re establish the computer's "learned values".
Fair Replacement Transmission Cost by Vehicle
Find your transmission model in the table below for fair prices from reputable suppliers. Also fair labor cost for local installation at a local auto repair shop.


Fair Remanufactured Transmission Price Ranges by Transmission Model Updated for 2019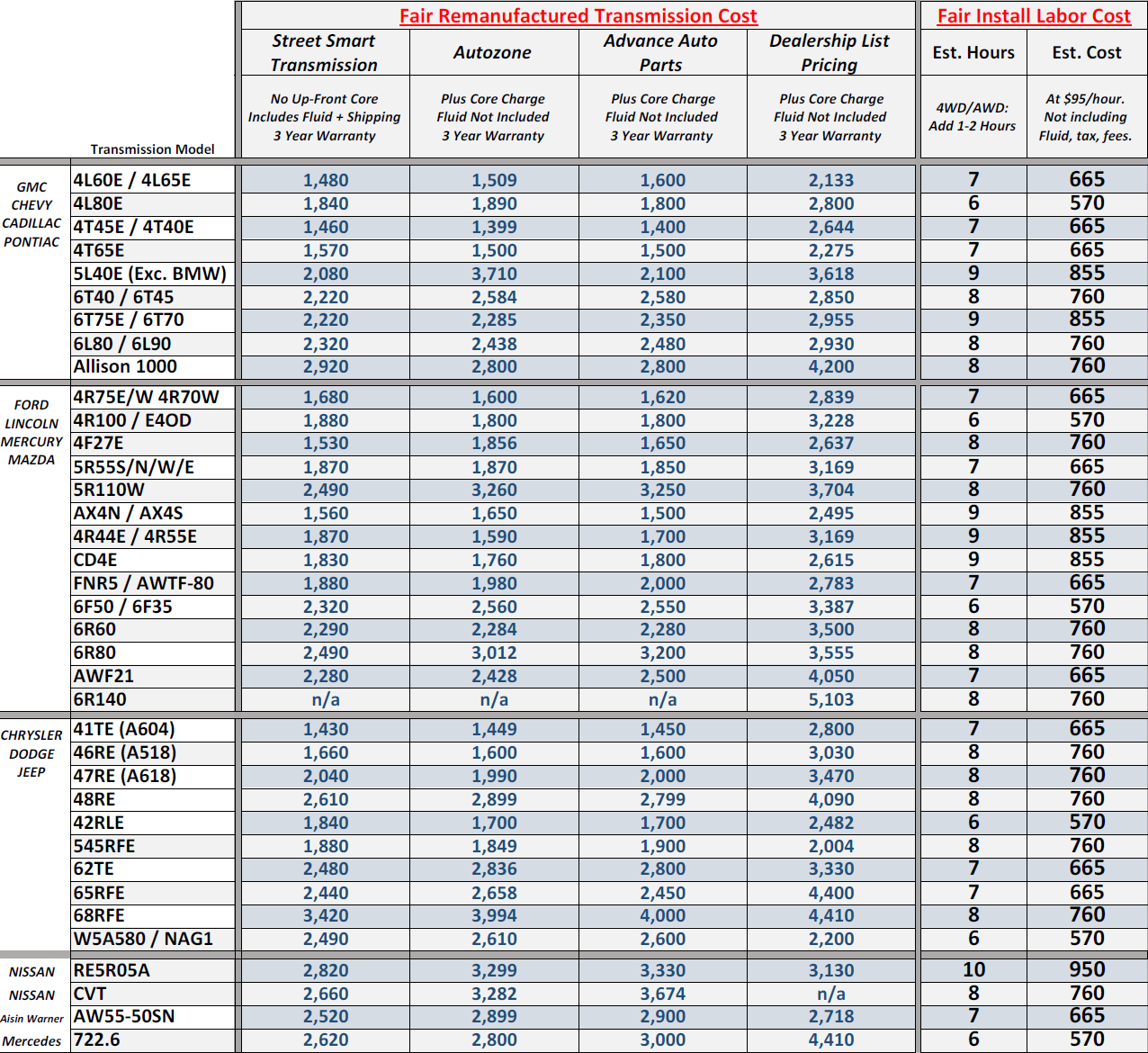 Download Replacement Transmission Cost Guide PDF
How to Diagnose & Fix
Check the OBD Codes
Check the fluid level
Test transmission pressure
Drop the transmission pan
Repair, replace or rebuild
What to Read Next
Related Forum Discussions
Over to You
[poll id="24″] [poll id="32″]
What Problem Does Your Camry Have?
Let us know the year, mileage and problem you're having as well as any trouble (OBD) codes you've found. If you've been given a quote or paid for a repair, we'd like to hear about that too!