The first generation Lexus RX 300 was immediately embraced by luxury car buyers. It was filled with high-end materials, the ride was butter-smooth, and the 1MZ-FE 3.0L V6 provided effortless power. The Toyota U140E 4-speed automatic handled shifting duties, and did a good job of putting power to the ground.
Need a replacement transmission? Quality transmission suppliers can be hard to find. Have your 17-digit vehicle VIN# ready. Free estimates sent via text and email.
Something seems wrong with your RX 300? Let's look at some of the most common Lexus RX 300 transmission problems, and see what you can do to get your SUV back on the road.
Recalls
No transmission-related recalls.
Lexus RX300 Technical Service Bulletins (TSB)
1999 RX 300 – TSB TC002-99
Problem:
Certain 1999 Lexus RX300 models may experience an intermediate shudder or shake during the 2-3 shift under light throttle, once the transmission has reached operating temperature.
Solution:
This problem was caused by a design flaw in the valve body, which was corrected in later models. To correct the problem, a revised valve body will need to be installed.
1999-2003 RX 300 – TSB TC002-03
Problem:
On all 1999-2003 Lexus RX300 models, owners who have had their transmission repaired, overhauled, or replaced, may experience rough or erratic shifting, along with other drivability issues immediately following the repairs.
Solution:
These drivability issues occur because the engine computer (ECM) is still using the old "Learned Values" that were saved prior to the repairs. To clear the old parameters so the ECU can 'learn' new ones, a mechanic or Lexus tech will have to reset the ECU using a Lexus diagnostic tester and program card.
1999-2003 RX 300 – TSB L-SB-0082-14
Problem:
The purpose of this bulletin is to provide precautions to follow when installing an automatic transmission/transaxle assembly to avoid MIL (Malfunction/Check Engine Light) "ON", shifting issues, and/or transmission damage.
Solution:
After installing a U140E transmission, the technician must confirm the following:
Both alignment pins are present on the engine block.
ATF lines and cooler have been flushed with the appropriate ATF type.
Correct torque converter bolts and washers are used.
All ground straps are in the correct locations and are connected properly.
Correct shift cable adjustment.
Correct park/neutral position switch adjustment.
Transmission fluid level has been set properly.
Transmission learned values have been reset and/or the compensation code has been input (if applicable) and proper initialization has been performed.
NOTE
Not all applications will use washers on the torque converter bolts.
Fair Replacement Transmission Cost by Vehicle
Use the Year / Make / Model lookup tool to determine what transmission your vehicle has.



Find your transmission model in the table below for fair prices from reputable suppliers. Also fair labor cost for local installation at a local auto repair shop.


Get a free estimate on a remanufactured transmission by email.
Fair Remanufactured Transmission Price Ranges by Transmission Model Updated July 2018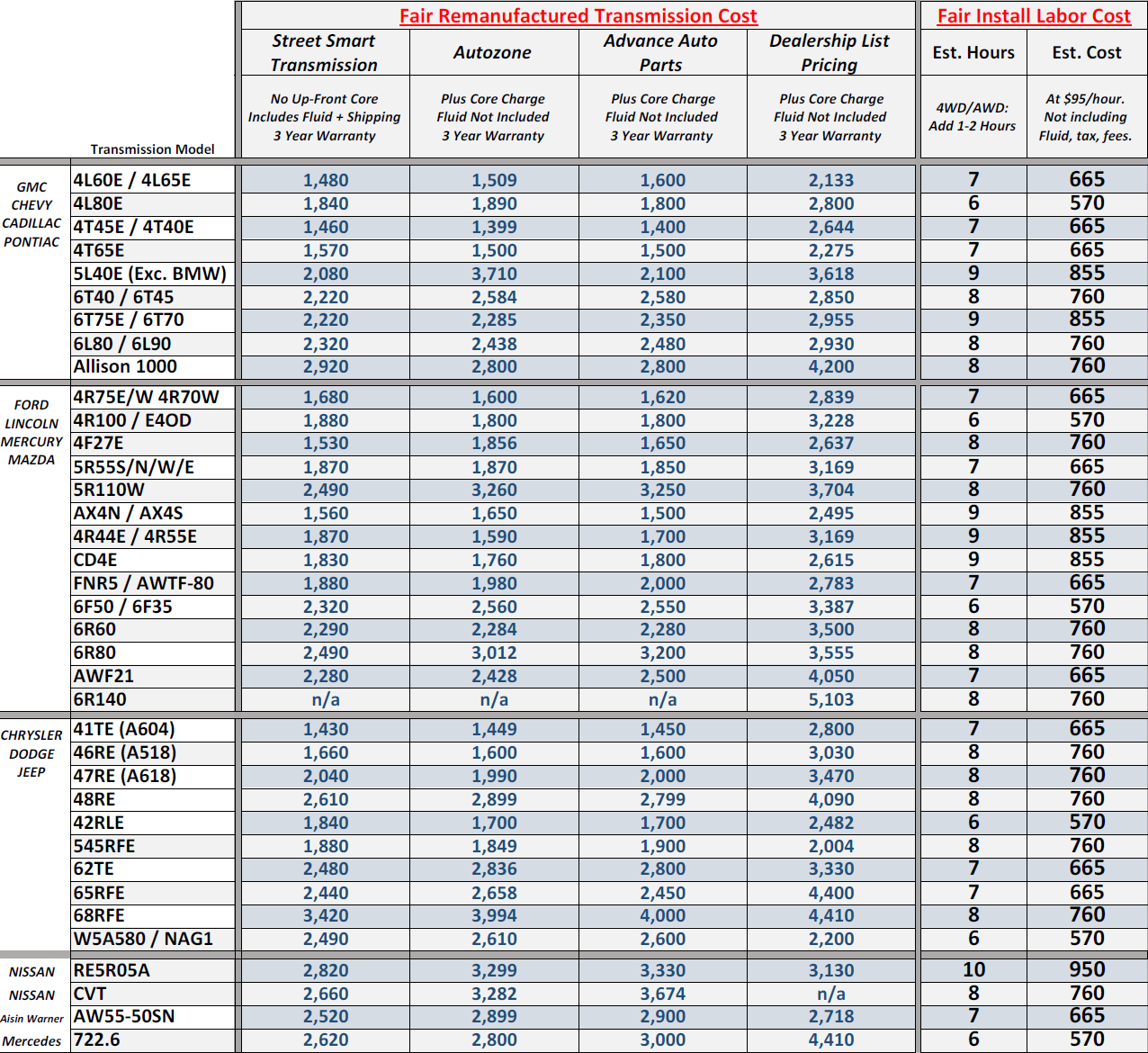 Download Replacement Transmission Cost Guide PDF
How to Diagnose & Fix
Check the OBD Codes
Check the fluid level
Test transmission pressure
Drop the transmission pan
Repair, replace or rebuild
What to Read Next
Over to You
[yop_poll id="3″] [yop_poll id="4″]
What Problem Does Your RX300 Have?
Let us know the year, mileage and problem you're having as well as any trouble (OBD) codes you've found. If you've been given a quote or paid for a repair, we'd like to hear about that too!