Introduced for the 2001 model year, the almost-midsize Hyundai Santa Fe was the South Korean automaker's first foray into the SUV market. American sales quickly exceeded production, and made it Hyundai's best-selling model.
Need a replacement transmission? Quality transmission suppliers can be hard to find. Have your 17-digit vehicle VIN# ready. Free estimates sent via text and email.
Does something seem wrong with your Santa Fe? Let's look at some of the most common transmission problems, and see what you can do to get your SUV back on the road.
Hyundai Santa Fe Recalls
2010 Santa Fe – 11V261000 / 102
Summary
Hyundai is recalling certain 2010 2wd/FWD models equipped with automatic transmissions and 2.4L engines, that were manufactured between October 15, 2009 through March 5, 2010. It seems that the intermediate shaft may suffer from noise and excessive wear due to a misalignment of the intermediate shaft with the right side output gear. Continuing to drive the vehicle in this condition leads to the development of a whirring/whining noise and can eventually cause damage to the transmission.
Consequence
Damage to the transmission may cause loss of motive power, increasing the risk of a crash.
Remedy
This recall began in June 2011, and dealers were instructed to replace the right side output gear and intermediate shaft free of charge. Owners may contact Hyundai's customer assistance center at 1-800-633-5151, referring to Hyundai's safety recall campaign number: 102. Owners can also contact the National Highway Traffic Safety Administration's vehicle safety hotline at 1-888-327-4236.
Hyundai Technical Service Bulletins (TSB)
2013 Santa Fe Sport 2.0L / 2.4L – TSB 15-01-009
Problem:
The end of the cable connecting the transmission range switch to the vehicle's shift lever pin is fastened to the pin with a rubber grommet. The connection between the shifter cable and shift lever pin is critical to ensure proper gear selection (including placing the vehicle in Park). If the cable becomes disconnected and the vehicle is not in the Park position, the vehicle may roll if the parking brake is not applied.
Solution:
To fix or prevent this problem, an "E-clip" will need to be installed on the shift lever pin as a supplemental method of securing the cable.
2010 Santa Fe – TSB 11-AT-002
Problem:
Incorrect operation of the input and output speed sensors may result in the following symptoms:
• Check Engine Light illuminated
• Transaxle held in 3rd gear Fail-Safe
• Diagnostic Trouble Codes P0717, P0721 or P0722
Solution:
It's possible that the wiring harness between the PCM and transaxle may have a damaged wire or a short circuit to ground. If there is a damaged pin or a pin is not fully inserted in the connector, it will be necessary to replace the ECM control harness between the PCM and transmission. If these issues are not present, then a new input/output speed sensor will need to be installed.
2010 Santa Fe – TSB 13-AT-007
Problem:
Some 2010 models equipped with the 6-speed automatic transmission can experience slippage during shifts or normal driving.
Solution:
The most likely cause is a faulty OD clutch.
Fair Replacement Transmission Cost by Vehicle
Find your transmission model in the table below for fair prices from reputable suppliers. Also fair labor cost for local installation at a local auto repair shop.


Get a free estimate on a remanufactured transmission by email.
Fair Remanufactured Transmission Price Ranges by Transmission Model Updated for 2019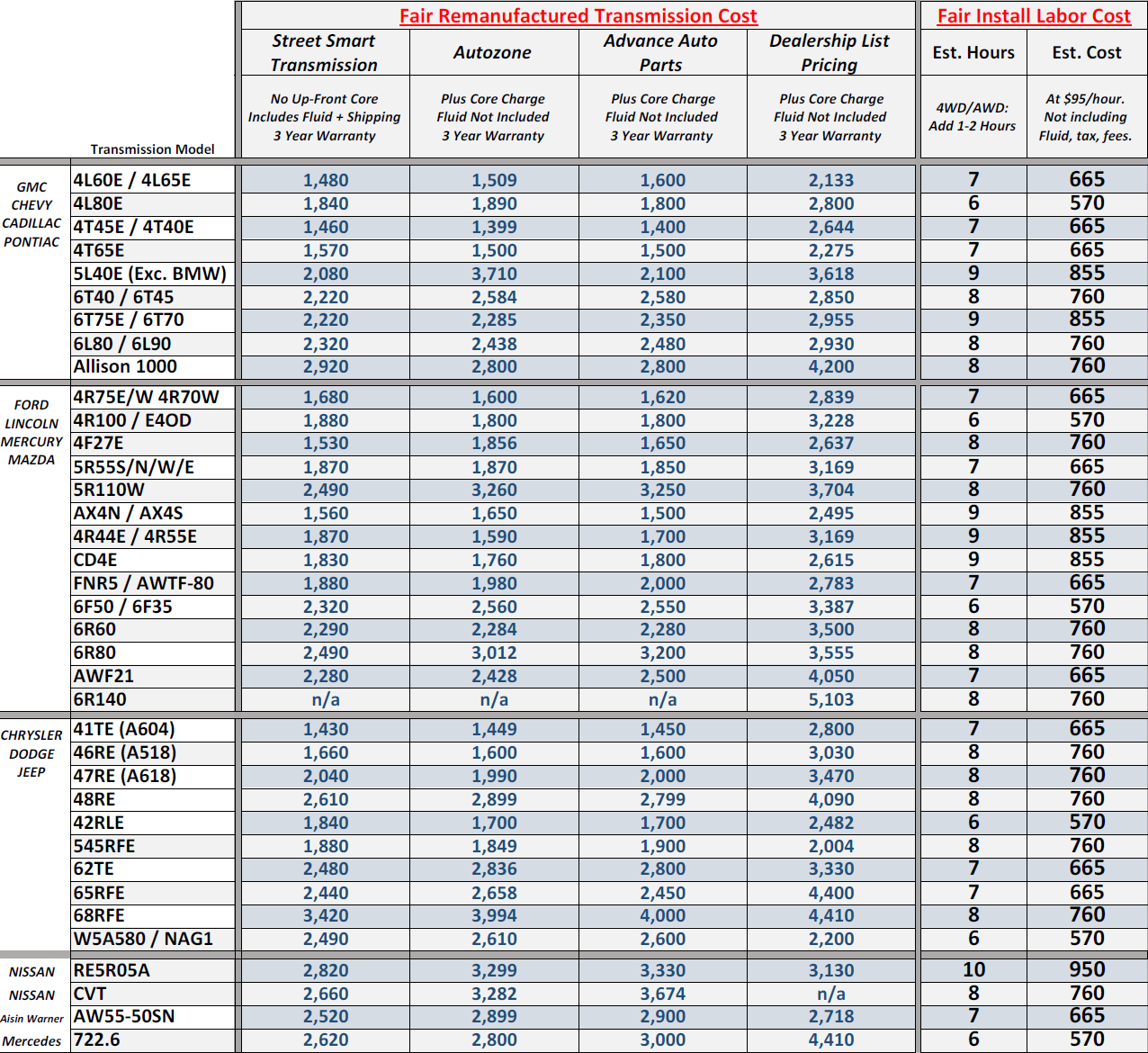 Download Replacement Transmission Cost Guide PDF
What Transmission Does a Hyundai Santa Fe Have?
[transtar]
What to Read Next
Related Forum Discussions
Over to You
[yop_poll id="18″] [yop_poll id="19″]
What Problem Does Your Vehicle Have?
Let us know the year, mileage and problem you're having as well as any trouble (OBD) codes you've found. If you've been given a quote or paid for a repair, we'd like to hear about that too!