The Acura TL was equipped with the BDGA, B7WA and B7VA transmission in many years. Debuting for the 1996 model year, the mid-size Acura TL combined all of the reliability and refinement of a Honda, with a heavy dose of style and luxury. At the time, it was a lot more durable than most luxury cars in its segment, and it soon became Acura's best-selling model. The second generation Acura 3.2TL was introduced for 1999, but this more powerful model was considerably more trouble prone. Common failures included the torque converter, 3rd gear clutch pack, and the entire transmission due to blocked oil passages, damage from debris and/or heat related internal damage. After numerous lawsuits, recalls, and tons of bad press, Honda finally extended the transmission warranty to 7 yrs or 100,000 miles. The 3rd generation TL came out in 2004, and was a better car in every way. The fourth generation TL would be the final use of this nameplate, as the all-new 5th gen car was renamed TLX in 2015. Is there something wrong with your TL? Let's look at some of the most common transmission problems, and see what you can do to get your car back on the road.
Need a replacement transmission? Quality transmission suppliers can be hard to find. Have your 17-digit vehicle VIN# ready. Free estimates sent via text and email.
Acura TL Transmission Models
Acura TL:  BDGA, B7VA and B7WA Transmission
Acura TL Transmission Replacement Cost Estimate
Pricing varies by exact engine size and year. To be 100% sure on pricing, have your VIN# handy and use our Get An Estimate feature to look up your transmission by VIN#.
What are the DTC codes related to Acura TL transmission problems?
P0766 – Failed Shift Solenoid D – This DTC can be stored when there is a problem with a shift solenoid or the valve body.
P2703 – Failed Friction Element D – This trouble code can be triggered by a failed friction element like a clutch disc.
P0720 – Failed Input Speed Sensor or Output Speed Sensor – This trouble code is caused by a bad speed sensor on the transmission.
P0730 – Incorrect Gear Ratio – This issue could be caused by a number of problems, including a fault in the transmission control module, dirty transmission fluid, or a bad transmission solenoid.
P0657 – Voltage Problem in the 'A' Circuit – This transmission problem is often caused by a short, or bad ground on the PCM or PCM wiring harness.
P0700 – Malfunction in the transmission control system – This DTC is often triggered when there is a problem with the TCM, a wiring harness, a solenoid, or the valve body.
P0715 – Input/Turbine Speed Sensor Malfunction – This code typically gets stored when the input sensor cannot read the engine RPM, which can prevent the transmission from appropriately shifting gears.
P0717 – Input/Turbine Speed Sensor No Signal – This trouble code is generated when the PCM does not get a signal from the input speed sensor, which will prevent the computer from being able to determine when the transmission needs to shift.
P0791 – Intermediate Shaft Speed Sensor 'A' Circuit – This error can occur when there is a problem with the intermediate shaft speed sensor, most likely due to a bad sensor, wiring problem, or a failed shift solenoid.
P0793 – Intermediate Shaft Speed Sensor Circuit No Signal – The computer will generate this DTC when it cannot communicate with the intermediate shaft speed sensor.
Acura TL Recalls
2000-2004 TL – 04V176000 / P31
Summary
According to the recall, certain operating conditions can result in heat build-up between the countershaft and secondary shaft second gears in the automatic transmission, eventually leading to gear tooth chipping or gear breakage.
Consequence
Gear failure could result in transmission lockup, which could result in a crash.
Remedy
This recall was issued on April 21, 2004, and Acura dealers received the following repair procedures: On vehicles with 15,000 miles or less, the transmission will be updated with a simple revision to the oil cooler return line to increase lubrication to the second gear. On vehicles with more than 15,000 miles, it will be inspected to identify gears that have already experienced discoloration due to overheating. If discoloration exists, the transmission will be replaced. If discoloration is not present, the revision to the oil cooler return line will be performed. The recall began for pilot, odyssey, and mdx owners. Owners can contact  Acura at 1-800-382-2238, referring to Acura recall: P31. Or, the National Highway Traffic Safety Administration's auto safety hotline at 1-888-dash-2-dot (1-888-327-4236).
1996-1998 TL – 99V227000
Summary
According to the recall, a transmission case bolt can loosen and fall out, allowing the transmission to disengage from the differential.
Consequence
The vehicle could lose power to the drive wheels without warning. Also, shifting the transmission into the park position would not lock the wheels, and a parked vehicle could move unexpectedly if the parking brake is not set.
Remedy
Owner notification began back in August of 1999, and dealers were instructed to install a redesigned bolt free of charge. Owners can contact  Acura at 1-800-382-2238, or, the National Highway Traffic Safety Administration's auto safety hotline at 1-888-dash-2-dot (1-888-327-4236).
Acura TL Technical Service Bulletins (TSB)
2009-2011 TL w/ SH-AWD – TSB 12-029
Problem:
A judder from the torque converter lock-up clutch may be felt while driving between 20–45 mph. To minimize the opportunity for the judder to occur, a software update for the transmission is available.
Solution:
This AT software update is available free of charge to all affected vehicles regardless of its age or mileage. However, if the judder returns after the transmission software is updated, the torque converter may need to be replaced. American Honda did extend the warranty on the torque converter in affected vehicles to 8 years from the original date of purchase or 105,000 miles, whichever comes first. If you have any questions about this warranty extension, or need assistance with locating an Acura dealer, please call Acura Client Relations at 1-800-382-2238, and select option 4. US owners can also locate a dealer online at myAcura.com. Owners in US territories, please contact your local dealer/distributor.
2000-2003  3.2TL / 2003 Acura TL Type S – TSB 03-002
Problem:
3rd Gear Clutch Pack is Worn:
The symptoms of a worn 3rd gear clutch pack include, but are not limited to
No upshifts or downshifts
Slippage or flaring on upshifts or downshifts (primarily in 3rd gear)
Erratic or excessively harsh shifts
Slow or delayed gear engagement
The MIL is on and/or the D5 indicator is flashing
Solution:
The 3rd gear clutch pack in the automatic transmission is worn and will need to be replaced. NOTE: Certain 2000 model year 3.2TLs will also require a new fuel pressure regulator.
1999-2003 TL / 2003 TL Type S – TSB 02-027
Problem:
While driving, the D4 indicator (1999 3.2TL) or D5 indicator (all other models) on the instrument panel flashes.
An abnormally loud noise from the transmission.
Extremely slow or delayed gear engagement, upshifts, or downshifts.
Abnormal gear slippage during upshifts or downshifts. • Erratic or excessively harsh shifting.
Automatic transmission fluid (ATF) leaks.
Solution:
These problems can often be fixed by a new torque converter, Powertrain Control Module (PCM), and/or fuel pressure regulator (2000 models). There were many transmission problems inherent to this generation TL, which forced American Honda to extend the transmission and torque converter warranties back in 2003. Unfortunately this warranty no longer applies, so you will have to pay for any of the above repairs and/or complete transmission replacement.
Fair Replacement Transmission Cost by Vehicle
Find your transmission model in the table below for fair prices from reputable suppliers. Also fair labor cost for local installation at a local auto repair shop.


Get a free estimate on a remanufactured transmission by email.
Fair Remanufactured Transmission Price Ranges by Transmission Model Updated for 2019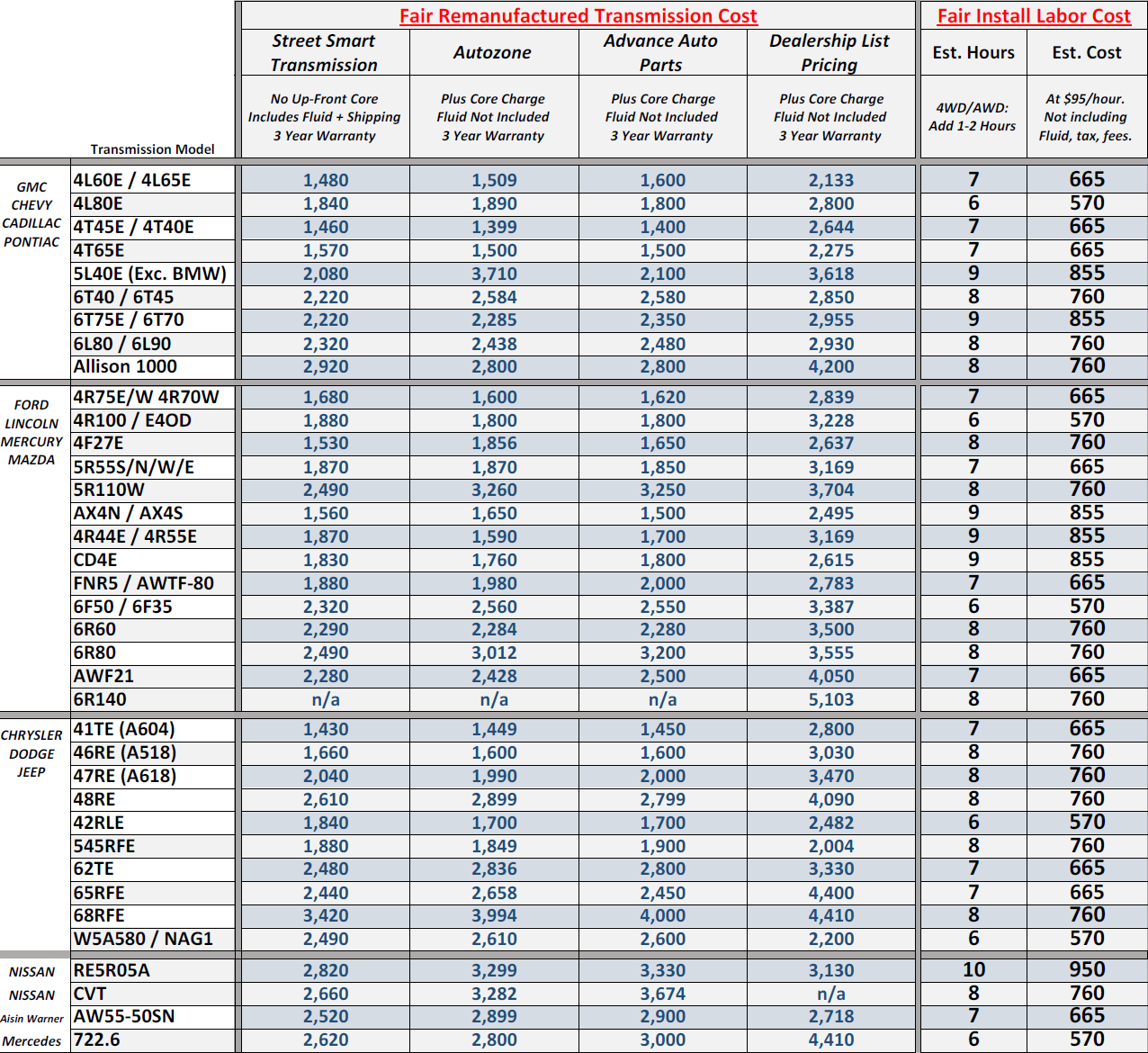 Download Replacement Transmission Cost Guide PDF
What Transmission Does a Acura TL Have?
[transtar]
What to Read Next
Over to You
[yop_poll id="11″] [yop_poll id="10″]
What Problem Does Your TL Have?
Let us know the year, mileage and problem you're having as well as any trouble (OBD) codes you've found. If you've been given a quote or paid for a repair, we'd like to hear about that too!