In This Guide
When your transmission has an over-temperature condition, your OBD-II will register a P0218 trouble code. Below, we will look at what causes this code, how to diagnose it, and what the potential repairs are.
Need a replacement transmission? Get an estimate for replacement transmissions and local installation. Look up your transmission model by vehicle make and model.
What Transmission Do I Have?
What Does P0218 Mean?
When an OBD-II equipped vehicle returns a P0218, it means the transmission fluid temperature detected by the powertrain control module has exceeded the allowable limit (typically 290 degrees fahrenheit) for an extended period of time.
How Transmission Fluid is Heated and Cooled
The bottom pan is where the flow of the transmission fluid begins its journey. It is then drawn through the filter and the control valve body assembly before it goes to the transmission case and finally into the oil pump assembly.
The fluid is pressurized in the oil pump assembly, where it is then directed to the pressure regulator valve. Here, it becomes the main fluid supply to the transmission's hydraulic circuits and various other components.
Exiting the torque converter is hot fluid which flows into the transmission cooler lines through the converter clutch apply valve and to the radiator's oil cooler. The cool fluid then returns to the front of the transmission to lubricate and remove heat from it.
Symptoms of P0218
Fluid leaking from torque converter seal, pan, cooler, etc.
No engagement by the transaxle or transmission
Slipping
Common Causes of P0218
Bad transmission fluid temperature sensor
Damaged or missing front air dam or spoiler
Broken cooling fan or fan clutch
Low transmission fluid
Fluid leak from torque converter seal, pan, cooler, etc.
Debris or other restrictions in transmission cooler
Transmission lines or cooler restricted
Towing overloaded trailer leading to overheating
How to Diagnose the P0218 Code?
To diagnose the P0218 trouble code, a mechanic would likely start by checking the condition and levels of the transmission fluid. There may be some internal damage to the transmission if the transmission fluid smells burnt or is low.
The technician would then look for fluid leaks in the transmission or its cooling system. Another cause of the overheating problem could be a leak found during this inspection. Before any further diagnosis takes place, leaks should be repaired and the transmission must be topped off. The transmission fluid that is left will begin to burn if the levels are low.
Therefore, there is no guarantee of internal transmission damage just because it smells burnt. On the other hand, you would have good reason to assume there is internal transmission damage if the fluid smells burnt and there are no leaks.
Common Mistakes When Diagnosing
If you find one issue common to code P0218 and stop the diagnosis at that point, you could be making a mistake. For example, a common problem is a leaking transmission. You could fix this but still have other problems as the low fluid levels caused internal damage to the transmission.
Before deciding that you have completed a repair, it is crucial that you look at all aspects of the issues. After all, you could get the same P0218 trouble code again if there happened to be another fluid leak from a deeper problem.
What Repairs Will Fix the P0218 Code?
There are several ways to fix the P0218 code. First, you may need to replace the transmission pan gasket, cooler lines, cooler, or radiator to fix a leak. The repairs might require a new transmission temperature sensor or powertrain control module. Or, the entire transmission may need to be replaced or rebuilt. Lastly, a fix to an engine overheating condition could be required.
Fair Replacement Transmission Cost by Vehicle
Find your transmission model in the table below for fair prices from reputable suppliers. Also fair labor cost for local installation at a local auto repair shop.


Fair Remanufactured Transmission Price Ranges by Transmission Model Updated for 2019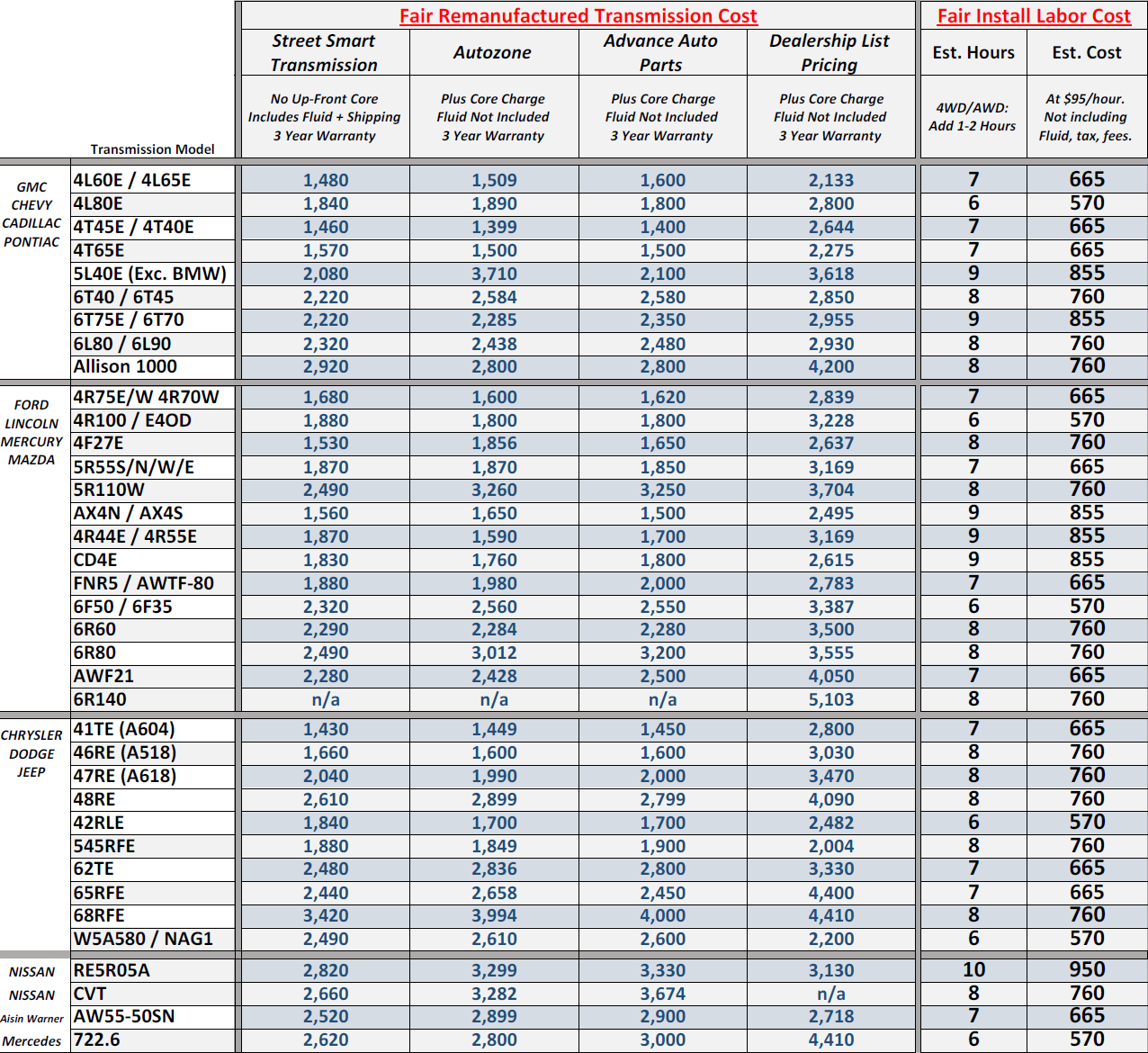 Download Replacement Transmission Cost Guide PDF
Codes Related to P0218
P0158
P0173
P0741
P0776
P2503
Need more help with a P0218 code?
If the above guide did not answer your questions, leave a comment below with the symptoms and code(s) you are getting plus the year/make/model of your car.