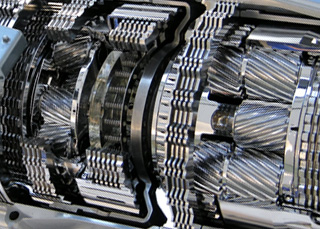 Need a replacement transmission? Quality transmission suppliers can be hard to find. Have your 17-digit vehicle VIN# ready. Free estimates sent via text and email.
Transmission shops in Garland, TX that have the Cost Guide Certified badge next to their shop's listing have passed our certification requirements and our staff has confirmed that they provide quality repair services for fair prices. In addition, they offer free towing, free transmission diagnostics, financing and a minimum 12 month, 12,000 mile warranty on services such as repairs, rebuilds and replacements of transmissions in Garland.
Updated: September 28, 2017
Collinsworth Auto Repair
(469) 242-0781
311 N Glenbrook Dr
Garland, TX 75040
Website: http://www.collinsworthautorepair.net/
Welcome to Collinsworth Auto Repair – A place to call home for all your car repair needs!  We are ASE Master Certified Technicians with over 35 years experience in automotive repairs. We perform general maintenance as well as major and minor repairs on both foreign and domestic vehicles.
North Dallas Imports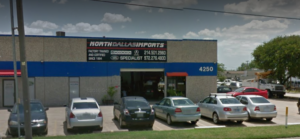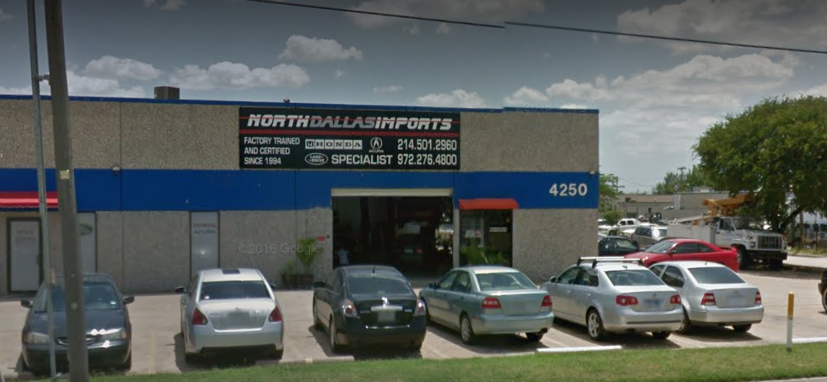 (214) 501-2960
4250 Forest Ln
Garland, TX 75042
Website: http://www.northdallasimports.com/
We are your one stop repair shop for your imported cars including Honda, Acura, Toyota, Lexus, Land Rover, BMW, and Mercedes Benz. We only use new and high quality parts, as this ensures a long lasting repair.
Garland Transmissions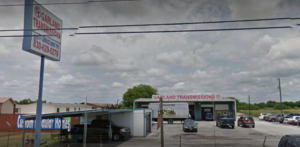 (830) 629-0278
2141 Interstate 35 Frontage Rd
New Braunfels, TX 78130
Website: http://www.garlandtransmissions.com/
Garland Transmissions is a family owned business that has served New Braunfels and the surrounding areas for more than 35 years. Meet our team members, from left to right;  Brett Karulak, Bruce Huck, Steve Spicer, Rick Steadman, Craig Murphy, Lupe Murphy, Bob Jackson, and Armando Limon.
Heartland Car Care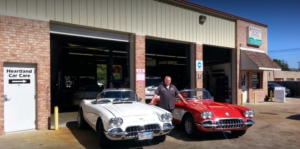 (972) 272-9041
315 Main St ste 101
Garland, TX 75040
Website: https://heartlandcarcare.com/
Heartland Car Care is a local, owner-operated auto repair shop in Garland.  With years of experience in fleet auto service, auto repair and maintenance, we have the skills and integrity to provide you with affordable and dependable auto care.
Elite Auto Center & Tire – Brake Repair Garland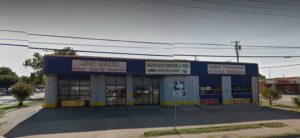 (972) 272-0005
201 S 1st St
Garland, TX 75040
Website: http://eliteautotire.com/
Based in Garland, TX, Elite Auto Center & Tire is the company that can handle anything, from auto tire repair or brake repair to the inspection of your auto. Hire us, and you will rely on a group of experienced mechanics who know how to take care of your auto! Our rates are competitive, and we also offer discounts for senior citizens and lawn enforcement. Call us today to find out more about our rates and terms! Anytime you are looking for brake repair, just pick up the phone and call our auto repair shop at (972) 272-0005.
Eagle Transmission Repair Shop Richardson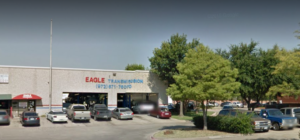 (972) 671-7600
1821 N Jupiter Rd
Richardson, TX 75081
Website: http://www.eaglerichardson.com/
Welcome to Eagle Transmission Shop Richardson TX. We are one of the most respected transmission shops in Dallas, service transmission in RichardsonTX and surrounding areas. Companies in the Richardson and surrounding areas and have been serving the local area with superior service for over two decades Serving (Richardson, Dallas, Plano, Garland, Allen, Wylie, Sacshe). We offer transmission repairs, auto repairs and fleet services, as well as other special services for foreign and domestic vehicles and pick up truck
City Garage Auto Repair & Oil Change #2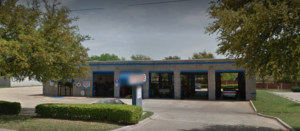 (972) 530-2886
6246 N Jupiter Rd
Garland, TX 75044
Website: http://garland.citygaragedfw.com/
At City Garage auto repair Garland TX we are much more than just a place to get anoil change Garland TX, or brake repair Garland TX, or even transmission repair Garland TX.  We are an auto repair shop you can trust your car or truck to for any repairs or maintenance you might need and a place that you know is going to treat you right and give you a fair deal every time.
Rusty's Automatic Transmission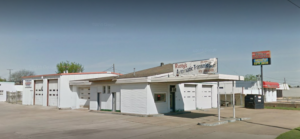 (972) 278-0125
3141 Saturn Rd
Garland, TX 75041
Website: http://www.jdautoservices.com/
Welcome to Rusty's Transmission Service website. We understand your anxiety with getting your transmission repaired fast. As a leader in the transmission repair service industry in Garland, Texas, you can rest assured that you will be provided with the highest quality repair service.
Eagle Transmission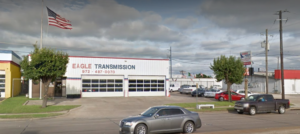 (972) 487-0070
448 S Plano Rd
Garland, TX 75042
Website: http://www.garlandeagletransmission.com/
Eagle Transmission of Garland is a family-owned business that has provided quality service for over 20 years and dedicated to treating all of our customers with the respect and quality service that they deserve. We treat all of our customers automobiles as if they were our own and ensure that all transmission problem repairs and rebuilds meet and exceed all manufacturer's specifications.
A-1 United Transmissions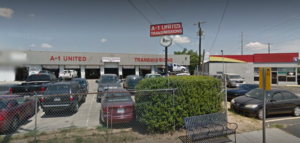 (972) 278-9807
2201 W Kingsley Rd
Garland, TX 75041
Website: http://www.a1unitedtransmissions.net/
A+ Rated Company with Better Business Bureau. Being transmission specialists, there is nothing more important to us than our reputation; ours has been built on providing quality work and satisfied customers for over 40 years. Your customer experience begins the moment you call us, but it certainly does NOT end when you drive off our lot. We provide professional, full-service transmission repair and service by certified technicians. We use the latest diagnostic tools and years of experience to make sure we get it right, and we only repair what's needed.
The Transmission Shop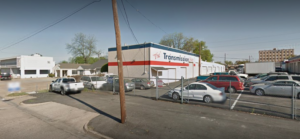 (972) 494-0911
1403 Forest Ln
Garland, TX 75042
Website: http://www.thetransmissionshop.com/
At The Transmission Shop, we provide expert and reliable inspection, diagnoses, removal and/or repair of your transmission. We specialize in ALL transmission repair and replacements, regardless of the age, make or model of your car. Whether your car is foreign or domestic, automatic or manual, we have the expertise, experience and training to get your transmission running again at peak performance. We offer a 3 years or 36,000 miles warranty on automatic transmissions.
Transmission Shops in Nearby Areas
Texas State Licensing Requirements
Texas does not require transmission shops in Garland, TX to qualify for a state license, so there is no state standard for competency among transmission repair services. They require only a registration, for which there is no inspection or testing of ability in transmission repair.
Fair Replacement Transmission Cost by Vehicle
Use the Year / Make / Model lookup tool to determine what transmission your vehicle has.



Find your transmission model in the table below for fair prices from reputable suppliers. Also fair labor cost for local installation at a local auto repair shop.


Get a free estimate on a remanufactured transmission by email.
Fair Remanufactured Transmission Price Ranges by Transmission Model Updated July 2018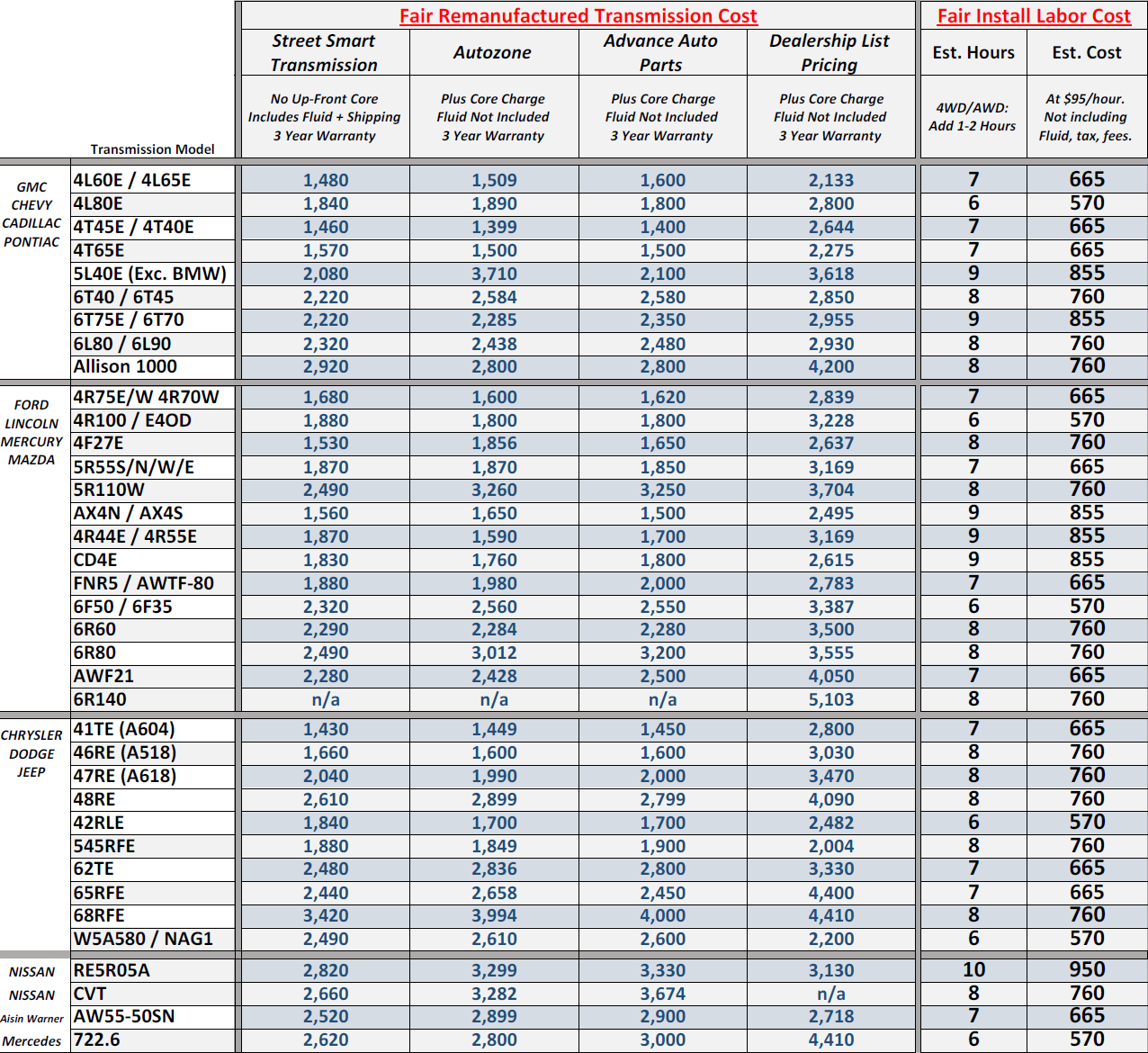 Download Replacement Transmission Cost Guide PDF
Likewise, Texas has no legal requirement that services for transmission repair in Garland, TX first show proof of liability insurance to reimburse you in the event of any damages that might occur during servicing.