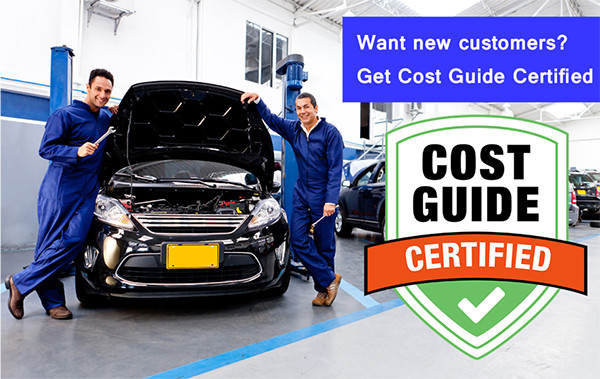 Want to promote your transmission repair services and generate more leads for your shop?
We can help.
Over 3 million people visit the Transmission Repair Cost Guide every year looking for trusted shops like yours.
Benefits of Becoming a Certified Shop
Exclusive Leads – We only accept two transmission shops per 15 mile radius
Unlimited – We send you every lead we generate in your area.
Multiple Formats – Receive leads by phone, text or email.
No Contracts – Cancel anytime.
Get a Link – Landing page for your shop that links to your website.
Build Trust – with your customers by being Certified by the top-ranked, leading online resource about transmission repair.
See How We Introduce You to New Customers
Ready For More Leads? – Get Started Today
Start generating more traffic and leads for your shop. Fill out the form below to get your shop Cost Guide Certified.
Certified Shop Program Requirements
Been in business for 2 years or more.
Better Business Bureau "B" or higher rating.
Offer free transmission diagnostics.
Offer free towing with repairs
Offer at least one form of financing
Offer quality transmission repair and charge fair prices.
Minimum 12 month, 12,000 mile warranty.
Free Promotion
If you have a lot more time than money to invest in your business, there are a couple of free transmission shop marketing opportunities available.
You can promote your business by:
Participating and answering questions in the forum
Answering questions in the comments section of articles (your name can link to your website)
Promote Your Business With a Shop Page
A Shop Page consists of a 10 question "interview" with a technician or mechanic at your shop that answers some of the common questions about the transmission repair/replacement process. The interview is conducted over email, so it can be completed at your leisure. Here is an example interview.
This is a quick and easy way to take advantage of the stream of potential customers that visit TransmissionRepairCostGuide.com every month.
About Us
The Transmission Repair Cost Guide (TransmissionRepairCostGuide.com) is the leading online resource for determining how much transmission replacement, rebuild and other related repairs will cost you.
Our site receives over 300,000 visits every month from people who are actively seeking for a solution to their transmission problem as well as an honest repair shop in their area.