All-Pro Transmissions and Total Car Care
22818 Commercial Ln,
Tomball, TX 77375
(281) 746-6732
Need a replacement transmission? Get an estimate for replacement transmissions and local installation. Look up your transmission model by vehicle make and model.
What Transmission Do I Have?

Website: www.all-protransmissions.com/
Hours:
Mon-Fri: 8:00 am – 6:00 pm
Sat: 8:00 am – 12:00 pm
Sun: Closed
Shop Photos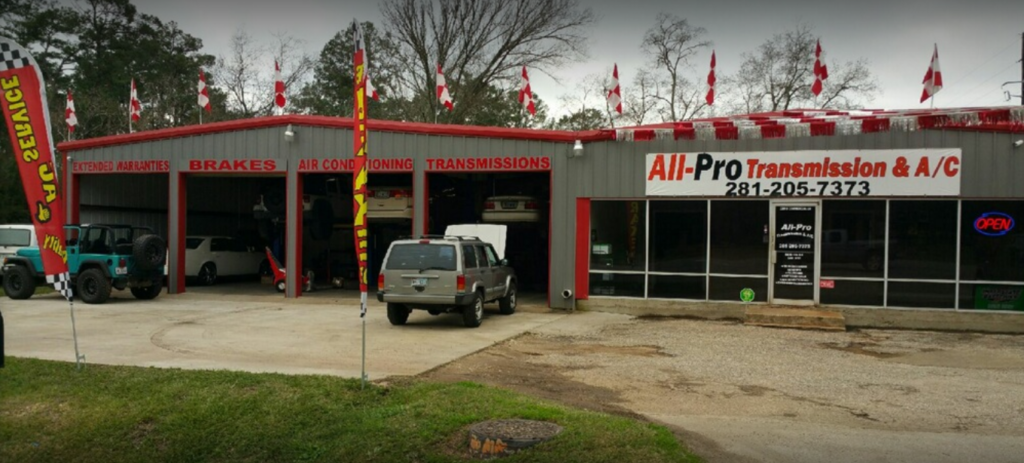 Local Map
Services
Automatic Transmission Repair
Oil Change & Lube
Air Conditioning Service
24 Hour Towing
Please introduce yourself.
I am Justin Gibson, owner of All-Pro Transmission and Total Car Care. I have been serving customers in need of repairs for over 10 years, with the last two years being at All-Pro Transmission. I am an Eagle Scout, Marine Corps Veteran, Texas Aggie and operate All-Pro using the same honesty, integrity and quality learned in these organizations. We are located in Northwest Houston and are members of multiple associations including the Better Business Bureau.
How long have you been in business?
All-Pro has been in business since August 2014 and our highly trained team of mechanics and builders remanufacture an average of 20 transmissions per month and which is well over 600 transmissions since we have been open.
What is your address? What are your hours? What areas do you serve?
Our address is 22818 Commercial Ln / Tomball, TX 77375 and we are open 8:00 – 6:00 Monday through Friday and 8:00 – 12:00 on Saturday. We always roll our phones over and do have 24 hour drop off with a lockbox.
What services do you offer?
We are a full service transmission repair facility that rebuilds transmissions on-site. We are also offer a complete range of general repair services in addition to transmission repair. These services include complete bumper to bumper care for the vehicle excluding only tires and cosmetic body work.
Why should someone choose you over the competition?
We deliver exceptional service and guide customers through the repair process with unparalleled honesty, integrity and quality.
How do you advise customers to do when it comes to the question of repair, rebuild or replace?
We work with our customers to offer the option which best suits their needs based on the age of the vehicle, value of the vehicle, symptoms, cost of repairs, the customers future plans for the vehicle and the customers current financial situation.
How much do you charge (approximately) to have a transmission repaired?
Every vehicle is different but the average cost of remanufacturing a transmission ranges from $1,200 – $3,400 depending on the vehicle, parts required, the problem and whether any electronics are involved. The repair can be completed in 1-3 days depending on parts availability.
Please give me a quick summary of the steps in the process of getting a car repaired at your shop.
We interview the primary driver to help determine the problem and determine the vehicles primary use as well as the customers future intentions for the vehicle. Once the interview is complete we perform our free diagnostic testing of the vehicle. If we confirm the problem is transmission related we receive authorization to pull the transmission from the vehicle and open it up to determine what is damaged and needs to be replaced. At this point we have our best cost estimate because we know exactly which parts need to be replaced and we receive customer authorization to order the parts, remanufacture the transmission and re-install the transmission in the vehicle. Once installed we perform thorough testing to ensure the transmission is functioning properly before delivering the transmission to the customer.
Do you offer warranties/guarantees on your work? If so, for how long/how many miles?
Yes, our standard warranty is a 24,000 mile / 24 month warranty. We also offer the option to purchase an extended 100,000 mile / 36 month nationwide warranty.
In your experience, what is the most common cause of transmission problems?
The most common cause of transmission problems stems from not regularly servicing your transmission. However, even with regular service all transmissions deteriorate over time and will eventually fail. Heat is also a contributing factor to early transmission failure.
Do you recommend flushing or changing the fluid? Why?
Changing fluid should always be done per the manufactures specifications but there are always risk with doing this, especially if the fluid has not been changed in a very long period of time. Given these factors we always consult the customer and check the fluid before performing a transmission service.
What make and model do you see the most in your shop (and advise people to steer clear from)?
We see every make and model of vehicle with failure at varying ages and do not tend to see one type more than another. However, one of the most preventable problems we see are with many Nissan models where radiator fluid gets into the transmission causing premature failure. This can easily be solved if you come see us to install an external cooler and bypass the radiator.
What problem is most commonly assumed to be a transmission issue, when it actually isn't?
Engines in need of a tune up often cause rough shifting which is usually mistaken as a transmission issue. During our free diagnostic check we will let you know if this is the case and can tune up the vehicle for you as well.
What payment methods do you accept?
We accept all major credit cards, cash and check. We also offer two financing programs which each have great benefits for our customers.
What is the best way for people to contact you for more information?
Give us a call: (281) 746-6732, visit our website: http://www.all-protransmissions.com/ or come see us in person: 22818 Commercial Ln/ Tomball, TX 77375.
Need a replacement transmission? Get an estimate for replacement transmissions and local installation. Look up your transmission model by vehicle make and model.
What Transmission Do I Have?

Reviews
If you've had repairs done by this shop, please leave a review below!