Transmission shops in Fort Worth, TX that have the Cost Guide Certified badge next to their shop's listing have passed our certification requirements and our staff has confirmed that they provide quality repair services for fair prices. In addition, they offer free towing, free transmission diagnostics, financing and a minimum 12 month, 12,000 mile warranty on services such as repairs, rebuilds and replacements of transmissions in Fort Worth.
Need a replacement transmission? Quality transmission suppliers can be hard to find. Have your 17-digit vehicle VIN# ready. Free estimates sent via text and email.
Updated: June 6, 2018
Action Transmission
3855 Miller Ave
Fort Worth, TX 76119
Website: http://ap-transmission.com/
 Installs Remanufactured Transmissions? Yes
Charges Fair Labor Rates? Yes
Transmission Shops in Nearby Areas
Texas State Licensing Requirements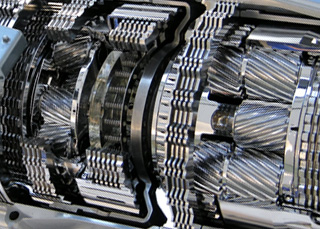 Texas doesn't require any state license of transmission shops in Fort Worth TX, so there's no state standard for competency and reliability.
Likewise, the state doesn't require that transmission repair services in Fort Worth first show proof of liability insurance to reimburse you in the event of any damages that might occur during servicing.
Questions to Ask a Transmission Shop
Experience and Qualifications
These questions will help you assess its experience and reputation for quality service:
How long have you been in business in Fort Worth?
Do you have 2-3 references I can call?
What qualifications and experience does the technician have that will be assigned to my vehicle?
Has that technician successfully repaired the transmission on this car or truck model before?
Do you have liability coverage?
Diagnostic Fees and Repair Estimates
These questions will help you avoid unexpected fees. Unfortunately, some shops quote a low diagnostic fee, but they don't tell you that if you decide not to have the repair made, you'll be charged much more to put the transmission back together to take the vehicle elsewhere.
What is the fee for diagnosing the repair issue?
Does the fee cover putting the transmission back together if I decide not to have the repair made?
Will you give me an itemized estimate in writing?
Are there any fees not listed on the estimate?
Do you ever charge a final price that is higher than the estimate, and if so, under what circumstances?
How the Work Will Be Done
There are two general types of transmission repairs – minor repairs and complete transmission overhauls known as "transmission rebuild." Because there is no oversight by the State of Texas, some shops call any repair a "rebuild." These questions will help you determine the scope of the work being done.
Fair Replacement Transmission Cost by Vehicle
Find your transmission model in the table below for fair prices from reputable suppliers. Also fair labor cost for local installation at a local auto repair shop.


Get a free estimate on a remanufactured transmission by email.
Fair Remanufactured Transmission Price Ranges by Transmission Model Updated July 2018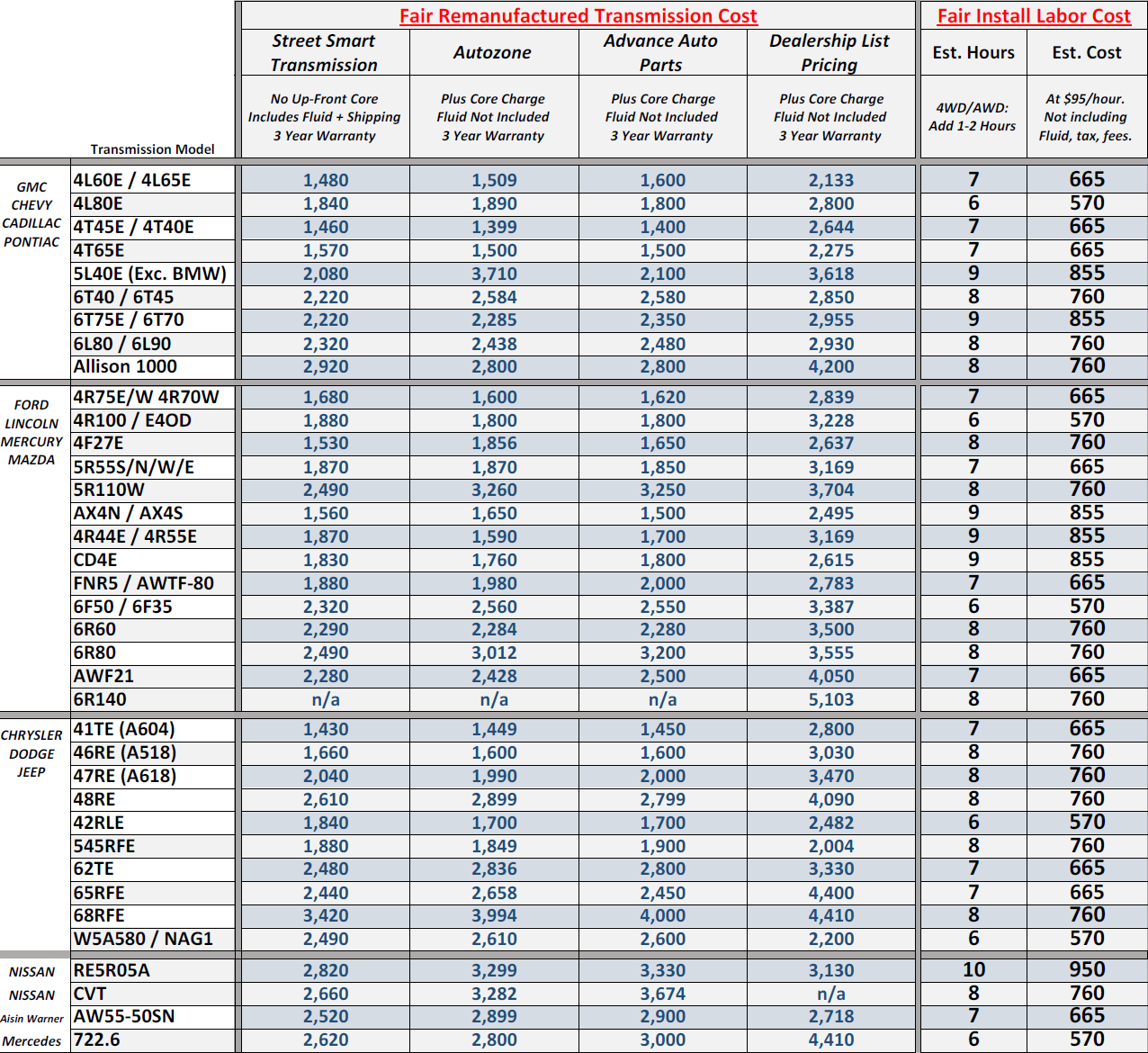 Download Replacement Transmission Cost Guide PDF
If you receive an estimate for transmission rebuild or a rebuilt transmission, ask for an itemized list of all parts to be replaced and the services and materials such as transmission fluid to be provided. In addition, ask:
Is any part of the work done by an outside contractor or shop, and if so, what is its contact information, so I can research it?
Do you use OEM (original equipment manufacturer) parts, or are non-original parts used?
Are the parts new, refurbished or used, and if I have a choice, what are the differences in cost and warranty coverage?
Will my vehicle warranty be affected by the transmission repair?
What warranty on parts and labor do you provide?