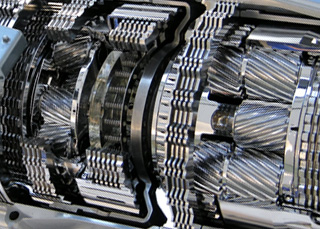 Need a replacement transmission? Quality transmission suppliers can be hard to find. Have your 17-digit vehicle VIN# ready. Free estimates sent via text and email.
Transmission shops in Chandler, AZ that have the Cost Guide Certified badge next to their shop's listing have passed our certification requirements and our staff has confirmed that they provide quality repair services for fair prices. In addition, they offer free towing, free transmission diagnostics, financing and a minimum 12 month, 12,000 mile warranty on services such as repairs, rebuilds and replacements of transmissions in Chandler.
Updated: September 22, 2016
Beyer Motor Works, Inc.
(480) 961-9449
300 S 79th St
Chandler, AZ 85226
Website: http://www.beyermotorworks.com/
Welcome to Beyer Motor Works, your #1 source for BMW, Mini Cooper, and Volvo automotive repair. At Beyer Motor Works we offer a personalized and comprehensive maintenance plan to ensure the longevity of your BMW, Mini Cooper, or Volvo. We don't want your vehicle to just get by on the basics, we want to give it the power and reliability as if it were brand new. That's our goal. That's our promise.
Az Automasters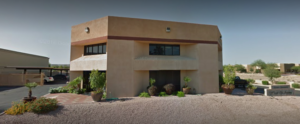 (480) 592-9677
4122 W Venus Way
Chandler, AZ 85226
Website: http://www.azautomasters.com/index.html
For over 17 years our ASE master certified automotive technicians have been performing auto & truck repair, service, and maintenance in Chandler, AZ. As well as serving customers in Tempe, Awahtukee, Mesa, Gilbert & Phoenix. From oil changes to engine & transmission repair, and everything in between, we are your "automotive diagnostic specialists" and
your friendly "one stop auto repair shop."
Family Auto Care Company
(480) 507-5700
290 S Arizona Ave
Chandler, AZ 85225
Website: http://www.demandforce.com/
Car Guy of Chandler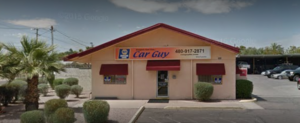 (480) 917-2871
600 E Chandler Blvd
Chandler, AZ 85225
Website: http://www.carguyllc.com/
Our experienced service department will keep your vehicle in top condition. We use the latest diagnostic technology to provide high-quality service and quick turnaround. Our mechanics are highly skilled and have years of experience. Most of all: they love cars and care about yours.
Automotive Diagnostic Specialties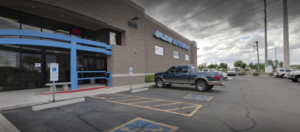 (480) 961-8704
6835 W Chandler Blvd
Chandler, AZ 85226
Website: http://automotivediagnosticspecialties.com/
At ADS Auto Repair, our AAA Top Shop award winning/ASE Certified technicians have well over 100 combined years of experience in the auto repair industry. We can quickly diagnose your car, truck, SUV or high performance vehicle with our State-Of-The-Art automotive diagnostic tools and provide quality repairs to get you back on the road quickly.
Rich's Automotive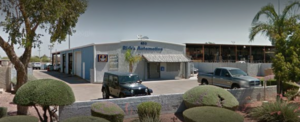 (480) 899-0649
450 E Frye Rd
Chandler, AZ 85225
Website: http://richsautomotive.net/
You can count on our technicians to treat your vehicle as if it were their own. From oil changes to engine controls, we can take care of all your auto repairs at an affordable price.
Sun Devil Auto

(480) 726-1960
895 E Chandler Blvd, Bldg B.
Chandler, AZ 85225
Website: http://www.sundevilauto.com/
When you're looking for a quality auto repair shop in the Chandler area, look no further than our Sun Devil Auto Chandler Blvd location. We can fulfill all of your auto repair and maintenance needs, at this convenient location. Our full service auto repair shop can take care of regular maintenance, brakes, A/C services, transmissions and even auto glassrepair and replacement!
Danny's Total Car Care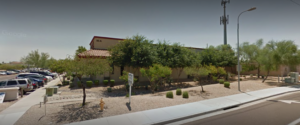 (480) 855-0055
95 N Dobson Rd # C
Chandler, AZ 85224
Website: http://totalcarcare.biz/
It is important for you to bring your vehicle to our garage when you start noticing a difference in its performance. We can use our computerized diagnostic equipment to figure out what's wrong.
202 Transmissions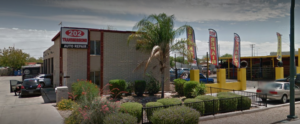 (480) 603-7172
781 S Arizona Ave
Chandler, AZ 85225
Website: http://www.202transmissions.com/
202 Transmissions is dedicated to keeping you safe on the road. Our experienced staff will keep your vehicle running in top condition. We use the latest automotive diagnostic technology to provide you with high quality service, and reasonable turnaround.
Transmission Shops in Nearby Areas
Arizona State Licensing Requirements
Arizona does not require transmission shops in Chandler, AZ to qualify for a state license, so there is no state standard for competency among transmission repair services. They require only a registration, for which there is no inspection or testing of ability in transmission repair.
Fair Replacement Transmission Cost by Vehicle
Find your transmission model in the table below for fair prices from reputable suppliers. Also fair labor cost for local installation at a local auto repair shop.


Get a free estimate on a remanufactured transmission by email.
Fair Remanufactured Transmission Price Ranges by Transmission Model Updated July 2018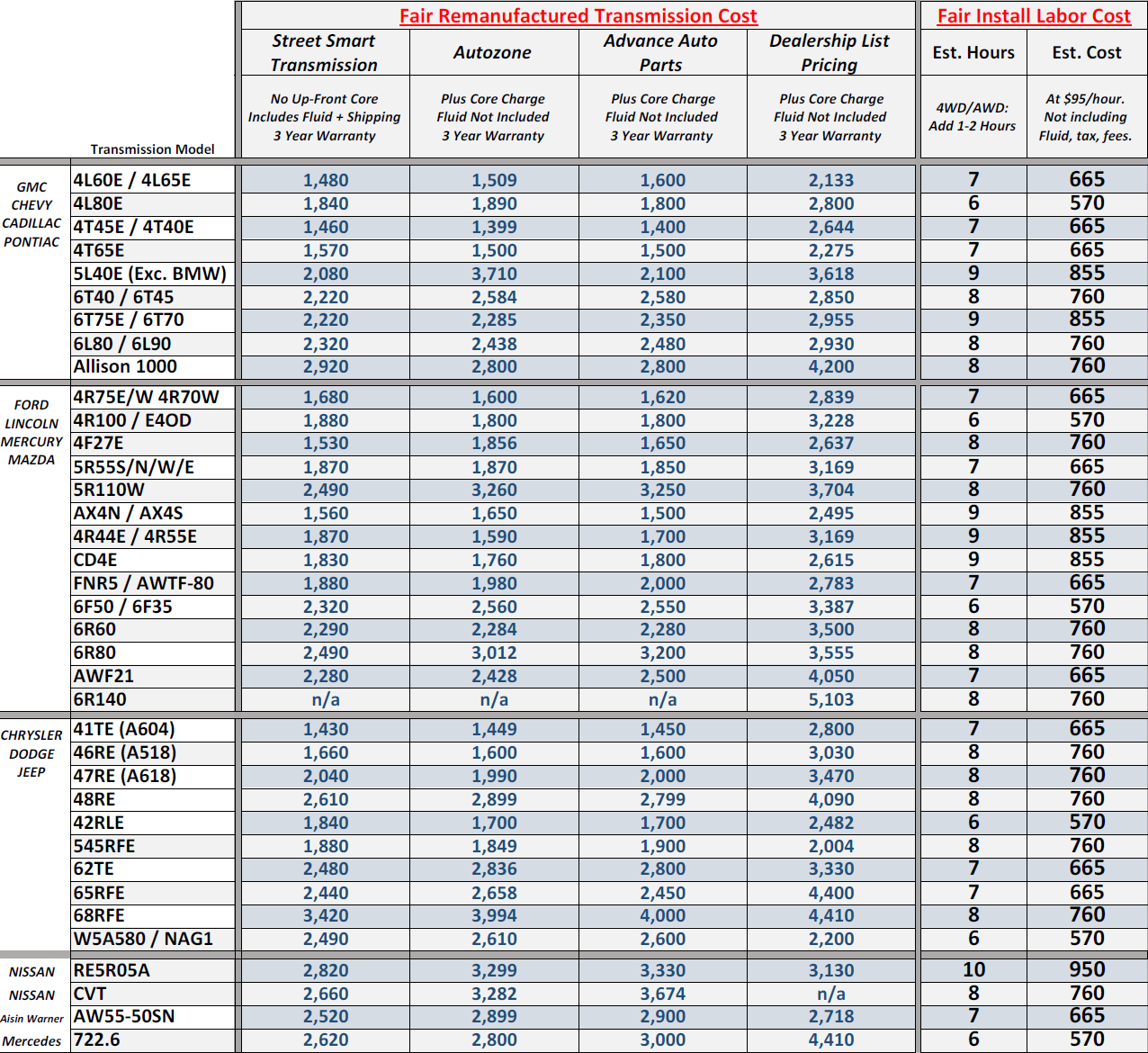 Download Replacement Transmission Cost Guide PDF
Likewise, Arizona has no legal requirement that services for transmission repair in Chandler, AZ first show proof of liability insurance to reimburse you in the event of any damages that might occur during servicing.