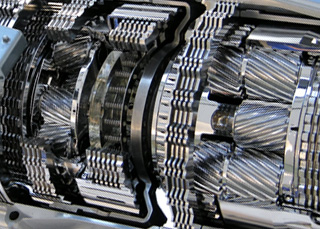 Need a replacement transmission? Quality transmission suppliers can be hard to find. Have your 17-digit vehicle VIN# ready. Free estimates sent via text and email.
Transmission shops in Oakland, CA that have the Cost Guide Certified badge next to their shop's listing have passed our certification requirements and our staff has confirmed that they provide quality repair services for fair prices. In addition, they offer free towing, free transmission diagnostics, financing and a minimum 12 month, 12,000 mile warranty on services such as repairs, rebuilds and replacements of transmissions in Oakland.
Updated: June 6, 2016
Auto Row Smog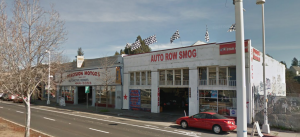 (510) 451-7664
3060 Broadway
Oakland, CA 94611
Website: http://oaklandsmog.com/
Since 2004, we have been striving to provide the best customer service possible. With free retests and flexible hours to accommodate YOUR schedule, we are always looking for ways to improve and excel. Our staff is knowledgeable with many years of experience, and we consider our customers to be personally important to us. We think that makes a difference, and we think you will too.
EB Auto Service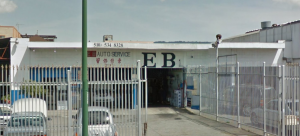 (510) 534-8328
2338 E 12th St
Oakland, CA 94601
E.B. Auto Service has the technicians and equipment to provide complete auto repair on Domestic and Foreign Cars. We specialize in Brake Service, Oil Change, Transmissions, Tune Up/ Timing.
Torchio's Auto Repair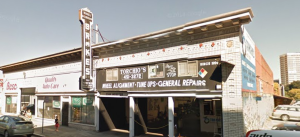 (510) 451-3272
2344 Webster St
Oakland, CA 94612
Website: http://www.torchiosauto.com/
We are a friendly, clean and efficient shop. We understand that sometimes car repair can be stressful and we do everything possible to make our customers feel welcome, comfortable and satisfied with their service experience.
XYZ Motors
(510) 835-8882
288 30th St
Oakland, CA 94611
We provide ASE certified quality workmanship in order to ensure that you receive the most reliable and precise service. We also use only OEM and quality parts to secure your investment.
First Choice Auto Repair & BRAKES
(510) 594-8000
4101 Martin Luther King Jr Way
Oakland, CA 94609
Montclair Auto Tech-Volvo service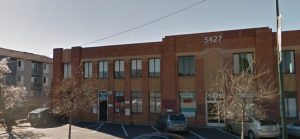 (510) 654-3888
5427 Telegraph Ave E2
Oakland, CA 94609
Website: http://www.montclairautotech.com/
You are in good hands with our crew. We employ Volvo factory trained, SAFE certified, and ASE Certified Volvo Master Technician & ASE Certified staff. We are also members of Automotive Service Councils of California, the largest professional independent garage owners association in California.
Marty's Metrix
(510) 465-1429
1125 9th Ave
Oakland, CA 94606
Transmatic Transmission
(510) 534-5322
3901 International Blvd
Oakland, CA 94601
Website: http://www.transmatictransmission.com/
Broadway Automotive & Transmission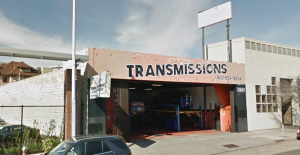 (510) 834-4434
2943 Broadway
Oakland, CA 94611
Website: http://www.broadwayautotran.com/
Broadway Automotive & Transmission specializes in all automatic and manual transmissions as well as clutches and differentials. We also perform all types of general repair including all manufacturer recommended maintenance, brakes, tune-ups, suspension, steering, and driveability diagnosis. We can service all of your vehicles needs. Repairs that are fair priced and hassle free!
Coliseum Transmission
(510) 569-3590
6161 Coliseum Way
Oakland, CA 94621
Transmission Shops in Nearby Areas
California State Licensing Requirements
California does not require transmission shops in Oakland, CA to qualify for a state license, so there is no state standard for competency among transmission repair services. They require only a registration, for which there is no inspection or testing of ability in transmission repair.
Fair Replacement Transmission Cost by Vehicle
Find your transmission model in the table below for fair prices from reputable suppliers. Also fair labor cost for local installation at a local auto repair shop.


Get a free estimate on a remanufactured transmission by email.
Fair Remanufactured Transmission Price Ranges by Transmission Model Updated July 2018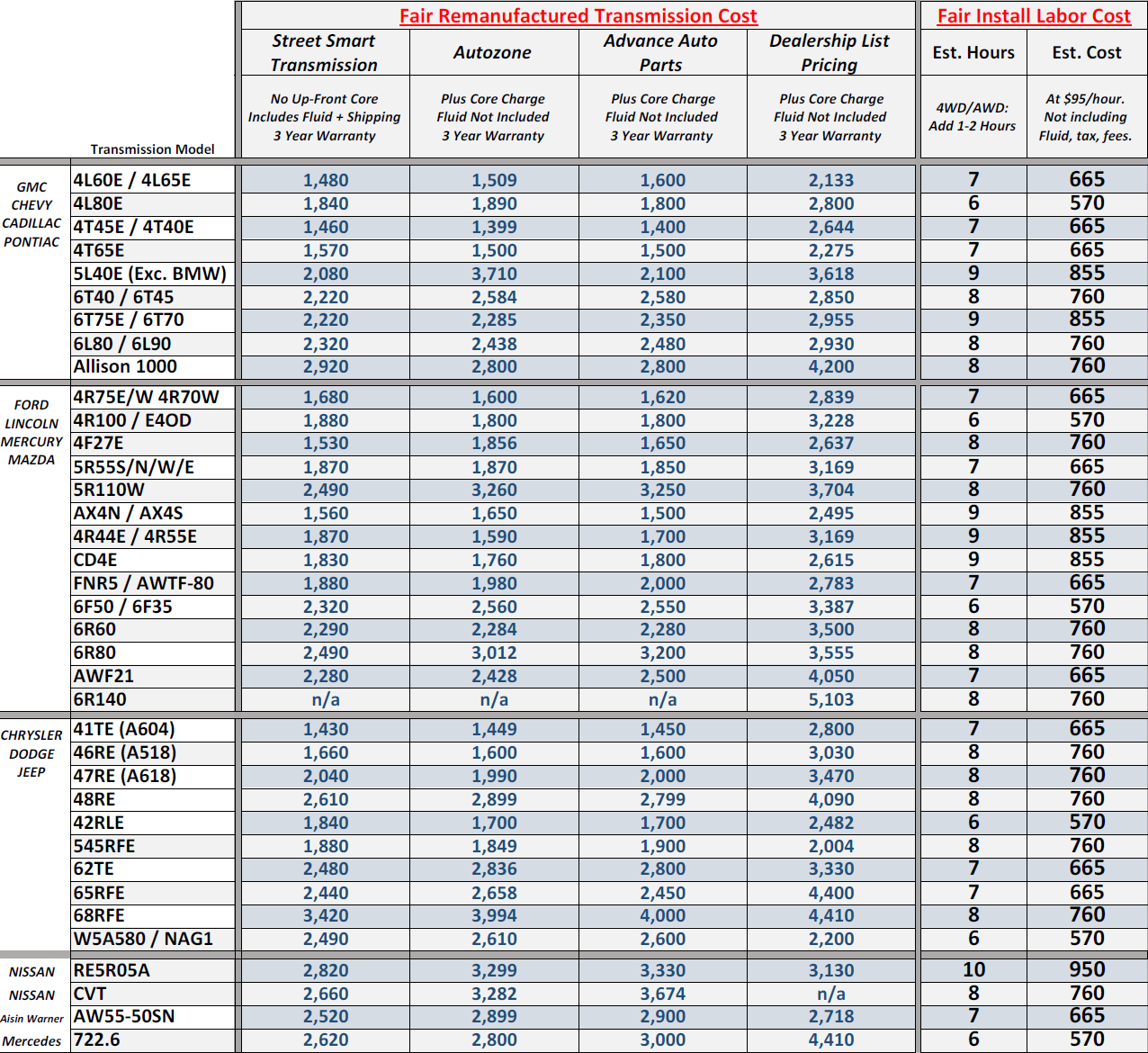 Download Replacement Transmission Cost Guide PDF
Likewise, California has no legal requirement that services for transmission repair in Oakland, CA first show proof of liability insurance to reimburse you in the event of any damages that might occur during servicing.