Transmission shops in Wichita, KS that have the Cost Guide Certified badge next to their shop's listing have passed our certification requirements and our staff has confirmed that they provide quality repair services for fair prices. In addition, they offer free towing, free transmission diagnostics, financing and a minimum 12 month, 12,000 mile warranty on services such as repairs, rebuilds and replacements of transmissions in Wichita.
Need a replacement transmission? Quality transmission suppliers can be hard to find. Have your 17-digit vehicle VIN# ready. Free estimates sent via text and email.
Updated: February 12, 2017

(316) 529-1883
6325 S Seneca St
Wichita, KS 67217


Website: chancetrans.com
Hours:
Mon-Fri: 8:00 am – 5:30 pm
Sat: Closed
Sun: Closed
Family-Owned and Operated Since 1978!
At Chance Transmissions, Inc., our mission is to serve our customers with the utmost integrity and quality. We accomplish that goal with qualified technicians who have the training, knowledge, and experience to repair your vehicle the first time

Contact this Cost Guide Certified shop and they will give you a call with a free estimate.
X-Treme Automotive LLC & Custom Muffler
(316) 842-4859
424 N Washington Ave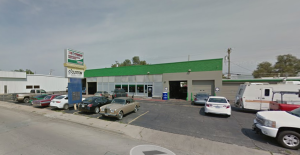 Wichita, KS 67202,
Services: Ignition repair, Axle repair, Brake cleaning, Wheel alignment
Website: http://www.wichitacarmaintenanceshop.com/
X-Treme Automotive LLC & Custom Muffler is proud to be a well-known auto repair shop located in Wichita, KS. We maintain a reputation for fast, prompt service and will return your car to you as soon as we can. Our highly experienced mechanics can work on a variety of makes and models of cars, and we'll provide you with an estimate for any job.
Alexander's Automotive Inc
(316) 838-7039
3701 W Dora St
Wichita, KS 67213
Website: http://alexandersautomotivewichita.com/
Alexander's Automotive, Inc. provides High Quality, Affordable Automobile Repair in Wichita, Ks. Listed below are just a few of the many automotive repair services we offer. When you need Auto Repair, Call Alexander's and Schedule Service Now
Yost Auto Service
(316) 247-8176
1818 E 2nd St N
Wichita, KS 67214
Website: http://www.wichitaautorepaircenter.com/
Yost Auto Service is one of the best auto repair shops in Wichita, KS, and we're fully licensed and insured. We aim to provide you with impressive customer service, and our friendly team of technicians is dedicated to your satisfaction.
Westlink Auto Services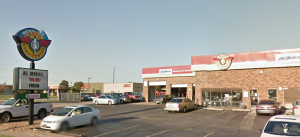 (316) 722-9350
1455 N Maize Rd
Wichita, KS 67212
Website: http://www.westlinkauto.com/
We are an authorized independent service center featuring ACDelco parts. We offer a full line of over 99,000 automotive parts and supplies as well as vehicle maintenance, service & repair. For more information about our line of services and a complete parts catalog please visit our website or feel free to call or come by our location anytime during business hours. ACDelco.
The Garage
(316) 440-9380
610 N Maize Rd #A
Wichita, KS 67212
Website: http://www.garagewichita.com/
World Wide Transmission Inc
(316) 266-4020
1407 E Central
Wichita, KS 67214
Website: http://transmissionswichita.com/
The Clutch Guys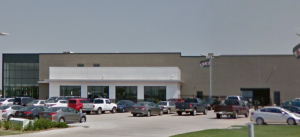 (316) 691-9229
1333 S Tyler Rd
Wichita, KS 67209
Website: https://www.clutchguyswichita.com/
If you need quick, honest car service, the Clutch Guys is your repair shop. Is your car making strange noises? Have you noticed leaking fluids coming from your car? Are you having trouble getting your car started? Bring it by the Clutch Guys in Wichita and we can solve these issues and many more!
Mastertech Transmission Inc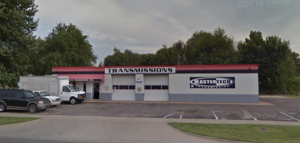 (316) 269-9590
4500 W Central Ave
Wichita, KS 67212
Website: http://www.mastertechtransmissioninc.com/
Mastertech Trans Inc welcomes you to our automatic transmission repair shop website. Each transmission technician at our shop is highly qualified and ready to deliver their expert automotive transmission repair technician knowledge & skills for your every automatic transmission repair need.
Midwest Auto and Diesel Repair
(316) 351-8945
4475 E 31st St S
Wichita, KS 67210
Website: http://www.midwestautoanddieselrepair.com/
Welcome to Midwest Auto & Diesel Repair – your home for auto & diesel service and repair. We are a full service shop for all Cummins, Duramax, and Powerstroke, Isuzu, International, and Sprinter/Mercedes engines. We also offer a full range of services on all gas engines from cars to pickups, vans, box trucks, and trailers.
Transmission Shops in Nearby Areas
Questions to Ask a Transmission Shop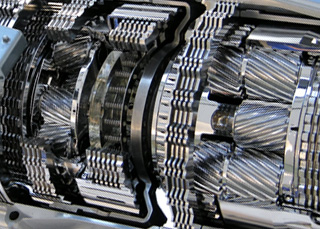 Ask these important questions to find a mechanic with the capabilities to do the job properly and professional business ethics.
Qualifications and Experience
You certainly don't want poorly trained or inexperienced people working on your car, so ask:
What training do the mechanics have?
How long has your shop been doing transmission repair in Wichita and how experienced are the mechanics?
Do you have experience repairing the transmission on my make and model vehicle?
Do you give references with their phone numbers?
Do you have liability insurance to pay for any damage done to my car while its being repaired or on your lot?
Inspection Fees and Estimates
It's important to know how much you'll spend if you decide to take your vehicle somewhere else once it has been inspected. While you should expect to pay a reasonable inspection fee based on the time put into the diagnosis, beware of unscrupulous shops that charge exorbitant fees they don't disclose before they begin the inspection.
Do you charge an inspection fee separate from a repair estimate?
If I decide to take the vehicle elsewhere for the repair, what will the charge be to disassemble the transmission, locate the repair issue and put it back together?
Do you provide a written, itemized transmission repair estimate for me to approve?
Are there any potential fees beyond what is on the estimate?
Ask How the Repair Will Be Done
Another tactic of disreputable transmission shops in Wichita is to call the repair a transmission rebuild when it's nothing more than a minor repair of limited parts.
If quoted a "transmission rebuild" ask for an itemized list of everything that will be replaced.
Do you do all the work here, or is some of it subcontracted to another shop? If so, what is the name, phone number and contact person at that shop? Note: If some of the work is done by another shop, use this list of questions to research that shop's reputation.
Do you use only OEM (original equipment manufacturer) parts?
Are the parts you use new, used or refurbished?
If I have an option on the parts used, what are the differences in price and warranty?
Will this transmission repair affect my vehicle warranty?
Will you warranty the parts you use and your labor, and for how long?
Kansas State Licensing Requirements
Kansas does not require transmission shops in Wichita, KS to qualify for a state license, so there is no state standard for competency among transmission repair services. They require only a registration, for which there is no inspection or testing of ability in transmission repair.
Fair Replacement Transmission Cost by Vehicle
Use the Year / Make / Model lookup tool to determine what transmission your vehicle has.



Find your transmission model in the table below for fair prices from reputable suppliers. Also fair labor cost for local installation at a local auto repair shop.


Get a free estimate on a remanufactured transmission by email.
Fair Remanufactured Transmission Price Ranges by Transmission Model Updated July 2018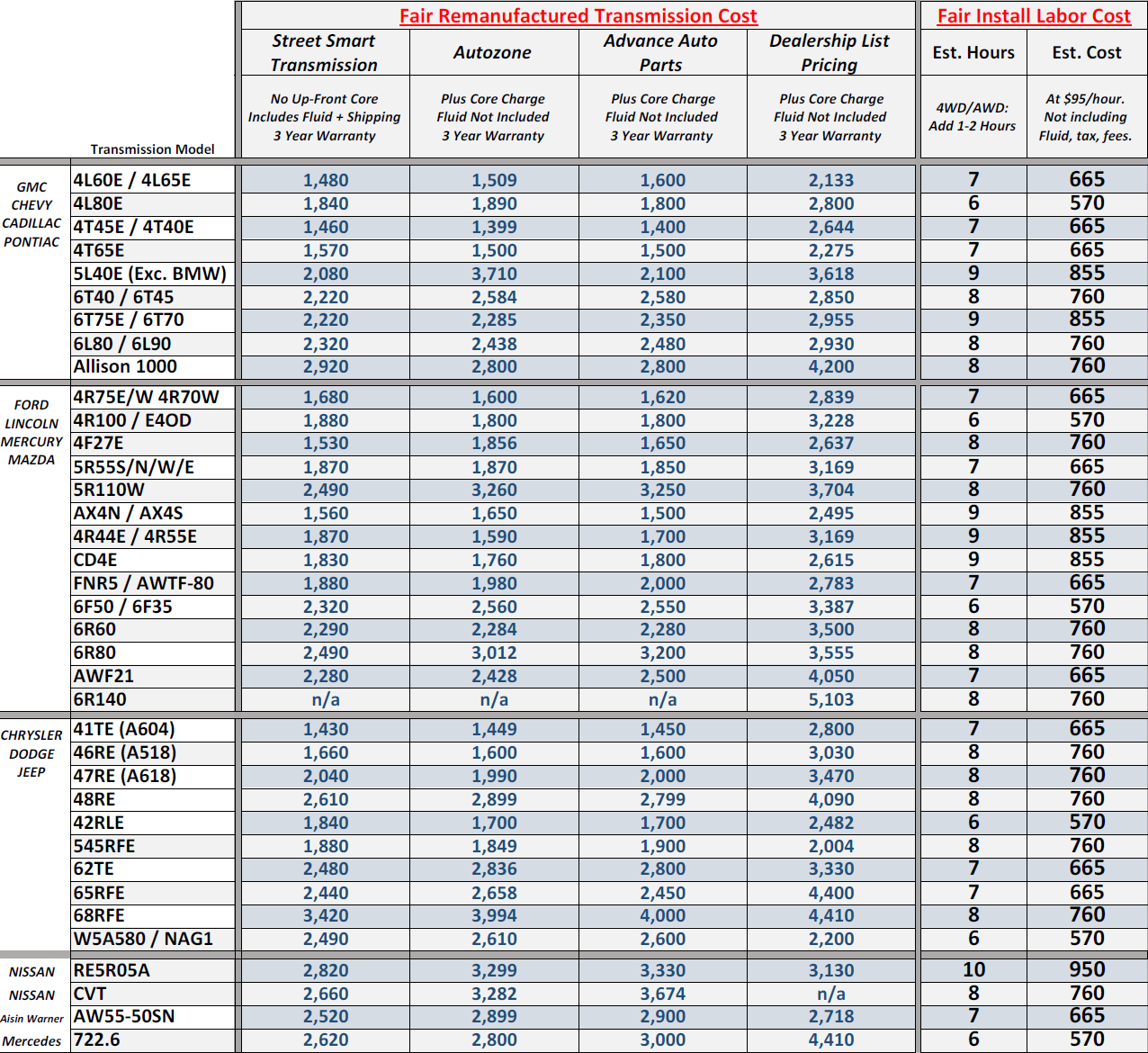 Download Replacement Transmission Cost Guide PDF
Likewise, Kansas has no legal requirement that services for transmission repair in Wichita, KS first show proof of liability insurance to reimburse you in the event of any damages that might occur during servicing.